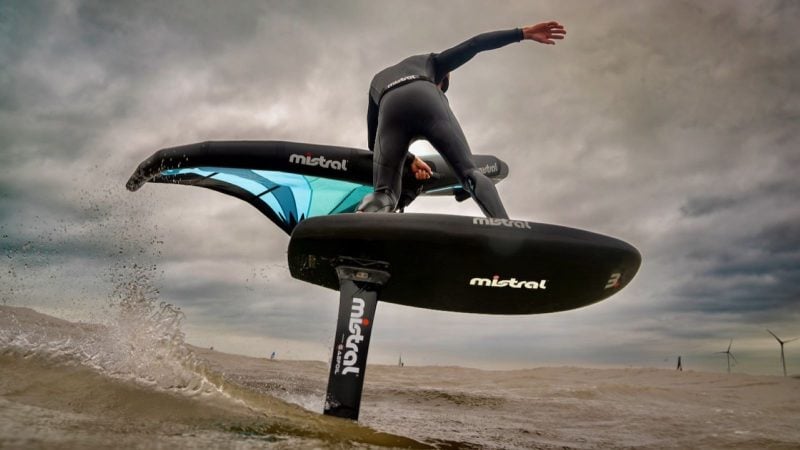 Watersport & Lifestyle Brand Mistral Talk Life Post-NMG Acquisition
Following Mistral's acquisition into NMG's portfolio last year, we caught up with their Brand Manager, Steve West to find out more about their rebranding, marketing strategy, product lines, and the return of Club Mistral.
Could we have a brief history of the brand?
Mistral was founded in Germany in 1976, out of frustration over the lack of advancement made to the 1968 original American-conceived Windsurfer. Mistral set itself apart from the outset in having two separate divisions of design and production: windsurfing hardware and sportswear. This holistic approach was, at the time, unique. The hedonistic days of windsurfing throughout the '80s and '90s would lead Mistral to morph into an original lifestyle-brand.
Founder Peter Brockhurst departed at the end of 1979 to form F2. In 1981, global recruitment giant Adia purchased Mistral and invested heavily. Club Mistral venues emerged in key locations, including Lake Garda and Sardinia, ultimately acquired by Yola Bichler under licence. She would turn a non-profit marketing exercise into a lucrative ongoing concern with global venues.
Mistral emerged as the most desired, expensive and aspirational of windsurfing brands fuelled by evocative imagery equipment, apparel, Club Mistral and the success of Mistral's Dream Team riders consistently podiuming: Cabrinha, Naish, Boyer, Lelievre, Sayer, Messmer, and Hönscheid, helping to send the brand to stratospheric heights.
In 1991, Klaus Jacobs acquired a controlling stake in Adia, and in 1996, he sold out, retaining Mistral, and later merged with North Sails Windsurfing. Subsequently, Fanatic and F2, forming Boards & More in 2000. Boards & More was sold by Klaus Jacobs to Airesis SA in 2003, who would focus on Fanatic, Ion, and North. Mistral enjoyed one more outing as the Olympic board in 2004, its third consecutive Olympics. A short time after this, Mistral would be shelved despite making a solid case for a new Olympic board, the Prodigy, but it was time for another brand to take the Olympic mantle.
In 2008, Ado Huisman purchased Mistral. Formerly associated with Mistral's management team in the 1980s. Huisman had pioneered Mistral's Sportswear licence in Europe and later Gaastra, which he masterminded and made highly successful. Anders Bringdal gained the Mistral Windsurfing Licence in 2009 until 2014. Ernstfried Prade, one of the Mistral originals, joined to lead on graphics and inflatable designs in 2008, and in 2013, Steve West joined to take on the role of Brand Manager in addition to product design and production. From a dire situation, Mistral rose again to a respectable level of prominence and profitability, mainly through SUP and an expansion of licensees.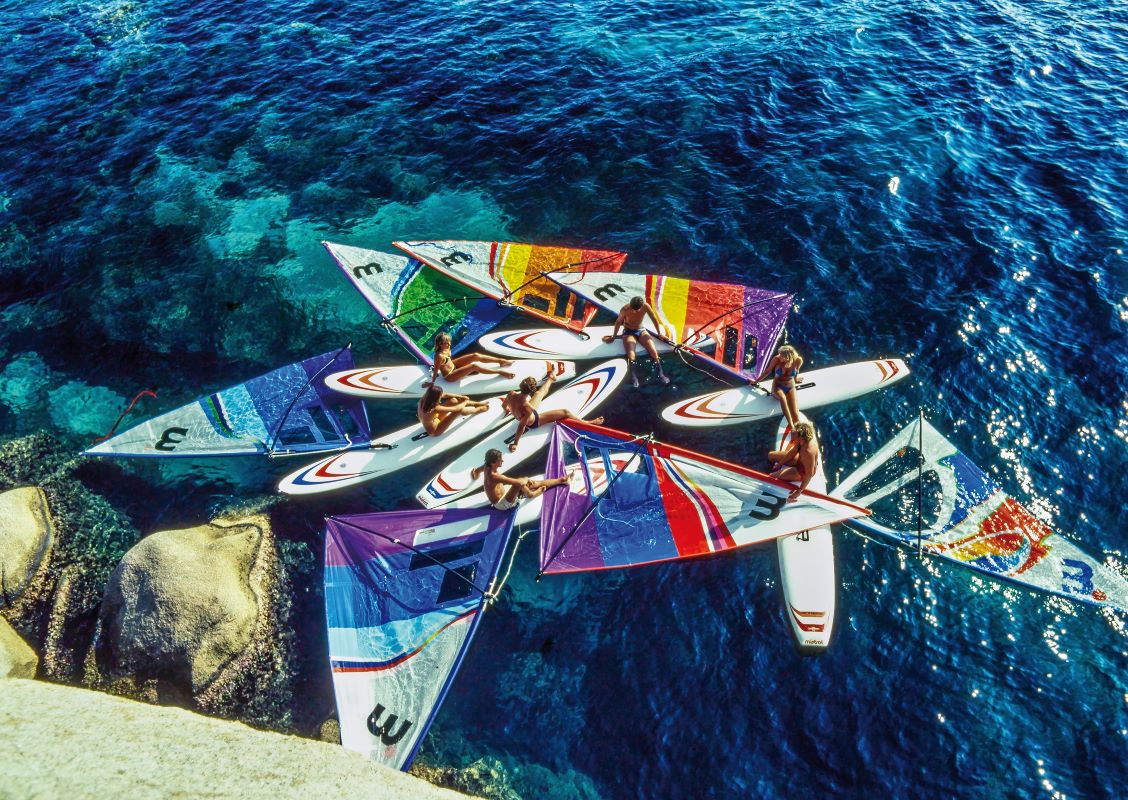 Recently, the brand changed hands. Please tell us about the new owners.
In February 2022, Dutch-based NMG purchased Mistral to add to a sizeable portfolio with the short-term goal of rebranding Mistral using a revised tagline, 'People of the Ocean' and the long-term vision of reforming it into a surf brand with multi-disciplinary board sports such as foiling disciplines, SUP, surfing and bringing windsurfing back to the brand. There's been an initial solid focus on improving Mistral's online presence, distribution networks and logistical efficiency while creating a clearer forward-thinking identity for the brand. Mistral's global licensees also form an integral existential reality of the brand's strength, point of difference and ability to survive tough times, of which NMG are acutely aware.
What's your view on the current state of the wind market?
The future looks better than when SUP came into focus around 2005, and many brands turned their attention to this new paddle-surf sport. Each time windsurfing attempts to make a comeback, it has had to contend with the genesis of emerging sports: kitesurfing, SUP and now foiling. Yet, due to a shared synergy, resurgent interest in windsurfing and the coming of wing foiling have helped. You could only conclude wind sports are gaining traction in numbers, and a buzz is being generated, primarily because of the rapid spread and growth of wing foiling. With ever-improving, easier-to-ride kit, the sport is becoming more accessible daily; it's the price points we must be careful of. Whether kitesurfing has had its day remains to be seen.
Where do you see the opportunities for Mistral?
As it was initially, Mistral's sportswear remains an essential element of its business model. When Huisman stepped into Mistral in 2008, he immediately began signing up global licensees in technical and non-technical wear, including watches, sunglasses, sun creams, shoes and more. Essentially, passive income is derived from the power of Mistral's heritage, equity and image, which the new owners are focused on nurturing. Internally, there's an intent to expand our logo merchandise range.
The industry is in the trenches, enduring a war of attrition. Many venture capitalist brands offer similar niche products to those of household brands in a saturated market across SUP and today, foiling. They also tend to move to adapt faster to market trends. Add to this the current cost of living 'crisis' impacting disposable income, making it complicated. Mistral has taken steps to be financially robust by not over-capitalising on stock and investing in online systems and logistics as a means of future-proofing. Club Mistral is back on the agenda to provide equipment and mutually beneficial relations with water sports providers within established or newly built resorts and physical venues; the vision is undoubtedly holistic.
Where will the foil market be in 12 months?
It will continue to grow over the coming year and years to come. The number of stakeholders will continue growing for a while, and the proportional market share may be diluted until the bubble bursts. There will be winners and losers, but the winners will be the end-users, beneficiaries of ever-improving equipment and accessibility. Critically, when you acknowledge the number of kitesurfing resorts worldwide, if, or rather when, they embrace wing foiling as holiday-packaged winter escapes from Tarifa to Zanzibar, this will be the catalyst for exponential growth. Windsurfing and kitesurfing benefitted hugely from this evolution, and wing foiling could do so, too.
How is Mistral differentiating itself from its competitors?
Since its founding, Mistral has always been different from its competitors because of its Sportswear line, and today, with solid licensees in place, this is an immediate point of difference, together with a drive to bring Club Mistral back, ensuring a holistic philosophical vision over and beyond making hardware. Mistral is a heritage brand that has weathered many storms, reinforcing its ability to adapt.
What key products are you launching in S/S 2024?
SUP inflatables have formed a recent, invaluable cash flow; we know what consumers want and within which price range. Our hardboard SUPs also remain in demand. We'll focus on fine graphics and deck hardware details while relationship-building with notable shapers across surfing, wing foiling and windsurfing with the vision to build on these key product-centric areas. It's a time to consolidate in a somewhat uncertain market.
Check out Mistral's 2024 product offerings here: