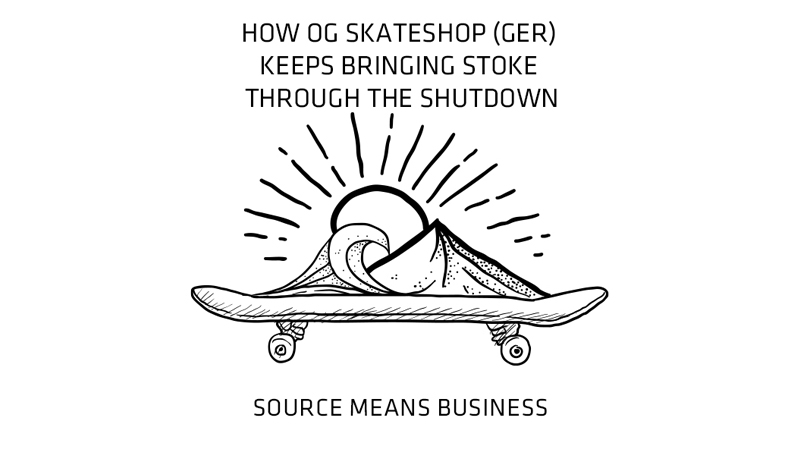 How Germany's OG Skateshop Keeps Bringing The Stoke During The COVID-19 Shutdown
As part of our COVID-19 Boardsport retail coverage, we're looking at retailers and initiatives across Europe that keep things moving forward in this unprecedented crisis. Today, we highlight strategies that help Germany's independent OG Skateshop stay afloat despite the government-mandated shutdown. By Dirk Vogel, Boardsport SOURCE Skateboard Editor.
Skateboarders have always been an adaptive breed with an ability to pursue their passion, even when the going gets tough. Now that the global coronavirus (COVID-19) pandemic has over one-third of the world population on lockdown, skaters across the globe are getting creative by posting skate clips filmed at home in their houses.
But the business side of things is an entirely different story, especially skate retail. At a time when 'non-essential businesses' are forced to close up shop and supply chains become disrupted, all stationary boardsports retail is affected by the lockdown.
Enter Germany's OG Skateshop currently bucking the trend as an independent, online-first specialty retailer. Operated by skateboard lifer Pav Lubomir in the German town of Aachen, the shop still manages to deliver skate goods via mail order while bringing the stoke on its Instagram and YouTube Channel despite the crisis.
The secret? In this article, we take a closer look at some of the shop's successful tactics and talk to mastermind Pav Lubomir, aka @OGpav about his nimble business strategy.
Vlogging Through The Shutdown
The first remarkable thing about OG Skateshop's crisis response is adapting to the new situation in a flash. On the first day the German government announced the shutdown of public life to flatten the curve of coronavirus spread, Pav began vlogging his shutdown experience on YouTube and kept the product reviews and updates from the shop coming on the regular.
In what have now become almost daily dispatches watched by several thousand viewers, Pav shares his thoughts on the situation and packages up customer orders in his small retail space/fulfilment centre/base of operations. 
Another factor that crisis-proofed Pav's business for the shutdown of stationary retail is that he hardly sells directly on-site to begin with. "I've always been online with my business, because the entire world is online now," said Pav. Before the shutdown, customers could sometimes drop by the shop to pick up their goods, but only in rare cases and by previous appointment.
So when the full force of coronavirus measures hit, OG Skateshop for the past year-and-a-half had already been selling the full assortment of skate hardware, shoes, apparel, complete boards, and accessories via mail order. And even amidst the shutdown, Pav still manages to get his packages out.
With that said, the small independent retailer is in a much better position than mail order industry titans such as Amazon. Especially bearing in mind that Amazon PRIME, the membership service offering free 1-2 day shipping, is currently wrong-footed by COVID-19 like never before: According to industry reports, some PRIME items now take one month to ship and price-gouging on items like water filters is rampant, some selling for multiples of recommended retail on the platform.
Take note: Right here lays a major advantage for independent retailers who previously struggled against ecommerce giants. By staying operational and delivering within a reasonable time window, their David VS. Goliath battle now looks far more winnable.
Staying Alive
Asked how OG Skateshop adjusted to the corona crisis, Pav offered: "I haven't changed a single thing. I'm still out there filming, posting, putting together packages at the shop. Just my daily routine," said Pav, adding: "I don't have that many social contacts (laughs)."
However, as the conversation shifts to the impact of the coronavirus pandemic on his business, it quickly becomes apparent that, despite making no changes, Pav must be doing something right. "January and February were tough as usual, like every year. But ever since early March it's really been the same as last year, perhaps even up to peak levels in November before the holidays."
For perspective, at a time when major boardsports brands are shutting down operations and facing the grim reality of layoffs, business "the same as last year" is actually great. During a crisis when stationary retailers are scrambling to sell to their customers, it's exceptional.
"It's been good so far. The only slight problem is that some of my suppliers are facing delays. So deliveries of things like trucks and decks can require a bit of a wait," he allowed.
In his social media offering, Pav noted a positive ripple effect of the COVID-19 lockdown situation: "Actually, my click counts on YouTube have seen a slight uptick recently, probably because everyone's at home and bored, looking at the internet. But I don't really do this for numbers or anything."
Strategies For Boardsports Retailers
Asked about sharing some strategies that could help other retailers navigate the COVID-19 lockdown, Pav remained humble: "Every person is a different individual and has different skills and talents. It's not for me to give tips to anybody. I do what works best for me, but that may be totally different for another shop or person."
Wise words from a self-made man. But looking at OG Skateshop's crisis response, here are some keys to success in a COVID-19 disrupted world:
Bootstrapped, tight business. Without much of a physical storefront and operating right out of the fulfilment centre, OG Skateshop keeps overheads at a minimum. The number of employees is also manageable, plus, they are all family members happy to lend a hand.
Walk the walk. Pav is a skate personality well-known for his active involvement in the scene. He provides beginner tips, reviews the latest shoes, and critically dissects the latest online videos and web clips with commentary. As a side hustle, Pav holds it down on weekends as a contest announcer at international skate contests.
Transparency in communications. Although some of his suppliers are currently facing delays on import skate goods, Pav keeps the business going. He also maintains an open dialogue with his customers and informed them on social media that it's not business as usual. He also asked for understanding that things may take longer to ship due to COVID-19.
Maintain the stoke. Even at a time when physical interactions are curbed and brick-and-mortar storefronts closed, Pav gets attractive content out. With the shutdown vlog on social media and engaging Insta stories, OG Skateshop keeps the conversation going.
Sell what you love. Pav is not letting COVID-19 put a damper on his love for all things skateboarding. And he continues to celebrate the products he sells with enthusiasm, for instance when a delayed shipment of 7.5 inch decks from his own house label of skate goods finally arrives: "I'm about to throw one together," he exclaims and puts new grip on a fresh deck live on camera.
These five strategies are just some ideas that other retailers may find inspiring. Most of all, what we can all learn from OG Skateshop is the unbroken spirit inherent to boardsports. The rest, everyone has to figure out for themselves.
"Everybody needs to find their own individual strength and then start banking on that!" said Pav at OG Skateshop.
Watch this space as our boardsports retail coverage amid COVID-19 returns to boardsportsource.com