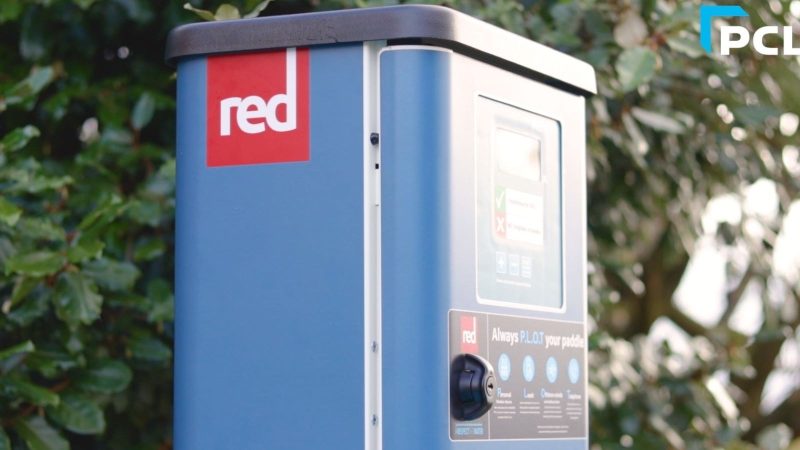 Red Paddle Co x PLC launches SUP Inflation Station
Press release:
Red Paddle Co, the world's leading brand for inflatable Stand Up Paddleboarding, have teamed up with Pneumatics expert PCL to launch a new solution that gets paddleboarders swiftly and safely out on the water. The two brands have collaborated to create the SUP Inflation Station, designed to be installed and used at paddle boarding locations across the UK and worldwide.
The SUP Inflation Station helps solve many irritations that can come with inflating a paddle board. The unit is capable of accurately inflating a standard, 3-metre-long paddleboard to 15psi in under 5 minutes, for optimum performance. This solves the safety issue of many paddlers taking an underinflated board out onto the water. All users need to do is connect the paddleboard to the inflator and it does the hard work for them. This will save paddleboarders considerable effort, leaving them fresh and full of energy to get safely out on the water.
The Inflation Station is available as a free vend station, or with contactless card payment facilities for revenue generation, it is simple to use, with self-explanatory instructions and an easy-to-read digital backlit screen. It also includes Red's P.L.O.T safety message giving clear step-by-step instructions on safe water usage.
Both companies have a global reputation for the design and manufacture of innovative, high-quality products at their own UK facilities. Each is known for its customer-centric approach and dedication to excellence in product performance.
According to membership body British Canoeing, the UK alone has seen dramatic growth in paddling activities, with a Watersports Participation Survey in 2021 revealing that 7.6 million Brits had either kayaked, used a canoe or a paddleboard. Red Paddle Co have been at the forefront of the inflatable SUP industry for 15 years and have been the driving force behind the popularity of the sport.
The unit matches the unbeatable quality of the paddleboards for which Red Paddle Co is renowned. Each board takes 72 hours to make, using a unique process and comes with a 5-year warranty. John Hibbard, CEO and co-founder of the Devon-based company said: "We create paddleboards that perform for everybody, regardless of age or ability. Our focus is on making paddleboarding a safe, relaxing, and sociable way to enjoy the outdoors.
"The liberating thing about an inflatable standup paddleboard is how easy it is to take with you everywhere you go. You don't need a van or a roof rack to take it on a road trip, and if travelling by plane you can just check in your Red Paddle Co backpack with the rest of your luggage.
"The idea that you turn up at a SUP location and there's a unit on site that pumps up your paddleboard for you, to the correct pressure, meaning you're ready to jump out on the water in minutes, with no effort at all, is fantastic. Paddlers will no longer need to use noisy personal electric pumps at their cars as this offers a designated area to correctly pump your board. Who better to partner with to co-create this special, bespoke range than the world's leading pneumatics expert – PCL!"
PCL's MD, Lee Wright, said on the partnership: "For two UK companies to combine leading paddleboard manufacturing with leading pneumatics, to creating an inflation solution for the world's fastest growing watersport, is an achievement in itself; as well as an exciting development for the paddle boarding industry. We hope the SUP Inflation Station will also encourage more people looking for a fun and stress-free, water-based hobby to give paddle boarding a try."
There are currently four units installed across the UK, including the following public venues:
Aldeeford Lake, Tilstock Rd, Whitchurch SY13 3JQ
Gwersyll yr Urdd Glan-llyn, Llanuwchllyn,Bala LL237ST
Blackpool Sands, Blackpool Valley Road Nr, Dartmouth, Devon
Relating to growth plans for the unit John Hibbard explains "Red Paddle Co are keen to partner with SUP schools, water sports centres and waterside locations to bring the SUP Inflation Station to more paddlers. We're really excited to see the units in action and we're getting some positive feedback already. If anyone would like to chat with us about installing a unit at their premises, please do get in touch!"