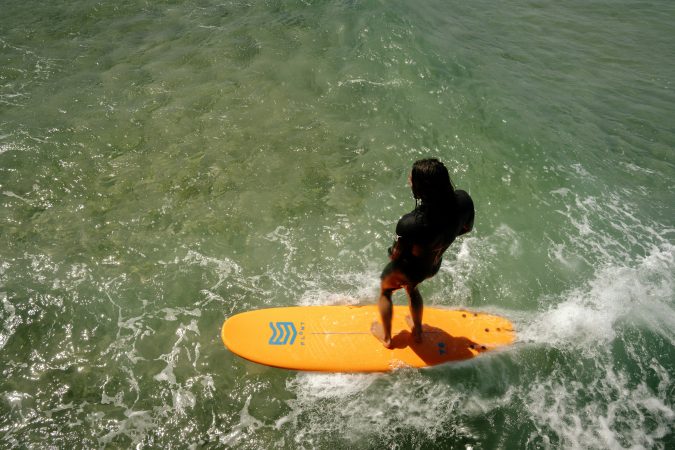 Flowt 2023 Softboards Preview
Retail Buyers Guide: Softboards 2023 Retail Buyer's Guide
Brand: Flowt
Interviewee: Diogo Areia - Flowt Product manager
Beginners basically have 2 options when it comes to buying their very first surfboard: go for the sturdy high impact molded tanker or chose a spongy yet more fragile soft top. The latter is the winner if we look at past years figures. Good or bad?
Actually, beginners have more options. Flowt's sofboards are neither the "high impact moulded tanker" or the fragile "spongy". Our boards are fully fibreglassed in epoxy, just like a "normal" day to day board of an advanced surfer, but they are coated in soft material. That way they offer the best of both worlds, they are light, durable, safe and offer a good performance.
Construction wise, most softboard are made in Asia. How much of an issue is that on end prices due the rise of material/shipment costs?
Having a tight and very experienced team, built over many years of hard work, has helped a lot. Our scale, in termos of orders, is another plus in regards to offsetting the costs increase. It will always be a challenge since it is hard to get away from the quality of the production in Asia, it's a balancing act to keep things running smoothly and not increase dramatically the costs to our partners so that they too, can keep their operations going smoothly as well.
Overstocks are the #1 threat for retailers at the moments. How can you help them filling in the order forms in terms of volume and model choices?
Over the years we've gathered a very precise notion of what are the most looked for models, and we've even perfected them. Having that notion on our side, gathered by the numbers and the experience of our partners in the field, we've narrowed them to the ratio of sales per model and we've made sure we always have enough stock to keep their businesses going. Even during the challenging years we've been through, we made a serious commitment to keeping up with a very irregular demand in order to keep everyone going even at the hardest of times so that we all could get through the hard times together.
The renewing rate of a fleet of boards in schools/rentals is crucial. How do you ensure your specific models will last?
By investing more on improving the product and not so much the marketing behind it, we feel that we have raised the standard of what is expected from a softboard. The attention to details and the constant will to improve have made Flowt Softboards the best in their category. Our boards are not toys, they are tools, long lasting tools for surf schools and surf camps, so they have to withstand the test of constant hard use, and they do. That's why surfing instructors around the world have made Flowt their preferred choice.
The signature performance softboard sort of steal the show on social media under the feet of elite riders. Even if they don't account for the bulk of sales, how important are those designs for softboard market?
Even though they share some of the same materials, they are on completely different categories. Performance softboards in a way have helped in raising awareness to how much fun you can have on a softboard and have made it more natural for a surfer with a decent quiver to have a "softy" on it. Flowt Surfboards is more focused on making the best softboard that an instructor could get their hands on but we have a wide range of boards that includes hardtops, both fun and performance, and even performance softboards, our "Marshamallows". In a recent softboard event in Portugal, the "Prio Softboard Heroes", they were the unofficial go to boards of the competitors. Our premium performance models, available in 6'0, 6'6 and 7'0 are also boards who sport the future fins system and you can actually rip hard on them.
Do you implement/encourage recycling programs? EPS cores are relatively "easy" to recycle, what about slicks?
To help lowering our ecological footprint we have worked hard on making the boards a lot more durable than the industry standard and in the premium performance range we've seen boards lasting up to 10 years, which helps lower the constant renewal of boards. Also, all our boards are packed without using any plastic, only cardboard and paper sheets. But as far as recycling goes, we are still searching for solutions to lower the impact on the environment. The surf industry as a whole still has a long way to go but we feel like we are on the right path.
Key Products:
Our 8'0 Premium Softboard (8'0 x 23'' x 3 3/4'') may be the most reliable softboard that a surf school or camp can have on hand in order to make their clients enjoy their experience. The high density ixpe top, combined with reinforced EPS construction, SF5 through deck fins setup and 91 litres of flotation make for an easy and pleasant experience for all types of novice surfers.
The 8'0 Adaptive Surfing Softboard (8'0 x 24" – 99 litres) has one main aim, to make it possible for everyone to surf. Developed specifically for the needs of adapted surfers it has a side handle to allows surfers to have someone to help them along the way, a wedge stabilises the surfers chest and a small down deck to keep their legs in position while surfing. Surfing makes peoples lives better and everyone should have the opportunity to experience it. Adaptive Surfing is a cause that Flowt Surfboards is very much behind.
The 8'0 Tanker (8'0 x 27 " x 4") is another gem from our Premium Softboard range. 109 litres, high density ixpe top, HDPE slick bottom, reinforced EPS construction, SF5 through deck fins setup and deckpad wax free grip make it the perfect surfboard for the first lessons, allowing surfers for an easy take off and first times surfing experience.
The 7'0 Premium Performance (7'0 x 22 3/4'' x 2 7/8'') is future fins compatible and gathers the best features you can ever find on a softboard technologically wise, offering performance as well as durability. With 50 litres of flotation, it will guarantee easy entry on all sorts of waves as well as allow you to go from trimming to your first carves, floaters and cutbacks. It's the first step into a new world of surf performance.