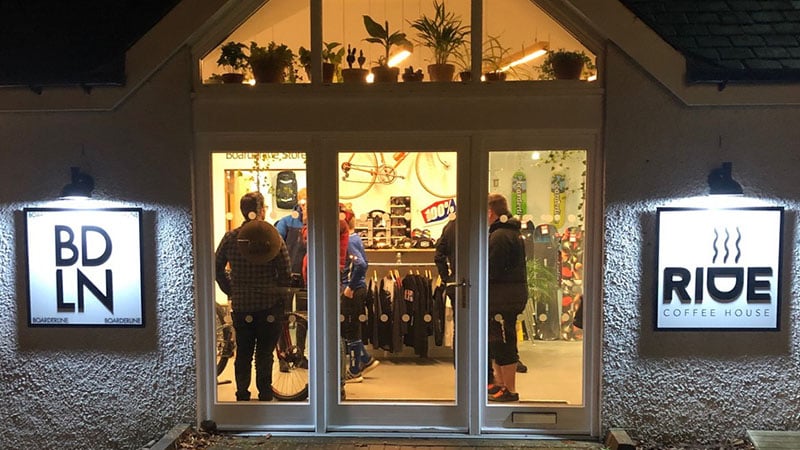 Boarderline's Simon Burnside On Branching Out From Snow & Skate, Biz & COVID
Over the past two decades, Boarderline has gone from being a small snowboard shop to a multi-sport retailer and coffee shop. In 2018, Founder & Owner, Simon Burnside moved Boarderline from its city centre location in Aberdeen to Banchory; in doing so, expanding to become Boarderline & Ride Coffee House. The move closer to the mountains also opened Boarderline up to the bike / outdoor markets which offer year-round trade that isn't reliant on the unpredictable Scottish snowfall or international travel. Here, Simon tells us a bit more about Boarderline's past, present and future as well as his relationship with The Lecht mountain and Ski Company.
You've been around since 1996, tell us about the history of Boarderline.
I came to snowboarding via skiing. My mum had a ski shop in the 80's and 90's and I'd always helped out as a youngster. In the early 90's snowboarding was fast emerging as a fun, creative and youth-lead sport that was the complete opposite of skiing which had (at the time) become a bit staid and traditional. Once I got involved, I never looked back! I persuaded them to stock a couple of Sims boards in the shop and some Wave Rave outerwear and things grew from there! A small shop came up for rent next door, and I branched out on my own, focussing entirely on snowboarding, quickly followed by skateboarding. Just as the last skateboarding boom hit, we moved to a larger city centre store in 2001 and remained there for 17 years.
It has continued to be me as the sole owner/director, as it has been since the beginning. However, I have had many, many talented and cool people work in the business over the years – all of whom have contributed a great deal to its success and longevity.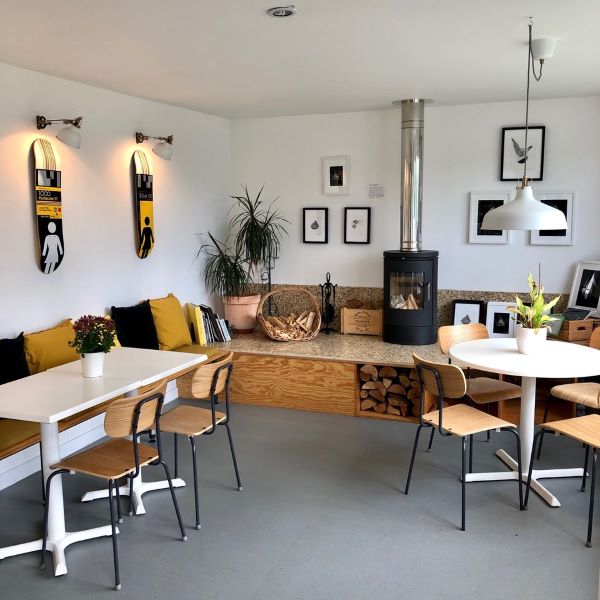 A couple of years ago you relocated and opened up a cafe in store, how did that go?
Yes, so we moved from Aberdeen to Banchory – a small town, 18 miles to the west of the city, in the heart of some beautiful countryside. It has a great outdoor vibe and is situated on the main route to the mountains.
I'd had a vision for a bike focussed cafe for a few years, so I decided to combine the idea with relocating Boarderline. We opened the Ride Coffee House in November 2018, with Boarderline located in the lower ground floor. The idea was primarily to give us another string to our bow, provide a more consistent year-round revenue stream, and make us less dependent on the vagaries of snowfall, and all the other factors affecting snowboard retail.
It's been really successful and great fun diving into a new area. We have a bike rack out the front and outdoor seating, so we get a lot of bike riders – roadies, mountain bikers and recreational. This has enabled us to adapt our retail offering a bit, into new areas. For example, we do pretty well with mountain bike apparel and accessories from 100% (the brand). We're also getting some new types of customers through the door who are into hiking, cycling and outdoor fashion which broadens our base a bit from core snow and skate.
We put a new Stance socks stand in the coffee shop and the hike and bike socks fly out as regularly as the flat whites!
After closing for 7 weeks at the start of the first lockdown, we reopened Ride as a takeaway only and it just got busier and busier – the simple pleasures of speciality coffee and good food saved us during what was a nightmare 2020.
This winter you're working with the Lecht Ski Company on a crowdfunding campaign. What was the initial plan and goals?
We have a store during the snow season at The Lecht and it has been my local 'go to' mountain since I was a nipper.
Climate change and milder winters has meant that snowfall is far from guaranteed in Scotland these days. Scottish resorts need a strong snowmaking game to survive, and fortunately companies like Technoalpin in Italy are keeping pace and producing some great products to assist with this.
The Lecht got a generous offer of a grant for ¾ of the cost of installing 4 new snow cannons to add to their existing Snowfactory. These new generation cannons are capable of producing large quantities of snow quickly and the hope is that the Lecht will be able to use them to open up some of the longer runs in the absence of any real snow falling. The crowdfunding campaign was to raise £80,000 for the completion of the project.
What about the final results of the campaign?
It went really well! Although we did try to secure some larger corporate donations – it was almost entirely funded by enthusiastic Lecht customers and locals! It was really cool to see the level of support and love for The Lecht – everyone really got behind it and put money in – particularly amazing during such a difficult year for most people.
We raised £65,000 which was enough of a commitment for the directors to push the button and get the snow cannons in. The aim was always to get them in for this season, and with looming uncertainty surrounding January 1 and 'no deal', it was decided they had to be shipped in quickly, so they arrived a week before Christmas.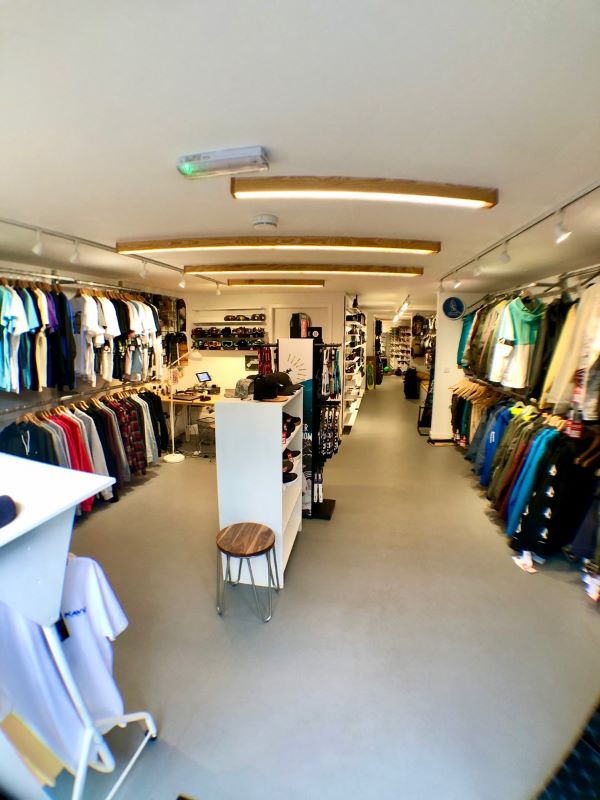 What are your thoughts on the winter season in Europe and Scotland?
At this point in time, first week in January – it's not looking great. Most European resorts remain closed and the country has just entered another lockdown with non-essential travel banned. Typically, Scotland has enjoyed some amazing snowfall and a long period of cold weather and after a brilliant first week, the resorts have just been ordered to close – devastating!!
Obviously, if nobody is getting away riding, the demand for kit plummets and that has been the case all season. It is completely understandable, but nevertheless a disaster for retailers.
We can only hope something can be salvaged later in the season perhaps, but who knows…?
Do you think the staycation could be a boost for the shop in 20/21?
I had been pinning my hopes on Scotland getting good snowfall. With good snowfall and restrictions on overseas travel, we could do really well as the domestic/local scene would be booming. If the latest lockdown doesn't go on too long, and the snow stays – this could definitely come to pass!
Can you talk to us about any lessons learnt last winter, any requests from brands for current winter and thoughts on the future on the whole?
Recently, there's been a lot of discussion about how COVID has just accelerated what was already happening across the retail sector, with the demise of high street stores, increase in online etc… There's no doubt that the past 10 months have really forced everyone to take stock and rethink and, if necessary, adapt their business to survive.
It's been great to see the boom in skateboarding, slowed only by the unavailability of product – never seen that before!
For the snowboard industry, I'd like to see a change in the relationship between brands and their retailers. I think brands are missing a trick by not utilising (the ever-decreasing number) brick and mortar stores that are still around more effectively. Brands are obviously very actively pursuing a DTC model; however, I feel they should be offering greater support in terms of making stock available when stores need it and using these stores to offer the kind of experience that cannot be replicated online. I think the age-old method of expecting retailers to commit to large pre-orders in order to get stock, with little or no in-season availability, whilst simultaneously competing against brands selling direct, is just not sustainable for independents anymore.
I'd like to see a more collaborative approach, where dealers don't have to shoulder the same level of risk in terms of stockholding and have a greater flexibility in-season to provide the customers with what they want. Done right, this could work to everyone's advantage and ultimately keep the stoke of snowboarding alive, something which will not happen with just 2 or 3 large .com's slinging out products…
It's been a hell of a bumpy year – but I'm in no doubt, people are going to be desperate to get snowboarding next winter!