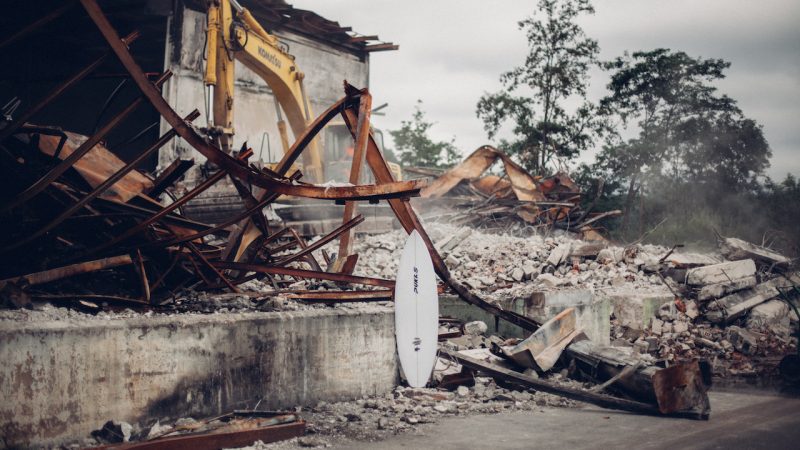 PUKAS Basque Country
A store synonymous with surfing in Europe and roots going back to the 1970s, Pukas in the Basque Country also manufacture highly acclaimed surfboards with some of the world's finest shapers. A horrific fire ripped through their surfboard factory in 2017 and we've spoken to Adur Letamendia to hear how Pukas have risen from the ashes, coming back stronger than ever, finishing runners up in the 2019 Stab in the Dark surfboard comp, where World Champ Mick Fanning blind tested boards. We also hear from Adur just how amazing the Vans Duct Tape Invitational was for the region in 2018. Interview by Harry Mitchell Thompson.

Please tell us about the history of the store.
Pukas Surf is a family driven company based in the Basque Country (Spain) and has built a reputation for making quality high-performance surfboards and custom bikinis. We first hand shaped a surfboard in 1973 but Pukas was founded in 1979. Along the way came the surf shops, the surf contests, the friends and the parties, the surfboard factory, the professional Pukas surfers, the good and the bad, the surf schools and the stoke. Today we employ around 150 people during summer, and we are deeply rooted to the city of San Sebastian and Zarautz.
Could you talk to us about the fire that hit your surfboard factory.
It was 5pm and everyone was working at the factory. A short-circuit sparked a fire and we couldn't stop it; it grew violently, fast and wild. The fire took everything but the people (who had to run for their lives). That very same night we started planning how to start over again from scratch. The love we felt from all over the world hit us bigger than the fire. It was June 2017 and it made us all stronger. It has been a year and a half since the fire and we are manufacturing more boards than the pre-fire period.
That's amazing to hear. What's popping today?
High-end surfboards are working very well. Channel Island Surfboards is on an upward trend which we correlate to Britt Merrick's appearances and visits to Europe. He will be coming again this July. Pukas Surfboards are doing great and being runners-up in this year's Stab in the Dark (a blind test starring 3x World Champ Mick Fanning) has helped us elevate our brand awareness. Twin fins are definitely the thing; Christenson Surfboards' Chris Fish is killing it along with the high performance twin fin collab by Pukas x Christenson, called Pegaso (featured on the cover of this issue). CI's Fish is booming and Pukas' shaper Son of Cobra is constantly shaping breath-taking twin fin quivers. …Lost with Matt Biolos' Rad Ripper and Retro Ripper are hyping things nicely, and Max from Eye Symmetry is also working with Pukas and he just flew in from Sidney to shape for Pukas for a third year in a row, which is seeing good growth.
Please explain your views on last year's Vans Duct Tape Invitational. How did the event affect your store?
It was the best thing that happened to the Basque Country in 2018. We don't rate the success of an event like this by the increase in sales; we rated this event by how much new flavour it brought to the local scene and by how much wow factor was thrown into the mix. There is a rad vibe flying around a Duct Tape Invitational that is worth being part of. And the international crew who stayed in Zarautz had a blast. The magic of an event this cool is the most valuable asset a brand can bring to a community like ours because it lasts for years.
How do you alter your brand line-up?
Our brand line-up is constantly changing. In order to be a successful business you better be chameleonic by nature; we are thrilled by new trends, new brands, new products and new people, but besides how much fashion we throw in the mix, we have never lose track of one very important thing: we are core as fuck to surfing! We also visit trade shows, we are open-minded, we travel and we have an international network of friendships that keep us in the loop. Oh, and we love taking risks.
How has business been the last 12 months?
Tourism is important to us. The city of San Sebastian, Zarautz and its surroundings are better than ever. It feels alive. It blends culture, sports and a vibe that's unique to this territory. Our shops benefit from having a healthy community and that translates to a higher income (if things are done right on our end).
How can physical retail overcome giant online retailer such as Amazon?
There is room for Amazon, there is room for Pukas Surf Shop, there is room for new entrepreneurs… There are plenty of formulas to come up with a successful business and they are all up for grabs. We need to play it smart and have fun along the way; customers can tell.
Our surfboard project feeds from an ever-evolving crew of international shapers. In 2019 Pukas Surf will bring custom surfboards to Europe based on who we believe are some of the most forward-thinking shapers today: Axel Lorentz (FRA), Matt Biolos (USA), Chris Christenson (USA), Son Of Cobra (FRA), EyeSymmetry (AUS), Lee Stacey (AUS), Bob McTavish (AUS) and Grant "Twig" Baker (ZAF). This is connected to our stores, to the Basque Country, to the surf schools and to surfing. That's us.