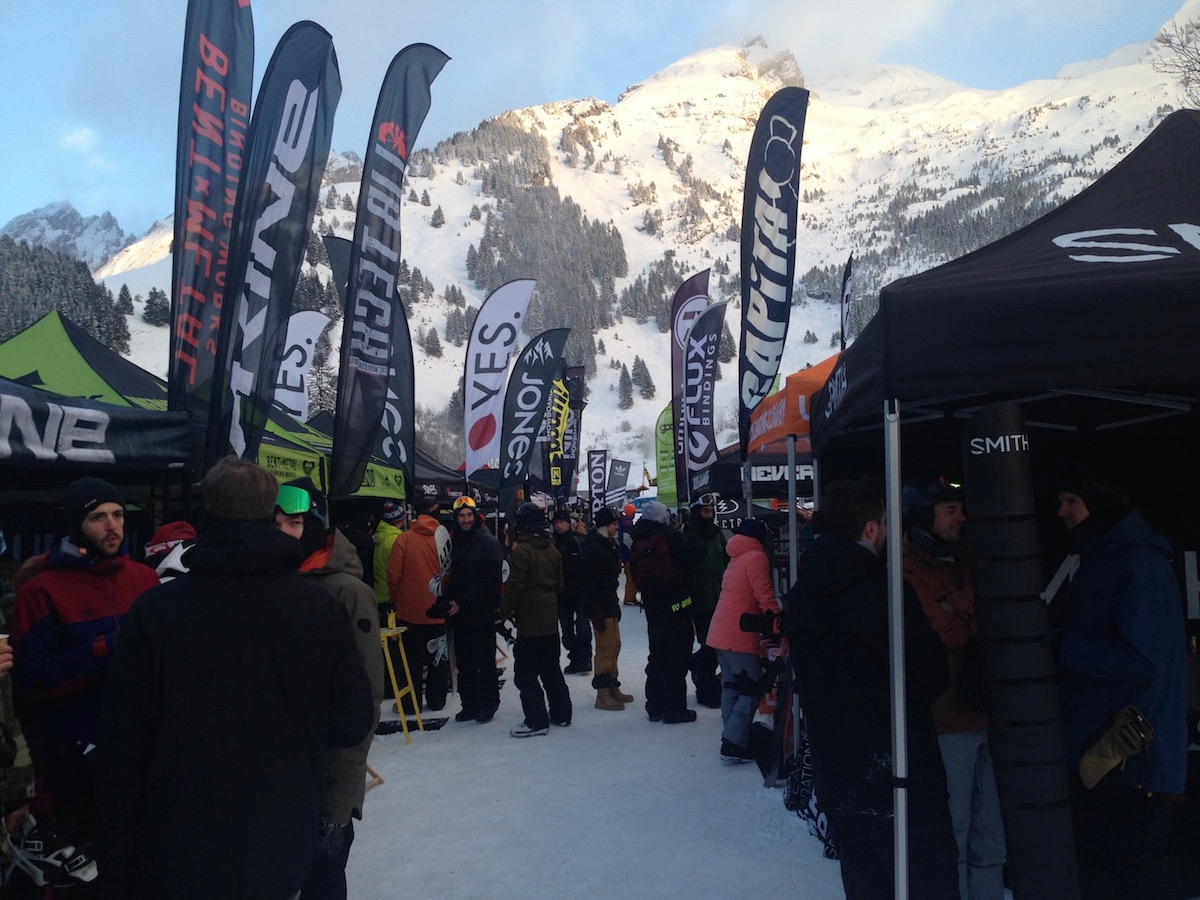 Rock On Snow Pro, La Clusaz Preview
Retailers from across Europe will meet up at the Rock On Snow Pro in La Clusaz to test more than 50 brand's 2020/21 range of snowboard products. Though French retailers make up the majority of visitors, last year also saw key retailers from UK, Switzerland, Benelux, Spain and Scandinavia attending. In fact Rock On Snow pro was visited last year by 458 shops and 798 people from across Europe and during the 3 days of the event 3692 tests were made. The demo is divided into two parts, an outdoor village where the exhibiting brands will have everything you want to test, no matter if you're a powder or park rider and then there is a 450m showroom tent in which visitors will find not only softgoods, boots and accessories brands but also an exhibition wall with the highlights from every brand. Inside the tent is a great place to relax between rides and grab a cup of coffee. During the day Rock On Snow Pro will have live bands, beers and fondue and some guitars all under a new Woodstock theme. Additionally the infamous Roster foodtruck will cook burgers and food on site, at the test village.
From 5pm each evening there's 'happy hour' time in the showroom tent and this is a great way to debrief on your riding day, speak with reps and exchange with retailers and press whilst checking the exhibition wall to choose which board you'll test the following day or to look at the newly introduced Art exhibition. On the evening prior to opening the Rock On Dinner will give a warm welcome to the industry, and will be held in the 4 star Beauregard hotel. This is referred to as the Rock On Base Camp, and is next to the slopes and fully equipped with swimming pool, hammam and Jacuzzi to relax after a hard working day.
Download the Sportair Android and IOS app onto your phone to help keep a note of all the products that you tested and to exchange files with exhibitors. All your data will be saved on a personal account, meaning you will have a personal record of everything you tested at the demo. The app works in conjunction with the simple data recording system based at the entrance to the outdoor tent park.
Two people per shop are invited to the event with the invitation including 1 access badge, 1 ski pass for the La Clusaz resort, 1 Rock On Dinner ticket and 1 breakfast and 1 lunch for each person. If you are more than two persons or if you want to extend your journey, it costs 48 euros extra per person per day. For people who come from far away, the organizers provide a shuttle from Geneva to La Clusaz. The return trip and accommodation is available at special prices.
Retailers can also take the opportunity to visit the 11th edition of ASAP, Sportair's softgoods show which is held in Annecy over January 13 – 14, and is only 35 minutes drive away. This is the first European preview of the 2020/2021 winter textile collections. The fashion show will take place on Monday, January 13 in the middle of the day at the Espace Rencontre and showrooms around Annecy will be open from 8:30 to 19:30 on both days. This year around 295 stores are expected to visit the 38 brands exhibiting. Brands new to ASAP this year include: Nivose, Salomon, Devold, FW, Quiksilver, Roxy, Element and Billabong. To wrap it up the Outdoor Retailers Awards 2019 will be presented at the ASAP party organized at the Espace Rencontre.