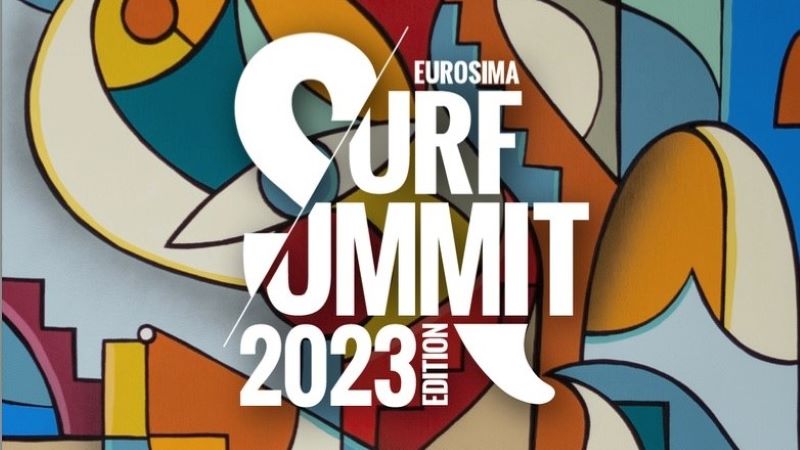 Preview: EuroSima Surf Summit In Seignosse, France Across September 28 – 29
This year EUROSIMA will welcome the acton sports industry for its traditonal 2-day conference at the Belambra Club Les Estagnots in Seignosse. The Surf Summit brings together over 350 participants for two days of outstanding presentations and round-tables that cover all the economic, social and environmental issues we face as we all build the future of the Action Sports industry.
This edition will revolve around several themes: Business & innovation / Decarbonisation / Professional well-being and performance / Mental strength in elite sports careers / The Spanish Action Sports market. The conference will also include a number of activities for guests to relax and opportunities for networking at lunches and during the middle evening cocktail party.
The program at time of going to press is as follows:
The Summit opens at 9AM with a speech by Eurosima President Jean-Louis Rodrigues on the purpose and value of the Summit.
At 10AM, ELITE SPORTS: THE CAREER OF A WSL CHAMPION. This is followed by a talk on "The customer 3.0 in turmoil and in need of a new conversations", presented by Patrick Beauduin Marketing Consultant & President and Valérie Bossé, Customer Experience And Marketing Strategy & Managing Director, both of of Maieutyk France. Digital technology has shaken up many of our certainties over the past 20 years, not to mention the current crises which are accelerating certain changes. At the same time, it can be a formidable field for exploration, renewal and reinvented dynamism.
Next up at midday is The Challenges of a Champion, an analysis of how the sports sector generates economic wealth presented by José CORREIA, BPCE Representative and Frédéric TAIN, Journalist and Founder of Sport Guide. This third edition of BPCE L'Observatoire sur l'économie du sport takes an approach that goes beyond conventional statistical categories, to capture a more global vision of the sports sector, rather than limiting itself to the highly visible professional sport.
Lunch time is then from 1-2PM just outside the conference hall.
The restart at 2PM sees Renaud Bettin, Founder of Sweep talk to the audience on "Decarbonisation and how it can be an asset rather than a constraint". In summary, "The climate is changing, and it's our fault. To rectify the situation and better absorb the shock, we are forced to react. We have to adapt our organizations to planetary limits, regulations and new consumer habits."
This is followed by a talk titled "Mental Keys to Serenely Evolve in Challenging Contexts" presented by Madeleine Malonga, Judo silver-medalist at the Tokyo Olympics and Anaëlle Malherbe, Mental Performance Coach. The journey of a top-level athlete is very similar to the challenges faced by managers, executives and corporate players. The presenters will share with you how they built their performance path to two Olympic medals at the Tokyo Olympics.
Next up is a quick presentation on the new Unleashed festival, a combined B2B and B2C event planned for May 2024.
At 4:30PM, the eagerly awaited round table discussion on the Spanish market will start. The specifics and opportunities of this market will be discussed by Francois Lassegue, Sales Director France, Spain and Portugal for Hoff Distribution, Jean-Louis Rodrigues from Eurosima and Inigo Iraola Country Manager Spain for Rip Curl.
The Surf Summit cocktail party will be held at the 70 Hectares & Océan Hotel in Seignosse.
Friday starts at 8:30AM with a workshop titled Fostering Emotional Intelligence which will be run by Psychologist Mathilde Depaulis. In summary, "In our Western societies, we tend not to understand and manage human emotions. This tendency extends to other areas of life, including the workplace. We often leave our emotions at the door when we go to work, whereas if we learned to manage them better it would not only help the company, but also the employees to be happier and perform better at work".
Friday's first seminar starts at 10AM and is a blend of sport, science and conscience, with the aim of moving from observation to action, through concrete examples and tools that can be directly mobilized by companies in the board sports world. Flora Artzner, high level sportswoman & consultant engineer in natural resource management is the presenter.
At 11AM Florian Auger, Founder of Outercraft will examine how boardsports brands can be prepared for tomorrows markets, ensuring their long-term competitiveness. Behavioural theory, operational strategies and stories of key innovation projects all provide clues.
The end of the morning will see the winner of the EuroSima's Call for Innovation present their pitch.
The lunchbreak then starts and participants have the option to go for a surf session with the Hossegor surf club.
The afternoon session starts at 2:00PM with the "Dichotomy between vulnerability and performance where top athletes show us the way in business" presented by Pierre Étienne Bidon, Founder of Moka Care.
At 3PM, a round table will be held to look at Environmental posting and 2024 regulations. Environmental labelling for clothing and footwear becoming mandatory in France in 2025, make this is a key topic. Around the table will be Stéphane Popescu, Founder of Cose 361, Alicia Boyano Larriba, Policy Officer EU Commission, Pascal Dagras of CGDD, Steve Duhamel, Lacoste, Etienne Crozet, Rip Curl, Pascale Morel of Pyrenex & Vanessa Montagne of Ecologic.
The seminars are wrapped up with presentation of the all new Eurosima x Surfrider action sports sustainability guidebook by Jean-Louis Rodrigues from Eurosima and Florent Marcoux Managing Director of the Surfrider Foundation. This co-constructed reference framework has been designed to serve as a decision-making tool in the development and implementation of environmental strategies aimed at limiting the impact of the boardsports industry on the ocean and the climate, all fully in line with the 1.5° trajectory of the Paris Agreement.
Then, last but not least, will be the closing drink
During the Summit, EuroSima will be presenting the 9th edition of the Surfing Lounge exhibition, which showcases the most innovative products and services in action sports. The Surfing Lounge is an ideal place to discover emerging trends, to share ideas and to create ties with leaders and innovators in our field.
So if you need to visit SW France for business or pleasure add the Surf Summit to your calendar and participate in Europe's number one networking event for the surf industry as well as getting to catching some barrels yourself.