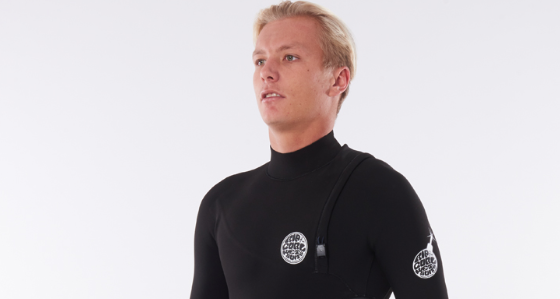 Rip Curl F/W22 Wetsuit Preview
Retail Buyers Guide: Wetsuits F/W 2022 Retail Buyer's Guide
Brand: Rip Curl
Interviewee: Léa Duquay – Assistant head of product, Wetsuits department
As far as the European market is concerned, which categories among winter wetsuits are on the rise, which ones are fading? (top end vs entry level, supple 4/3 vs hooded armor, backzip vs chest zips…)
Regarding the European market, the pinackle wetsuit for this winter will be:
E- bomb : The E-Bomb featuring 100% of our super stretch E6 Thermoling. Available for both Women and Men in Zip Free, and as an addition to the next winter range it will be available also for Men in Back Zip. The E-bomb, in the top of the range of our wetsuits, with the E6 neoprene 100% lined with our superstrech E6 Thermolining, this allows an incomparable wetsuit flexibility. It doesn't have the quick drying properties of the flash lining, but because of its shape with long channels, while wearing your wetsuit, the compression will trap air against your skin and therefore increase the insulation and increase the warmth compared to a non-lined wetsuits.Our bestsellers remain the dawn patrol 4/3 warmth, the hooded suit depends on how you want the wetsuit to be used. Finally, the best-selling and marketed entry system is the Chest Zip.
After a couple years spent coping with the storm, will 2022 be the year of progression with innovations aplenty?
As everybody knows, the wetsuit's world is facing an incredibly high demand. It has never been so strong and especially with such rapid growth. This represents a real challenge for all wetsuit's brands, both in terms of production management and product development. Despite these challenges, we can be proud to say that the summer 2022 sales tour was a success. One of the main reasons is simply that we are the only brand who owns our own R&D lab and manufacturing facilities. Which allowed us to keep launching new technology and refreshing the range each season. We have a range of different research projects in the pot at the moment. Getting really close to releasing some of those. But for winter 2022, our main focus will be be on expanding our "made with sustainability in mind" wetsuit's range. Our latest bio based material lately on the dawn patrol performance will be available on our dawn patrol warmth and Omega. 2021 was a good year for Rip Curl, innovations are still to coming, as we seek to improve the technicality of our wetsuits to satisfy our customers. Always looking, Rip curl the brand of the search is also the search of innovation and we want to continue to be the brand made by surfers for surfers.
Is there a sweetspot as far as winter wetty prices? On that matter, is an increase of the retail price to be expected due to the costs of materials/shipping?
Indeed, since the health crisis and as in all sectors, the prices of raw materials and transport have increased, we will not be able to escape this. Therefore, we will have to increase our prices while maintaining a consistent price structure.
Please sum up your key innovations in FW22? (rubber, lining, seams, constructions, entry system…)
Eco neoprene As said above our main focus will be on extending the use of sustainable material within the range. Beyond the trends we decided to introduce an eco-wetsuit, with a 100% neoprene free, renewable plant-based, a recycled jersey and foam offcuts. The foam is non-petrochemical, and is certified bio based USDA. So we are happy to introduce this new wetsuit on the range.
E7 neoprene  Next to it all our most advanced materials are available in the E7 Heatseeker, our pinnacle wetsuits, featuring 100% of our E7 neoprene, 100% lined with our super warm Flash-lining and flex energy. It is the warmest and stretchiest wetsuits on the market. The bench mark in stretch performance neoprene. An additional 20% more stretch lighter and warmer than E6.
Flex energy Our flex energy lining will have the exact same properties as the flash lining plus an added warmth factor coming from friction. As soon as you'll start moving around, paddling or surfing, the flex energy will create added warmth with up to one to two degrees gain, it only depends on how active you are.
As sustainability is key, can you estimate the lifespan of your winter models? (considering a proprer use, rinsing and drying)
Your wetsuit can last around 2 to 3 years, but as you mentioned it only depends on how well you care for it. There are obviously some things that go against its longevity and will deplete it quickly. Also, by having our own repair centres we continue to extend the life of our wetsuits and offer the best service to our customers. Extending the life of a product is one way to increase its sustainability.
More environmentally-friendly options exist out there regarding materials, yet they don't account for the bulk of business. Is the consumer to blame?
Indeed, as explained before, we have released a year ago our first neoprene free wetsuit, featuring recycled jersey. At the moment, the recycled jersey available on the market does not perform well enough and does not meet our standards in terms of stretch to be used in the Ultimate segment. We keep on looking for new materials that will allow us to reduce our environmental impact while respecting our quality standards. In addition to our research on more sustainable materials, we continue to invest to reduce our impact on the environment.  Among our initiatives:
Hangers made from recycled ocean bound plastic by "Arch & hook". Rip Curl will reduce consumption of virgin plastic by approximately 5 ½ tons per annum through the use of the new hanger.
The Ripcurl made with sustainability in mind wetsuit. Rip Curl wetsuits has and continues to be at the forefront of R&D to increase the sustainability of wetsuits and reducing their impact on our environment. New materials and components include Eucafoam 80% Biobased, recycled jerseys, recycled back zip pullers & zips made from 40% recycled content.
Water usage reduction Traditional colouring processes of the jersey applied to the wetsuit foam are water intensive. A large majority of the Rip Curl wetsuit range uses Dope Dyeing, an innovative process that dyes the yarn and reduces water usage, energy and CO2 emissions.
There is now a lot of materials on the wetsuits market and at Rip curl we are constantly looking for new materials By using recycled jersey and organic materials and by limiting the use of materials from the petrochemical industry, we are reducing our impact.
Key Products:
Heatseeker E7, our ultimate warmth and stretch wetsuit. With the E7 flashlining and flex energy technology, revolutionary lining on the back and shoulders that generates heat when stretched. The unbroken panel on back and shoulders maximise paddle efficiency and ease of movement.
E-bomb : THE ULTIMATE SUPER STRETCH WETSUIT  Our premium high stretch, lightweight neoprene. 20% more stretch and 20% lighter than E4. With our E6 Thermolining Super high stretch performance lining that surpasses industry standards. 20% more stretch than E5 Flash Lining and 10% warmer than E4.
Dawn patrol warmth eco : HIGH PERFORMANCE. DURABLE. GREAT VALUE. The Dawn Patrol offers performance and warmth features along with durability and great value. This wetsuit has many of the high end features you will find in our Ultimate suits including E5 Flash Lining, E5 neoprene and E4 Thermolining.