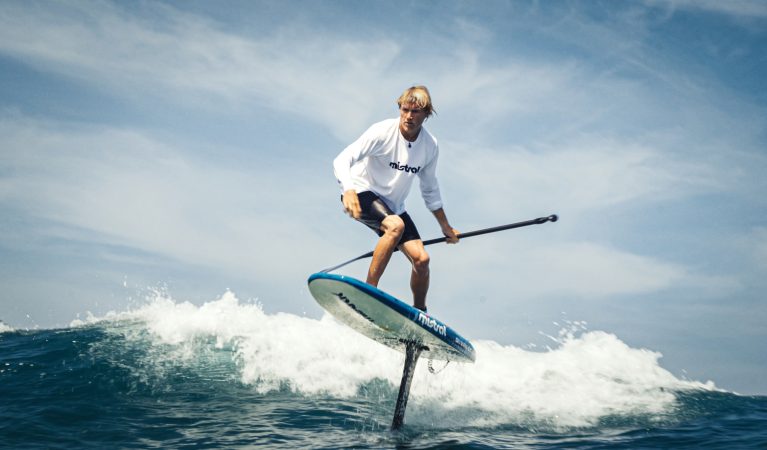 Mistral S/S Foil 2024 Preview
Retail Buyers Guide: Foil SS24 Retail Buyer's Guide
Brand: Mistral
Interviewee: Steve West
       What are the main trends in foil construction, materials,
     design that the industry is progressing towards?
–       The not-unexpected focus on using carbon epoxy construction remains a central theme. However, it has to be said that the merits of adopting aluminium for both mast and fuselage construction are hard to ignore from a price and performance standpoint. The obsession with carbon comes down to perceived performance gains in a high-performance arena. The water sports industry has spent a fortune delineating budget construction from exotic so that milled or extruded aluminium seems by far the lower tech, lower performing budget alternative when it's simply not the case if used wisely. There's absolutely scope for implementing bamboo, flax and bio-resins if we speak of ecological concerns to move away from highly toxic-exotic conventional materials, even if carbon were in this mix.
–       What sport drives more foil demand (kite, wind, wing, surf…)?
–       Wingfoiling is the driver from what we can tell, but we have to avoid being xenophobic to recognise geographical anomalies in respect of the differing disciplines. Prevailing wind and wave conditions and cultural bias all have to be considered. Lake Garda as an inland playground compared to Hood River or anywhere in Hawaii or Tahiti will all tend to have some bias. Still, for the most part, wingfoiling is proving the easy entry ticket to ride into foiling. Windfoiling is only something windsurfers aspire to, whereas the appeal of wingfoiling is finding traction with a wider demographic.
–       Which of your 2023 foils are selling well and why?
–       With the season just underway, our packaged deals are the popular sellers for riders with pre-existing board sports skills, which generally defines the demographic tempted to enter wingfoiling. This includes foils considered large to medium surface area for ease of lift. However, we recommend that accomplished board riders begin with something more challenging, not to exceed the hydrofoil limits too early once up and foiling. As the season progresses, we will see a shift of focus to our higher-end SAB systems, which offer full interchange between components and greater interdisciplinary options.
–       What are the highlights of your 2024 foil offer?
–       During 2021-22 we entered our learning phase of hydrofoil development, investing in R&D and specialist marine architects. The result was a solid start with high lift and highly stable rides aimed at the entry-level rider. The cost is eye-watering to compete and stay on top of rapid developments, leading us to form a relationship with SAB Italy (formerly Mosses). From a purely practical point of view, this has given us a huge boost in access to IP and levels of technology in construction that we can tap into. We're closely monitoring the trends, and through discussions with SAB over the coming months, we will form our vision for our 2024 range.
–       How will you segment the range, and which segment do you expect to grow the most?
–       We can segment the range across freeriding, freestyle, downwind and surf regarding disciplines. Additionally, we have to consider wing, kite, sup and wind foil sports. But if we had to narrow it down to commercial reality, freeride wingfoiling has to be where the bulk of focus will be.
–       What materials and construction techniques are you using for your 2024 range?
–       SAB are carbon fabrication specialists, and we shall no doubt continue this modus operandi for construction. However, internally, we want to consider ecologically sounder alternative materials, which may take some time and further R&D.
–       Have you implemented any new sustainable practices in your production and shipping processes?
–       We're beginning this process and acknowledge that we must avoid marketing ploys giving the impression that we care rather than sincerely doing something that makes a difference. Getting it right is a monumental challenge, creating tangible proof of a change in the materials and methods used. As for shipping challenges, because we manufacture out of Italy, we've lessened the carbon footprint in delivery by eliminating Asia and, in doing so, many thousands of miles of transit distance. That in itself is a good start.
–       How will you support retailers to sell your 2024 foils?
If we consider the entry rider market, packaging board, wing and hydrofoil rather like a complete windsurfing set remains the way forward. Many retailers still need help with the performance merits of one hydrofoil set-up over another, made even more confusing by the rapid growth rate. Providing a holistic package that can be upgraded by simply swapping out the mast, fuselage, front wing, or stab is also good for the end-user and the retailer, who can up-sell components to the ever-improving skill levels of the rider. We're all on a journey with foiling, and it's equally important to listen to what the retailers are hearing from customers concerning their needs.
What's your current situation regarding stock and deliveries? What's your forecast for your 2024 foils?
We've surplus stock from 2022 due in part to Mistral changing hands early in 2022, and the focus centred on restructuring. Add to this our supply from SAB, and we're very much on top of stock and delivery times for 2023. For 2024 we can leave it quite late to make decisions about stock replenishment, given that we will be less reliant on transit times from Asia. With a new sales team and Mistral now settling into a new management structure and improved online sales system, we are highly optimistic for our 2024 sales of foils, wings and boards in particular.