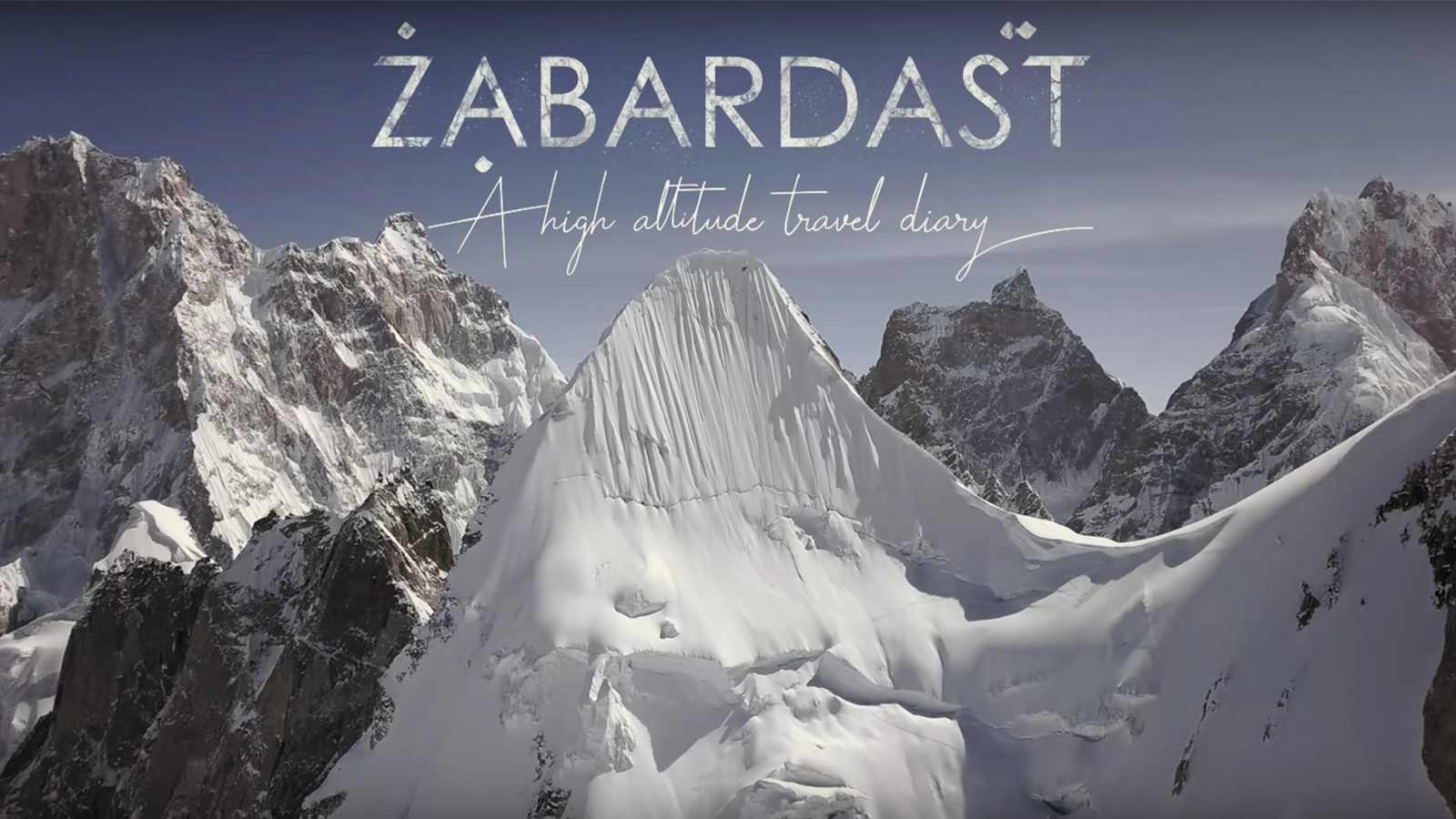 Zabardast By Picture Organic Clothing
Zabardast is a Picture Organic Clothing and Almo Film movie production. The film follows a team of freeriders and photographers on an expedition to the heart of Karakoram range. The search for one of the most beautiful mountains to ski on the planet, standing at 5880m. Over the five weeks, the crew pulled sleds filled with food, tents and solar panels over a 150km loop across gigantic glaciers. Full story below.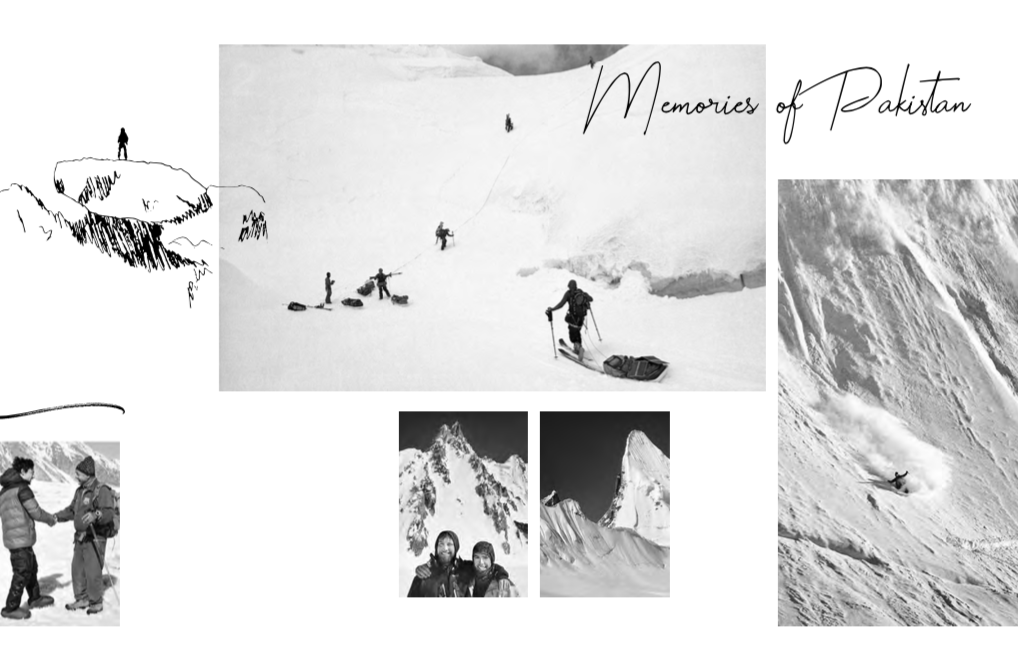 A five-week journey through Pakistan in search of the most spectacular mountain face on the planet to ski.
The expedition all started with a photo that Thomas Delfino saw while flipping through a library book, «Les Plus Belles Montagnes du Monde» (The World's Most Beautiful Mountains). A mountain so steep, so full of icy spines and flutes, a face so beautiful and eye catching, that he became completely obsessed.
He researched day and night to figure out the mountain's name and location: Biacherahi's North Tower in Pakistan's Karakoram Range. Altitude: 5850m. Had it ever been climbed? No one knew.
When Thomas told his friend and fellow freeride snowboarder, Zak Mills, about Biacherahi's North Tower, he discovered that Zak was also mesmerized by this very same face. Thomas then went about putting together a top-notch group of people to plan an expedition to at least reach the base of the mountain, even though the hope was to ascend and even ski the face, as well as ride other mountains along the way.
To access the incredibly remote face, one starts the approach on foot from the small Pakistani village of Askole, and then traverses the vast yet relatively little-known Nobande Sobande Glacier. The crew initially received help from Balti porters before heading off on a three-week self-sufficient adventure, pulling sleds full of freeze-dried food, tents and propane to melt snow, solar pa- nels for the camera equipment, sleeping bags, and mountaineering gear.
The many challenges included moving camp almost every day, acclimatizing to the high altitude, managing the batteries, gas, and food, dealing with the frigid nighttime temperatures and the extreme mental and physical fatigue, avoiding crevasses and avalanche hazards, and of course skiing beautiful, steep, and committing lines without any room for mistakes.
On top of that, the expedition set off to cross over the legendary and often complicated 5660m high Skam La Pass to reach the Sim Gang Glacier and the Snow Lake basin, one of the most beautiful places in the world. To return to Askole the crew slid down the entire Biafo Glacier, completing their 150km loop on foot and skis.
The experience proved a true adventure. Some of the group stayed in country afterwards to visit Islamabad, using different types of transportation to explore the real Pakistan. On old trains, sketchy motorbikes, and even on horseback, they escaped to the hills and lakes, camping in villages and meeting the locals.
The Team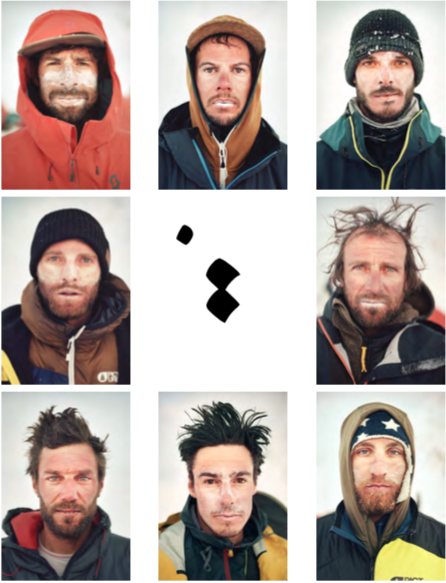 or the last several years Thomas Delfino, a member of the Picture family since 2015, has stepped further and further away from the snowparks to spend more time in natural playgrounds, which are closer with his approach to the mountains.
'When asked about my future projects, I often reply, 'to continue to explore the mountains leaving little to no trace behind me. When I read the book, "Les Plus Belles Montagnes du Monde" (The World's Most Beautiful Mountains, I stumbled upon the perfect destination for this new adventure, Biacherahi's North Tower, a giant shark's tooth that shoots straight up into the sky. Committed to our limited-means approach, we made the 150km trip to the base of the mountain on our own, com-pletely self-sufficient, with one goal in mind: to reach the summit.' – Thomas Delfino
Leo Taillefer, a part of the Picture Family for the last 3 years, rides every steep mountain face as if it was his last, exploring each to new peak to the maximum, and learning something new each and every day. He remembers,
'From inside my igloo at 5030m, the feeling of remoteness is so intense, and a profound sense of freedom pours over me. Like a kid, I think about the peaks that we plan to ski. It felt like I could hear the mountains breathing with us.' – Leo Taillefer
For Zak Mills, who now lives in Mammoth Lakes, California, backcountry snowboarding has been a big part of his life for the last 5 years, taking him to some of the most amazing places on Earth, including the Karakoram Range in Pakistan.
'The trip to Pakistan was never easy and consequently it was one of the richest experiences I've ever had. I'll never forget standing on top of a nearly 6000m peak surrounded by the giants of the Karakoram or effortlessly gliding down vast glaciers with my friends. I'm so grateful to have gotten to experience such a wild place.' – Zak Mills
Helias lives in Chamonix. He is a member of the International Association of Mont-Blanc Guides, has been mountaineering for the last 15 years, and has gone on more than 15 expeditions all over the world. He likes committing lines down technical, esthetic, big mountain faces, as well as long, continuous steeps.
'Jerome invited me to join them to ensure the safety of these 'crazyfreeriders,' and to use my extensive experience to help them fulfill their dream. This film is about an adventure, and is not just another 'freerideporn movie,' which is also why I agreed to join the expedition. One of my favorite memories is crossing over Skam La Pass, which provided us entry into a whole other world, a vast part of the Karakoram that re- minded me of Alaska's incredible glaciers. It was intense; a super-sized world of snow and ice.' – Hélias Millerioux
Yannick has been mountaineering for over 20 years, and has climbed several 8000m peaks. He takes as pure an approach as possible when venturing into the Himalaya, forgoing both oxygen and fixed ropes.
'When I was asked to accompany this team of young rabble-rousers, I was all for it right away. After reviewing the project, I helped them with the logistics in country. I know the Karakoram well and the potential these remote mountains of Northern Pakistan have to offer. Sharing my passion with the Picture team and providing them with a certain margin of safety in such a remote location proved a great 3-month experience. 'My wild kids,' handled everything so incredibly well.' – Yannick Graziani
Origionally from the southwest of France, Pierre is a cameraman, film editor, and drone pilot. He grew up with a passion for being behind the camera, as well as for the great outdoors, the ocean, surfing, and snowboarding. Today he combines his work and his favorite hobbies.
'This was not just a physical and mental challenge for me, but also a professional one. Working inthese extreme conditions, filming, managing all of the data, taking care of all the gear… The hardpart was never really being able to take a break. When the riders were resting or just chilling out, you're behind the camera. When they go to bed, you make copies of the day's rushes and then have to wake up before they do. At some point you become mentally worked, and at high altitude your body has a hard time recovering. I knew that it was a privilege to be in such a spectacular location and I came back completely transformed thanks to the warm hospitality and the friend- liness of the people we met during the expedition, as well as from the breathtaking landscapes we were lucky enough to explore as a team all throughout this environmentally-responsible mission with Picture.' – Pierre Fréchou
Originally from Fontainebleau, Julien Nadiras moved to Grenoble, where he started working as a cameraman with an expertise for filming climbing and other mountain adventures. His work has taken him to the world's greatest big walls.
'I agreed to go to Pakistan because every climber and skier dreams of traveling to the KarakoramRange, and this was a great opportunity for me to film in such a beautiful location. On the returntrip, while descending the vast Biafo Glacier, a strong tail wind started to blow. We decided to pullout our tent flies and simply let the wind pull us along. The glacier transformed into this immense playground, and we saved a lot of time with our makeshift kites.' – Julien Nadirag
Jerome Tanon – Photographer & film director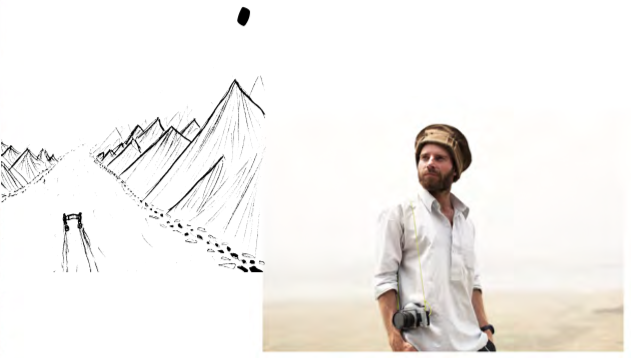 How did you hear about the idea for this expedition? How did you start working with Picture?
While flipping through the book, "Les Plus Belles Montagnes du Monde" (The World's Most Beautiful Mountains), Thomas came across this amazing location. He told me about the insane project and right away I said, «I'm in!» A faraway country, an incredible adventure, I am always ready and willing. Picture was enthused and provided their full support behind the project.
What was your own personal experience during the trip to Pakistan?
It was really hard physically for me, after having just recovered from an ACL tear. I lost 10 kilos in 3 weeks during the glacier traverse. However, I was expecting worse, so the experience overall went well for me, even though the trip did have its difficult moments.
In addition, meeting with such warm and friendly people, the culture, the language, the entire experience was simply fantastic! It was also great learning how to ride a motorcycle (without a helmet of course).
What made this trip so special and unique?
The remoteness of it all. I have never been so far from civilization. When we crossed Skam La Pass at 5660m elevation, we felt like we were the only people on the planet. In fact, if I had to summarize in just a few words our 3-week, completely self-sufficient experience at 5500m, I would say remoteness, adventure, and camaraderie. Never in my life have I experienced anything like it.
A particularly memorable moment that stands out?
The day the team started climbing Biacherahi Tower's legendary face. It is a day that I will never forget. From sunrise to sunset time seemed to stand still; our eyes remained fixated on this vertical, seemingly impossible-to-climb face.
How would you like tell this story to the audience?
I asked everyone on the team to keep a personal travel diary all throughout the expedition. They more than willingly agreed to play along and loved the idea of bringing back a written souvenir of their experience. The film's narration is based on their very personal thoughts and musings.
The landscapes and music also play a key role in telling the story.
The technical challenges associated with filming in such extreme conditions prevented us from doing everything that we had initially planned. We sometimes had to improvise with the footage we had. I hope that the film will be true to the experience and reach people on a deeper level. We are scared for the protagonists as well. I was inspired by war films for the final editing, especially by the film, "The Thin Red Line", which I showed to cameramen Pierre Frechou and Ju- lien Nadiras. They filmed in extreme conditions, and wore themselves out in order to bring back incredible footage. It would be impossible, of course, to come even close to Terrence Malick's masterpiece, but Zabardast does offer the uniquely poetic atmosphere of a war film. The music composed by Jonathan Saguez is also similar to the war film genre.