Surf Expo Summer 2017 Preview Interview
We speak with Surf Expo's Roy Turner (SVP, Show Director) to find out what's new for the next issue of Surf Expo. Roy tells us about a new educational program, a Foil Academy, the Demo Day and explains how specialist retailers can differentiate themselves in the marketplace.
What's new for the next edition of Surf Expo?
Our September show is watersports focused, and the wake, boating and kiteboarding brings an added buzz of excitement to the show floor. We're excited to have a new location for our Demo Day this September, on the open water at Bill Frederick Park on Turkey Lake in Orlando, Florida.
We're also launching an expanded educational program – with Surf Expo Professional Learning Labs. Industry leaders and experts will help retailers and brands learn the latest Amazon techniques and tactics – from how to win the "Buy Box" to finding the right Amazon fulfillment fit. In our lounges we'll host "TED" type, sport-specific talks including a Foil Academy from Slinghsot, Static Apnea training from PADI, Paddlesport safety and more. Free for all show attendees.
Why is the demo on the day before the show such a must for retailers?
Demo Day is the best way for retailers to try out boards, paddles, canoes and kayaks on the water, with the manufacturer who can explain the technology and features. Retailers love the ability to test out the different products on the water the day before the tradeshow begins, so they can then place their orders at the show.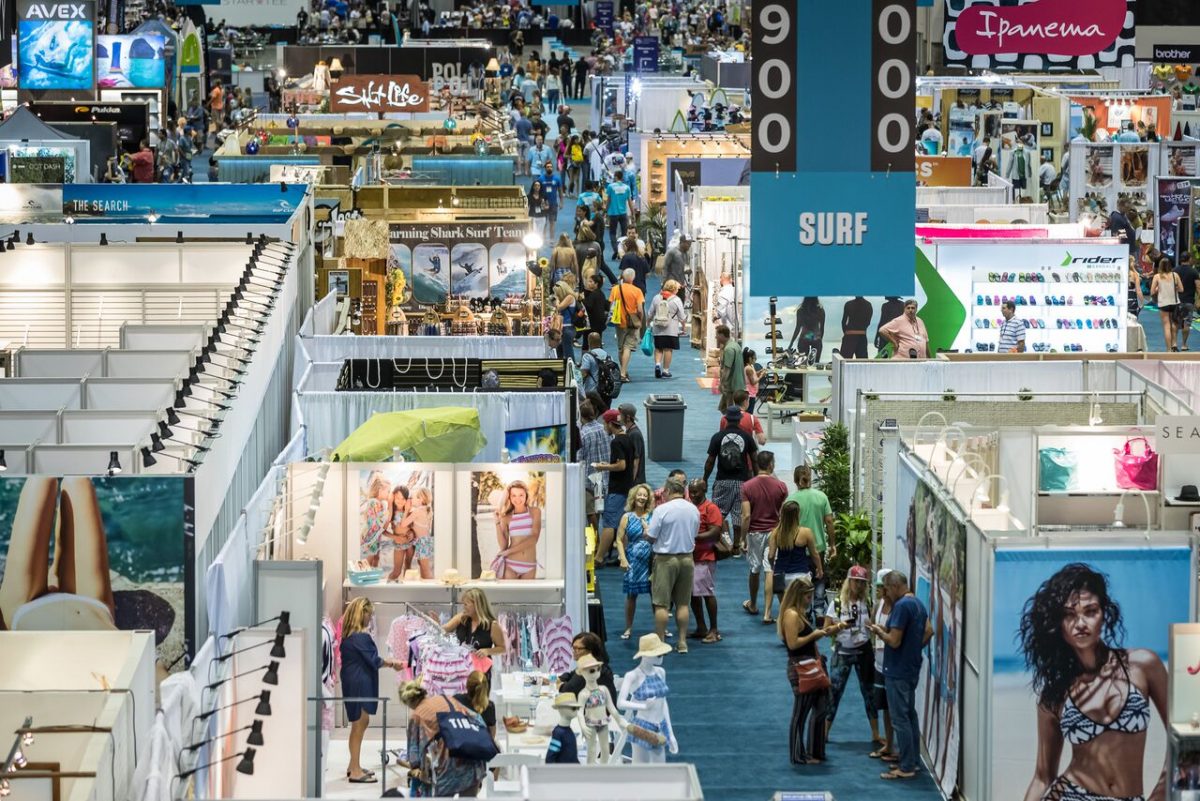 Please tell us about some of the brands new to the show for this edition?
Each Surf Expo offers more than 200 new brands. Retailers expect to see the newest trends, brands and innovations at our show. A few that have our buyers excited are: Never Summer – They've been a leading brand for snowboards for over 25 years, and have expanded into wakeboards. So we welcome them to the wake section of the show.
ZEFR Boards will be showing their solid, closed-cell PE foam surfboards with removable twin fins.
Ten Toes from Westridge Outdoors will be showing their rigid, portable inflatable SUPs that can fit in a regular backpack and are easy to inflate/deflate.
YakAttack- is new to our Paddle category, and will be showing their kayak fishing gear and rigging all made in the US.
Tutublue- UPF50 sun protective activewear brand. They have long and short full body suits in great prints made from breathable, quick drying fabric that offers ultimate sun protection.
Why is now more than ever important for retailers to attend Surf Expo?
Looking back at 2017 we see an ever-changing retail environment, we see a shift in consumer buying habits and we see a consumer base splintered into Baby Boomers, Gen X, Millennials and Gen Z. Omni-Channel continues to be a buzz and what used to be 15 minutes of fame has now become 15 seconds where all things can be liked or edited and social influence can create demand, fuel a social movement and build a global community.
We see the Millennials fuelling change in the marketplace with a desire for personalization, quality, authenticity and social consciousness. While online is a major part of their world, so is the need to physically visit and be a part of a community that they readily identify with. This could be a coffee house, a brew pub, a surf shop, a wakeboard park, a paddle club, a beach or a lake. They are willing to pay a premium if their needs are met and they utilize technology to help find these social niches, as well as to find products that reflect their personal viewpoint.
Surf Expo offers the opportunity for specialty retailers to shift their focus from discounts, online and distribution to the curation of a collection of brands and products for their stores that can differentiate themselves in the marketplace and build on what the new consumer is asking for.
There is opportunity for change from the current retail price/discount focused mentality where more selection is not necessarily better and price is king, to a more personalized, "just for me" curated experience at the retail level.