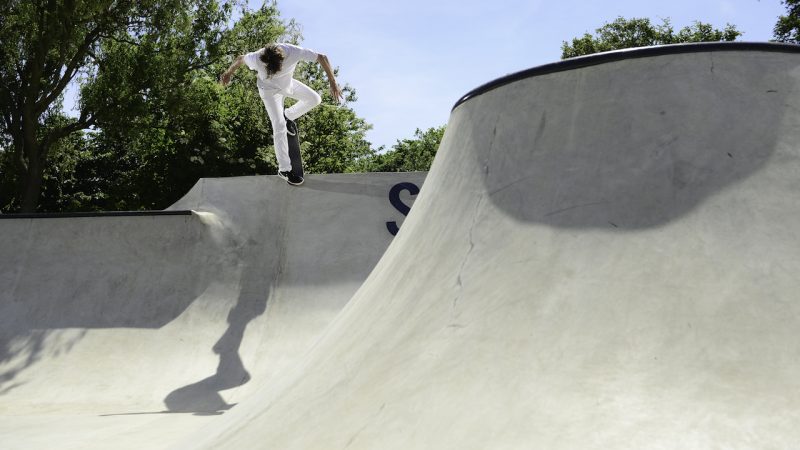 7 Reasons Why Brands and Retailers Should Invest in Local Skate Parks
Shops, brands, and distributors stand to gain substantial benefits from realizing new skate parks within their communities. Report by Boardsport SOURCE Skateboarding Editor Dirk Vogel.
Skate park design is a double-edged sword: Done correctly, parks breathe life into local scenes, actively promote skateboarding in the public eye, and provide stomping grounds for the next generation of rippers. Done poorly, skate parks become safety hazards and create negative experiences that may deter newcomers from ever wanting to pick up a skateboard again.
Fortunately, a new generation of skater-operated design, consulting, and construction firms is building user-approved places to shred. These are key to the future of our industry, because while skateboarding is a $4.8 billion per year market (IASC), it's also pretty much illegal in public spaces all across the world. "Skate parks are generally an important part of the infrastructure of skateboarding. To 'own' those places means to 'own' a part of skateboarding," said former pro skateboarder Veith Kilberth, co-founder of Cologne-based full-service skate park agency LNDSKT (pronounced "Landskate").
All service providers quoted in this story agree that skateboarding needs more parks. But industry involvement has been lacklustre, especially at a regional level. "To be honest, there is no big push from shops or the industry to push the local parks. Most of the time, it's the skaters or parents themselves who push this initiative," said Andreas Schützenberger, founder and CEO of IOU-Ramps in Passau, Germany, who has built more than 1,300 projects in 30 countries including Europe, Russia, and Afghanistan over the past 20 years.
OBSTACLES & PAIN POINTS
Schützenberger raises an important point. There are several reasons why industry involvement remains lagging: First, the approval process for a public park can be a lengthy affair, rife with politics. Second, sponsors may not receive the level of control from public parks that a fully brand-funded option like, for instance, the House of Vans parks can offer. And third, skate parks are expensive. Especially the new generation of concrete-moulded wonderlands like the 3,800-square-metre park with LNDSKT planning involvement currently awaiting construction in Dusseldorf-Eller at a projected cost of €1.8 million and the Yverdon Bowl and Skate Plaza completed by Swiss company Vertical Skate for $1.7 million in 2016.
These budgets can be daunting, and "we need to keep in mind that most parks are funded with public money and most shops – at least independent ones – are not able to pay large amounts of sponsoring fees," said Veith at LNDSKT, whose track record includes brand-sponsored parks like the Nike SB Shelter in Berlin as well as community-funded municipal parks across Germany. He also points out that shops, instead of paying for the park, can partner up with municipalities as the main spokespeople for the park in the local skate community. "In return, the shop can get rights like a regular sponsoring partner. In marketing this is also called a 'barter' deal, an exchange of advertisement and communication value."
Companies like IOU, Vertical, and LNDSKT are seasoned pros when it comes to aligning different stakeholders behind a park. They can help get the ball rolling and routinely involve skaters in choosing the right designs. "We always invite future users and city officials to participate in our workshops. Our role is to establish the concept of the future skate parks within the frame of the financial and special possibilities of the project," said Paul Heuberger, who founded Vertical Skate in 1989. No one says it's going to be easy, but here are seven reason why brands, distros, and shops stand to benefit from investing time and money into new skate parks:
PARK DESIGNS ARE BETTER THAN EVER
Skate parks used to play second fiddle as substitutes for the "real thing". Now technical advancements in concrete construction and computer-aided design are unlocking next-level skate parks that become the centre of attraction. As Veith Kilberth at LDNSKT sees it: "The biggest event platforms like Street League, the Vans Park Series and the Olympics are defining the disciplines Street and Park as the two main categories of skateboarding." While Park designs implement transitions and ramp-like features into fluid arrangements, Veith also sees a trend towards "Flow Street Parks" combining "classic geometric, angular street features with organic tranny shapes to add flow to the street course." Creating that kind of flow is what separates real, skater-run companies from the fake. "The design of good skate parks needs to take into consideration the functional design with good flows, which at the same time prevents accidents," said Paul at Vertical Skate.
PERMANENT VISIBILITY
How about a permanent banner ad that's not on the internet or charged on a click-by-click basis? Skate parks provide a blank canvas for brand logos – or in the case of shops and distributors, a plethora of brand insignia. "Depending on the skate park format – private or public – shops can display their logos in the park or make another deal," said Paul Heuberger at Vertical Skate. Brands and shops can even rent out advertising space to other companies – or energy drink sponsors – in their park. Veith at LNDSKT points out options like "classic logo branding on various spots within the skate park," while advanced variations include "other more individual brand and shop integrations."
GROW YOUR AUDIENCE
In today's networked society, supporting a skate park gives shops and brands deep hooks into the daily lives of consumers. They can collect contact data through an official skate park website, Facebook page, or newsletter and keep audiences engaged while sprinkling in products and sales initiatives. And it's not just about virtual engagement, either. "They can build up a network of fans from which they can source team members, future employees and so on," said Paul at Vertical Skate. Just make sure the park matches the demands of the locals: "It's all about the right mix of beginners and advanced riders. Have something for every level, just a bowl is no key to happiness," said Sven Eckert, owner of TX Sports who operates the TX Sports park in the town of Kammerstein.
RIPPING & TEARING
One enduring conspiracy theory maintains that companies began promoting street skateboarding in the late 1980s because it burns through far more shoes and hardware than vertical skating. Whether that's true or not, it's a proven fact that shops sell more products if customers have a space to tear them up. And if their scene is prone to shutting down during cold season, building an indoor park beats the seasonal sales slump. What's more, year-round skating avoids churn among active participants who put down their board for the winter, and never pick it up again. "There are big benefits like creating a community, having a good infrastructure, which means a bigger skate scene and more board sales," said Andreas Schützenberger at IOU-Ramps.
TEACH THEM YOUNG
Kids need to get off their video games and parents nowadays love the option to enrol them into regular course programs. Andreas at IOU-Ramps suggests, "the new generations need to get pushed with a skate school." Shops can enlist their team riders to host afternoon or weekend classes at the park. Brands reach even bigger audiences: As part of Nike's Honor Roll Skateboard Club, the Nike SB Shelter indoor park in Berlin conducts workshops with over 10,000 participants every year. Current research, including a University of Western Australia study led by Lisa Wood, confirms a positive correlation between regular skate park attendance and pro-social behaviour in adolescents. So they're not just skate lessons, but life lessons.
EVENTS & COMPETITIONS
Time to ramp up the stoke! "Parks offer a simple way to organize contests and sessions. It's all about giving something back to the scene," said Sven at TX Sports. Extra sponsor perks include shutting down the park for exclusive sessions or product launches, and hosting demos, contests, and photo shoots, says Veith Kilberth: "There are all sorts of projects a brand or shop can host long-term. Annual events like special contests, digital activities like social video contests with weekly winners, local skate workshop program, hosting BBQs on a regular basis and many more." The Nike SB Shelter hosts regular product release events and weekly video features – generating thousands of online views – as well as the Nike SB Berlin Open competition with competitors from over 30 countries and 3,000 spectators.
MEDIA PRODUCTIONS
High profile skate parks such as The Berrics in Los Angeles or the DC Shoes Embassy in Barcelona, although not accessible to the wider public, are examples of enormous media reach. Paul Heuberger encourages park supporters to, "shoot videos and put events in place. This is done on a regular basis when we build new skate parks." If the park is operated independently and runs its own communications, brands and shops can also leverage synergies to reach broader audiences. "Via integration into skate park communications," says Veith Kilberth at LDNSKT, "the brand or shop is part of all communications of the skate park like website, social channels, skate workshop program, events." In an age where content is cultural currency, the park is an endless treasure trove of clickable treats.
OUTLOOK
Looking ahead, skateboarding's inclusion into the 2020 Tokyo Olympics as an official event promises to unlock official funding and support. "I can imagine that the demand for skate parks will increase. Cities and towns will more easily be able to unlock financial resources to build skate parks because of the Olympics," said Paul Heuberger. Cologne's North Brigade skate park, built in 1992 and revamped in 2013 by LDNSKT, now already serves as an Official Olympic Training Centre in Germany. But whether new parks will raise the next generation of Olympic athletes or not, "the biggest benefit are the thousands of happy kids and the foundation for their future," said Andreas at IOU-Ramps.
How to Get Involved
Planning and consulting agency LNDSKT has created a 10-Step-Plan for realizing skate parks, available at www.lndskt.com.