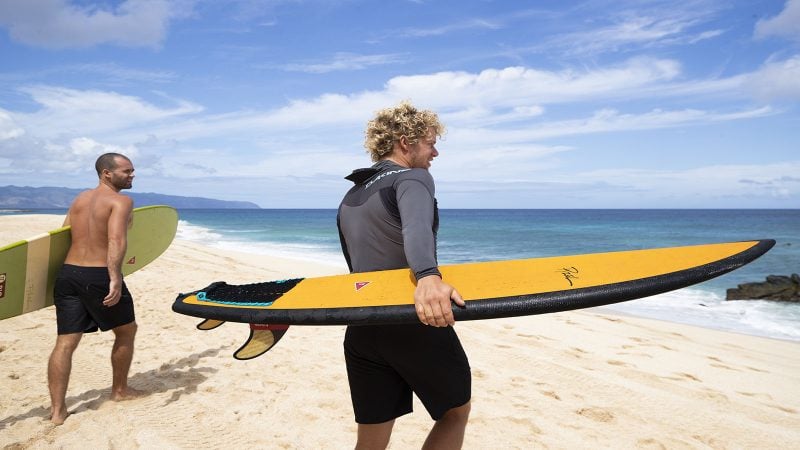 JJF By Pyzel: High Quality Funformance Surfboards In Europe
For over 20 years, Pyzel has been making boards for 2x World Champ John John Florence from their base in North Shore, Cali. Recently, JJF by Pyzel has partnered with French distribution agency Sample N'Co to bring The Gremlin, The Log and The Astrofish across the pond. The collection will be available in Europe soon!
Press release:
JJF by PYZEL lands in Europe
JJF By Pyzel is a collaborative project between 2x World Champion John John Florence and award-winning Shaper Jon Pyzel.
Based on the North Shore, JJF by Pyzel produces high quality Funformance Softboards designed to progress your surfing by using tested and refined shapes and constructions in durable ecologically produced softboards.
The range is composed of 3 iconic and proven Pyzel shapes, available in different sizes and colourways. The Gremlin, famous small wave weapon; The Log, perfect from beginners to advanced surfers on beach days; and The AstroFish for fun and performance on any kind of wave you can find.
All the boards are made of eco fibreglass/epoxy material and wrapped in a soft durable grippy EVA. Rails are hand finished and all boards features a central wood stringer and future fin boxes for a better Funformance feeling.
JJF by PYZEL will be distributed in Europe by SAMPLE N CO (www.samplenco.com) a France-based company. Some early release boards will be available in Europe end of September.
Web:
jjfbypyzel.com
Contact:
Sales: [email protected]
Tel: +33 621 85 06 58
Marketing:
Contact: [email protected]
Tel: +33 778 102 970