BoardSport Source, Issue 94, December/ January 2019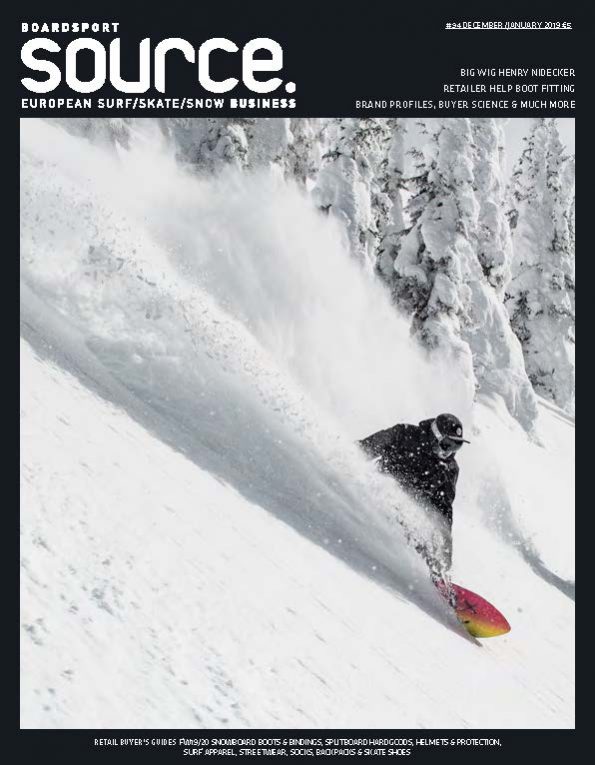 On the cover: Matt Patti, Vans Snow Global Category Manager. Photo: Dustin Lalik at Baldface Lodge
EDITORIAL
As we draw the curtain on 2018, we are at peak Instagram. It rules advertising and communication and since Apple introduced their treacherous weekly 'screen time' update, we can now see it also monopolises the amount of time we spend looking at these horrid little screens too. As we continue our downward spiral into digitalisation and away from tangible goods, consumer-spending habits paint the same picture. Whereas Generation X kept up with the Joneses by buying cars and houses, today Millenials and Gen Z are spending their money on experiences to populate their Instagram feed, "living their best life."
It's been a case of survival of the fittest since the Global Financial Crash and only those boardsports outfits innovative enough to keep evolving have stayed ahead of the curve. Evolution comes in many forms, from acquisitions and mergers to hybrid distribution strategies and those retailers who can offer bespoke experiences in store are today's innovators.
One such forward thinking retailer is S'No Control in St Anton, who we hear from in our Retailer Help article on Boot Fitting (p.20). S'No Control look to capitalise on St Anton's high end consumers with a bespoke snowboard boot liner fitting system, which they've engineered in house harnessing sky boot tech, a premium leather liner and foam injection process to offer a truly bespoke experience and product. A procedure which comes with a high price tag, but allows them to connect with the consumer on a totally unique level. We look forward to hearing more unique ways in which retailers are offering their customers experiences when in store as we hit the road for shred/trade show season in January. Please also feel free to get in touch via the email address opposite.
You'd be hard pressed to find a more innovative snowboard company than the Nidecker Group. In 2018 Nidecker welcomed Rome Snowboards and the Low Pressure Studios brands (Bataleon, Lobster & Switchback) into the fold, creating a snowboarding super group. For this issue's Big Wig we speak with Henry Nidecker to talk innovation, using competition as inspiration and staying relevant in a rapidly changing consumer environment.
And here at SOURCE we continue to put our printed pages in your hands every other month because we know there's no replacement for it. You (un)fortunately can't double tap to show your appreciation for our hard work, but we can promise you our pages won't have push notifications flash up mid-read and we can still think of no higher accolade than scoring a magazine cover. What do you think, Matt Patti?
See you on the snow or at the shows
Always Sideways
Harry Mitchell Thompson