DC's EU Trippin' Tour started on June 21st, 2019 in Bordeaux and will see DC pro team make their way across Europe, finishing with the kick off of Berlin fashion week.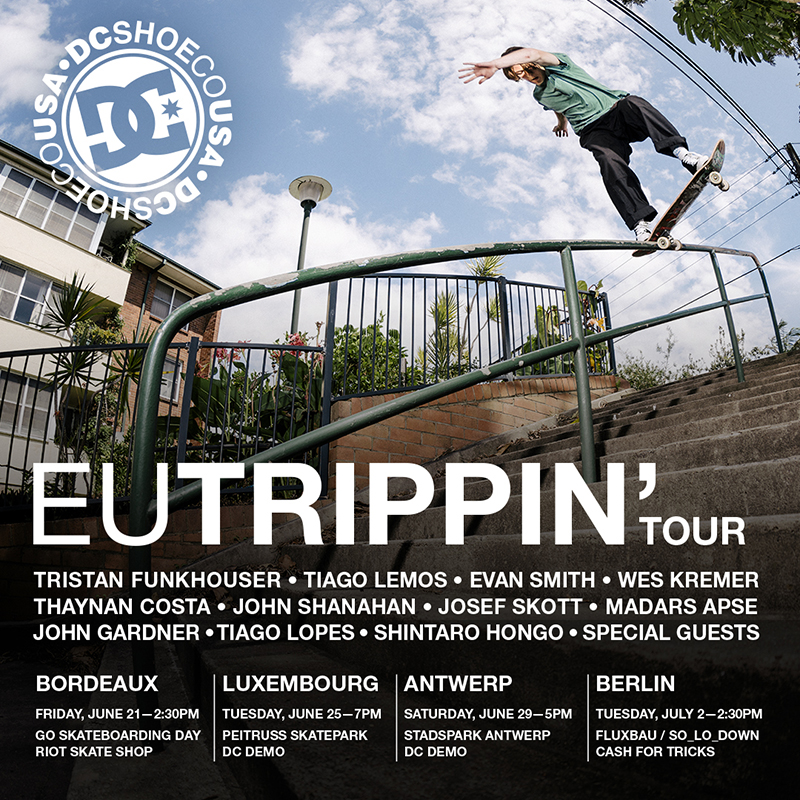 Press Release: Get ready for DC's European EUTRIPPIN skate tour from 19th June to 4thJuly !
DC's global skate team, plus entourage, will cruise all over Europe to meet local communities for skate sessions, parties and special events.
Evan Smith, John Shanahan, John Gardner, Josef Skott Jatta, Madars Apse, Shintaro Hongo, Thaynan Costa, Tiago Lemos,
Tiago lopes, Tristan Funkhouser, Wes Kremer + Guests  and more…
The tour starts in Bordeaux on 21st of June in collaboration with GO Skateboarding Day celebration and with a specific concept created by Leo Valls and Nicolas Malinowsky: PLAY!
This stop will also include an exclusive party at Darwin Eco Systeme in Bordeaux.
Then, the crew will fly to Benelux to light up some skate spots: Luxemburg, Antwerp, Brussels, it's about to get lit!
The trip finishes in Berlin, Germany, where, for the fifth time in a row, DC Shoes will kick off Berlin's fashion week .Featuring an outstanding gathering of skate industry folks, alluring Berlin originals and, of course, some of the best skateboarders worldwide. With music by famous Berlin DJs, this party honours the 30th anniversary of the fall of the Berlin wall through special DC shoes customizations by local Berlin artists. For the occasion, a donation will also be made.
Stay tuned for more info about every stops  and follow us on:
IG – dc skateboarding, dcshoes, facebook-DC Shoes
#dctrippin
#dc_skateboarding
 #dcshoes