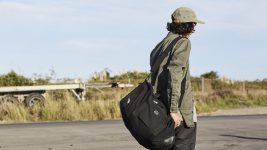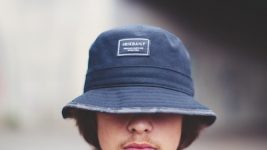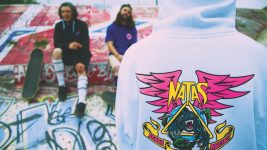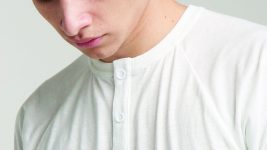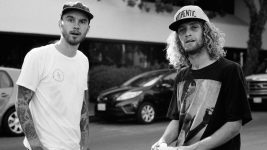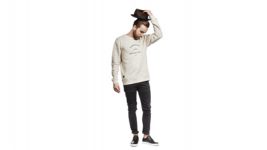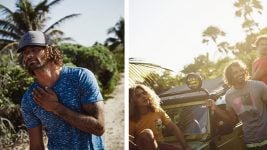 Men's Streetwear SS17 Trend Report
New hype brands and fast fashion conglomerates want a slice of the streetwear market. But for Spring/Summer 2017 men's streetwear collections, endemic boardsports brands are banking on authenticity, sustainability, and timeless classics. Trend Report by Dirk Vogel.
It's no secret that the economic crisis has triggered a shift in priorities among boardsports consumers. They spend their money first of all on boards and equipment, second on shoes, and last on clothing. Many purchase their outfits not in boardsports retail, but at 'fast fashion' chains, where on-style product sells at lowball prices, thanks to monstrous production cycles churning out 52 collections per year.
Instead of fuelling the hype machine, boardsports brands are slowing down the pace. "We try to make garments which survive the crazy fast fashion rhythm which is imposed on our industry by the so-called fast fashion companies like H&M, Zara and Co. We want to make the difference with better product quality and social awareness," said Patrick Kressner, Men's Designer at Berlin-based Iriedaily. Awareness is a good thing – also see our focus on sustainable production below – because too much "fast" clothing is slowly but surely killing our planet. Something Bleed clothing's CEO, Founder & Designer Michael Spitzbarth says can be avoided by simply wearing garments for longer: "We aren't guided by any fast-moving trends and try to create timeless products, which are easy to combine with each other. That's also a part of sustainable production."
Nevertheless, new brands keep barging onto the market, and whereas a few years ago, one season would be dominated by one or two strong trends, kids these days are rocking a kaleidoscope of fashions and micro-fashions: Light denim jeans, the 1990s revival, hippie-rock-grunge, dad hats, big logo print sweaters, and that whole "communist athletic" look brandished by skateboarder/designer Gosha Rubchinskiy are all in play – all at the same time. How can retailers and brands stay relevant? "There are all kinds of different fashion trends but there is also your own identity. We are also observing and adapting to new fashion trends but in a more timeless manner," said Marion Maier at Ragwear, adding: "As a retailer, you should be able to expose the essence of the streetwear – independent from seasons."
This going back to the essence mainly boils down to one recipe for brands and stores: Don't try to be everything to all people, but stay true to yourself… and the customers will find you. "We like to work by pulling not by pushing, meaning not trying to force anyone to like us. It's the more honest approach," said Joni Malmi, founder of Makia. Boardsports brands can also draw power from their history, instead of trying to hop on every new hype train. "The streetwear market is teeming with new emerging brands that seem to rise from near obscurity. The challenge is to be able to distinguish ourselves from other brands while remain authentic to our heritage which at the same time is also our advantage that we as a brand have from others," said Roland Slavik, Merchandising Manager Men's APP/ACC at Vans.
THE MARKET
A quick look at the market also encourages retailers to prioritize proven sellers over fast fads. "There are many streetwear trends which are not selling well and shops need to be careful. Best example is the baggy trend, which everyone says is coming back but if you look at the numbers, it's not so visible. It's not an easy time but from my point of view, retailers need to have some of those trends but they have to understand it's not the volume business but important in terms of image," said Guillaume Dartenuc, European Marketing Director at Volcom. Speaking of volumes, the market is still weighed down by overstock in wholesale and retail (don't expect the dreaded 30% OFF sale signs to disappear anytime soon). The situation is made worse by a disastrous winter that caused retail losses up to $572 million in the U.S. and $120 million in the UK, where sales of hats, gloves and scarfs dropped by 32% (Planalytics).
THE CONSUMER
Knowing the customer has never been more challenging – and more important, said Ken Nelson, Creative Director at Neff: "Fashion is more accessible than ever due to social media and online resources. This accessibility creates a more diverse pallet of styles and trends emerge at a faster rate than before." What's more, the current generation of young men ranges among the most fashion-conscious consumers in history. "Outfitting and attention to detail have become more important than ever. The young kids are really thinking about their outfits and are very careful what they wear, making sure it all goes well with each other, from head to toe," said Roland at Vans. With that said, consumers also appreciate what's real and time-proven, which brands can use to their advantage. "The opportunity right now is to deliver a clear message and stay true to your roots. Look to refine the offering and push for brand integrity… rather than trying to be all things to all customers at a price point," said Dan Preston, Apparel Head Designer at Globe.
THE 5 MAJOR SPRING/SUMMER 2017 THEMES
The following trends will influence and cross-pollinate one another other wildly in Spring/Summer 2017 collections:
That 1990s throwback. Turn up the Biggie Smalls because the Nineties are back, but with a few contemporary updates, says Ken at Neff: "They will have a modern twist, but stay along historic lines. We will start seeing baggier fits, utilitarian function and silhouettes, distressing, bold colourful prints, and nostalgic graphics. Overall, wilder graphics and colours are beginning to make a resurgence. This includes crazy texture print and patterns." Add to that list riffs on designer label logos as well as nylon sports jerseys, and as Dan at Globe points out, "drop shoulder, boxy anti fit, with wider rib seems to be the key at the pointy end of tops… completed with a beaten-up curved brim baseball cap, aka a 'dad hat.'"
Athletic uniforms. Big league sports and varsity styles, previously the domain of jocks and cheerleaders, are breaking into streetwear collections. Coach jackets, polo shirts, and technical hats have already spilled into the streets, next in line are baseball varsity jackets – for instance from Dickies – and nylon sports jerseys (see 1990s Throwback). Big logos – after years of absence during the vintage-chambray-ridiculous-beards phase – are back with a vengeance: "With more and more cheap, quick-to-market brands it makes sense that established brands use their logo to create an identity that allows the audience to align themselves with a certain culture," said Rhythm's Brand Manager, Jacob Byrne.
Work wear goes the extra mile. Keeping in mind earlier statements about longer-lasting clothes instead of "fast" fashion, boarders have always gravitated towards work wear for major bang for their bucks. This has always worked for leaders such as Dickies: "Dickies has never claimed to be a boardsports brand but a lifestyle brand, and I think people influenced by both are finding ways to incorporate both streetwear and skate in to their own style," said Kev Penney, Streetwear Marketing Manager at Williamson-Dickie. In SS17 collections, work-inspired influences reflect in robust, timeless styles, including Makia's collection of classic layering pieces and weather-resistant jackets perfect for conditions in their native harbour town of Helsinki: "We went back to our roots in Spring 2016 and decided to stay there. Makia is now completely focused on what we know best; urban casual streetwear designed to endure the rough weather that we have to deal with up north."
Longer jackets, shorter shorts. The popular men's wear formula of long top paired with skinny bottoms continues, but with some crucial updates. Whereas tops ranged on the form-fitting end of the spectrum for past seasons, they are now getting more relaxed, all the while extending their length below the waist. In jackets, Dan at Globe sees, "a close race between modernized 90s vibe flyweight anorak shell jackets and bombers." Meanwhile, "the shorts remain a little shorter as you have already seen in the last couple of seasons," said Michael at bleed.
FABRICS: QUALITY AND SUSTAINABLE
Summer and spring is when flannels take a break and Hawaiian prints and florals adorn lightweight shirts. These styles flourish in SS17, joined by geometric patterns often executed not as prints, but on a fabric level. Marion at Ragwear points out, "special knitted melanges and jacquards with contrast stitching in the sweat group." Patrick at Iriedaily concurs: "We decided to concentrate on striped and checked woven patterns this season." Next to stylistics, an emphasis on quality – longer wear over "disposable" fashion – and sustainability keep gaining momentum in fabrics. It's about time, as anyone who has seen the documentary "The True Cost" about fast fashion understands. More and more collections use certified production methods (bluesign), and companies such as Iriedaily have joined the Fair Wear Foundation. At Bleed, Michael Spitzbarth is proud: "We have expanded our range of animal-free materials, which are both, fashionable and functional. Our club jacket features the special mix out of organic cotton and TENCEL, our denim-look linen shirts with a stand-up collar and our linen/organic cotton shirts which are both, good looking and functional." And let's not forget: "Overall we can see that people are skating more in denim again. Non denim is still strong, but denim is back. Apart from seeing a lot of 90s inspired lighter denim washes coming back we also see that mid-worn in finishes are very popular," said Filip Elerud at Levi's, who explained the technology behind the Levi's Skateboarding Collection: "The materials used to make these jeans are far superior to any jeans you'd find at a big box retailer. Our fabric is woven with Cordura, which has the look, comfort and feel of traditional 100% cotton denim, but developed for exceptional abrasion resistance. We also use Lycra T400, which ensures that the jean maintains its stretch over time, adds strength and further abrasion resistance."
CUTS & SILHOUETTES: MIX AND MATCH
Following the shift from major trends to multiple micro-trends, cuts and silhouettes are trending all over the map. But one shift can definitely be pinpointed in jackets, says Patrick at Iriedaily: "The narrow long silhouettes almost disappeared in the collection. The upper garment silhouettes are getting more classic and a bit more relaxed in terms of fit." And while shorts mainly end above the knee this season, pant fits come from close-cropped and pointed all the way to slouchy. "We see pants getting slightly wider leg openings and the slim and skinny look being replaced by more slightly looser fits," said Roland at Vans, while adding: "We stayed close to our main vehicle of inspiration which is skateboarding and will be focusing on our authentic chino as the main style." But no matter if they're jeans or chinos, next season's pants are either cropped above the ankle or worn as Dan at Globe points out: "The rolled up look is now one of the most popular styles for fashion-conscious men… across all fits."
COLOURS: INSPIRED BY WATER AND NATURE
The colour of the season is navy with brands like Makia leading the charge: "We go all the way with the maritime theme again this season and so navy is the driving colour and jackets with a light wax treatment takes a huge role in the collection." Fuelled by work wear and military influences, hot colours include Ecru and Military Green, as well as earthy colours: "Dirty and dusty versions of fashion pastels paired back with Black and earth to give them some grit," said Dan at Globe. But it's not all bright and sunshiny out there, said Lowri at Shiner: "The Santa Cruz Black Collection is defined by a strong monochrome palette and darker graphic content."
PRINTS: BIG, BOLD, SKATE-INSPIRED
Unthinkable five years ago, when chambray shirts without visible branding dominated, but they're back: Big logos are making a splash in prints this season. "There is a certain trend cycle in fashion and right now the big logos fashion tendency is definitely in the air," said Marion at Ragwear. For Patrick at Iriedaily, it's part of a new self-confidence among board brands: "The logo and name branding is getting stronger and stronger again. Artworks need to show attitude and the t-shirt should still have the position as the platform of your message!" Print placements are offering new twists, including "lower front body placements echoing the classic big brands of the 90s" (Globe) and, "retro-inspired placements with back prints taking over from large front" (Santa Cruz). Aside from big logos and skate artwork, "prints are more quiet with one colour print in general, flower but one colour, geometric arts again with one colour print and not too much bright colour," said Guillaume at Volcom, adding: "Easy to wear all-over and prints is what people are looking for."
HOT TREND: BOMBERS & SOUVENIR JACKETS
Before going overboard on the coaches jackets everyone and their moms are rocking in 2016, keep an eye on bomber jackets. For the "jacket of the season" Guillaume at Volcom said: "Definitely, the bomber jacket with lot of different combinations: sateen, nylon, cotton, fleece version, with a big back embroidery or just solid. This is the jacket you need to have in your wardrobe!" Also watch out for lightweight bombers with Far Eastern embroidery – so-called Souvenir Jackets popularized by US-fighter pilots stationed in Japan after WWII – featuring dragons, flowers, exotic lettering and insignia.