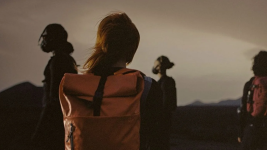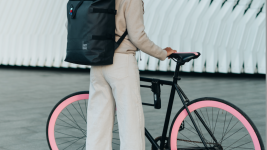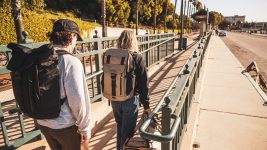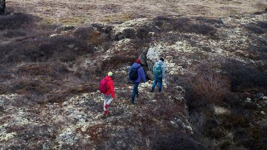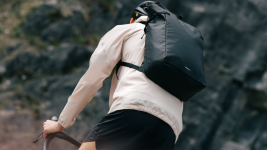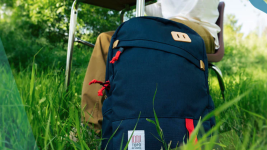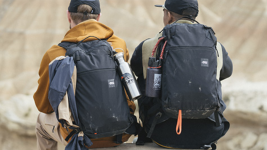 Lifestyle Backpacks SS24 Retail Buyer's Guide
If there is a product category that is NOT gonnaslow down in terms of innovation and demand, it is our beloved companion for our everyday life – the backpack. Whether it's rocked on the mountain or worn while dodging cars and buses through town, it's a category that's always on the move. Ladies and gentlemen, let's dive into the SS24 Lifestyle Backpack Retail Buyer's Guide by Matthieu Perez.
First and foremost, everyone is seeking adventure –whether they are backpackers, commuters, or enthusiasts of any sport. ALL brands define and redefine what the outdoors entail, from deep nature to urban surroundings to office time to night life. Brands are getting creative to fulfil consumer demands and expectations while keeping an eye toward impacts on the planet.
TRENDY?
Got Bag has developed the world's first backpack made of Ocean Impact Plastic. The Got Bag products impress with the minimalist, timeless design of their roll top packs.
Jenny Cooper, Senior Marketing Executive at Cotopaxi has found that "People are looking for more adventures, they want to get out and explore, enjoy micro adventures, road trips, and work their way through that bucket list in the most sustainable way!"
Stephan Klaus at Heimplanet explains, "We feel that classic packs that are suitable for many different occasions are very trendy. People don't prefer to have several bags for different occasions, but rather one that suits everyone!" Consequently, brands are working to develop the perfect packs for their users.
Eastpak, the 75-year-old "Built to Resist" brand places an emphasis on versatility. According to VP Domitille Parent, "In the lifestyle backpack scene, we're noticing a shift from regular backpacks to daypacks! Your backpack now needs to work for you from morning to night, serving up the perfect combo of functionality for your commute and job, while still being stylish to follow you into the evening."
Dakine has narrowed its vision to focus on two major trends according to the Rémi Chaussemiche, the brand's marketing consultant. The first area of focus revolves around commuting backpacks. Dakine's second area of focus includes crossbody pouches, hip packs, and slings–all of which are also a big trend. "We carry phones, earbuds, wallets. Those little bags fit perfectly the current lifestyle" says Chaussemiche.
From Picture's point of view, which is also backed by stores, specialized blogs, and Instagram communities – the biggest trends travel bags. Ergonomic and comfortable, they are the ideal solution for extended weekends. And if they transcend trends, they can inject durability into the market. The brand also notes that city-inspired packs for biking or going to work are also a big trend, especially if they feature smooth materials and offer water repellency.
Sandqvist focuses more on going back to the basics with timeless and earthy colours and by always keeping sustainability, durability, and function in mind. Similarly, Pacsafe places an emphasis on sustainability, durability, and function Consequently, the brand's bestsellers are versatile and more environmentally friendly "everyday" backpacks and shoulder bags. "They work in the city and on the go" explains Marketing Coordinator Maria Schmieder.
Topo Designs identifies the three pillars of the lifestyle backpack market as versatility, longevity, and timeless utility. Manon Solviche, European Brand Manager, observes that "There is a huge influence from the outdoors into the lifestyle market. For over a decade, we've been charting a new path, to inspire people to continuously redefine what the outdoors means to them, how they integrate it into their lives and be an inspiration for others to do the same. At Topo Designs, we call that the New Outdoor." Word.
SEGMENT IT!
When it comes to segmenting their collection and offerings, brands are pretty much aligned. Claiming that SS24 is "the season of the backpack," Chrome is introducing four new and five updated lifestyle backpacks. Their styles fall into three main categories: Everyday Carry Laptop, Cargo, and Weatherproof these new packs retail between 120€ and 170€ MSRP.
Cotopaxi goes wider with a range segmented into four key categories: the 'Allpa travel collection' that ranges from backpacks to hip packs (from £50 MSRP); the "Cada Diarange" is a line of thoughtfully designed, urban-inspired packs (from £40 MSRP); the "Del Dia Collection" features one-of-a-kind packs made from 100% repurposed fabric. (from £15 MSRP); for 2024 the brand is introducing a range of Back-to-School packs (from £80 MSRP). Something for everyone and every wallet.
Dakine segments its line by different styles and usages (pouches, school bags, and commuting bags). For each of these segments, the brand has a "Good" segment (its 365 and Campus series) with a pretty aggressive price positioning and a "Best" segment (its Motive, Mission and Verge series), which tends to focus on innovation, materials, and technicity rather than a lower price.  
EVOC's range includes the Duffle 16 and 26 and backpacks for everyday use or the days between bigger trips (120€ and 140€ MSRP). The brand's Mission Pro 28 (154€ MSRP) is a multi-functional, organisational wizard and its little brother, Mission 22 (95€ MSRP), is more of a school backpack.
Got Bag's SS24 lifestyle backpack collection is segmented into different categories based on their usage and features. They have travel bags designed for longer trips, lifestyle bags, for everyday use, technical bags, and accessory bags. Picture keeps it simple with the "Grounds" lifestyle bags (95€ to 125€ MSRP) and the Tampu back-to-school bags (65€ MSRP).Finally, Jonathen Weaver, CMO at dB, rounds it all out by noting, "We've brought in an essential line to help on segmentation with a simple clasp pack, which sits around the 99€ euro mark. With all that being said, whilst we're adopting a market segmentation approach, we aren't going to be the brand competing at the entry level. It's not us and there's already a ton of competition in the space."
THEY PACK TECH!
As we dive into discussing technology, let's start with Chrome. The brand is introducing a new TLok Shoulder strap design that allows the bag to offer a customized fit for all body shapes. Evoc uses a TPU-coated fabric 100% free of PVCs and PFAS that is light, temperature-resistant, and completely waterproof.
At Got Bag, two of the most important technical features for SS24 are seam welding and waterproofness. "For us it's an important feature because it helps to ensure that the seams and joints of the backpack are strong and durable, creating a sleek and modern look for the backpack, which is often desired in a lifestyle collection," states Dominique Legatski, Got Bag's Lead of Wholesale.
Sandquist is also offering "taped waterproof bags" and a new travel backpack series. Co-founder Sebastian Westin states, "Taped seams and 100 waterproof fabric are helping us produce our first 100% waterproof bags, sealed with rolltops."
Pacsafe got some interesting patented anti-theft-features, such as their locking systems as well as their cut resistant materials.Finally, Heimplanet has developed a 100% polyester material with its fabric supplier. The result is a 100% polyester fabric with an innovative TPEE lamination. This mono material can be 100% returned to the material cycle through mechanical recycling without any problems. Full circle!
SUSTAIN OR DIE!
Almost all brands agree that a focus on reducing their environmental impact is essential. As mentioned, Heimplanetcontinues its commitment to sustainability by introducing one of the world's first 100% circular backpacks with its Mono Series. In addition to declaring war on textile waste, these packs serve as a role model for what's possible in a circular economy. Pacsafe uses a similar approach with its Econyl® partnership.
Most brands are using recycled materials and Cotopaxi, TopoDesigns, Nitro, Picture, and dB aim to use them in nearly 100% of their products or make select products almost entirely from production scraps stemming from other items in their collection. By creating durable products, brands can further reduce their environmental footprint. This is the ethos behind Eastpak's "Built to Resist" motto. Similarly, Picture and Dakine believe in maximizing the longevity of their products. As a testament to this, Picture offers a thirty-yearwarranty and Dakine touts a lifetime warranty.
"The longer your bag lasts, the less [it] pollutes," concludes Dakine's Chaussemiche.
Finally, Got Bag was founded with a commitment to helping eliminate plastic waste from our oceans. Consequently, the brand is scaling up its clean-up initiatives in Indonesia and other countries.
SUPPORT YOUR DEALER.
After successful in–store campaigns like building igloos from "Huggers" or Cake bike installations with the brand's Ramverk packs, dB is rolling out a systematic market–wide POS system in SS24. "It's the number one thing we're asked for," says Weaver. Cotopaxi will support retailers by telling its story in store and digitally to showcase key benefits and features. Dakine has a premium dealer's retail marketing program that offers customized product presentation and merchandising solutions for retailers. Complete with content and marketing assets, this program ensures shops do not waste POS resources and can use the materials that effectively promote the specific products they carry.
Eastpak tries to elevate and energize its brand at every touch point. "Whether that's campaign launches, account excellence, or collabs, we pride ourselves on our consistent brand messaging" explains Domitille Parent. In addition to a classic POS program, Nitro supports its retailers with on-demand sales and warehousing capabilities: order a product and it's delivered in 48h in Germany! That's a commitment to service.
This is it for SS24… brands are moving mountains to deliver products that meet customers' expectations and respect nature. Get after them and get outside!