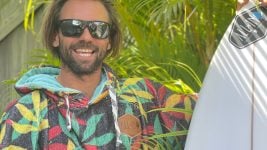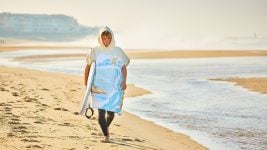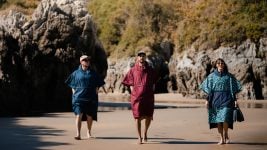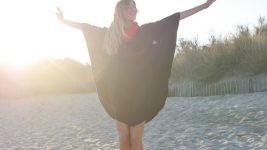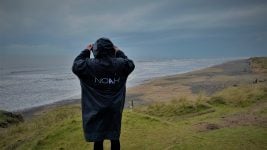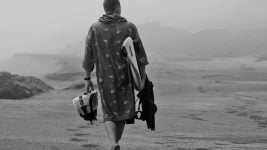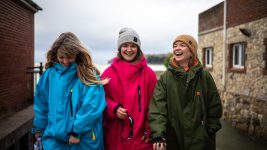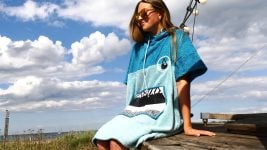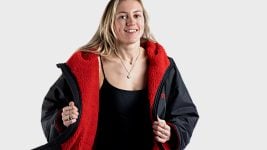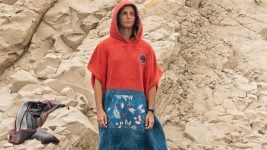 Surf Robes and Ponchos 2023 Retail Buyer's Guide
The massive success of surf ponchos and technical bathrobes proves once more how surf culture is a business vector that reaches far beyond the core community. Retail Buyer's Guide 2023 by David Bianic.
If you like it or not, the era of surfers pulling moonies in parking lots with their wetsuits down to their knees, is over. More discreet, surfers are putting more consideration into their pre- and post-session comfort. The rise of cold water surfing has also made these "bathrobes" into the new surf kit essentials. This segment is divided into two product families: simple ponchos and "changing robes", which are more technical and resistant to the elements (wind-rain-cold). Their success has taken everyone by surprise and over the last ten years or so and brands have sprung up all over the place to the point where they form a sizeable market, prompting us to explore this phenomenon in our pages. In fact, the target audience has widened considerably: it's no longer just made up of boardriders (surfing, windsurfing, kitesurfing, SUP, etc.) but also outdoor enthusiasts of all kinds, now sometimes worn as casual clothing!
FROM SURFING TO OUTDOOR
One of the sector's pioneers, dryrobe, has witnessed this development first-hand: "dryrobe® was originally designed by surfers for surfers, making changing out of a wetsuit on the wet and cold British coastline a lot more comfortable", explains Tom Whitfield, Sales Director. But over the years, their products have been embraced by all kinds of people, "from open water swimmers through to obstacle course racers and even dog walkers!" The phenomenon is not a new one but the poncho has become an item that also "plays a role in the appropriation of surf culture", explains Victor Jarrige, Marketing and e-Commerce Assistant for Mellow Sea, a young French brand. The ratio of surfing to non-surfing customers varies from one brand to another. After Essentials remain 80% surf-oriented as far as distribution goes, while All-In estimate that it has been 50/50 since 2015. In fact, ranges have diversified as After Essentials describe, with designs aimed at the core surf scene through collabs with pros or surf graphics and others more aimed at the female audience inspired by the world of music or travel… and this goes for all ages: from new-borns to seniors through to oversized cuts for fuller builds. An interesting trend is that surfers are starting to have a variety of ponchos, says Carsten Raphael, CEO of Wave Hawaii, "One for cold days, one for the usual surf sessions and one for traveling". Do you have your quiver of ponchos ready?
PONCHO OR CHANGING ROBE?
Looking at it objectively, you'd be tempted to say that ponchos are more suited to warm, temperate regions, while changing robes, with their zip, lining and waterproof membrane, would be more suited to northern countries. "Yes, in surfing this is the case", confirms Brad Rochfort, UK Sector Manager for FCS, whose Shelter Poncho changing robe "sells best in the colder countries such as Northern Europe, Canada and northern US states." But this assumption doesn't necessarily hold true, says Catherine Morris, Sales Manager for Red Original, Red Paddle Co.'s clothing brand). Unless you live in a tropical climate, "there is a place for something like a Pro Change EVO in most countries", she assures, "if you're wet or near the water and there is a bit of a wind chill, it doesn't take much for a waterproof robe to become really useful". Lindsay Pimontel-Stanton, Marketing Manager at Voited makes the same observation; their ponchos are more like drycoats than hooded beach towels: waterproof on the outside, microfibre fleece on the inside.
According to Stan Bresson, CEO of the neoprene brand Saint Jacques, the two products differ slightly in their use: "In reality, the function is different: you use a poncho to change before and after your session. A changing robe can be used to wait on the beach when taking a break, for example."
TRENDS 2023
In line with the diversification of uses, ponchos and changing robes are becoming more versatile, as confirmed by Catherine at Red Original, through an "anytime, anyplace" approach: "If you want to use it like your favourite outdoor jacket, why can't it look, feel and perform like your favourite outdoor jacket too?" A perfect example is their 3-in-1 Revolution Parka, which blurs the lines between jacket and robe: "Wear the outer and inner layers as standalone coats or zip together to create a super-warm technical longline coat".
Illustrating the previously mentioned appropriation of surf culture, these products are evolving to suit a more urban clientele. This is the case at After Essentials, whose new Rain Poncho, "brings the poncho from the beach to the city", using fun colour codes and packing down better so it's easier to store.
Kids also account for a big part of the market; it's not unusual to see them spending the day at the beach with a poncho on their back!

Indeed, ponchos – and even changing robes to some extent – have gone from being a surf accessory to a fashion statement. In fact, styling is now just as important as technical characteristics. "The aesthetics are very important on this type of item. I think that prints suit a younger clientele and a plain look with nice details remains a safe bet for us: it's not about making a monochrome product with a big logo on the front," promises Stan Bresson of Saint Jacques. Here again, each demographic has its own colours: the core watersports community favours more discreet tones, like dryrobe's grey/black, the most popular choice with customers, while "The Camo Pink dryrobe® Advance is the one that probably gets the most attention though, as it's often featured in fashion features or on the backs of celebrities", says Tom Whitfield. Others like After Essentials or All-in offer a host of prints and colourways that have brought them their success.

When it comes to price, the ratio between a poncho and a technical changing robe is one to three. The average retail price of a logo poncho is 55 euros, compared to 150-180 euros for a changing robe. "From our experience if the price of the poncho goes above 80€ it will be hard to sell unless there is a real technical feature," says Marin Mauriac, Product Engineer at Soöruz.
MATERIALS 2023
Obviously, ponchos and changing robes require different kinds of features. "Changing robes require the use of more complex materials to manipulate. Indeed, ponchos are generally made only from fabrics," says Victor from Mellow Sea. Classic ponchos are mostly made from terry cloth, a 50% cotton, 50% polyester blend, say After Essentials, while travel ponchos use "thinner and lighter microfleece with high absorbing properties; 100% recycled polyester". Also for travel, Surflogic's quick-drying microfibre poncho is extremely compact, stored in its one-litre pouch and able to absorb six times its own weight.
For a changing robe, production requires many more materials and processes, like the FCS Shelter All Weather Poncho, "built more like a snowboard jacket with 5k water resistant fabrics, water resistant zippers and taped seams." At Ride Engine, the Tech Changing Robe is made of a Ripstop membrane and has a synthetic sheepskin lining, while the Bonfire changing poncho has a wind and water-resistant shell with down filling. This focus on linings is also a signature at VAST, whose Black Crimson and Azure changing robes incorporate sherpa fleece for its cosy comfort and rapid warmth appeal.
Just as technical are Voited's Drycoats, with 100% recycled Ripstop Repreve 50D, 18K waterproofing on the inside and Bionic Finish®Eco (fluorine-free) water-repellent treatment on the outside. dryrobe use the same treatment on their Advance models, while the outer shell is made of recycled nylon from used fishing nets, tights or carpets. Further proof of dryrobe's commitment to the environment is their B Corp certification with an excellent rating of 110/200.

The use of recycled/upcycled materials is a real hit with customers. Take Mellow Sea, for example, who use bath and beach towels collected from associations, companies and individuals to make their ponchos. The environmental impact is virtually non-existent since all you have to do is tailor them. Oeko-Tex® certifications are also often highlighted, like at Saint Jacques or Surf Logic: "The key material of our ponchos is high-quality cotton certified with the STANDARD 100 by OEKO-TEX®, an eco-label which guarantees that any textile bearing the label has been tested and found free from over 300 harmful substances," assures CEO Javier Gonzalez Vega. Bamboo fibre is also making inroads, like at Wave Hawaii with their fluffy, hypoallergenic and antimicrobial Air poncho: "This fabric doesn't stink – even when left wet in the car for a long time," assures Carsten Raphael. Those who know, know!