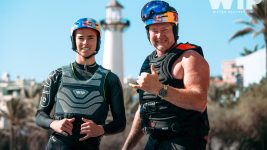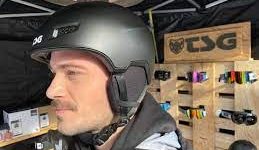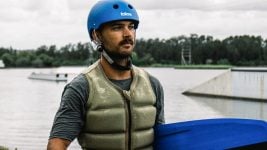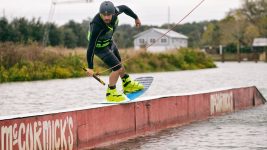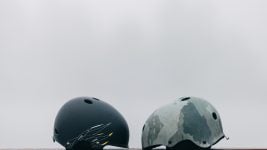 Water Helmets S/S 2024 Retail Buyer's Guide
As people take more risks in the water, awareness of head injury increases. It is cool now to wear a helmet and this shows in sales. By Rocio Enriquez.
The popularity of Foiling, Big Air kiteboarding and Big Wake riding are filling our oceans and lakes with daredevils. They know how important it is to protect their head. The use of water helmets has become mainstream. Helmets are mandatory for most competitions, and this is generating a lot of athlete content with head protection on. As seen with biking and winter sports, watching the pros wear a helmet is one of the most successful forms of marketing. Cable Park users drive the biggest demand, followed by a new generation of foilers. There is variation to choose from, ranging from sport specific styles to convertible ones that can be used for many sports.
Brand offering
Bern focuses on two styles, the skate inspired Macon 2.0 H2O, and the brim styled Hendrix. The Macon 2.0 is lighter and more comfortable thanks to its twelve vents. "Designed for multiple lower impacts, it is great for wakeboarding at the cable park, kayaking or kiting", says Ben Kamlet. Follow offers the Pro and the Safety-First helmets. They both feature soft EVA padding that absorbs impact pressure. Safety-First helmets have multiple strategic vents that allow water to drain and keep the heat out. Pro helmets feature the TrueFit liner that eliminates movement of internal fabric, and Fidlock© magnetic buckles that close automatically and open by sliding laterally. Gath offers the Neo for surfers. It combines an open face shell with a neoprene headband, providing a snug fit and enabling peripheral vision. The minimalistic SFC with detachable ear pockets can also be used for other water sports. For high multi-impact protection, like in foiling, they propose the Gedi. Liquid Force highlights their Nico, Flash and Hero helmets, all featuring the exclusive Sweat Saver terry cloth liner. Not to be confused with Triple Eight's Sweatsaver Halo classic skate style helmet featuring the redesigned Sweatsaver Halo liner exclusively for water. They also offer the Gotham helmet with a subtle brim and logo vents. TSG relies on their All-Terrain helmet for water sports. Equipped with neoprene ear pads and a water blocker, it is perfect for wakeboarding, kiteboarding, and foiling. By easily removing the ear flaps and water blocker, you get a certified skateboarding, cycling and snowboarding helmet. WIP highlights their Wiflex helmet. "It has a unique design offering a flexible shell that adapts to the head shape, creating compact and gapless comfort", says Vincent Cadene. They also offer the X-Over high-level design for Sail GP, Foiling and jet ski security.
As for materials, ABS is a favourite for shells, featured in the designs of Bern, Liquid Force, Triple Eight and WIP. Gath chooses a 2mm plastic protective outer layer. EPP and dual density closed cell EVA foams are widely used. Some add-ons are the neoprene fabric in Bern's helmets and the terry cloth liner developed by Liquid Force. WIP steps into sustainability by introducing the innovative cork powder from discarded wine corks mixed with EPS.
Looks
Customers favour subtle colours. Blacks, whites, and greys in matt or satin versions dominate the offering. There are a few loud options too. Bern offers a matt hyper red. Gath has glossy red, orange, and yellow and a matt yellow too. WIP has developed some high visibility neon and silver colours with glitter disco finish, for safety but also for fun. Follow developed the Klein blue colour for Alex Aulbach, so the helmet matches his outfit. Liquid Force has collaborated with artist Nane to decorate their Nico helmet. Gath collaborates with big wave riders Ned Hart and Kauli Vaast, and the big air kiteboarding world champ Andrea Principi.
Accessories contribute to the look as much as to the performance. Triple Eight offers snap-in ear flaps for both their Sweatsaver Halo and Gotham helmets. TSG also offers ear pads for all their hard-shell skateboard helmets. Gath includes removable ear pockets in their accessory range, along with visors and GoPro camera mountings. WIP offers spare padding and makes some helmets visor compatible. They can also accommodate communication devices.
Retailer Support
Bern, Triple Eight and WIP offer displays. Triple Eight has a display tree that can lodge twenty helmets for selected retailers. WIP's displays are made of cardboard and cork. Education works well for Bern and WIP, who offers direct training courses. WIP also relies on a quality team of ambassadors in many water sports. Follow invests heavily in digital assets for their retailers. Gath prioritises distributors over their own online business. To them, it is important to have people trying the helmets. Liquid Force has carry-over models which is an attractive option for overstocked retailers, giving them more time to sell the product is a big help. Brand stocks are currently more than healthy, and deliveries remain on schedule. Retailers can look forward to steady sales of this growing category product.