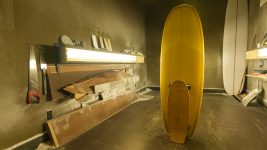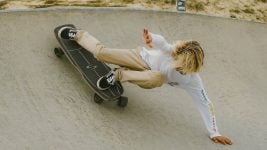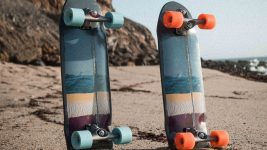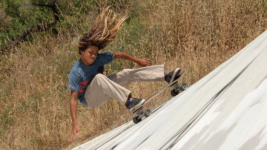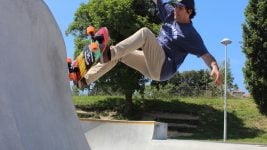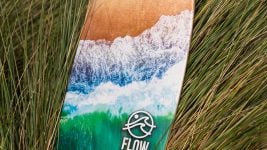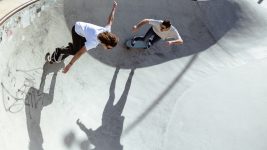 Surfskate 2023 Retail Buyer's Guide
Summarising another busy year, we take a look at what endemic brands within the surfskateindustry are offering with the SOURCE Retail Buyer's guide for SurfSkates 2023. By David Morgan.

Industry & Market

The surfskate market is constantly growing, with saturated stock now becoming less of an issue thankfully. The close-knit relationships between brands, distributions and shops are helping ease the aftermath of the pandemic's issues that threatened us all. It sounds like a lot of brands are working with shops to try and understand their needs, leading to less pre–order pressure and a better grasp of what's needed to get a normal functionality back within the whole system. Stefan Habermann, Managing Partner at newcomersCURFBOARD said on the subject "While the ups and downs around the pandemic have created huge demand swings, the market is now getting back to its normal growth trajectory."  Tim Mackey, General Manager at Flow Surfskates has noticed growth in the industry, saying "Surfskating has become a popular alternative to traditional skateboarding and has gained a strong following among surfers and skateboarders alike."

Pablo Castro – CEO of Loaded Longboards voiced his concerns however, saying "We're seeing companies, distributors and shops making desperate moves to clear inventory which devalues the public perception of surf skate and reduces margins for everyone." Eben Woodall VP of Sales at Carver had similar thoughts, saying that "although the market is healing, there are still flooded sales channels and heavy discounts across all skate categories." It's sounding like a mixed bag in terms of market functionality, but it's clear that it's moving forwards, not backwards which is reassuring. As Ivan Garcia Arozamena – Product Manager at Miller Division said, "The sport of surfing in general is very much alive, and the stores know it, that's why nowadays all surf shops know it's a must to have surfskates on their shelves."
Products in Demand
As ever, complete surfskates are the strongest selling product for brands, as customers, especially beginners, want the whole package to ride straight away. As Tim from Flow said: "Completes offer convenience and ensure that riders have a well-matched setup for optimal performance."
Eben Woodall, VP of Sales at Carver added that "Completes are always the meat and potatoes of the line." Ben Edwards, Global Marketing Manager at Arbor did say however that "Completes are the craze but with so many brands coming to light there are a select few that stand out."
Of course, the more experienced riders will begin to customise their setups, and fortunately the majority ofbrands also offer their trucks and components separately for this purpose. Iciar Sánchez, Industrial designer & brand manager at Slide surfskates said "Customers are also interested in spare trucks, especially in Europe." Ivan from Miller Division noticed that "We also see that there are more sales of protection and helmets than years ago as little by little they are aware of the importance of riding safely."

In regards to board shapes, it seems shorter boards are favoured still. The shorter the board, the more responsive and sharp the turning ability will be, and it also makes for easier, more practical carrying when not riding. Ivan from Miller Division specified that "the sizes between 29″ and 32" long, with surfboard inspired shapes being the most in demand."
Price Points
The price of a complete surfskate can vary drastically, with certain brands offering much more approachable setups for a price that won't break the bank. Flow for example has entry level completes starting at 80-90€. The average price across the market seems to be around €180 for a full complete, however the more advanced the technology within the board and components can draw the price higher, with some pricing out at €349. Stefan from CURFBOARD said also that "As a result of higher material costs we had to increase our prices from last year to this year." The ever rising costs of materials are something the industry will have to accept and adapt to, especially with what's happening in the world these days. Iciar from Slide added that they "have always kept our prices as low as possible in order to offer an affordable and good quality product. However, a lower price gives the customer the perception of worse quality!"

Trucks
With the constant evolutions in technology, it's no surprise that brands are experimenting with new systems and trying to 'reinvent the wheel', but sometimes simplicity is best. Whilst the decks of surfskates remain pretty much normal, additions of new technology are always being tested with truck systems – of which make a surfskate so different form the average cruiser board. Xué Gil Guidonet – Chief Brand Officer at Yow spoke proudly of their 'Meraki' system, featuring 2 spring options and also their new patented cruisers trucks "which can be considered surfskate trucks by the level of turning they've got." Miller Division's XEKP II trucks stray from the widely used spring system, using "no built-in springs and bearings, as they increase the weight and volume and generate more problems at the same time" as Ivan explained. CURFBOARD also stray away from sprung trucks as Stefan said: "By avoiding any high-maintenance parts like springs or bushings we have also developed a product that is hassle-free." Carver – one of the originating brands pioneering surfskate have noteworthy trucks as Eben said: "For Carver, it is always about our trucks. C7, CX, and C5 offer a wide range of riding styles for all ages." A number of brands, such as Loaded and Arbor collaborate with Carver, combining their own boards with Carver's truck systems. Ben from Arbor for example said on the subject "Naturally we collaborated with Carver trucks, who have played a pivotal role in the movement. No pun intended!"
Collaborations
Brands joining forces is always an exciting premise, and the coming year has a lot to look forward to regarding surfskate collaborations. Xué from Yow spoke of their continued artist collabs: "You can expect seeing new designs from Israel's multidisciplinary artist Or Kantor, Australia's graphic designer and illustrator Shannon Cheung and Berlin based Riso printing artist Julia Schimautz as part of our Artist Series." Carver has just launched a collaboration "with the iconic Bing Surfboards with the Puck and Continental models both available in CX and C7 truck systems" as Eben said. Iciar at Slide proudly spoke of their collaboration with Janire Gonzalez-Etxabarri, WSL European Junior surf champion on the 'Quad 30′ Auka': "Janire chose the seaweed print as a tribute to her local beach, Itzurun. Auka means 'seaweed' in the Basque language, where Janire grew up and surfs." CURFBOARD are not necessarily collaborating with brands, however Stefan spoke of their new cooperation with Berlin-based Quarter Distribution. "Quarter will also be active for us in the production of our boards, so that in addition to designed in Germany, our boards will also be made in Germany in the future." Ben at Arbor kept quiet about some surprises in the pipeline: "None we can say at the moment… but like those secret spots & waves… they don't stay secret for long."

Summary
With what's looking to be another exciting year ahead for surfskate, and things only going up we're all looking forward to seeing progression within the sport. Being an approachable introduction to skateboarding, alongside being a completely separate entity in its own right, it's something all shops should be getting behind.