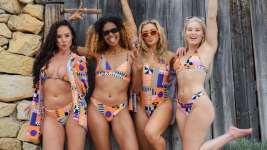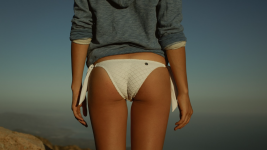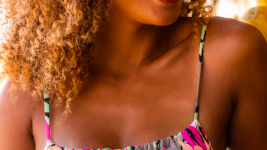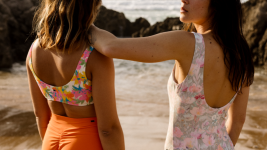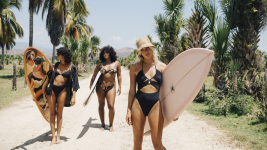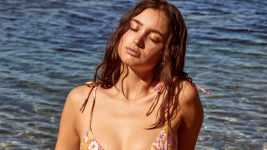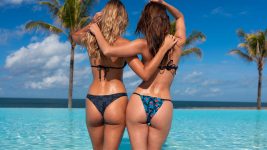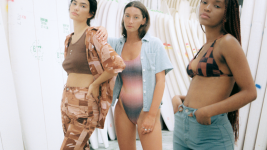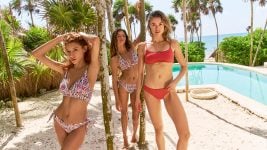 Women's Swimwear SS24 Retail Buyer's Guide
Women's swimwear has become a sensory experience. Bright colours, vivid prints and textured fabrics bring to life shapes designed for all body shapes. All delivered in sustainable materials. By Rocio Enriquez.
Observing women's swimwear trends, one can see that we are not talking about just an accessory for swimming or surfing. They are outfits. Brands understand this; designers have few restrictions when it comes to choose fabrics, colours, or shapes. Providing the pieces are flattering and offer reliable support and coverage, the sky is the limit. Evidence of this is the ample offer of fabric textures: lurex, crinkled, terry towel, shimmer… Some inspirations are widespread. The retro flair, especially from the eighties and nineties, is seen in cut-outs and high waists. Love for the one piece remains strong. Some classics stay strong despite all the movement. Triangle tops remain the most popular top shape; their versatility is a unique selling point. Reversible pieces with multiple ways to wear them are appreciated. Other popular sellers are one pieces and halter tops, especially shaping ones. Colours and prints pay tribute to beach sunsets and tropical nature. The retro trend is interpreted with bright colour blocking and bold patterns.
2024 Shapes and Materials.
Feminine meets performance in next summer's collections. Barts follows this mantra in all their styles, be it minimum or maximum coverage. "We have introduced new styles for bigger breasts which we think will easily sell", says Barts' Kenny Janmaat. Billabong pushes stylish and supportive underwired bras like their Reese, Bliss, Chloe or Tyler. Sporty yet feminine is Picture's signature too, as delivered by their Kalta triangle top. Protest's Superbird is their most popular style. "It is a perfect sporty and feminine fit within our Mix and Match series", says Marketing Manager, Manon Peters. Roxy also relies on the triangle to compliment women's curves, adding an elongated style to their range of tops and swimsuits. OOSC adds removable padding to their tops and swimsuits for optional sexy enhancement. "Our Boost Em Up top has proved popular, with a little more support and lift", says Marketing Manager, Daniel Bentham. The one-piece is very present. OOSC launches a version with a V-cut neckline, open back and high cut leg which creates a flattering look for any body type. Lightning Bolt gives them a high cut-in waist that celebrates the eighties. "Despite that sexy silhouette, it offers more coverage and support, and many women find them more comfortable than bikinis", says Sandra Goncalves. Billabong treats their swimsuits as fashion pieces that can be worn as a body suit to the beach bar. Picture's proposal is the Nanoe swimsuit. "The retro tank style, elegant cut with a high leg line, scooped neckline and press-studs opening make this a fashionable swimsuit", describes Marion Bertrand. For Oxbow it's all about the surf. "Long sleeve one-pieces strike the perfect balance between rashguard-level sun protection and bum-loving bikini bottoms", says Senior Product Manager, Eleonore Courret. High waist bottoms remain popular, but we also see other shapes, such as Picture's Figgy mid-rise waist, or the skimpier shapes proposed by Slam69. Overall, the offering in bottoms is quite varied. Hurley and Pukas expand their ranges to suit the demands of all body types, ages, and styles. "We are featuring different shapes, so our consumer can combine depending on their style", says Hurley's Fernando Rivero.
The combination of polyester and elastane is the undisputed choice of fabric for women's swimwear. Brands choose their favourite versions of this fabric type. Most polyester content is recycled. Picture uses Mipan Regen®, which is a GRS certified high quality nylon made of recycled pre-consumer waste. Oxbow makes their high-quality satin recycled polyester in France. Billabong highlights their eco-conscious, super soft peach fabric. Protest, OOSC, Roxy, Barts and Rusty all choose recycled polyesters and polyamides for their collections. Textured fabrics are all the rage. Pukas has added Lurex® to their 2024 collection. Oxbow offers a jacquard material in some styles. Roxy expects great performance of their new textured fabric for Summer 2024. "It is a jacquard fabric style with multicopattern and Lurex®", says Product Manager, Nelly Pargade. Billabong and Hurley also present an assortment of different textures for next summer.
2024 Looks.
The main inspirations in colour palettes and prints are tropical beaches, celebration of nature, and retro aesthetics. The dream of a beach paradise is portrayed through tropical prints, as the ones found in Slam69, Rusty or Billabong. Colours hint to warm sunsets over blue oceans. Lightning Bolt recreates the blue sky, blue ocean and orange red from the sun over Hawaiian beaches. Rusty offers prints of shells and sunsets. Floral prints marry femininity with nature. Billabong offers a few, including some ditsy versions. Oxbow has created their own Ora and Tiari floral versions. Hurley's rendition of flowers is their Fiji and Hawaii prints. Picture offers an interpretation reminiscent of Spring flowers. Their tribute to nature is extended with the forest greens included in their palette. Retro is celebrated with brightness. Picture offers vivid, acidic colours. Roxy includes vibrant, fun tones of green and pink for a cool summer vibe. Protest has a colour group formed by warm reds and pinks, combined with shades of blue. OOSC defines themselves as a retro inspired brand. As such, they focus on crazy, vibrant patterns, with some neons and some monochromes. Billabong has also created some fun solids, like their coral craze or palm green. They also deliver some textured brightness with the tart lime, flamingo and classic salt crystal options. Barts saves their more vivid ocean blue, white, gold and candy pink for their surf styles. For their more feminine styles, they choose calmer colours such as sage, morganite, terra and navy. Neutral colours are popular. Billabong offers their peach golden brown and their black pebble. Roxy uses earthy tones to transition between winter and summer. Slam69 uses tonal patterns to provide a subtle detail that does not overpower the look. Pukas has selected a neutral palette with some sandy colours, beige, and softer tones with a rustic touch. Protest offers their hunter green and match green combined with beige and soft, dark shades of pink.
Sustainability.
It's hard to find a polyester that is not recycled from either plastic bottles or discarded fishing nets. Efforts in sustainability are extended to manufacturing, packaging, and shipping. Rusty, OOSC and Barts report the use of recycle or biodegradable materials in their packaging and hang tags. OOSC tries to ship all their goods by sea. Oxbow combines craftsmanship with sustainability in their choice of manufacturer. "We manufacture in an expert workshop in Tunisia, a choice that aims to limit the carbon footprint", says Senior Product Manager, Eléonore Courret. Most brands observe sustainability practices when selecting a manufacturer. Pukas makes sure that the factories they work with use the best environmentally friendly technologies. OOSC uses technology to map out their material in order to minimise waste. Their logistics partner, 3PL, have a warehouse with an energy efficient floor design that uses renewable energy supplied by their own solar panels. Lightning Bolt works with suppliers that reduce waste in their production and have the policy to reuse.
Retailer Support
Brands are putting a lot of marketing muscle at the service of this category. They have created specific campaigns that promote the inspirations described. Barts' overall theme is "Island Life". Roxy develops two stories. "Westward Sol" displays beautiful earthy tones. "Surf and Samba" draws inspiration from Brazil. Hurley presents "Raised by Waves" featuring their Chevron print, "Sunset Coast" featuring their Fiji print, and "Sunkissed" featuring their print "Around the Block". Oxbow follows local Tahitian surfers Gilbert Teave and Tahurai Henry in an exploration of their beautiful island, its massive waves and the dangers that threaten its nature. Lightning Bolt launches the campaign "Experience the Elements, inviting the user to connect with nature. Protest takes a unique direction with their "Oriental Bazaar" story. It will promote their floral printing, weaving and embroidery with tales of craftsmanship and cultural heritage. There are some collaborations. Billabong announces two great ones for Spring 2024. All they can share about them so far is that one of them will be with an iconic brand and feature some iconic prints, powerful shapes, and premium details. The other one is themed around sustainability. This is also the focus for OOSC's collaboration with the KALA festival held in Dhërmi, on the Albanian Riviera. They are their official swimwear brand, and they will host beach clean-ups to collect waste for recycling purposes. Picture will also talk about the sustainable sourcing of their products. Rusty keeps rolling out their "Our Kind" campaign that promotes the use of eco-friendly materials alongside body positivity. Other notable promotions are the "Mix and Match" capabilities of Picture's bikinis, the coordinated looks for her and him of OOSC, and a small fun capsule by Hurley to celebrate their 25th anniversary.
To carry the message, most brands invest greatly in images and video content that fuel digital advertising, social media campaigns and merchandising for trade shows and in-store POS. Ambassadors are important messengers. Billabong seeds swimwear to a wide array of beach lifestyle content creators and to their team of athletes, all profiles who embody their "Bikini Kinda Life" campaign. Lightning Bolt develops exclusive collections with retailers and co-create marketing campaigns with them. Protest also offers their retailers the possibility of requesting customised marketing activations.
Most brands worked over the past season to develop reliable and timely delivery systems that have proved efficient this summer. The general trend is to work with pre-orders and keep sufficient stock levels to meet demands but also to avoid excess, eliminating the pressure to sell seasonal colours and styles by the end of the season.