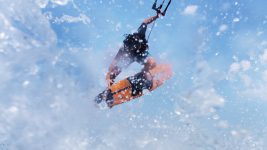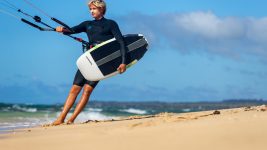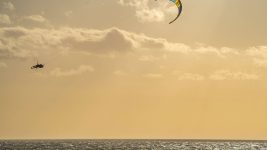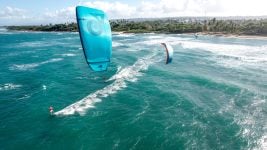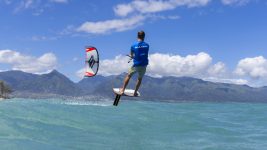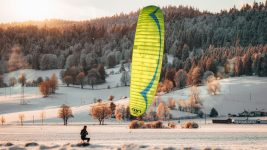 Kiteboarding 2023 Retail Buyer's Guide
As new kite powered modalities emerge, kiters look back to the roots. The original wish to conquer the skies is driving a huge popularity rise in Big Air. By Rocio Enriquez.
After a very popular coming of age, kiteboarding enters maturity with a solid sense of its origins and its future. The constant development of new materials not only enables more time in the water. It is also supporting a return to the roots. The revival of Big Air is the most visible trend at the moment. Jumping high and flying for a while is the primal desire of every rider that first launches a kite. New materials are improving the level of riding, feeding the popularity of this modality. We see old school tricks like board-offs, rotations and grabs taken to the next level. Many brands expect their biggest growth in Big Air specific boards and kites. In this category we find Duotone's Rebel SLS and Jaime SLS, F-One's Trigger, or Gin's Instinct HB. There is also a big demand for new lighter materials that increase performance capabilities. Eleveight expects great sales of their RS+ kite. As for constructions, the market rewards all-rounder products. "As many riders pursue different disciplines in kiteboarding, they now often look for kites that allow them to cover them all with one product", says Konstantin Weier from Gaastra.
Kites.
All-rounder kites have offered the best results in sales. Duotone highlights their Evo SLS, a kite that will perform in any conditions, aimed at progressive kite surfers. Eleveight boosted the sales of their V7 by revising its profile. The aerodynamic design maximises the wind cover and minimises the quiver. F-One's best-selling kite has been the Bandit, a kite that does it all. The all-round characteristics have driven the growth of Gaastra's Pure kite. Gin reports their best sales on their Instinct HB, that can handle a variety of wind conditions, and their Marabou 2. The last one is suitable for beginners and experienced riders, easy to fly and to recover, but powerful. Naish's versatile Pivot is a constant best-seller, but their Triad has scaled up positions because of its large wind range and ease of use. Ocean Rodeo's all-rounder Flite remains their best-seller. They have developed a new 5-strut version, with additional sizes, to take it to the next level. Slingshot reports crazy sales of their all-new, three-strut Code v1. Reedin comprises their kite range in the Supermodel, one kite designed to perform in all disciplines.
The main trend the whole industry seems to be focusing on is the development of new materials that offer the perfect balance between weight reduction, performance and durability. Aluula disrupted the market with what many consider a perfect mix. Dacron produced a new version that enables stronger and lighter kites. Material innovations are still mostly focused on the airframe, although we start to see some attention on canopies and bladders. They have enabled advances in construction techniques that result in more efficient kites. This trend creates the opportunity to offer the same product in different configurations, similarly to the bike industry. "Offering three different levels of material options and price, we're quite well-prepared", says Philipp Becker from Duotone. Eleveight follows through with the creation of their Plus range. Reedin mixes it up in their new Hybrid Torsion Frame construction that keeps stiffness in the centre and gives more twist to the wing tip area. In constructions, the popularity of Big Air is driving the comeback of the five-strut kite. "You must have 5 struts to get more big air performance and stability when you are overpowered", explains Hugo Badaroux from F-One. They offer the Trigger for this purpose, and they are now improving their Bandit with new materials too.
Most new releases will have to wait until late Summer, but there are some recent additions and variations to speak of. Duotone has just released a new version of the Evo SLS and the Evo D/Lab. F-One has redesigned and added new materials to the Breeze v4. Gin Kiteboarding has released the Shaman 3.1, with new stronger and water repellent fabric. Looking ahead, we can expect exciting launches. Ocean Rodeo has great expectations for the new Flite and their Aluula Crave, that incorporates an Aluula airframe to their well proven wave and freestyle kite. "All kites this year will introduce some new Aluula composite materials", says Rich Mundell. They will use Aluula Gold for leading edges and Aluula Aeris for struts and other small areas. F-One is working on the next iteration of the Trigger and the Bullit, both aimed at Big Air. Eleveight announces many innovations. Their freeride and wave kite will feature completely new materials.
Boards.
Twin tips top the best-sellers list, and with the rise in popularity of Big Air it is likely to remain this way. Duotone's best-selling board, the Jaime, got redesigned. The new deep channels and angled fins secure total control and grip on high jumps. Eleveight's Master C+ and Process C+ became very popular in the Big Air community for their lightweight, full carbon construction. Ocean Rodeo saw the sales of their Tumbler boosted by the performance of their Big Air star, Giel Vlugt. Slingshot reports outstanding sales of their Big Air specific Formula board. Gaastra has experienced a great comeback of their Pact board. Strapless freestyle boards have thrown results for Ocean Rodeo's Creep and Slingshot's new Sci-Fly. "The Sci-Fy is a blunt nose strapless freestyle board that is also super fun in waves", says Elliott Tauscer. Freeride kit keeps a steady business. Ocean Rodeo reports strong sales of their Mako after many years on offer. Naish reports good sales of their Motion and their Traverse. The last one has become popular due to a great performance at freeriding and cutting through waves with ease. Eleveight's top seller is their freeride board, the Process. The all-round performance trend seen in kites extends to boards too. Gaastra sold a lot of Watts boards for this reason. Its construction doesn't require too much skill from the user, enabling controlled light wind riding even in choppy conditions, and soft landings after jumps. Reedin got solid sales from their KevPro, that also offers comfort in choppy waters, so the rider can focus on jumping or carving without distractions. Naishhas also sold many Hero boards, easy to use in various water conditions by riders with any skill level. This board, along with their Motion and Drive, are having their bottoms re-shaped.
We find the same trend in boards as in kites. "Innovative board designs and construction methods are focused on providing the best performance with as little weight as possible", says Ray Borg from Naish. Brands are experimenting with different mixes of materials and constructions methods to achieve the best result. Naish incorporates cross laminates of fibre glass and carbon strips to control flex and rocker. They also implement urethane cut to manage flex control through the tips, as seen in their Motion. This improves the experience of surfing. F-One uses wood, Herex fibre glass and carbon layers. They take pride in their Magnet, which the claim to be unbreakable. The surfboard segment receives attention too. Eleveight's Plus range aims to satisfy the demand for real surf feel that many riders seek. Reedin focuses on weight reduction to secure the best strapless experience. They have been able to reach great standards thanks to their manufacturing in Portugal with EU sourced materials and infusion process. They have redesigned their KevPro to improve its reactivity and have introduced the brand-new Space Agency. This is a full carbon board with lots of 3D contours that improve comfort and feel on the water.
Sustainability.
Sustainability is in every brand's mind, but executing it remains challenging in a sport in which performance is key, for enjoyment and for safety. Most efforts are applied to manufacturing processes and packaging. Minimising carbon footprint drives choices of factories to work with. Moving production to Europe decreases the impact of transportation. Reducing plastic in packaging is also a general goal. Brands keep trying to find sustainable alternatives to the materials used to build their products. Duotone is trying Flax and basalt in their boards as part of their Concept Blue initiative. Naish announces they are exploring new renewable materials. Ocean Rodeo has advanced in the recyclability of their kites with Aluula composites.
Retailer Support.
Constant innovation brings about the need for training. Educating retail staff is one of the most important forms of support in kiteboarding. Duotone develops B2B product explanation videos and organises dealer meetings. Eleveight takes their training to the shops. Naish organises face to face meetings with retailers to explain the product. They have a tech team available to provide individualised assistance on product related inquiries. Strong relationships with retailers are crucial in this environment. The ability to offer tailor made solutions and provide real-time information makes a difference. Educating the end consumer is important too. Demo days are a great tool for this. Eleveight, Ocean Rodeo and Reedin allocate many resources to this. A great team of ambassadors also helps. Duotone and Slingshot drive a lot of business to their retailers through the widespread presence of their team riders.
Stock levels seem healthy. Most brands took measures to minimise the impact of the bull whip effect that many boardsports suffered. New products were produced in limited quantities, avoiding competition with current products on offer. This prolonged the life of their products and avoided the need of close-out deals. Moving to factories closer to their markets helped too. With production lead-times and shipping issues mostly resolved, brands feel in a good position to support their customers.