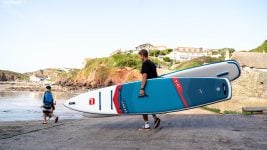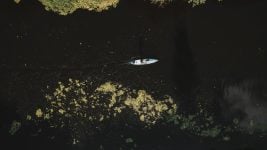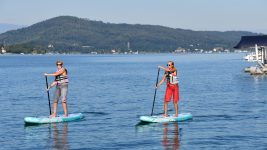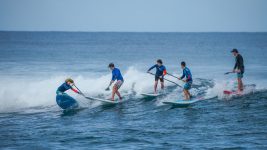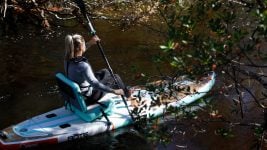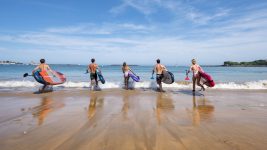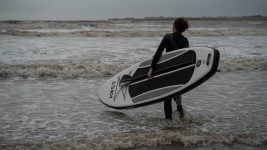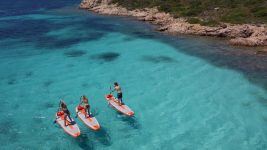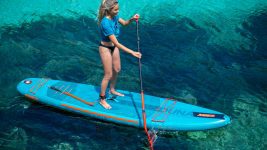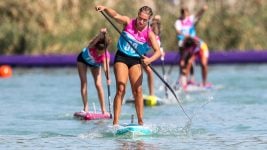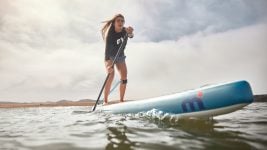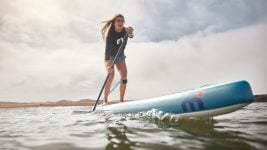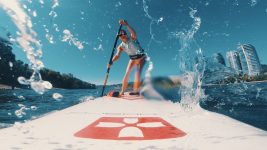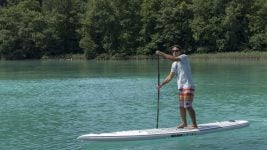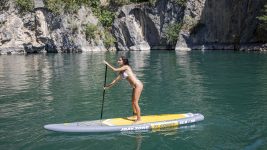 SUP S/S 2024 Retail Buyer's Guide
Imagine inflation leading to "deflation" and you get a decent picture of the SUP segment in 2023: This has led to a vast over ordering of product, leaving the retailers with loads of boards on their hands. With that analysis in mind, how did the brands plan their Spring-Summer 2024 offer? We shall see! By David Bianic, Surf Editor.
There are two ways to look at the current SUP market. From a distance, the term "overstock" sticks out, like the new black plague, a disease that is likely to wipe out many brands and retailers alike. Yet, if you look closely, overstocks do not affect all the brands out there equally. The low-end iSUP boardbags indeed pile up in the warehouses and retailers storefronts, like a bunch of luggage that went by unpicked on the airport carrousel.But for the dedicated SUP brands, it is more of an urban legend: "What over stock? Lol", jokes Sander Blauw, Global Sales Manager at NSP. "Yes it's definitely an overused word of the new reality." The low-end/high-end  dichotomy is very real, reports Ping Lekdee at Starboard as they still see high demand in specialty models, particularly the more premium models and constructions.
Nonetheless, even brands who do not have any overstock situation, do admit being "affected by other brands that discounted their overstock massively", points out Joe Steiner, Airboard's CEO. Meanwhile, in the eastern part of the globe, factories are way too silent, with very few orders, that have been encouraged by big drops in factory gate prices
On the bright side, many consider this as a meresetback, a temporary phase towards a healthier market. "This summer the market seemed to go back to pre-Covid levels – with even a bit of growth in some markets", notes Paul Mols, Marketing Manager for JobeSports, "which is healthy for the whole supply chain, and in the end our retailers as well". The care for retailers is real, not as a pure charity but as a vision "we're all in this together". And brands act accordingly: for example, George Shillito, Commercial Director at Red Paddle Co says their aim in 2023 has been to protect margin to support "the thousands of independent retailers by ensuring their efforts are financially rewarded rather than simply turning stock". What does this means? Their 2022/23 range was carried over this year to avoid early discounting and margin loss. Same with retailer support with Spinera as they are giving retailers better margin bylowering their buying price, "to let them adjust the retail price accordingly to the changing market and aggressivee-commerce players" explains Sven Josten, Brand/Sales Manager.
MARKET EVOLUTION: FROM ENTRY-LEVEL TO ADVANCED PRODUCTS
The fist timers have turned into more experienced paddlers and they now set their sights on SUPs with added value. Chap at Aqua Marina sums up the two main trends of this evolution, i.e "increased gear capacity" and/or "improved gliding efficiency". If you don't think "touring" at this point, get back to school!
NSP is taking a gamble with a brand new model aiming to those intermediate paddlers who want a faster board, but "due to budget constraints and newness to the category, they are not yet ready to commit to a dedicated race board", says Sander Blauw. Hence the Omni, a hardboard "bridging the gap between recreation and race boards", shaped by Alain Teurquetil.
These aspirations from progressing paddlers may benefit from a helping hand as the pricepoints are likely to be frozen, better even, cut down, despite the global inflation situation. As shipping costs are back to normal and those of materials "have returned to more stable levels'' says Chap at Aqua Marina, brands "enjoy" a slightly better margin than two years ago. Starboard also announces they have been able to lower some prices, while Indiana anticipates a price drop around 30% for 2024!
iSUP SS24: KEEP CALM & CARRY OVER
This is a bit of downer for the passionate paddlers out there, but Spring-Summer 2024 won't bring many fresh designs on the market. It all makes sense however, as bringing innovation on a temporarily saturated market would only bring further chaos says Steve West, Communications Manager at Mistral: "It's essential to avoid over-shooting the market in terms of price points as a direct consequence of implementing ever-advancing costly technologies or techniques in manufacture. It's exponentially unviable." Yet Mistral won't rest on its laurels, focusing on micro-design issues (fin design, deck ergonomics, fixtures and fittings, boardbags, etc.).
RRD's Jacopo Giusti is on the same page as he believes "the technology is for the people who need performance, so we decided to put it only on the race and touring program". On the all-round segment they will now usesingle layer constructions with some PVC stripe reinforcement on the deck and bottom, thus keeping the price down.
That being said, the vast majority of the brands are carrying over their lines from the previous year, and will do until the economic skies clear up. Aqua Marina has taken the opposite view though, betting on innovative and distinctive products "that stimulate new demand within the watersport industry", believes Chap Zhang, Marketing Manager. "By doing so, we not only breathe life into our existing inventory but also position our brand to thrive in the competitive market." Obviously, there is no right or wrong approach here, as it all depends on the life cycle of each range.
There are a few other exceptions. Red Paddle Co is releasing a new 'Upgrade Collection' with some select new additions to the range designed to help paddlers "take the step to a more performance-based board that allows them to travel further and faster", says George Shillito. Red Paddle Co will also introduce a lighter evolution of their MSL dropstitch material, the MSL800, for 800 grams per square meter.
Pionneer of the Compact design, Red Paddle Co has created a trend, the latest to get involved being the Starboard Zen Roll, their "all-time favourite iSUPs" redesigned to fit in a 30% smaller compact duffel bag, for easier transport.​Airboard joins the party with its Strider model (9'9'', 11'2'', 12'6''), in the Ultra Lightrange, "with half weight and 50% less pack size".
Even if they don't belong strictly to the compact concept, a growing number of kids specific models are emerging, such as the Rush CJ1 at JBAY.ZONE and the 8'6'' Astro from Vast "that has all the technology and accessories of the more expensive adult sets", ensures Tom Lazarus, Sales Manager.
On a different note, Aqua Marina unveils a radiant iSUP, the Glow. Featuring an Ambient Light System™, it turns the night paddling into a unique experience, "as the board emits a mesmerising luminosity that adds a touch of magic to every moment on the water". Far from being a gadget, the Glow uses the very best of the technologies: woven dropstitch, Eco-PrintTM Technology and Heat Fusion Welding.
HARDBOARDS: THE HARDER THEY COME, THE HARDER THEY FALL
The sad reality of hardboard SUPs is that despite their unmatched performances, they are left helpless compared to the ease of use of inflatables. A piece of the answer comes from Steve at Mistral: "I'm reluctant to broadly call SUP a sport per se, as very few participants consider it to be so; more of a recreational form of mental therapy offering marginal health benefits and the possibility of social networking positives." Brutal. As a consequence, Mistral is focusing more into the touring and all-round adventure designs after having heavily invested in race boards for years. They have taken one of their successful race boards, the Vanquish, and repurposed it towards adventuring and touring as a fast, stable platform.
Similar moves are happening at NSP with the Omni model we mentioned earlier, which brings "greater speed, glide and distance with confidence and stability, without breaking the bank for a full blown race board", says Sander Blauw.
Yet, if you are willing to ride on the most uncompromising race speedster, NSP also releases the Cheetah, a 14 footer designed to address the new short format races such as the Sprint Tech.
In this inflatable dominated landscape, a few hardboardsstill thrive, relying on popular designs. Immune to the fads, the good ol' longboard is an all-time favorite. The latest iteration of the Starboard Longboard SUP is all about refinements, bringing "faster and more forgiving nose riding performance, due to the combination of rocker and bottom shape, makes transitions from nose to tail flow naturally. The rails are radically thinner, giving more bite, control and response to maneuver between bottom to top turns. The nose outline combined with thinner profile reduces the swing weight in the nose for faster rotations through turns." Considered an endangered species, the wave SUP makes a comeback with Indiana releasing 3 new carbon infused models(100 to 160 litres) shaped by Andi Widmann in Constance.
For a hardboard-only brand like Norden, the dependence from distant factories isn't an issue as boards are made in Germany, but still, road transport costs are weighting on the margins in Europe as well. For the CEO/Product designer, targeting the premium segment is key to survive, with models such as his piece of art, the Glider, which gets the prime treatment with a carbon/PVC construction.
CONCLUSION
The retailers badly need some support and the brands hear them loud and clear. Beyond all the actions to support the sport (demos, testing, in store and online education, POS material, social media presence…), the #1 priority of the shop owners is keeping decent margins right now. Many like Spinera are offering retailers aggressive pre-order discount: "On certain models, we offer retailers double digit discount on top of the pre-discount." To streamline the ordering process, Mistral has implemented a B2B portal on their website, providing buyers with stock levels, pricing and updateswhile they have made 'in-season' reorders of stock possible, "which we know to be popular", as well as commissions on sales of premium products. Another solution comes from Indiana as the Swiss based brand offers "interesting drop shipping conditions, an EU and CH Warehouse and very fair prices for demo-products. No need to take stock for the B2B-Partners", guarantees Maurus Strobel, co-founder and CEO. If the SUP market is to cope with this rough patch, it will only be throughbrands and retailers working together.