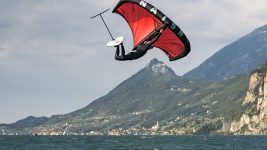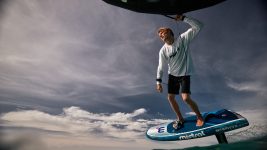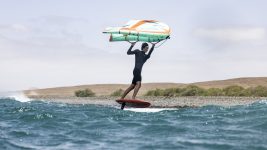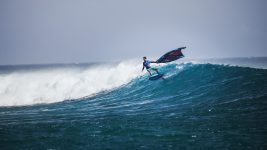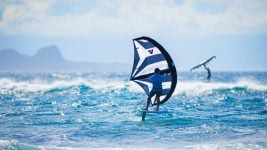 Wing SS24 Retail Buyer's Guide
The wing foiling market has only started to show its possibilities. Newcomers still drive growth, but seasoned wing foilers are driving innovation. Premium materials coexist with less expensive conventional ones, catering for all needs. By Rocio Enriquez.
Material innovation keeps releasing new fabrics that enable new designs and construction techniques. Proprietary cloths like Aluula and Hookipa keep growing in popularity. Some brands develop their own, like F-One's Hi-Tex. These innovations aim for lightness and strength, improving performance and ensuring longevity. However, not all pockets can afford them. "We have a long way to go regarding growing the number of participants without out-pricing wanna-be wing foilers", explains Steve West from Mistral. Most brands restrict the use of premium materials to their high-end models but keep working with conventional ones, like Dacron, to secure the entry market. Handles are a big part of the conversation. Riders enjoy the increased control of a rigid handle system, and more brands are adopting them in their designs.  
Beginners drive the growth of the market. Affordability and accessibility make wing foiling more compelling to newcomers to wind sports than kiteboarding, for example. This puts a focus on the development of entry level gear. The second largest market group for wings is riders crossing over from other water sports. There is also a noticeably increasing demand from experienced wing foilers who are looking for new product developments that will carry them to their next skill level. Market demands are well illustrated by last year's sales. Versatility of performance and skill level has been the most rewarded characteristic. This is testified by the good sales of F-One's Strike v3, Freewing's new Air v3, Armstrong's A-Wing XPS, Mistral's Sphinx or Ocean Rodeo's A-Series Glide. Tahe's only wing, the Alize, targets this market too. Part of the success of the Alize has been the recent switch to a rigid handle. Harder handles have boosted sales of many models. Naish buyers appreciate the more direct feel their newly released ADX with hard handle and tight canopy provides. The Javelin Boom Wing and Slingwing v3, both with hard handles, top Slingshot's sales. Ocean Rodeo has seen great success with their Matrix handle system, especially for the ability to change it up on the go. Many of their Glide users are upgrading to it.  
2024 Offering 
Most of the mentioned bestsellers will remain on offer in 2024. There is a mentality of only releasing new models when there is a substantial innovation to its design. This trend steers away from the seasonal schedule and keeps up the value of the wing for longer. Ocean Rodeo, with their A-Series and AA-Series Glide wings, and F-One, with their Strike, Swing and Strike CWC for light wind, subscribe to this trend. All-round performance styles will keep spearheading sales. Freewing offers the Air v3, focusing on ease of use. Armstrong continues to push their A-Wing XPS. "Whether it's freeriding, wave riding or freestyle, the A-Wing XPS delivers next generation performance, power and control", says Kjell Van Sice. Slingshot relies on the good sales of their Slingwing v4, coveted by both freestyle athletes and schools for its ease of use. Naish offers an Aluula dual canopy cut version of their ADX. "The ADX Nvision caters to all skill levels and all riding styles, with a perfect balance of wingspan, strut length, draft depth, and dihedral", explains Michi Schweiger. They also tick the versatility box with their MK4 wing. Mistral's radial-cut Sphinx copes with a wide range of wind strengths, thanks to the unique panel formation that decreases deformation.
Tahe bets it all on their Alize easy to use and long-lasting model. Some wings are developed with high performance freestyle and wave riding in mind, such as Freewing's Air Team with Hookipa airframe and Ultra X canopy material. Naish has improved their Matador LT wing, targeted for riding waves and swells, by adding interchangeable handles. Mistral's new Skywave range that will cater to the intermediate to higher-end performance focused rider also incorporates the radial cut. Sic Maui is introducing the early release of the Raptor Wing v3. The lower aspect ratio and increased segmented support along the leading-edge results in power, enhanced control during turns, and improved stability on waves. It also has a redesigned centre strut shape with mini booms that provides ergonomic comfort and optimal pumping efficiency. Other notable wings on offer are Freewing's Go, for the entry level market, and their Pro v2 for racing.
Materials, constructions, and designs. 
A lot of R&D energy is spent on materials. The race is on for the lightest and most durable one. Ocean Rodeo's Aluula is now sharing the buzz with other fancy materials such as Hookipa, which can be found on Mistral's high-end range. F-One uses their proprietary Hi-Tex, a high tenacity polyester. However, traditional materials like Dacron remain important. They are easier on the pocket and their performance is proven. "We're still using Dacron in order to keep MSRP reasonable", says Jacques Freydrich from Tahe. Armstrong chooses the latest Dacron reinforced with DLE for their XPS, as they believe it offers the best all-around feel in everyday riding conditions. Mistral continues using Dacron and Spinnaker cloth fabrications. Naish offers dual Dacron canopy leading edge and strut, implementing Aluula for a mix of standard canopy and partial laminated canopy. Slingshot sticks to the proven combination of lightweight Teijin 4×4 canopy material a DLE 160 Dacron. Freewing is expanding their use of Ultra PE. Its fibres are thirty-two times stronger than polyester at the same weight. Sic Maui has used stiffer and more durable fabrics on their new Raptor v3. "Sic's enhanced Exo-Tex leading edge material offers a lightweight solution with improved tensile strength and durability", says Casi Rynkowski. This preserves the structural integrity of the wing through aerodynamic forces. The low stretch properties ensure that the fabric remains steadfast, maintaining its shape even under heavy loads. Sic's high-performance Triple Dura-Force canopy has also been enhanced, improving tear resistance, UV protection and overall durability.  
To make the most of these high-performance materials, brands apply well-thought-out construction techniques. F-One selects specific sewing techniques to assembly the different panels, to achieve good tension of the canopy. Mistral is happy with their radial cuts, although they keep on experimenting. "The wing as we know it may need a rethink to become aerodynamically more efficient", says Steve West. Sic Maui speaks of enhanced panelling alignments that reduce fluttering during flight. Design holds it all together. F-One pays special attention to the profile design and the diameter of the leading edge. They use different Hi-Tex on it for a perfect segmentation of each strut. We'll find Hi-Tex 158g on the tips of the leading edge and Hi-Tex 178g on its main part. Freewing is expanding the use of their Modular Handle System and adding more components. They introduce in their Pro v2 wing the Advanced Batten System, a new adjustable centre batten that improves stability, low-end power, and upwind capabilities.
As for looks, the wing sector trends to minimalist and low-key aesthetics. Additional graphics can compromise weight in a product in which every gram counts. It seems more important for brands to let the premium materials hold the look and keep a consistent brand image across all product categories.
 Sustainability.
Apart from the efforts made by Aluula engineers to create recyclable materials, most of the efforts in sustainability are focused on packaging, shipping, and manufacturing processes. Naish and F-One have been very active in reducing plastic from their packaging. Carbon footprint reduction is mainly achieved through improved shipping systems. F-One chooses sea freight over air whenever possible. Armstrong joins this effort by partnering with 3PL warehousing and dispatch in Europe. Mistral acknowledges the pushback on sustainability from Far Eastern factories, which is why they look at manufacturing in Europe as a step in the right direction. Factories are monitored for sustainable practices. F-One's factory feeds from solar panels. Freewing is a brand of Sestar, which is a B-Corp certified company, meeting high standards of social and environmental impact. They also run a "Plastic Offset Programme" and "10X Climate Positive Initiatives".
Retailer Support.
Education and test product are an important form of retailer support. Wings are relatively new and highly technical products, so getting people to understand how they work and to try them out is key to secure the growth of the sport. Mistral, Naish and Ocean Rodeo make sure their dealers are able to answer every question. Naish offers test packages to make it easier for consumers to do comparisons. Sic Maui offers a comprehensive launch package with their Raptor v3. Freewing offers a lot of marketing materials for dealers to promote their brand, including demo tents, beach flags and POS displays. Presence on the beach pays off. Slingshot widens their collaboration with schools. Armstrong is sponsoring big events, like the GWA, and attending select trade shows. Customer service is a key investment for Ocean Rodeo. So it is for Mistral, who has also developed their online ordering processes to make it more streamlines and offer incentives. Advertising strategies are mainly online. Armstrong identifies their move of stock into a European warehouse as a great way to support their retailers, enabling quick and cost-efficient deliveries. Ultimately, developing state-of-the-art products that attract the customers' attention is the best way of keeping the footfall high.
After last year's overstock situation, brands have planned carefully. Most report good levels of stock of their core products and reasonable delivery times. There are also less seasonal changes, which keeps the value of the product high for longer. Retailers should be able to meet the demands of their customers effectively.