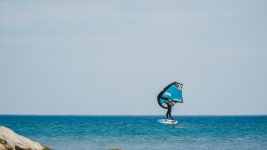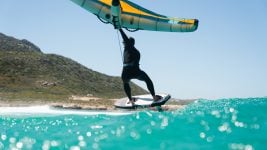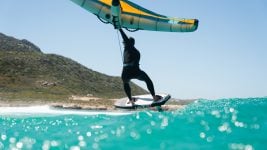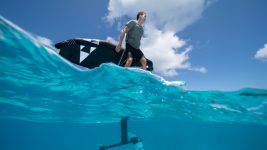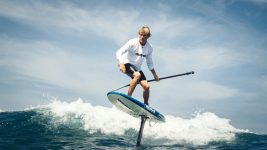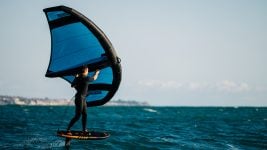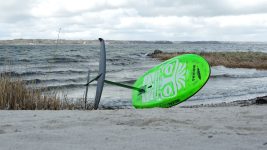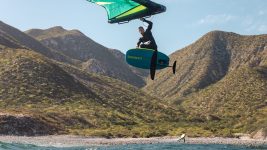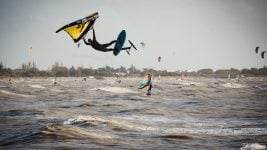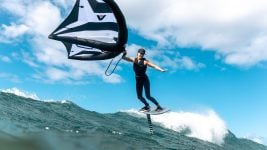 Foil SS24 Retail Buyer's Guide
Hydrofoils have secured their space on almost every board, whether they are powered by wind, waves, or boats. It has also caught the attention of many newcomers to wind and water sports, popularising them even more. By Rocio Enriquez.
Not so long ago, only boat racing enthusiasts and a few sports geeks would have seen a hydrofoil up close. Today, thanks to the Olympic status of kiteboarding and the popularity of wing foiling, it is hard to go to a beach and not spot a few of them. Whereas most sports have adopted foiling as a modality, it is wing foiling the one that has democratised it. This is because it is as accessible for experienced water sports fans as for newcomers, substantially widening its demographics. Downwind foiling and surfing are following close in terms of popularity. Kite racing is rising in numbers, too. Indiana is converting the increasing popularity of dock starting into good sales. Slingshot is keeping a watchful eye on wakeboarders. The capacity to ride a not-so-big wake produced by a not-so-expensive boat could significantly increase the sport's fanbase.
Limitless possibilities invite constant innovation. There is a general industry focus on weight reduction, performance and durability. Whatever new materials and technologies become available are tested for these purposes. Stiffness is pursued, and materials carefully selected to ensure the perfect balance with weight and flex. Carbon is the material of choice for this, although we still find some aluminium to keep price points accessible. Regarding constructions, there is an emerging trend for medium aspect foils that offer strong performance to a wider range of practices and skill levels. They also seem less intimidating than the super high aspect ones we've been seeing in the past year. Armstrong reports good sales of their newly added range of mid-aspect foils across different disciplines. Slingshot's best-sellers are the medium to high aspect G series wings. Mistral includes foils with large to medium surface area in their popular packaged deals. High aspect foils are still topping bestsellers lists, with models like Levitaz's HA850, Starboard's Glider, or Lift's 150HA-X.
Foils.
Foil kits are a popular buying choice. Horue highlights their Libel foil, offered on a SM1 mast with a biplane fuselage that gives optimal manoeuvrability to aspect ratio. Available with several connection systems and a wide range of fuselages, front top and bottom wings, and stabilisers, it offers more than 960 unique combinations. SIC Maui offers the Slash carbon setup with a new 750 front wing and 180 stabiliser that promises a highly responsive and agile ride. The flip fuselage provides choice of performance by adjusting the distance between the mast and the front wing. "Orienting the pump arrow forward allows greater lift and enhanced stability and control. Conversely, orienting the steering wheel forward facilitates manoeuvrability and aggressive turning", explains Brand Manager, Casi Rynkowski. Levitaz is working on the successor of their R5 Race series, which will only be released after the Olympics. They keep promoting their modular concept that allows users to adapt their foils step by step. Starboard launches the R560 and R660 Team, their first mono-block configuration for wing foil racing, performance wave riding or tow foiling. They also keep pushing their S-Type 2000 Glass set for beginners. This set has everything a user needs for their first foil, while remaining compatible with other front and tail wings from their range. Naish has fine-tuned their Jet foil for beginners, offering the Ultra Jets. "It is easy to ride while having the potential to increase the customers riding skill level much longer due to higher top speeds and increased glide", explains Michi Schweiger.
Taaroa pushes their Switch WS, popular for its agility, light weight and stiffness. The front wings cater to all disciplines, conditions and user profiles. It is available in three carbon HR mast sizes, with an optimised profile for minimal drag and a very rigid, durable construction for flawless power transmission. Taaroa is developing a new wind foil setup designed for competition. Mistral, who has partnered with SAB Italy (former Moses) for their foil business, are tapping into significant levels of technology to deliver high-end systems that offer full interchange between components and greater versatility. NSP has great results with their Airwave set. The modular mast allows the user to easily change wings, making it easy to progress and to adjust to conditions without spending a fortune. Armstrong pushes their Performance masts. The top shelf Toray high modulus carbon provides a combination of efficiency, stiffness, and control at speed. They propose their 865 length as their all-rounder model. Naish offers a range of masts in a variation of materials, all geared with their 2 x M8 screw mini Tuttle style connection.
Front wings and their aspect ratios are a fundamental factor when choosing a foil setup. Armstrong has built up on the performance of their MA1225 to deliver the MA1475 front wing, with increased low end and long distance pumpability. "This makes it a terrific all-round light wind winging and a prime down winding foil for riders of all skill levels", says Marketing Manager, Kjell van Sice. Pumpability drives the good sales of Indiana's high-performance models 1190P, 1200HAR and 1396P, perfect for dock starting. "We are also seeing high demand for our newly released MAR and XAR foils for wing foiling", says Gunnas Biniasch. NSP relies on their Riblet and Glider series that offer a good price/quality balance. SIC presents the new Flite 1200 front wing, a steppingstone for those looking to progress into performance foiling. Slingshot highlights their G Series of mid/high aspect wings with 5 sizes offering a ratio of around 6.5. These are wings that the most adventurous can learn on and that will never be outgrown by the rider as they develop their skill. They also offer three sizes of their ultra-stable E series with a 5.5 ratio, and 4 sizes of their full high aspect PTM series with ratios around 9 for the more advanced riders. Lift is having very good results with their 150HA-X new wing. "It offers an incredible blend of glide, pumping and turning. It works amazingly for winging and downwind foiling", says Matt Elsasser. For those who want to push their limits, they offer the 120HA wing, and all-round performance seekers can opt for their 150Surfv2. Naish is releasing their new HA line of wings with increased wingspan and new wing tip style that enables maximised glide, pump and speed while offering turning ability. Starboard has revamped their windfoiling Freeride range, adding smaller "Freerace" wings more appealing to intermediate foilers. Liquid Force, who focuses on the boat market, pushes their Horizon 155, a very stable wing that allows you to transfer from front to back wakes easily, while maintaining a surfy feel. Unifoilrecommends their Progression wing for its speed, good turning, low stall speed and endless gliding.
In the boards section, we find Armstrong's Forward Geometry board. It is built with their proprietary 320 mm carbon fibre mast tracks that are placed further forward, reducing rotational swing height. The result is a board that feels small while offering the right volume for many disciplines, and optimised contours and volume distribution for stability and early flight. Freedom has found great success with their Nugget wing foil board. The diamond tail design and volume placement offer lower volume without sacrificing stability or ability to pop up in lighter winds. Taaroa will launch a new full carbon freestyle wing foil board next year.
Materials and constructions.
Carbon is the preferred option, and we find it in most brands offerings in different variations. Armstrong chooses high-end versions, such as UHM Toray from Japan, for most of their products. <_o-fip-hl id="">Horue</_o-fip-hl> builds their masts and wings with closed mould carbon prepreg cured at a high temperature. Liquid Force is careful about ensuring that the right amount of resin is used in their carbon prepreg lamination, to achieve optimal balance between lightweight and strength. NSP's wings feature 100% prepreg 3K carbon fiber. Their rear wings are also fully made from carbon, displaying cut off marks that allow the user to tweak their characteristics by cutting off the tips. SIC's Slash components are made of prepreg carbon. For their Flite range, they mix fiberglass and carbon on the fuselage and wings. Unifoil applies their Katana construction, where they use differently rated carbon to maximise strength, stiffness, and weight. Starboard is now using carbon for the fuselage of their Team R range, previously made with aluminium.
Slingshot, Naish, Taaroa and Lift also use carbon. "SAB are carbon fabrication specialists, and we shall no doubt continue this modus operandi for construction", says Steve West from Mistral. Nevertheless, they are considering ecologically sounder alternatives through R&D. All this carbon in the wings is wrapped around composite cores. Slingshot chooses a high-density polyurethane core. Sic Maui uses PVC, sometimes adding carbon stringers to achieve the best stiffness/weight ratio. NSP features a reinforced foam core. Liquid Force has a proprietary foam that is as light as a typical EPS core, but also as strong and resilient as a higher density PU foam. Naishuses a dual expansion foam core for their front wings, and no core layup for their stabilisers, to achieve maximum stiffness. Another noteworthy material for wings is the high-pressure fiberglass laminate G10 used by <_o-fip-hl id="">Horue</_o-fip-hl> in their Libel range. As biplane fuselages use small front wings, they managed to get a good strength with the G10 material, lowering the end price.  
Aluminium is still present is masts and fuselages. Naish's new offering of mast set-ups ranges from aluminium masts to 55% carbon or 100% carbon. "The backbone of the NSP Airwave is the unique 13,5 cm wide aluminium mast wider than other masts for additional strength and directional stability"says Caren Forbes from NSP. They also use aluminium for the fuselage. Taaroa's fuselages are made of either aluminium or titanium. Unifoil has also added some aluminium to their range to offer a more price-conscious product. Sic's Flite mast is made with a specific alloy that prevents corrosion and increases the stiffness.
Sustainability.
Even if sustainable material options for the construction of foils are limited, every other sustainability avenue in production and logistics is explored. A lot of production has been moved to Europe, lessening the dependence on airfreight and hence the carbon footprint in transport. This also enables a closer monitoring of factories practices, choosing photovoltaic facilities when possible. Packaging is carefully and creatively thought of. There is hardly any plastic to be found. NSP uses flax fibers and recycled paper. They joined Cobra International to find an eco-friendly solution to board packaging. Slingshot wraps their masts, wings and fuselages in a padded bag that users can use for the entire life of the product, instead of toss-away Styrofoam. Unifoil includes a free towel that doubles as protections for the ends of the wings. There are some sustainable materials in product manufacturing to speak of. Taaroa and Mistral are actively researching into sustainable options for their wings. NSP applies the principle that every product must have some environmental component. We can find bio friendly resins, recycled traction pads and their CocoFlax tech in their products. Their CocoMat uses natural coconut fibers from coconut husks to create a light and strong micro sandwich construction. They round it up with water-based dye pigments. Choosing who to work with contributes to sustainability. NSP sources their coconut husks from Thai certified organic farms via Harmless Harvest. Levitaz's boards are made in Portugal and certified with EcoBoard Level One. Ultimately, longevity of the product is the main contributor to sustainability. Taaroa has a programme for recycling and refurbishing used foils and boards. They also create modular foils that can be upgraded for longer use. <_o-fip-hl id="_o-fip-hl-focus">Horue</_o-fip-hl> keeps their existing products on the market until significant improvement can be done. They do not create new range with just minor improvements on design or performance.
Retailer Support.
Foil products are sophisticated pieces of engineering. Education and demos are an important part of retailer support. This can be done in person or online. Armstrong is growing their presence in Europe by sponsoring major events like the GWA and attending selected trade show.  Unifoil invests a lot on their team of riders and ambassadors that ride their gear amongst watchful users. They also offer retailers demo products to help their customers try before they buy. Liquid Force also has a demo programme. Naish offers training to all their dealers and equips them with test packages for consumers. Online assets are plentiful. Levitaz creates "Ex-Fabrica" explainer videos for all products, intended to help customers make a quick decision. They also have an online catalogue embedded in their website for a quick overview of products. Liquid Force creates video content to educate consumers about how accessible foiling is. Sic has updated their website to include new 3D product renderings and offer selection assistance to new foilers. Slingshot features an online "foil finder" that retailers can embed on their websites. This tool asks the customer a few questions to help them find the perfect foil for their sport, weight, skill level and wind conditions. Indiana also offers a foil and board finder that makes the decision process easier. Unifoil is determined to make their website the best source of information. They will explain how the product is made and designed, and how to best tune your foil to your foiling. Social media is very important. Sic makes sure that they constantly share new inspiring images while keeping foil enthusiasts up to date with the latest tech. Unifoil has a regular vlog on their YouTube channel that offers detailed explanations. Indiana is launching a new weekly live "Foil talk" podcast that offers information and tips. There are some other forms of retailer support. Mistral offers packages with board, wing and foil setup for the entry rider market. Their holistic package can be upgraded by simply swapping the mast, fuselage, front wing or stab. This helps the end user and the retailer, who can sell components to the ever-improving skills of the rider. Taaroa has created the Taaroa 2.0 distribution system that links online sales, marketplace sales, commissions for local stores and customers. Armstrong and Levitaz ensure short lead-times and cost-efficient deliveries by keeping their stock in Europe.
Stock levels seem healthy across all brands. Last year's overstocking is stabilised. The move to European production and storage of many brands has shortened lead times and enabled a later and more accurate planning. Stores should have no problem in replenishing stock within a reasonable delivery time.