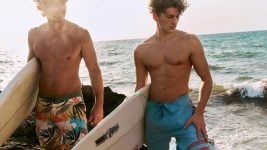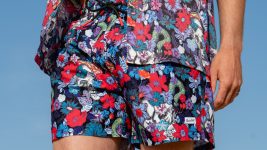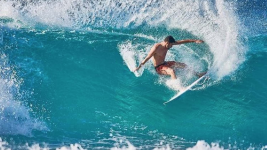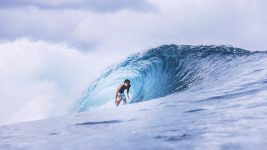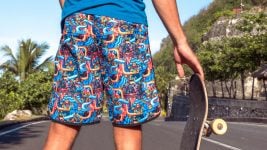 Boardshorts SS24 Retail Buyer's Guide
Boardshorts have to be both fashion statement and technical garment, calling on the best of a brand's expertise. Boardshorts also tell a story, so find out which one will be yours for spring-summer 2024. By David Bianic.
It's a sad fact, but global warming is helping to make one of the surfer's oldest wet dreams come true – an endless summer. Autumns are getting milder, warm spells in winter are more frequent and summers… no need to mention. In fact, living in boardshorts is no longer just a fantasy, it's a reality. "As consumers look for comfortable and lightweight clothing options during hot weather, sales of surf-inspired clothing, including shorts, will increase," confirms Sandra Goncalves, Lightning Bolt's Business Director for Europe. At Rusty, Design Director Boony talks of "exponential" growth in boardshorts over the last 24 months. But it's not just the temperature that's rising, inflation is too… In addition to this macro-economic factor, there are cyclical phenomena specific to the surfing industry. Nicholas Crook, CEO of Boardies, points out that many shops were struggling with stocks from previous seasons as well as lamenting delivery delays. Simon Charlesworth, Billabong Men's Marketing Lead EMEA, also confirms that although boardshort sales are on the up, it's not a smooth curve but more like the teeth of a saw.
PRICE POSITIONING
Inflation may be detrimental to making a sale but not in all price ranges. The entry-level bracket is more susceptible to price increases with customers counting their pennies, while the more technical and expensive models suffer less from this budget crisis. Customers see these top-of-the-range boardshorts as an investment, an essential part of their surfing kit, contributing to a successful surfing experience. A case in point is Hurley, where 6 of the top 10 best-selling models are Phantom shorts priced at over €70″, explains Fernando Rivero, Product Director.
But we need to distinguish between the different categories of shorts: boardshorts, walkshorts, beachshorts, swimshorts… For the first, the average price range is between €55 and €70, while for the other three there are entry-level prices of under €40, typically in lifestyle models with elastic waists in non-stretch fabrics such as Billabong's All Day Layback collection. At the opposite end of the spectrum, you'll find high-end models like those found in Oxbow's 1985 capsule collection, priced at €139.99, or the Apex Trunk by Kelly Slater from Outerknown ($145), a bestseller even at such a high price.
SS24 BOARDSHORTS TRENDS
If it's all the same to you, let's concentrate on the pure core models, the technical boardshorts. The first piece of information is that the lengths have been extended, in reference to the styles of the early 2000s, confirms Simon from Billabong. It's not just a question of style, adds Fernando at Hurley, because the demand for longer shorts also reflects a move towards warmer destinations, to offer you more protection.
When it comes to aesthetic themes and stories, many historic brands continue to draw on the past. Not very original, but it works wonders. Perhaps the oldest, Katin, have been making boardshorts since 1957, "when surfers were tired of surfing in their cutoff jeans", recalls Pierre-Marie Saint-Mleux, Brand Coordinator for Europe. This historical legacy is still very much alive in collections from this millennium. A different era, but the same rich history from Lightning Bolt, who will continue to build on these principles in 2024, with retro designs, strong colours and "simple yet iconic logo". Retro, yes, but not overly so as their boardshorts use modern, lightweight and quick-drying materials. Let's turn the time machine back a little further, to the 90s with Lost, whose surf-skate spirit is still the order of the day in 2024, assure Freddie Sipowicz(President) and Jonathan Gilbert (CEO Europe). Rusty, too, are looking to the late 90s, with hallmarks such as oversized cut, laces, heritage branding and "very early touches of Y2K", says Boony. Other brands, whether more recent or crossing over from other worlds, are focusing on two other areas. On offer: natural inspiration or technical and functional features. The first example is 69Slam, a brand born in Bali in the early 2000s, which plays on natural prints (palm trees and ocean motifs) mixed with high-contrast touches like neon. The second option comes from Protest, where many of the models in the SS24 collection are part of the PVRE Green series – recycled polyester (PET bottles) shorts with 4-way stretch, packed with details designed for action: "This season we're upgrading our line with fixed waistband styles with hidden adjustable cords so that you can get the fit that you need. There are also half-elastic styles with an elasticated section at the back." says PR coordinator Els Kaptijn.
SS24 WALKSHORTS/BEACHSHORTS TRENDS
It's impossible to ignore these categories of shorts, as in recent years they have borrowed a lot from boardshorts and vice versa. At Billabong, the success of their hybrid shorts, the Submersible series, is proof of the fluidity between technical and casual styles. On the surface, they look like classic walkshorts with a chino cut that can be worn in the city but their micro-repellent fabric treatment is water-resistant.
The gorpcore trend is also continuing, confirms Sam Coombes, Founder and Creative Director at TCSS. The brand want to appeal to this clientele with a number of "Lots of pocketing and active fabrications", also adding that the walkshorts segment is moving more towards a workwear approach.
Hurley are intelligently extending their Phantom model from boardshorts through to swimshorts, with the Phantom Eco, aimed at "for consumers that want to practice water-beach sports and demanding our phantom features," as well as the Phantom Flow and Slub walkshorts.
At Protest, beach shorts are also inspired by surfing, but more in their aesthetics: "We will have some mini-prints in oriental surf style, tie-dye prints, stripes and leaves. Also you'll see some 80's styles."
SS24 COLOURS & PRINTS
The trend for earthy, muted colours isn't going away, but overall brands seem to want to send a message for Spring/Summer 2024: "Make surfing fun again!" Bright, even firecracker colours are back. "We are using more colourful, bright options. We are using broader ranges of blue tones, but with pop ups in pinks, and different tones of yellow," says Fernando from Hurley. Also at Oxbow, the Children of Teahupo'o collection (which links to their Tahitian ambassadors Gilbert Teave and Tahurau Henry) uses a very summery palette of bright pastels, blues, yellows and oranges, with lots of floral prints.
In a completely different genre, but one that still works just as well, Lost are staying in their hardcore vein with tattoo art, punk and metal prints (Deathwish model is killer!). Even the tropical styles have a punk twist.
MATERIALS SS24
Fabrics also tell stories: about tradition, technology and sustainability. For technical boardshorts, there's nothing new about using recycled polyester, particularly in Repreve fibre at Boardies or Oxbow. Soöruz, a brand renowned for their 'technical & neoprene' credentials, are offering the Scape 20 within the Engage range, a premium boardshort also made of recycled polyester, with thermofused seams and 4-way stretch and non-slip laces. In short, for serious surfing!
To split the difference, Lightning Bolt are mainly using a cotton/polyamide blend: "These two mixed fabrics give the boardshorts the water-repellency, resistance to salty water and sun, and the breathability of the natural fibre – cotton," explains Sandra Goncalves. Outerknown are using 'regenerative' cotton, a new agricultural practice that favours cotton grown in a way that preserves the soil.
More old-school, Katin are still offering their historic Waterman model in thick nylon, after 69 years of service! Their other, more contemporary models in cotton/nylon/spandex retain this retro feel: the fabric is pre-washed for a slightly worn look and to avoid shortening in their first wash.
When it comes to walkshorts, natural materials are once again sought after for their comfort and pleasant feel. TCSS, for example, offer styles in linen and velvet.
This quick overview of the spring-summer 2024 trends highlights the huge diversity in the boardshort sector. Whatever your marketing or geographical positioning, type of customer or your personal tastes, you're sure to find pieces that will set you apart from the surfshop next door. This eclecticism bears witness to the surf industry's healthiness in a fashion world that is all too often samey-samey.