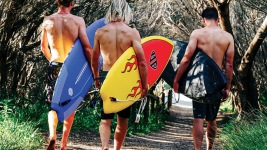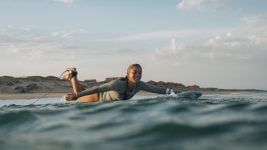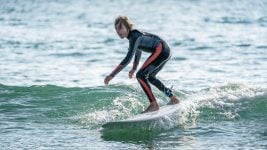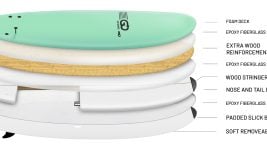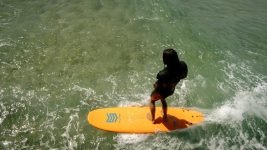 Softboards 2023 Retail Buyer's Guide
Softboard sales don't look like buckling under the pressure and it's enough to make their tougher big brothers jealous. Here's the lowdown on the key and trends. By David Bianic.
It all began like a normal rom-com, a beachside summer romance where we parted ways at the start of the new school year, never to see each other again. The seductive power of softboards was a brief fling for many people – myself included – and soon surfers went back to serious business, i.e. 'hard' boards. But the market for 'foamies' is not weakening and these spongy boards have become the first choice for novices, who now prefer them to super strong moulded models. Is this really good news? "So sustainability is not there but safety yes. Looking at the point that more and more people are going in the water I would say SAFETY FIRST," says Lionel Franssen, Softboard Sales Manager at Napco (Medina, Softlite, Mullet, Qraft). At Softdogsurf, Manager Tim West also notes that some of these softboarders are starting out by skipping school and he also adds that the relative slowness of softboards compared to hardboards is a good thing for developing skills without being overwhelmed by speed: "To improve, sometimes you need to slow down first!"

For many brands, the perception of a softboard being a gimmick is outdated as Diogo Areia, Product Manager for Flowt says, explaining that their boards "are fully fibreglassed in epoxy, just like a "normal" day to day board of an advanced surfer, but they are coated in soft material.". At Tahe, they are promoting a totally new technology, which combines the best of both constructions, called Skin-Tec: "it is a soft moulded board out of one single material featuring a full deck pad, which offers great performance and can be recycled easily," promises Jacques Freydrich, Brand Manager, at the same time as marketing a classic Asian soft top range alongside it.
MADE IN ASIA
When it comes to production, softboards are almost entirely dependent on Asian manufacturers, unlike composite boards, which are produced more locally. "On the price level we are operating at the moment, it would be realistic to manufacture these products in Europe," suggests Andy Wirtz, CEO of Norden Surfboards, "but like in many industries, we don´t have the technology nor the infrastructure for it anymore". Phil Bridges, Designer for Go Softboards, weighs up this dependence, which is not exclusive to foamies: "Don't forget that a board made anywhere has shipping attached to it – EPS foam, resin, fibreglass cloth, fin boxes, fin plugs…". He points to the fact that Go Softboards manufacture close to where the materials are produced and argues therefore that their carbon footprint is actually smaller than in most cases. Only Tahecan claim to manufacture where the brand is based, in France, thanks to BIC Sport's 40 years of experience, particularly in moulding.

Transport costs have returned to normal in 2023 and this may continue into 2024, possibly lowering the price of boards. Tim from Softdogsurf believes that better logistics management is possible, "to avoid the products being transported twice before getting to retailers.". On behalf of newcomers UP Surfboards, distributor Sample N'Co reminds retailers that economies of scale can be made on transport costs, provided that orders are placed in full batches.
The fact remains that for many retailers it is difficult to look too far into the future while their small businesses are being hit by overstocks, including softboards. Many brands have anticipated this phenomenon by not changing anything in their ranges for 2023. "It was pretty soon clear that too big of a change in line would kill stock value…so we didn't.", explains Andreas "Maui" Maurmeir, Sales and Marketing Manager for Catch Surf (Sample N'Co), before hinting at new magic boards for 2024.
SCHOOL OF SOFT KNOCKS
Surf schools are still the biggest customers for softboard brands and they are particularly interested in the longevity of the boards they provide to their students. Surf schools need to know in advance how often their boards will need replaced, to pay for themselves over a certain number of seasons. Constructional aspects find favour here, as is the case with Go Softboard. Their 'normal' models have EPS/epoxy construction, with foam deck and slick hull, as well as 'T' stringers and bumpers on the nose and tail. For Surf School and XTR boards, "we go the extra mile" says Designer Phil Bridges, "with wood stringered blanks and a wood layer sandwich on the deck.". A different technical solution comes from Up Surfboards, using two transversal stringers covered with a strip of Kevlar to reinforce and stiffen their models specifically designed for schools and rentals.
Similarly, at JS Industries, their softboards are made from EPS and use a two-layer glass (2 x 4oz) on the deck and one layer on the underside. After a season of abuse from wanna-be surfers, appearance counts too; something that Tim Werst at Softdog Surf emphasises. Their colours age well and schools/renters can easily resell boards on the second-hand market so that they can start the next season with a brand new fleet "without breaking the bank".
DURABILITY: DISPELLING THE MYTH
Even more so than their hard cousins, softboards have a bad reputation- long regarded as crash-test dummies for shorebreak and ending their lives in beach car park bins. A misconception, as Brad Rochfort, Head of the UK Sector at Softech, confirms: "The traditional softboard construction can still outlast those with a fibreglass-wrapped core and they are easier to repair." Two areas of development – not necessarily incompatible – are emerging when it comes to sustainable production: building more resistant models for greater longevity and promoting the recycling of materials. At Catch Surf, recycling goes hand in hand with the brand's signature aesthetics through a range that has recycled slicks using a mix of different coloured materials. Softdog Surf highlight their recycling percentages: 100% for fins and plugs, 60% for slicks, 50% for EPS blanks and 30% for lizard skin (EVA soft top).
Recycling also has its limits, says Andy from Norden, because the materials can deteriorate in quality "due to UV impact, temperature, use and abuse". For him, it is more sustainable to use high-quality materials that are designed to last, "instead of doing the green washing thing"…
Another alternative is responsible construction, such as Notox's Korko softboards in France. Underneath their cork skin (harvested and processed in the Landes region of France) sits a 25% recycled hydrophobic polystyrene core, recycled carbon fibre reinforcements and a 56% plant-based resin. "In addition, 75% of waste from our production is recycled, which leaves only 1kg of non-reprocessed waste per board produced," adds Axel Bouzonnie.
TOP OF THE SOFT
What key models should you stock in your racks? Here's a pick and mix of board families to choose from this year.
Schools
Do you have a surf school operating from your shop? Do you want to rent boards during the season? You can't go wrong with wide 7'6" to 8" boards like Flowt's Premium (8'0 x 23" x 3 3/4") or their Tanker (8'0 x 27" x 4"). There's also an Adaptative version (8'0 x 24″) for people with disabilities (side handles, chest wedge and hollowed out deck at the legs). The same goes for the Surf School range from Go Softboards, from 7′ to 11′, whose stability and buoyancy make it easy to stand up on your first board. For bigger kids, Go also have the XTR range, "extra large, extra thick and extra fun" (100 to 140 litres). A best-seller with schools, Softech's Zeppelin remains a safe bet thanks to its solidity and details such as the recessed handle on the deck.
Mini-mal and funboard
This is the most open category, aimed at surfers in the learning phase as well as accomplished surfers in search of unbridled fun. The timeless Odysea Log (6′ to 9′) from Catch Surf suits everything from ankle-high waves to Pipe bombs surfed by JOB. Less well known but just as capable, the Shoot Out from Vision Softboard has a deck that's unobstructed by the (removable) fin box. From 6'4" to 7'10", the brand-newMeteor from Tahe is sure to appeal to an eco-conscious audience: a moulded, waste-free blank that's entirely recyclable thanks to its Skin-Tec technology.
Shortboard perf'
Soft performance means pro-model, so why not go for a big name like Medina? This brand, owned by the three-time WSL world champion, offers a host of performance options, including the Magic Carpet (5'4"), Hammock (5'8") and Blend (5'8"). The same goes for the Nathan Florence Pod Racer from JJF by Pyzel and the new Gremlin from John John. Closer to home in Europe, Up Surfboards are launching a GonyZubizarreta pro-model, a tri-fin for experienced surfers that's especially sexy in its black/anthracite livery.
Midlength & fish
Softs are not exempt from hardboard trends. The playful nature of a fish lends itself perfectly to soft constructions and there are plenty of models to choose from: the Ivan Florence Fish from JJF by Pyzel with quad Future Fins, the Red Baron from JS Industries in immaculate white with its highly sculpted rails and Vee hull down to its double concave. As for mid–lengths, Ocean & Earth are offering the highly attractive General and the Happy Hour, decorated with imitation tinted resin decals and deck patches. The same principle applies to the Big Baron from JS Industries, with its faux three-stringer design, a board that Jeremy Florès loves.