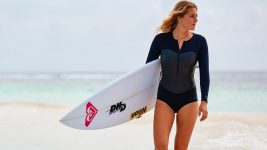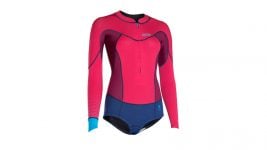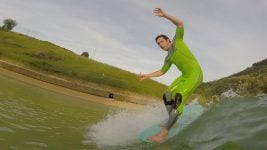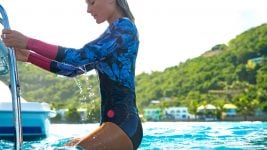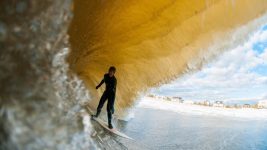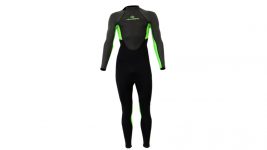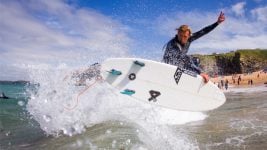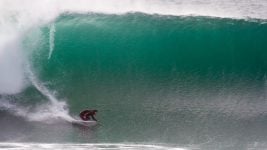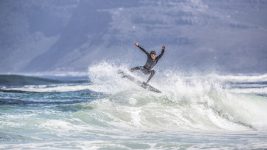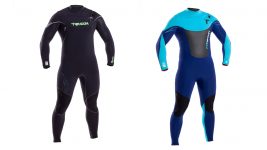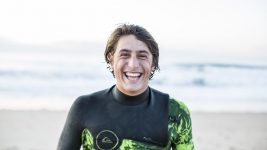 Wetsuits SS17 Trend Report
Small waves, pleasant water; in Europe summer is the season when surfing is accessible to all audiences. To kit them all out, each manufacturer is extending its range of spring/summer products to offer a variety of cuts, colourways and prices. This even stretches beyond surfing itself with SUP, wakeboarding, swimming and all the other water sports that require a layer of neoprene. From spring onwards, the whole family will be wanting to get themselves ready for the water. The good news is that the first port of call will be specialist shops close to beaches and town centres. The ball is in your court! A study by Denis Houillé.
THE WIDEST RANGE
As the water slowly warms up at the end of each winter, a stock rotation gradually takes place in shops. The heavy 5/4/3s, gloves and booties start to make way for 3/2s and 2/2s and even before the summer holidays, shorties and neoprene tops are already on the shelves. Even though neoprene slims down for summer it still maintains a lot of floor space with such a high level of demand and large range of choice.
Over the years, the division between summer and winter ranges has hardened amongst neoprene manufacturers. For some like Wilton Bradley, over the course of the year the spring-summer line has even become "the widest range due to the amount of colour options, different sizes and variety of cuts," highlights Alice Bedford from Marketing. In SKUs, SS17 ranges are exploding because they have more children's and women's models and for certain brands like Alder Sports, "the number of items is 20% higher," as John Westlake confirms.
Equipping everyone who wants to get in the water at the same time can prove testing. But the potential is obvious, from kids to parents, April to September; the demand will be plentiful as well as varied. If a customer does latch on – to the order of four wetsuits per year (one thickness per season)- they quickly become an important customer. If the service and advice is up to standard, there's no doubt that during their next holiday or any weekend that promises sun and waves these people will come back and see you for different models.
This phenomenon is not reserved to surfing and the call of the ocean is felt even without waves. As Mark Brown from C-Skins states: "Our summer line is evolving to take care of multi-sport individuals who not only surf, but perhaps jump on an SUP when its flat or they spend time at the beach with their family."
Furthermore, liners and wetsuits designed specifically for SUP are taking up more and more space on the shelves with a high demand for products aimed at the sport. Onda wetsuits are embracing this market, offering a patented Ventiprene foam that lets four times more air circulate than surfing neoprene to allow heat and humidity from the body to escape quicker.
SUMMER SPECIALS
During the three hottest months of summer, the cold water specialists are not just waiting in the wings, they are using their creativity to meet their customers' needs in this key period.
Zip-free models, made flavour of the month by Rip Curl, continue to prove popular in summer as they are so easy to get on and off. At Tiki wetsuits, Phil notices that clients are more inclined to test innovations of this kind in summer than in winter. The same goes for Soorüz who complete 70% of their wetsuit sales in summer and whose zipless closing systems provide great flexibility and waterproofing.
Xcel, for whom this season is still 10% more important, are continually developing their summer products in their Haleiwa-based design department (Hawaii). They are stating that for 2017, U.V. protection will be a priority for all models.
In the top-of-the-range, Madness have developed a DONUTS closing system at the wrists; a special construction that greatly limits water entry and provides more comfort when paddling and duck diving.
In summer there is a good chance that the same wetsuit will be used (and rinsed!) several times in one day. Surf schools particularly push their models to up to five uses per day, so five rinses and five drys…There's no better crash test than that!
Inside as well as out, neoprene needs an extra layer to protect it from all the abrasion it has to endure. Billabong are still the only ones to weave carbon into their liners' fibres, making their 3/2s and 4/3s even warmer and easier to dry while their 2/2 models don't contain it. For Ion Wetsuits, the feel of the liner is also very important to selling a wetsuit and Neoprene Product Development Manager, Carlo Rauen, explains that all their models are "treated to prevent bacterial growth and stop bad smells"- crucial in high summer.
Most often composed of recycled polyester, liners also provide reinforcement for the thin layer of neoprene. Because "the thinner the neoprene, the less resistant and the less able to handle stretching and compressing it is," Mark Brown at C-Skins tells us. Here, the liner literally protects the neoprene from over-extension. With a maximum elastic limit of 450%, neoprene on its own is at risk of tearing, but "in combination with the liner, the stretch is limited to 130% which is the most suitable amount," clarifies Jorge Imbert, Global Wetsuits/Rashguards Manager at Quiksilver.
Likewise Brunotti's Frans van der Vegt observes that when a wetsuit is very thin it can become too stretchy and lose its original shape. That's why they tailor their liners with panels intentionally less stretchy to ensure that the fit is preserved even after multiple uses.
PERFORMANCE & COMFORT
No matter what the season, the objective of a wetsuit is to provide comfort and warmth to the user in the water in all conditions and all countries of the old continent.
Ergonomics and comfort go hand in hand and in the construction of each wetsuit, the choice of where to put each panel of neoprene counts for a lot. By focussing on the size and shape of individuals, designers are able to reproduce the shape of the human body to maximise comfort; the wetsuit stretches and bends according to the action of each muscle.
More precisely, O'Neill Wetsuits have focussed on the positioning and aspect of their seams. On the sleeve they are in a 'S' shape so that the stretch pulls on the neoprene rather than the seam. Rip Curl, thanks to their E-stitching, ensure that the seams expand with the neoprene. Brunotti models are targeting a variety of watersports and guarantee that their "templates/patterns are perfect to avoid weak spots and seams in the wrong place," pledges Frans van der Vegt.
New for 2017, the eco warriors at Picture Organic Clothing are launching their wetsuit category with the introduction of NaturalPrene – made of 85% natural rubber from a Malaysian plantation, and 15% synthetic chlorine-free rubber. Co-Founder and Head of Marketing, Julien Durant comments: "To guarantee the wetsuits' elasticity, we have set up a crafty and revolutionary production process that consists of integrating micro particles of air, enabling NaturalPrene to expand up to almost four times its original size."
Flexibility is pushed as far as it will go on O'Neill's models where only one panel of neoprene is needed to go from one ankle to the other. By reducing the number of panels and therefore the number of seams to link them, not only is comfort improved but the risk of tearing and stitches breaking at the joins is also reduced- a technological prowess that only neoprene manufacturing specialists can allow themselves. "It's expensive to make big panels this big, but it's totally worth it – I don't know of another single wetsuit in the market that has this," says Joe Turnbull, European Product Manager, O'Neill Wetsuits. And if you happen to be paddling in Santa Cruz, you'll see a bunch of locals trying out their new designs.
CUTS AND COLOURWAYS
In peak season, whatever the surf conditions, just about everyday everyone wants to get in the water. So to kit out this new surf population, a variety of cuts and colours are required. Zippered neoprene jackets seem to still please the public, male as well as female. But while men opt for a boardshort as a given, women have a choice between neoprene leggings, a variety of bikini bottoms and short technical shorts. You just have to offer them all and at Rip Curl, "you will find some jackets matching our mirage team boardshorts, bombshells matching our swimwear and accessories, etc," explains European Wetsuit Product Manager, Borja Torres.
Still in the women's department, one-piece neoprene suits seem to apply to a wide range of water sports as they are warmer, more resistant and more protective that a simple bikini. At Onda, female surfing wetsuits are gradually drawing more inspiration from swimwear lines.
As for colours, plain black remains a sure thing for all retailers as it's a timeless colour suited to all morphologies. And as Jamie Brimacombe, Xcel's European Sales Manager reminds us: "Black always seems to be the safe option the majority of customers go for."
Combining black with touches of colour would be an ideal combo as you have to cater for all tastes. "Europe is a really big continent and we have to satisfy several markets so we are trying to offer neutral colours for northern countries and brighter ones for the south," explains Borja at Rip Curl.
Within the female range, pastel tones make an appearance on women's wetsuits, replacing fluoro. At Madness, dark blues and orange make delightful combinations. Patagonia bring a bit of freshness to this season with blocks of green colour evoking the natural origins of their rubber.
For their men's models, Madness favour darker colours but have decided to make "a combo of dark grey and yellow to bring a touch of modernity," declares Benoit Brecq from Marketing. At GlideSoul, next season draws inspiration from fashion and integrates monochromes, classic stripes and asymmetric lines.
Texture differences are another feature of the trends for 2017. British brand GlideSoul offer "grainy, mesh or shiny neoprene to provide a unique selling point," specifies Nadia. Likewise at Gul, subtle textural nuances on the surface of the nylon seem to really please customers.
You've probably noticed by now that we haven't mentioned prints. This shouldn't come as a surprise as we know that printing on laminated neoprene greatly reduces its flexibility as Joe Turnbull from O'Neill Wetsuits reminds us. So for this season, they have simply decided to exclude it from their range with the exception of one or two little Mayan prints on the women's lines.
Sublimation techniques used by Quiksilver allow them to achieve higher levels of quality and a real precision in textures and graphic details. However, Jorge indicates that, "the only downside to this technique is that it does not penetrate deep into the foam so at full extension you can see the white background of the material."
Finally, even though it may seem a bit bland, most brands prefer to stick to black because, as Carlo from Ion points out: "Lighter colours tend to delaminate quicker, especially in the sun."
PRICE
In summer, weather conditions and favourable water temperatures mean that we are less reliant on the warmth and waterproofing of a wetsuit. But at the same time, the elasticity and durability of a product should never be neglected. Price becomes a very important sales factor and as Pedro Towers from Onda Wetsuits' specifies: "At all price levels, the consumer must notice the quality of the product."
Without the same impact of the cold, lower quality materials could be used but this just would not fly for specialist brands who have to keep up the same high standards throughout all of their ranges.
As neoprene specialists, industry manufacturers have a duty to meet the public's demands at all price levels. "We pride ourselves on catering for the whole family and the styles and prices reflect this," enthuses John Westlake at Alder Sports.
Lastly, the main difference in cost also depends on the product's durability. You don't save much by buying an entry-level wetsuit that will only last one season, worse still, the cost of reprocessing them in the long-term appears to be devastating.
"The choice should not be made according to margins but rather what is healthy for the environment," affirms Gabe Davies at Patagonia. By opting for a wetsuit with no neoprene, we indirectly make serious savings on C02 emissions and on the lamination time of this natural rubber. By favouring renewable resources to petrochemical products, we are also saving on the very costly and complicated reprocessing of this waste. "Our industry's dependence on petro-chemicals is over and is no longer necessary," points out Gabe Davies at Patagonia.