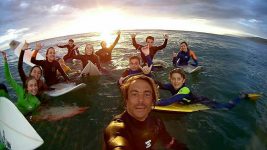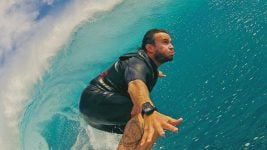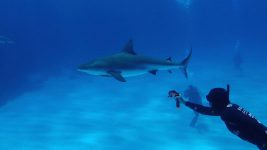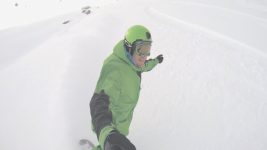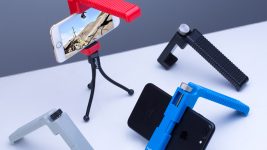 Action Cameras & Accessories 2018
#ShootingMeShootingYou – thanks to modern technology and the digital lives we live, everyone is a photographer and action sports naturally provides great Kodak moments. Whether folks are shooting with their phones or investing in a designated camera to capture those special moments, retailers can benefit form this segment – especially for the Christmas sales period. By Anna Langer.    
TRENDS
Arto Ekman, CEO of Black Eye believes that "the best camera is the one that you have with you at all times," and Guillaume Cazeres, Sales & Marketing Manager at ClipEyz agrees that "riders use their smart phone more and more for shooting action sports." And thanks to the developments of modern technology, they can achieve pretty amazing footage by doing so. Especially if they have the right accessories to complement the ever-evolving phone lenses, which can now match regular cameras for quality these days. "We created Hotshot in a direct response to the overwhelming amount of people who use their smartphone as their primary video and photo taking device," says
Co-Founder Gantry Hill, whose company focuses on "attention to detail, with a compact design for portability in fast paced environments." Black Eye also aim to make all "products easily portable and easy to use."
Modern Technocracy's patented designs enable "users to mount just about any action cam, camera or smartphone. The reality is that action cameras are just one way to enjoy capturing and sharing content," argues Reno Makani, Founding Athlete & President, while Hirec's Marketing Manager Helena Scholl also notes that entry level and price point cameras are still selling well.
 On the other end of the scale, 360° cameras are another big topic but Hirec's Helena thinks that "in action cameras it will take a little longer for people to understand how to use and edit these videos." Garmin Category Manager DACH, Anastasios Stoikopoulos on the other hand argues that "according to independent market research, 360° cams will see strong growth in the next few years," to which SP Gadgets agree, offering products that fit all cameras directly or by using an adapter.
Yet "most 360° cameras on the market right now are not shock- and waterproof", adds Helena from Hirec, which is a vital factor for Action Cams, according to Cyclops Gear, who find "waterproof cameras without the need for a case" very important and growing in trend. Olympus have recently launched a new model in their Tough camera range as well: "It pushes the limits further in response to customers wanting to capture adventures in all environments. People are going further, higher, deeper, faster and want to capture these amazing moments to share," and the TG-5 is aiding that with an ultra-bright lens, a Variable Macro system, a range of accessories and a field sensor system combined with built-in WiFi for tracking and transferring data to smartphones, while being proofed against shock, crush, cold, dust, and water.
Regardless of camera type, the sharing and editing of footage is becoming more and more important, as GoPro mention: "With QuikStories, we're making this step easy, fast and fun. After you shoot footage with your HERO5 camera (video or photo) the content copies to your phone and transforms into a QuikStory – an awesome video with cool transitions/effects that's synced to music, which you can share immediately or edit further within the Quik app." Garmin agree that connectivity is becoming more and more popular in matters of live streaming, which they offer through the free VIRB® Mobile App that directly connects to YouTube or Facebook.
USABLITITY VS OUTPUT
While professional cameras can still be tricky to handle for amateurs, the latest generation of Action Cameras does not ask the customer to pick between user friendliness or high quality. "GoPro are helping amateur photographers and videographers capture the best content so users can edit and upload with ease to any social media platform" says Jivo, who developed a wide range of accessories to help "GoPro users make the most of their action camera while recording their favourite footage." SP Gadgets also aim to "make filming easier for people. Hi-tech often makes the filming part more difficult, so we focus on easy usability." Hirec agree that the "most important thing is to be sure that everything will work perfectly and that the technology is easy to use. People want to see good quality images, but nowadays you don't need a professional camera to capture them".
As a lifestyle brand that came to be through the craftsmanship of a diverse group of 13 athletes and photographers and their real life travels, adventures and pursuit of capturing dramatic content, Modern Technocracy want to "incorporate innovation, durability and sustainability," while Hotshot Handle combine "high quality, ease of use, and simplicity in design. In our opinion, there are so many tech products that function well but the design is completely overdone and complicated, not to mention obtrusive to carry around."
When it comes to action footage on snow, there's probably nothing easier than letting your goggles film what you're up to, as the Cyclops Gear Snow Goggles allows: "We are increasing the resolution from our older model (Avalanche Snow Goggles) and also reducing the size of the recording technology which makes the goggles look and feel like your top of the line brand of goggles."
Garmin on the other hand differentiate between technical specs that address the prosumer market, and putting "a lot of engineering power into easy usability, with functions like 4K in-camera stitching and voice control, to address the consumer market also. It is the mix of both, hi-tech output and easy usability, that we focus on."
NEW MODELS & MUST HAVES
The new Garmin VIRB® 360 provides ultra-high-quality footage up to 5.7K in RAW mode or up to 4K with in-camera stitching and spherical image stabilization, spatial sound, G-METRIX™ with data gauges overlays, 360-photo with 15MP resolution, voice control, water rating up to 1 ATM and live streaming option in a compact design. Hirec also offer new 360° cameras and new accessories, to improve the variety of videos and angles, that they highly recommend retailers have in stock.
GoPro highlight the Karma, their stabilisation system: "The Karma Grip is a handheld and wearable stabilizer that can be attached to almost any GoPro mount. The Karma drone folds into its own lightweight case, is very portable and easy to fly." For even more different and unique angles, Jivo advertise their 8in1 Gogear advanced pack: "It's packed full of the bestselling items required to get the most out of your action cam."
Revl are launching an all in one camera, named the Arc, which they say is "the most stable action camera on the market with both physical and electronic image stabilization. It is also the smartest camera on the market, it uses motion and emotion awareness and artificial intelligence to help edit videos faster and analyze your activity-data, all through your mobile device. It also is able to do live-streaming, waterproof up to 33ft (10M), and easy to use."
For best sellers at the counter, retailers are advised to have smaller items ready as well. At only 24.90 euros, the Clip Eyz 4-in-1 Lens Pack Pro including Fisheye/SuperWide/Zoom/Macro lenses is "the perfect gift on the counter desk," says Guillaume. New models include a 2-in-1 Gun Pod Pro (mini Handle/tripod), the Power Slim (super slim power bank) and a Super Night Light Pro (LED torch).
Due to the universal approach, Black Eye products are also excellent for Christmas sales, states Arto, emphasizing the 3in1 and HD Wide Angle as well as the Pro Kit. In addition, they will be launching a high-end cinematic lens for high quality mobile video and photography as well as a multipurpose filming handle tripod.
SP Gadgets find their telescopic POV Poles are still their most important products and also Hotshot Handle argue that handles and mini tripods are essential for retailers: "It makes the smartphone shooting experience so much easier for a wide variety of activities," explains Gantry. Modern Technocracy is also working on video and photography tripods as well as gimbals and recommend their PROKIT that is perfect for the traveling athlete, adventure photographer or weekend warrior who requires streamlined equipment options. "It easily transforms into six different mounts simply by reconfiguring its modular components," argues Reno.
For the winter sports enthusiast, the new Boreas Snow Goggles form Cyclops Gear will fulfil various long lived dreams with their "new lighter and stylish snow goggles with frameless iridium lenses and 128 GB internal memory card," while the CGX3 Action Camera with touchscreen and no need for waterproof case will also be interesting. In the first quarter of 2018, they will also introduce a new Zephyr Motocross Goggle, with more details to come.
The new GoPro Fusion will be available in limited quantities at the end of the year: "A VR (virtual reality) camera that shoots in 5.2K resolution and comes with a feature called 'OverCapture'. Fusion captures the whole scene and you'll be able punch out a standard HD video afterwards to watch it on a smartphone or TV. This also means you don't have to worry about missing the action in your shot any more."
OUTLOOK
It's maybe a step too far to expect cameras to film completely on their own one day, but Black Eye expect that "augmented reality and the supportive products will open many new opportunities for the action camera segment," and already anticipate the use of 360° cameras to be getting more mainstream, while ClipEyz see the future "in the smartphone industry. Where picture quality is getting better and better every year."