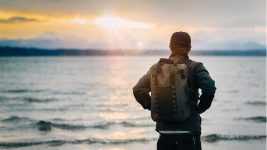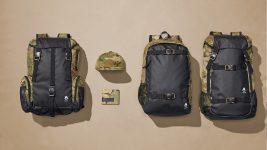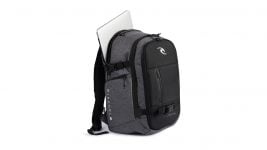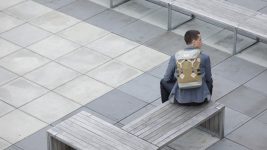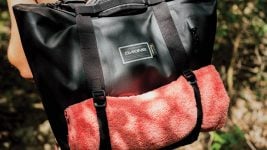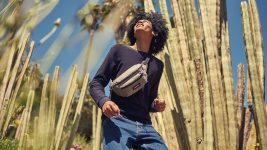 Style, functionality, durability and smart design features – boardsports bags and backpacks deliver the full package. 2018 Retail Buyer's Guide by Dirk Vogel.
The history of boardsports-specific bags and backpacks can be traced back to the great mid-1970s skateboard boom. When endemic brands such as Sims, Robinak and Santa Cruz Skateboards began producing their own bags and "skate packs", they were more than just marketing gimmicks. Right from the start, they included nifty design features such as straps, pockets, and compartments to meet consumer needs, which at the time greatly revolved around carrying all that safety equipment required at concrete skate parks.
The formula that worked more than 40 years ago still holds true. "Consumers are looking for more from their everyday products. Their accessories need to be multi-purpose, giving them the ability to commute to work, go out at night and even go for an outdoor hike or weekend camping trip. We try to design our products with intelligent functionality so they serve multiple use cases," said Tim Apgar, International Marketing Manager, Herschel Supply Company.
At the heart of these use cases, boardsports-proven performance and stylistics give bags from core brands the extra edge. As Grandy Bastien, Rip Curl's European Bags Product Manager explained: "Rip Curl is 'the ultimate surfing company'. We have a full range of travel bags, backpacks and accessories named "F-light" that are really qualitative. Light, durable with water repellent materials, surf organizers and lots of others technical features, so this is our ultimate base."
PRICE POINTS & MARKET
Depending on features and materials, current price points for boardsports backpacks stack up from €25 for basic "back to school" styles to a hot price point window around €65-€75 for advanced bags and day packs (see Season Trend), all the way to premium bags well beyond the €100 threshold. Major news is a consumer trend towards premium offerings with exclusive materials and stylistics, served by brands such as Evoc, Fjällräven, Pacsafe, Heimplanet, Nixon, DaKine and category behemoth Eastpak whose exclusive leather Padded Pak'r Natural Lab bag retails for €420.
Confirming the premium trend, Evoc's International Marketing Manager Jan Sallawitz said: "We get the impression that the days of basic labelled OEM, 'me too' €49.95 packs are over, luckily!" Heimplanet founder Stefan Clauss is on the same page: "We believe that more and more consumers actually look for a smart purchase, which means that people are willing to spend a little more for products that make a difference. We defined three factors as 'the difference' – quality, functionality and design."
Current research by Technavio estimates the global market for outdoor activity backpacks at $2.53 billion in 2016 with five-year growth projected at $620 million to reach $3.15 billion in 2021. So-called day packs – these are 15-35 litre backpacks, smaller than full hiking packs – are a hot category, expected to reach $1.44 billion by 2021. Another hot growth segment consists of tech-equipped "smart backpacks" featuring sensors, WiFi hotspots and device charging capabilities, poised to reach $3.59 billion in 2021. Half of all backpacks are sold during "back to school" season around August each year (NPD Group), and the hashtag #backtoschool is up 30% year-on-year according to NetBase.
SEASON TREND: Multi-functional day packs
Next season's trending backpack is a versatile and compact version of larger hiking or outdoor packs with the same wealth of pockets and compartments, plus enough room to pack for a three-day trip. These can be city trips or outdoor trips, supported by plenty of space for laptops, water bottles, phones, eyewear and clothes as well as ruggedized construction. "The frontier between urban and outdoor aesthetics is slowly disappearing, or at least merging, and cross functional packs are emerging. Fabric innovations, water resistant constructions and assembly are definitely key criteria in the decisions consumers will make," said DaKine Marketing and Merchandising Manager Flavien Foucher.
Four Types of Customers 
School kids and students. "Kids want a bag big enough for their books to go in, and it's becoming much more important to have a separate partition for laptops," said Jarrod Clarke, EU brand manager for Doughnut Accessories, adding: "There is a trend away from the heritage look, and a definite move to contemporary styling such as roll-top bags. Parents are looking for a well-constructed quality bag that will last." On that note, remember that school kids only spend $20 of their own cash for school supplies (NRF Survey), so retailers should mainly talk to parents. "More and more end-consumers are looking for good quality durable products – which is an asset for a brand like Eastpak offering 30 years warranty on most items," said Domitille Parent, Product Director at Eastpak. Also keep in mind that school bags are a bit bigger, "mid to large volume at 25 litres and over with dedicated compartments for laptop, wallet, glasses," said Alexandre Berthonneau, Product Line Manager at Billabong.
Athletes and active participants. Board riders want bags and packs that accompany them on missions and excursions – no matter if in urban, coastal or outdoor environments. "You need to have great accessories to enjoy your session. We have the legitimacy and the quality for that," said Grandy Bastien at Rip Curl. At Evoc, Jan said: "For our backpack design in general we follow our concept of the EVOC Big 5. E is for Ergonomy, V is for an optimum in Ventilation, O is for the Organization of the pack or bag, C stands for the adequate Carry system for its defined field of use and the star in our logo stands for uncompromised quality." Trending features include straps to secure helmets and other accessories, wet compartments, camera pockets, and padded sections for laptops and gadgets. "We take pride in the little details. The Waterlock, our surf bag, comes with a changing mat that is a tie to our surf roots and culture as a company," said Duke Johnson, Director of Product, Bags and Accessories at Nixon. A hot trend among core practitioners are small over the shoulder bags and the hip packs, including the Daniel Poole "Smuggler", Eastpak "Doggie Bag", and Mi-Pac "Gold Bum Pack".
Lifestyle customers. They may not be active board riders, but lifestyle consumers are ready to pay for top performance. "Consumers and retailers look for something that we would define as modern outdoor products," said Stefan Clauss at Heimplanet, emphasizing his brand's mix of forward-looking design, materials, and features. Lifestyle consumers also like outdoorsy, canister style backpacks by the likes of Herschel, DaKine, Rip Curl, Dougnut, and Fjällräven with their "Greenland Top" model. "Made from robust G-1000 HeavyDuty Eco, it is just as suitable for bike rides to work as it is for weekend hikes along your local trails," said Philipp Kloeters, Head of PR Fjällräven International. Doughnut's "Colorado" pack includes one of next season's coolest accents: "We incorporate original climbing rope into the top flap attachment." High-end materials include Cordura, waxed canvas, high-tensile yarn, and recycled polyester produced from old PET bottles.
Travellers. Getting on an airplane – and keeping all your belongings together – is a high-stress situation these days. Travellers welcome bags providing easy access to phones, travel documents, and glasses, while holding laptops, cables and changes of clothes in a bag that still passes as carry-on. Keeping it all secure is where Pacsafe excels: "On average most people carry around with them somewhere between €1,000 – €1,500 of tech every day. Within the Adventure Traveler we are leading with the Dry Collection which is the first ever dry bag collection to feature Anit-Theft Technology. These are perfect for the boardsports community who are adventure travellers by nature with the need to secure their gear when they hit the water or the snow," said Simon MacGregor VP Marketing and ecommerce at Pacsafe, emphasizing features such as PopNLock, Roobar Locking Systems, eXomesh slashguards, and RFIDsafe blocking pockets and material.
HOT TREND: HYBRID BAGS
The season's second hot trend consists of hybrid bags that morph from one carrying style to the next, including Fjällräven's "Greenland Kjanken" hybrid, Mi-Pac's tote backpack, DaKine's Cyclone series that shape-shifts from duffel bag to backpack or backpack to over-the-shoulder tote bag in an instant. Anja Herwig, Founder and Designer at Urban Tool said: "Our backpacks are lightweight and often have special features like multiple wearing options, backpack function can be changed to shoulder bag function, or modular concepts." Daniel Poole also has a cool backpack that transforms into a messenger bag. "We see more innovation in bags as a necessary feature and we only produce unique back pack designs," said Laurence Poole, Sales and Marketing Director, while pointing out the brand's unique Impact Protection System to safeguard gadgets.
STYLING & COLOURS
In terms of styles, 2018 bags fall into three categories: First, classic hiking and heritage styles. Second, futuristic and pod-shaped designs. And third, fun and flair-driven packs, explained by Mi-Pac's Leigh Kilby: "The '90s are back with a vengeance! Lots of MTV and Saved by the Bell Style prints and Transparent and Furs are also back!" Nevertheless, next season's colours remain on proven ground: "Our customers like dark colours like black, grey, dark blue, khaki and dark brown, we follow their requirements," said Anja at Urban Tool. In terms of patterns, camouflage is hot next season, either as full prints and also used as colour blocking on straps (Eastpak) and panels (Nixon), while orchid and floral prints are still in bloom next to cool artist collabs like Nixon's custom jacquard artwork from Andy Davis. And for final proof that this segment never ceases to surprise, Eastpak presents a fully transparent backpack that reveals all content to the outside world. Remember where you heard it first…