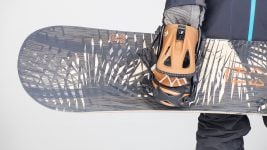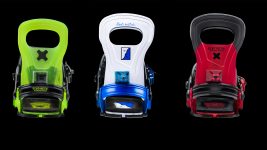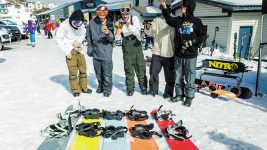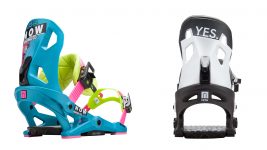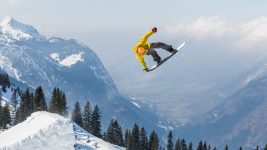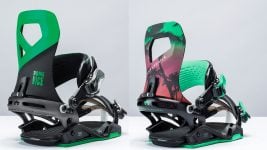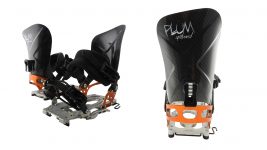 For FW17/18, bindings will see incremental increases in quality, value and functionality instead of any world-changing leaps forward. That's not to say that development has plateaued; it's more the changes being implemented are going on 'under the hood', so to speak. A customer ideal has been set, and all the key companies in the game are coming in somewhere closeby. Let's zoom in on what FW17/18 has in store with our snowboard binding rend report. By Tom Wilson-North.
MATERIALS & CONSTRUCTION TECHNIQUES
Nothing like fresh ingredients to keep customers interested. Nitro are using a Vibram toestrap on their Machine & Poison models; the sticky rubber normally found on freeride boots stays in place "no matter how hard you stomp your landing, even if it's wet or damn cold," according to Marketing Director, Andi Aurhammer. Also in straps, look out for Salomon's brand new Hytrel/EVA mix Shadow Strap on the Hologram. Drake switch from carbon to an equivalent natural linen fibre called Biomap Flax on their Podium FF highback, and Fix are going 100% regrind-free with their base materials. "This means that we don't grind up the waste and inject it back into our products. But unless you are standing in production every day, it is very difficult to monitor how much regrind is actually being used, so we do an audit. For every injection, the vendors must supply the excess material, which we then use to produce our plastic binding box", says Fix's Jason Broz. Top marks.
The ways in which these ingredients are being used is changing as well. Union have a new nylon injection process called Microfused which débuts on their new Falcor chassis; the injection is focused around the disc ring, making for a lighter and stronger package. "Well, our internal tooling costs for Microfused are quite a bit higher, but in the long run we really see this as the future of base design", explains Union's George Kleckner with a sideways glance at his calculator. Switchback are also changing up the injection process with an overmold technique which forges aluminium and glass filled polyamide nylon into a single unit. The result is their game-changing Aeron base. This new lightweight tray – compatible with existing Switchback hardware – is a big deal, with smart design and increased strength; they hope it'll launch Switchback into the upper echelons of the binding market.
For Burton, it's their Flex Slider that gets us snowboard binding geeks excited: "It makes strapping in a breeze with a strategically stretched hinging zone that allows the heel strap to flex and lay fully open. Thanks to the science of forced molecular alignment, the Flex Slider is also stronger, making it worthy of our lifetime warranty."
Burton's Step-In system, well-known to snowboard workshops and warranty centres in the 1990s, gets a reboot for next year with the Step-On binding coming back with matching Photon, Ruler & Limelight boots. These quick-entry, quick-exit foot clamps with Re:flex bases are going to come in at around 300€, and engage via a clip at the back, and a pair of clips at the toes. It's big news from the Big B and about time someone had a proper shot at updating this oft-demanded category.
VALUE
It's been a rollercoaster ride over the last few winters with volatility in currency markets shooting MSRPs up and down in different territories. To keep customers engaged, we're seeing tech being crammed into key pricepoint packages – Bent Metal's Solution with Spread Tow carbon springs to mind and remains somewhat peerless at its pricepoint.
Next year we see an enhanced focus on midline product. Rome are introducing two new mid-price models: the men's Vice and women's Guild. Both are based off the flagship Katana and incorporate unique highbacks, dog-bone straps and lots of customization. Rossignol are showing the brand new Viper & Voodoo in their mid-range, which match polyamide and glass fibre with full length EVA footbeds, through-to-board heel pads, and new AsymFrame highbacks.
Expect prices to remain somewhat stable next year, with increases in bang for buck on the shelf. This is a good thing. "No-one wins in a race to the bottom anyway: customers get worse products, retailers get squeezed, and brands move overseas", confirms Karakoram's Kyle Hansen.
QUIVER-ING
Whilst something of a universally detested word (up there with "moist" & "phlegm"), "quiver-ing" – or the ability to switch bindings rapidly between different boards – is gaining traction. It started off with Burton's QFTD rental disc, then quickly found a home in splitboarding, with the One Binding System allowing tourers to use their trusty Spark R&D bindings on their solids. And Karakoram's Prime Connect, out last year, were and are a true crossover resort/split package. For FW17/18, Now are bringing the idea to solid boards: their Kingpin Tool-less Kit will allow you to swap your Nows from board to board without losing stance or angle settings; just click off the base hanger via the four catches. In a similar vein, there's a brand-new quick swap rental solution called the Reply Rail from Rossignol, which we'll take a closer look at in our snowboard trend report next issue.
BOARD FEEL VS CUSHIONING
One of binding design's oldest questions is how to balance terrain feedback with cushioning. "Yeah, but that sweet spot is really hard to define though, says SP's Rob Mathera. "It's a very subjective matter, so we offer different models with different cushioning and stiffness which we design with the team". Everyone agrees that striking a balance is key; the approaches, however, vary. Technine go full tech with their split-frame Niner, back for a second year and using two independent half-frames linked only via the padding and heelcup to give a 'baseless' feel, and Rome's Katana uses a very thin d3o pad for cushioning without imposing on board feedback. Head use Dampiflex in multiple densities to tune feel.
Other brands prefer to limit (undampened) baseplate to board contact. Drake's Lightsaber base is very minimal, with everything wrapped in a canted EVA pad to break up impacts, and Arbor's X-Drive baseplate sends energy out to the edge whilst keeping the stiff material lifted away from the topsheet, thereby allowing underfoot board flex to be more natural and true to spec.
There is another school of thought that says that the board is what you paid all that money for, so that's what you want to feel the most. Vimana's binding has a rounded, turned-up base, which has little impact on board feel. And according to Flux's Colin Kiesel, "Our goal is to let the snowboard handle the flex patterns, then let the boots take care of the cushioning. People don't realize how much control they lose when they switch a solid base for padding. Binding cushioning is just not effective, so the sweet spot is having a binding that transfers movement as efficiently as possible".
COLOURS
"No matter how good a binding is, a big part of the end consumer's decision is still based on aesthetics and whether or not it 'matches my board'," laments Switchback's Product Director, Cleay Perham. Clearly, owners of Board Brand X will lean toward that brand's own binding with made-to-match aesthetic. But for everyone else, the foremost colour is, of course, black. "Honestly, look. The fact of the matter here is that black always wins. It seems boring, but we all like black," says Flow's Dale Rehberg. Literally every brand we spoke to confirmed that was where the demand was. After all, there's no reason not to buy a black binding, whereas the fluorescent puce one… well.
Elsewhere in aesthetics, we saw fewer translucent materials, a continued tendency toward small pop colours highlighting tech features, the 'dipped' look remaining popular, and earth tones and subtle graphic treatments like smoke and camo trending in. True to form, Bent Metal throw all that out the window and will show a Sean Genovese collab on their resplendent acid green Logic binder, and Forest Bailey's art on the Transfer.
BOOT MAPPING
We've all been there; pick the perfect boot for your feet, pick the perfect binding for your riding style, and smash your head against the wall as it becomes apparent the two don't really fit together, with maxed out straps and huge lateral gaps. Skiesque standardization between boots and bindings is frankly never going to happen in snowboarding, but at least binding companies are making more of an effort with it. "It's a very difficult part of the process, confirms Plum's Christophe 'Tal' Etallaz, "and we spend a lot of time and attention on it. Very different volumes of boots will end up going in the same size of Plum base. So we measured the dimensions of many different models of boots, across several sizes, and we defined our sizing like to suit". It was also interesting to learn about the vast boot library in Union's R&D department, and see the changes that Spark R&D made to their highbacks and straps after lengthy boot analysis.
SPLITBOARDING
Well, the big news in splitboard bindings is Union who launch the Expedition Split Binding Series developed with Bryan Iguchi and the fairly well known Travis Rice. True to theme with their "less is more" product mentality, Expedition is ready to ride out of the box. Early reports suggest that there will be two different pricepoints of a lightweight, plastic based system, which promises to ride like a Union. Expect big things.
Meanwhile, over at Spark R&D they've got something cooking at the premium end using exotic materials and a carbon highback with lower weight and enhanced rigidity. Since Spark bought their building in Bozeman last year they've been able to vertically integrate a bit further and offer refinements on straps and other plastic parts. Up in France's Arve valley, Plum keeps trucking, and FW17/18 sees Tal & the crew bringing out new models with injected highbacks, part of a plan to move toward a more familiar style and engage younger riders as the splitboarder demographic widens. Rossignol continue piggybacking the Plum system for their XV Split, now with 3D moulded toestrap for lighter weight and new smaller size. The Karakoram line remains unchanged for FW17/18 with the emphasis on quiver-ing as discussed above. Finally, SP are introducing a new multi-entry splitboard binding that offers conventional strap buckles and their Fastec system.
CONCLUSION
So, there you have it. With fewer R&D dollars going around, the impetus is on refinement rather than expansion. Also, in a shrinking market with a more clued-up customer, bindings being "just something we also do" doesn't cut it anymore. The only way people are going to pay top dollar at retail is if they have complete confidence in the company that makes the thing, as well as your recommendation. Stick with the brands that are doing it right, buy plenty of black and it can't go wrong.