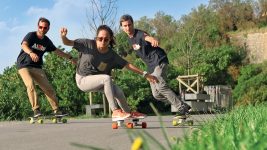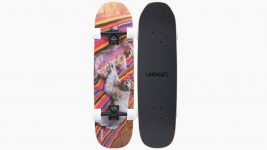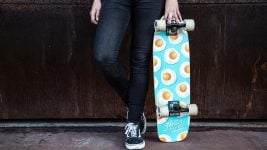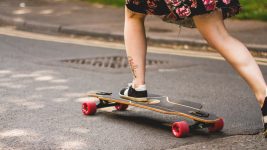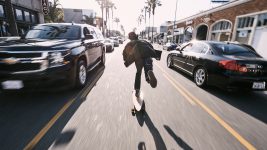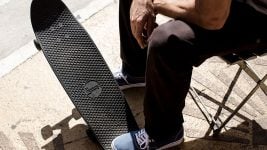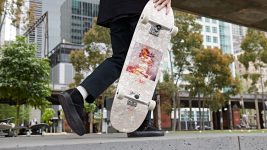 Eighties nostalgia, surf skating, and refined quality at entry level price points: Our 2018 Cruiser Skateboards Retail Buyer's Guide by Dirk Vogel has next year's popping trends.
Skateboarding enjoyed a major pop culture moment this autumn when the hit TV series Stranger Things introduced a new lead character: Over 15.8 million viewers watched California girl "Mad Max" cruise into the season premiere riding the iconic "Explosion" skateboard by heritage brand Madrid. Responding to surging demand, Madrid – their boards also appeared in the classic 1980s film Back to the Future – brought back the "Explosion" as a premium setup with accurate retro components, next to an entire line of Stranger Things decks.
Mainstream exposure on this scale brings new participants into board shops. But as several brands questioned for this Buyer's Guide pointed out, core shops can be intimidating places, staffed by condescending cool kids that are tone-deaf to beginners' needs. "Cruisers are a gateway into skateboarding for many people, so having a welcoming atmosphere and plenty of product knowledge about the category can help growth with inexperienced, first time skaters," said Jeff Goforth, Global Brand Manager at Penny Skateboards.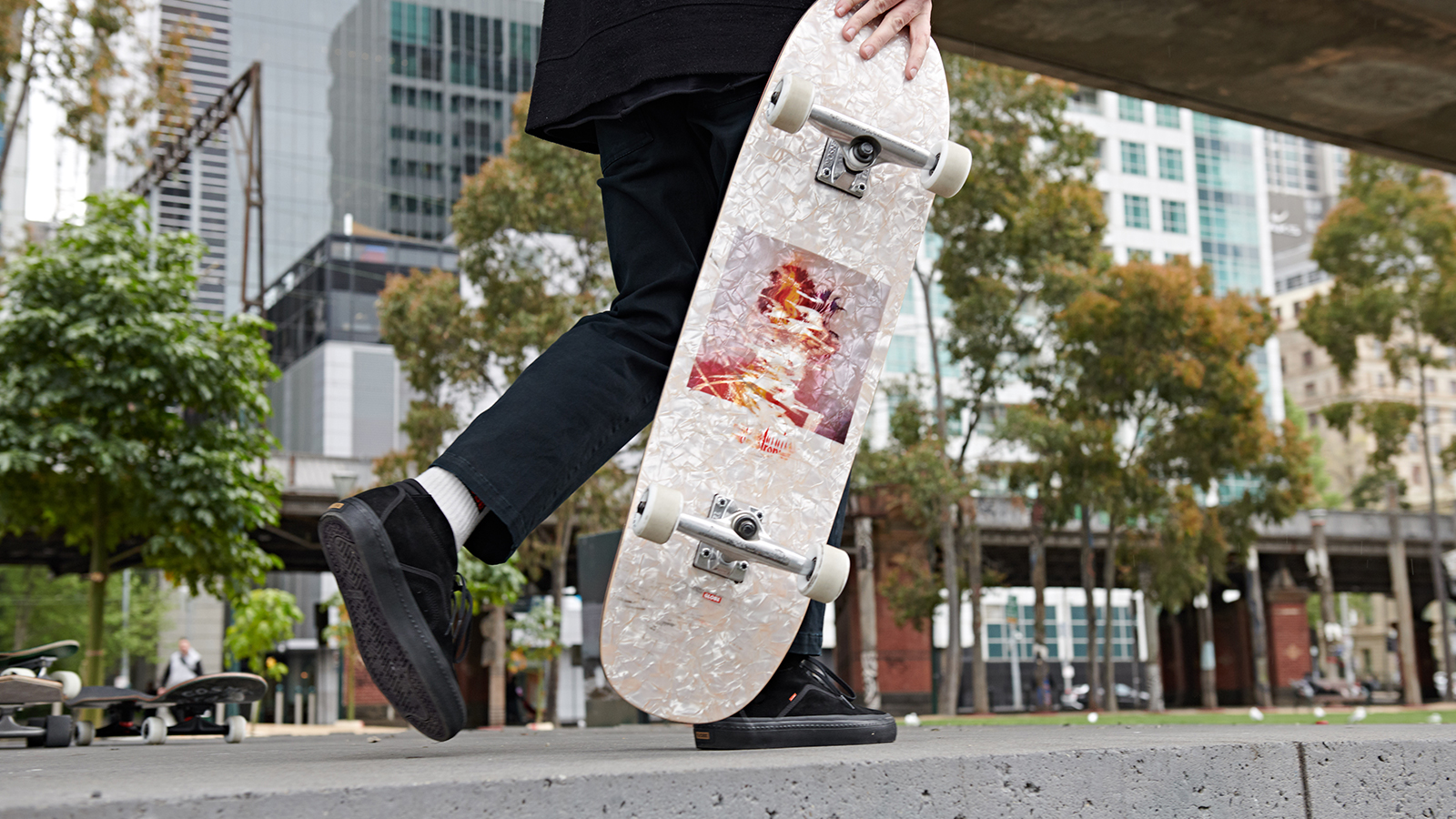 Then there's female participation, another potential growth area, if addressed correctly. "Most skate brands are still too scared to offer girls designs but here on the Gold Coast, Australia, there are more girls that surf than nearly any other region globally. Riding a cruiser is a way of life these days for surfing girls, so it's part of our brand's DNA," said Kris O'Brien, Brand Director at OB Five. Arbor serves female riders with the girl-designed Solstice Collection, Miller Division has two girls models, and Sector 9 gave surf icon Tia Blanco her own pro cruiser. "Not only younger girls hop on the boards, also the over-35 ladies seem to enjoy sidewalk surfing more and more," said Andreas "Maui" Maurmeir, Retail & Marketing at Sector 9, whose shapes are not "gender specific", but "pretty unisex and accessible to everyone".
THE MARKET: MORE BANG FOR THE BUCK
Keeping skateboarding accessible to everyone is key as cruisers are purchased for a wide range of uses these days: Customers want portable pocket rockets for commuting to work and school. They want dancing boards, trick-ready all-terrain assault machines, or "surf skate" rides to catch some concrete waves (see Hot Trend). And they want a medium to enjoy some fun time with their friends and even hit a downhill out in the great outdoors, pairing hiking with cruising for what could be next year's sleeper trend.
All these customers find the best value for their money, not at their local Toys'R US, but at core board shops. The reason: Core brands have raised their manufacturing expertise to a point where formerly cutting-edge technologies and materials – think top-mounted trucks, premium urethane and lavish wood treatments – have trickled down into the entry-level price range. "We want to be faithful to our origin by offering 'poured wheels' in all our cruisers even at the entry price points," said Roberta Pinali, Kryptonics Sales Manager.
Behind the scenes, Arbor is lowering prices through a global distribution partnership with Absolute Board Co. "This new structure has allowed us to reduce our average retail price in Europe by 20-25%, bringing European retail pricing in line with MSRP in the USA before taxes," said Nate Shute, Marketing Manager at Arbor. Surf skate stalwarts Carver Skateboards have launched Triton Skateboards as their new entry-level brand for the international market (retailing around €230).
With that said, price points for next season start with entry-level cruisers around €60.00, followed by performance-ready completes in a window between €125.00 and €150.00 that captures most of the action. Customers also invest in the premium segment, composed of luxury models offering elaborate wood materializations, state-of-the-art hardware, and engaging storytelling at €229.00 and above (Madrid's Stranger Things throwback retails for $249.00, Carver's premium from €246.00 to €421.00).
SEASON TREND: 1980s COMPLETES
Last season's building trend for 1980s-shaped cruisers – over 9 inches in width with square tails and stubby noses – will kick into overdrive next season. "Going into 2018, the retro inspired shapes seem to be getting the most attention," said Shane Maloney at Madrid Skateboards, whose retro boards feature era-appropriate details such as Flypaper griptape and copers (see Accessories). Andy King at Mindless Longboards confirmed: "Old-school shapes are making a comeback, we've had a few of our customers ask us for them." Look for 1980s cruisers from major brands, including Miller Division's "Tail Block" model with sick retro graphics.
SHAPES: WIDER RIDES
Driven by the 1980s revival, cruisers are trending towards wider shapes. "For 2018, we continue to expand the width in the cruisers. We are inspired by the shapes of the late '80s, beginning of the '90s, where the width where the feet are placed was extremely greater than the centre, as well as large tails," said Ivan Garcia Arozamena, Product Manager at Miller Division and OB Five even sets the bar at 10 inches in the surf skate (see Hot Trend) line of RKP-1 Surf Truck-equipped cruisers. Prepare for wider rides at all lengths, which fall into three categories in 2018: First, stubby and packable rides from 23 to 27.5 inches long available from all brands, including stunners from Flying Wheels, Globe and OB Five. Second, trick-ready all-terrain cruisers from 27.5 to 32 inches with standouts from Sector 9, Landyachtz, and Carver. And third, cruisers that are more like "short longboards" – including drop-cruisers offered by Arbor and Mindless – between 30 and 34 inches. "We have a couple of 34-inch boards that we are super stoked on, the longer cruiser," said Mike van Mosel, Brand Manager at Goldcoast Skateboards. Krpytonics are also vying for this shorter longboards trend and predict "classic cruiser shapes with wider decks, a single kicktail and good concave being on the rise in 2018." At Dusters, Marketing Director, Desiree Moore is stoked on their new Steve Olsen shape: "We worked with the legendary Steve Olson to develop and design a unique cruiser that was based on his every day board. Geared for bowls, the 9" wide shape features mild concave and some special Olson features like the pointy nose and tapered wings.The cruiser comes with classic Kryptonics Star-Trac Blues 60mm, custom grip and metallic accents on his original artwork. Longboard version also out this spring!"
CONSTRUCTIONS: LONGBOARD FINISHES
While "regular" skateboards may never abandon their bedrock formula of seven-ply Canadian maple laminates, alternative constructions implementing bamboo, cork, reinforced fibres, and cherry wood have flourished in the cruiser segment, often "borrowing" product innovations and finishes from longboards. Globe continues to achieve amazing results with environment-friendly coconut and brings back a 1980s favourite in slick bottom construction rendered in a proprietary "Pearl" finish. "We're incredibly stoked with the way our Pearl Slicks turned out. We knew right from the get-go that they were going to look really new and interesting, but we were pleasantly surprised by just how fast they slide!" said Dave Gitlin, Senior Skateboard Designer at Globe. Landyachtz rely on lightweight Hollowtech in their premium models, and Penny backs their plastic formula with a lifetime warranty.
STYLE: ARTISTICALLY INCLINED
Next season continues the trend towards natural wood grain finishes on top and bottom sheets, pioneered by the likes of Arbor who roll out Red Gum, Pallisander, and Black Walnut in 2018. Added flair comes from contrasting wood patterns with classic line art on white or light blue background. In terms of aesthetic themes, Benoit Brecq at HOFF Distribution/Flying Wheels sums up next season's graphics: "Tattoos, photo collage, flowers, retro and typography are the main stories." For that special street flavour, several brands are teaming up with renowned artists next season: Mindless is working with Alex Szukalski from Kook Culture on four boards, including the gorgeous "Raven" model. OB Five tapped Manga and punk rock influences from Kentaro Yoshida, Penny enlists artists Mitchell King and Tyler Spangler, while Goldcoast collaborates with shirt makers Pendleton on patterned wool topsides. Further graphic standouts include Globe's Psychotropic designs on Pearl slicks, and Carver's Taylor Knox "Quill" model and Yago Dora "Goat" graphics.
HOT TREND: SURF SKATE
Everyone knows that skateboarding began as a way for surfers to hone their skills on concrete whenever waves were flat. In 2018, the trend comes full circle with "surf skate" cruisers that realistically recreate the feeling of surfing with specific truck wheel designs on driveways, banks, and downhills. "Carver is focused on surf skate, and surfing will forever be at our core. Skateboarding is evolving, and surf skate has tons of room to continue developing as it is so new," said Peter Shu, Director of Marketing and Media at Carver Skateboards, who develop boards in partnerships with surf companies such as Al Merrick featuring C7 trucks, transitional CX trucks, and new C5 streetsurf trucks. OB Five also spearheads the surf skate segment with their line of 10-inch wide cruisers loaded with RKP Surf trucks: "Our Reverse King Pin truck features special geometry that enables a tighter turning radius and increased rotation in turns." Benoit at Flying Wheels points out the Cutback series, "made for people who search ultimate surfing sensation. They turn great, pump easily and offer that wave riding feeling everybody seeks." Sector 9 serves the segment with surf-friendly boards equipped with Sidewinder trucks, while HLC Distribution in Spain increases their YOW (Your Own Wave) Long Island Boards range for 2018.
ACCESSORIES: SMALL DETAILS, BIG DIFFERENCE
The rise of surf skate will also lead to customers looking to upgrade existing set-ups with "surfy" trucks, which is where accessories from aforementioned brands come in, where Flying Wheels has a surprise in the works for 2018. Mindless equips boards with 88A Serenity bushings for those tight turns. What's more, keep an eye out for super grippy wheels like Carver's hourglass-shaped Roundhouse Concave wheels, 83A SHR Mindless wheels, and Arbor's sucrose formula wheels that replace urethane with a sugar-based alternative. Madrid protects trucks with plastic copers as a blast from the blast and may have hit a jackpot with the 57mm Pipe Finder wheel, a slightly smaller, super soft wheel. Make sure to ask brands about their latest POS displays and get ready for new waves of customers – boys, girls, surfers, shredders, casuals, and pros – ready to cruise into 2018