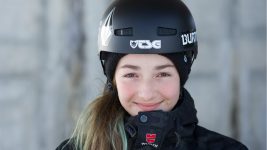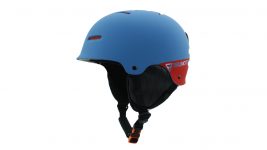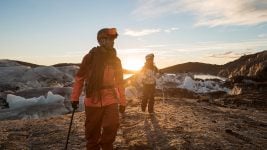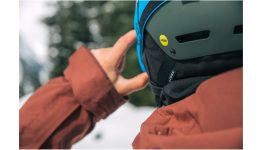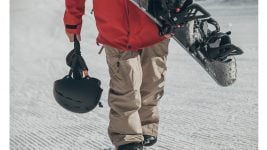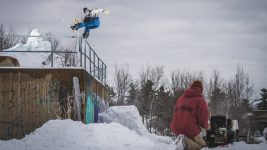 Helmets FW17/18 Trend Report
For a couple of years now, helmets have morphed from a geeky accessory reserved for hardcore riders into a mainstream must-have most consumers can't and don't want to live without anymore. And with more and more offerings to choose from, they're getting more and more educated on safety standards and technologies and have upped their demands accordingly. Anna Langer gives some insights into what that is, exactly.
SAFETY
You could even argue that "helmets are as important and necessary as the board you ride or the air you breath," as Bern's International Sales Manager, Andy Steel does, who finds them "an essential piece of kit for anyone venturing up the hill." Yet today's consumers won't just use any lid. "Riders are becoming more and more aware about safety and brain injuries. They are thus interested in hearing about new technologies, different types of impact and energies and how to manage them," says Mattia Berardi, Product Manager Snow Helmets at Giro and continues: "This is why MIPS (Multi Directional Impact Protection System) has become almost a must have on snow helmets in the past few years. MIPS help reduce rotational energies transmitted to the brain in an angled impact." Carlo Salmini, Co-Founder and CEO of Shred, agrees but notes that: "To be effective, a helmet has to truly focus on the linear and rotational forces of impact in tandem. Solutions targeted at rotational energy alone, for example, tend to increase the thickness and weight of a helmet, which reduces its ability to safely protect its user from linear energy." Flav Foucher, Product and Marketing Manager for Technical Equipment at Rossignol sees this too, "but once you get those dialled in (all helmets pass either the CE or ASTM standard, or both) you'll be looking at design, graphics, seamless fit with the goggles, as well as comfort."
COMFORT
Which is the next major trend in the helmets sector, that also plays into the first, because "a safe helmet is a helmet that you want to wear," as Mattia from Giro surmises. "The snow consumer wants a helmet that offers full security and dependability, while maintaining comfort," agrees Graham Sours, Snow Category Manager at Smith. Anon expand their in-shell BOA fit system platform that Head also use for their top-models, as it offers "the best performance for a snug fit." Giro address this with their "Range MIPS including Conform Fit Technology, a helmet where the whole shell moves and adapt to the shape and size of your head to guarantee the best fit possible," while Salomon offer "several adjustment systems," on a lightweight helmet with a "low profile and compact silhouette."
DESIGN
Clean designs make up the third trend in the helmets sector for FW17/18. "The look and feel of helmets are becoming cleaner and more trick. This is driving experimentation in new materials and finishes and raising the bar for the industry," says Andy from Bern. Brunotti agree that "clean silhouettes" are all the rage, as do Head, who see the "strong trend towards clean, urban aesthetics is remaining," which they translate as "technical, clean and modern." Flav from Rossignol adds that "round shapes with a few sharp lines for character are still an important characteristic in most of the new helmets," and TSG notice an "increased demand for single coloured helmets that match well to goggle/outerwear," as CEO Ruedi Herger mentions. Picture Organic match them with their outerwear, as do Oakley, Salomon and Brunotti, who facilitate cross-merchandising between helmets, goggles and outerwear, while Mivida match the "colour of the outer shell with all accessories."
Next to a wide range of colours offered by Bern, Oakley and Brunotti we'll see more earthy tones from Giro, TSG and Salomon, but also colour blocking (Brunotti & Rossignol), colour gradients (TSG) and tone-in-tone (Brunotti). Neon colours are coming back a bit (Bern), and are here to stay for the kids as they improve "safety on the slopes" as Flav from Rossignol points out. Smith have a new blend of "black designs with white detailing, white designs with black detailing," and TSG offer "glossy black graphics on matte black shells." Those who like it a bit more wild find unique prints "like a small stripe and a leopard print," at Brunotti, an Alpine Camo graphic at Oakley and denim-look from Picture.
MATERIALS
The FW17/18 season sees a lot attention to details which are "very important to be able to create those looks and feels," says Mattia from Giro. These include "textiles with heather effect, faux leather integration and vintage climbing cords straps," from Salomon, "heather suedes and leather, canvas, rip stop and ballistic fabric," from Giro and "reflective mesh or perforated nubuk leather," from Head.
ABS is staying popular "for super strong shells," which TSG combine with "thin PE for super light shells and EVA foam for shock absorption". Oakley's MOD5 features a hybrid shell design: "a full in-mold shell and an ABS hard shell material covering the front and side portions of the helmet," explains Mike Turner, Helmet Product Line Manager. Giro work with a new material called Textreme Carbon, that is used in other industries like Formula 1 cars and allows for "a lighter, stiffer and stronger shell that helps to manage different types of energies."
Smith integrate Koroyd for impact protection and superior ventilation in their EPS foam in their Aerocore™ construction, that "increases airflow and improves temperature regulation, resulting in fog-free vision and improve impact resistance," as Graham explains. They also introduce "new antimicrobial XT2 Sweat Wicking Performance liners for warmth and comfort." Shred work with Casidion, a nanotechnology-based impact liner that "greatly reduces the thickness of the helmet's impact liner to shed weight and eliminate bulk," and a "liner made of merino wool. This liner is especially soft and naturally combats odour and bacteria," says Carlo. Salomon also use merino wool, next to an "AdvancedSkin ActiveDry technology," that "provides extra climate control properties such as high breathability and quick drying." True to their mission, Picture Organic use "recycled polyester lining and recovery EPS coming from the Japanese car industry," paired with a hard shell that is corn-based instead of oil-based. Bern developed a new proprietary Liquid Foam technology called Zipmold+®: "Its a PC microshell lined with Zipmold+® liquid injected foam to create a super low profile finish that screams style," which is also used in the kids category.
TECHNOLOGY
A lot of these new materials increase wearing comfort through enhanced ventilation and customisable climate control, which is further aided by "a large active ventilation system," with 12 active vents by anon and "various active and passive vents that channel airflow to control rider temperature," by Bern, which has the welcomed side-effect of drawing moisture away from the goggles. Salomon's new TCS Thermo Control System on the other hand "is a combination of dual active ventilation with specific airflow channels within the EPS4D construction," explains Emilie Valade, Product Line Manager Helmets.
For more comfort in usage of the helmets, Picture and Smith employ the new Fidlock System: a proprietary system concept for the chin strap that uses magnetic closure that can be adjusted while wearing gloves and with only one hand.
While making helmets more comfortable also makes them safer, as outlined above, brands are working hard to find even better ways to tackle vital safety issues, especially rotational impact forces. More and more brands are including the MIPS Brain Protection System, which is constantly refined and adapted by a strong team of scientists and engineers. Shred use their own Rotational Acceleration Absorption (RAA™) system, that "mimics the natural cushioning behaviour of the fluid between the skull and the brain and redirects rotational forces by allowing a small amount of relative movement between the helmet and the head during impacts from any direction." Paired with the proprietary Slytech NoShock™ technology that "integrates a foam with a honeycomb structure into the helmet's impact liner core to minimize linear energy." Rossignol's patented ROGRESS construction combines a Multi-impact liner with an in-mold shell, Smith's new Quantum Helmet features a "new exoskeleton design with a Hybrid ABS bombshell construction offering zonal impact protection," Picture combine a "composite fusion plus technology with a unique pyramid design that optimizes shock absorption while dual density foam system allows for extreme comfort," and Salomon's specific construction of the EPS liner made of pods "deforms independently in order to provide superior shock absorption, reducing rotational forces while being lighter and enhancing airflow circulation." Finally, POC's Damian Phillips – Head of PR, says the brand are sticking with their tried and tested VPD technology: "Our team have been working for many years with our patented Visco elastic Polymer Dough (VPD) which conforms to body shape with heat, and solidifies on impact offering a highly protective material."
Audio integration in the ear pads through separately sold speakers like Outdoor Tech Chips has already become a standard, except for Shred, who made a "conscious decision to not integrate audio components into our helmets," but rather allow riders to use their own earbuds.
Most helmets are also compatible with most goggles; a feature a lot of brands pay special attention to. Oakley even have a new patent pending helmet and goggle integration system, the Modular Brim System (MBS), "that offers a small and large helmet brim option, creating a seamless fit with any Oakley goggle, regardless of size."
One trend that didn't make it through, are soft construction helmets, ponders Head's International Marketing Manager Snowboard & Protection, Max Thurner: "Other than some brands might have expected, there was no paradigm shift towards soft-core construction. For 17/18, the helmet market is more determined by evolution than revolution."