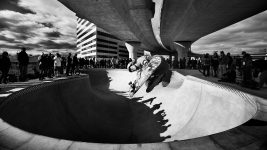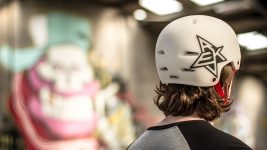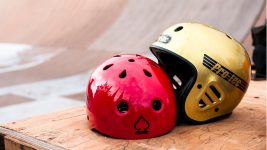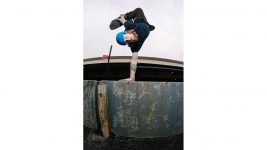 Skate Helmets & Protection SS18
Falling doesn't come much harder than when on a skateboard, and even though human bones plus concrete equals disaster, wearing a helmet has been taboo since year dot. However, with the recent surge of participants and ever-slimming helmet and protection technology, times are starting to change. Anna Langer reports on the new trends for Skate Helmets & Protection in Spring/Summer 2018.
TRENDS
While skateboarding is a true core action sport that involves a die hard passion, recent developments like the "Penny Skateboard explosion," as Bern's International Sales Manager Andy Steel calls it, and new technological advancements like battery-powered boards have opened the sport to a wider and more varied audience. And these new skaters don't just feel a different need to protect themselves because their bones are not the youngest anymore, but also question the 'cool' stigma, which has prevailed for way too long.
Triple Eight feel this trend becoming stronger every year, especially through Mike Vallely and the 'Get Used To It' campaign: "Thousands of skaters have joined the conversation – posting their own pictures and stories at getusedtoit.com and on social media. We hear from skaters all the time, across generations, who recently decided to wear a helmet – some of them directly because of Mike, but there also seems to be a growing awareness in general," notes Yana Farrally-Plourde, Director of Product and Marketing. Less injuries also mean more shred-time, adds Robby Burleson, Global Marketing Manager for Bike and Boardsports at G-Form, who thinks that "protection is growing faster than the broader market because the product is getting better."
This is not limited to skateboarding of course, but spans other boardsports, as our Snow Protection Trend Report had outlined earlier this year. "More people are interested in dual certified helmets," notes Yana and Bern also see a "big increase in liner sales that allow our customers to seamlessly switch from summer riding to winter shredding," confirms Andy.
TECHNOLOGY
The rotational impact protection system from MIPS continues as an important standard for all sports that people are actively asking for. Most brands also still count on hard materials for concrete sports, yet there are a couple experimenting with soft materials too, as well as hybrids combining both.
Rekd pair heavy duty ABS (Acrylonitrile Butadiene Styrene) in the outer shell with high density EPS (Expanded Polystyrene) for the inner mould, similar to Bern's Thinshell EPS lids that "feature a thin ABS hardshell with the traditional EPS core." Even lighter is their new proprietary Liquid Foam technology called Zipmold+®: "A PC microshell lined with Zipmold+® liquid injected foam to create a super low profile finish that screams style," Andy explains. Sandbox inject both the EPS liner and the ABS for maximum durability, while Rekd use a rubberised finish on three of their models for a "premium and outstanding feel".
Hard shells are standard for EU safety certification but comfortable soft foam helmets by Pro-Tec, Triple Eight and Bern also make the cut. These softer helmets won't pass certification tests, but are still more protective than not wearing a helmet at all. And since you can hardly feel them on your head, they might even convince those still refusing protective gear that it can actually be comfortable.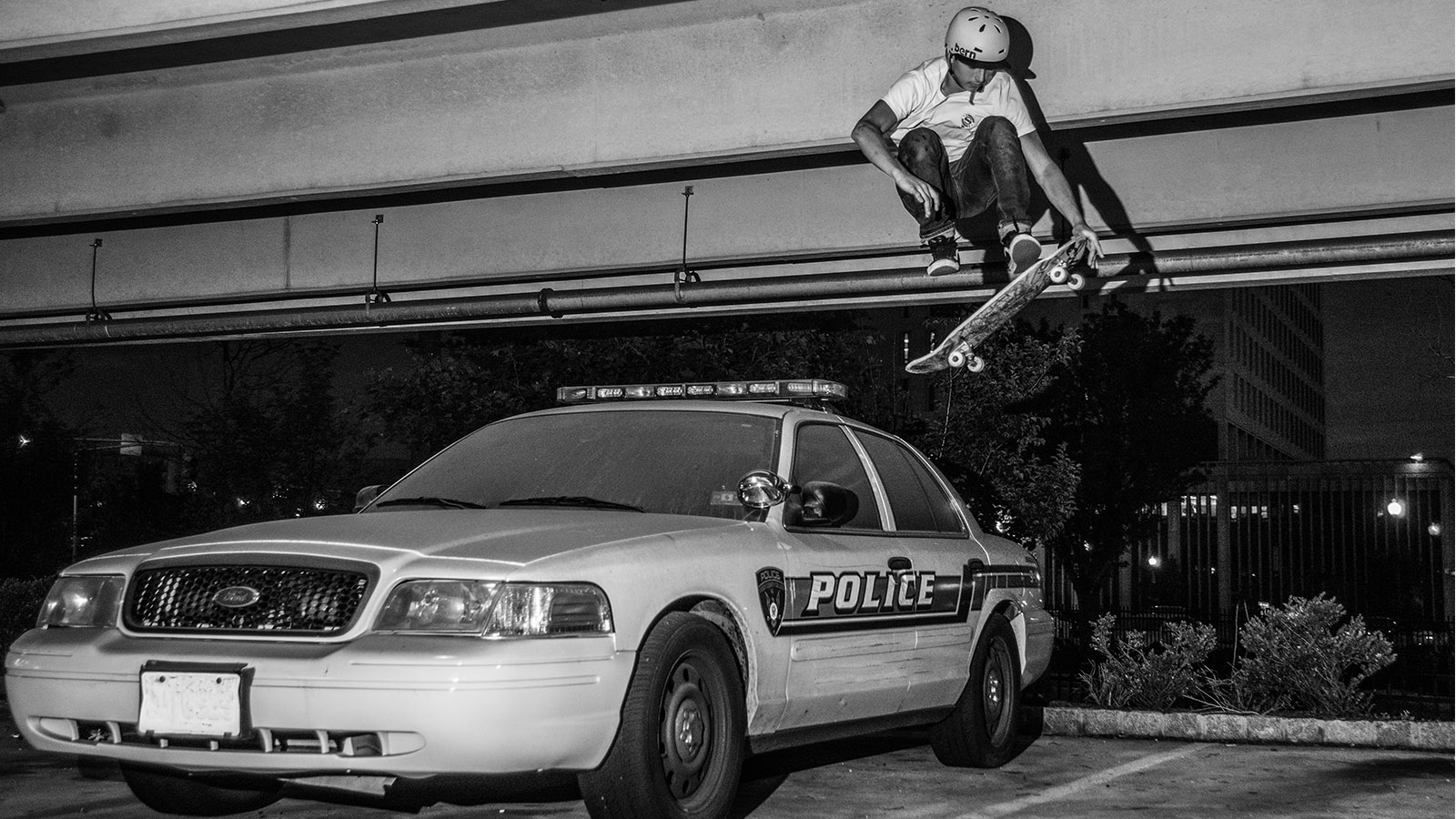 PADS
When it comes to pads, it's the opposite where brands use soft instead of hard shells: "For areas of the body that are in constant flexion during riding, like knees, elbows and hips, we feel our softer, more flexible materials and pad designs offer a more comfortable solution," Robby from G-Form outlines.
Pro-Tec add "some more technical materials" to their pad line, while Amplifi continue their partnership with Sas-Tec that has led to some exciting developments with new products for knees and elbows, and finalize the possibilities around 3D knitting technologies for an ultimate glove-like fit. TSG continue their Arti-Lage soft foam that adapts perfectly to the curvature of the knees through body heat and absorbs up to 95% of the impact energy. For Vert and Mega Ramp skateboarding on the other hand, "pads need to have a hard-shell on the outside otherwise the pad would stick to the ground and the skateboarder could not slide out the impact" explains Nadja from TSG.
Next to knee and elbow guards, Rekd find their longboard Slide Gloves an extremely popular choice. Triple Eight update their gloves with touchscreen fingertips next year and launch a new Exoskin knee and elbow pad with Kevlar exterior that can easily be worn under regular clothing and was initially developed for BMX and mountain biking. TSG also offer their slim soft foam pads that were designed for mountain biking to street skaters for the option of a little less impact "than hitting the pavement without any padding."
Most pads can be used for different disciplines in boardsports, from snow to concrete and water, and also across sports like moto or MTB, yet the majority of products are not certified for multiple uses. Such activities involving higher risks will adhere to higher safety standards, yet customers should make sure of what works for their designated usage before entrusting their bodies and lives.
DESIGNS & COLOURS
Pads don't have to be just black anymore either, but appear with a variety of "subtle prints and colours that speak to the outdoor athlete without distracting from the function of protective product," from G-Form and "tonal sublimations" on the Cortex Polymer range from Amplifi, who have decided "black is the new black," for the rest of the collection. And rightfully so, as black continues to be a best seller and not just for Pro-Tec and Bern.
Triple Eight feature a lot of black, grey, and classic colours as well, yet as the targeted audience in the protection market widens, so does the range of tastes that needs to be catered for. And brands are answering with a great variety of new designs and colours.
"While most of the people end up buying plain black products, we can see that most of the brands (including ours) still want to insist that playfulness can also be an attribute of your protective gear," says TSG Designer & Art Director Jordi Torres, who keeps working with colour gradients and introduces new colour blocks, allowing for two or more colours in a product. Rekd feature semi-transparent styles, Pro-Tec add brighter colours and designs that play up what their team riders are into, Nutcase opt for deep, rich, blues and greens that are trending in fashion and soft goods and Triple Eight play with Metallic and Fade (light blue to dark blue). Bern adjust their large colour range, that has always been one of the reasons for the broad appeal of the brand according to Andy, to the trending palette of the leading fashion and outerwear brands.
Neon continues to be especially popular option for kids models, enhancing their safety through increased visibility. But adults can also play with the new Neon Tangerine and Neon Fuchsia colourways at Triple Eight or TSG, who combine neon in adult helmets with reflective logos, offering a "cool and safe solution for riding in the city." They even have a phosphorescent glow-in-the-dark coating, similar to Triple Eight's new stealth reflective helmet, Gotham Darklight, that's dark by day, and lights up when headlights hit it.
PRINTS & PATTERNS
Since "all-over print on a helmet is not easy because of the spherical shape of a helmet," Sandbox have come up with a "unique printing technique, using the brim/visor," on their Classic 2.0 model and pair prints or patterns with a unique paint finishing. Bern feature a Flying Tiger (Shark) print for kids, while TSG stick to "easy going graphics like stripes next to more figurative and descriptive illustrations." Feeling that "people are reaching back to the 90s for pattern and colour inspiration," Nutcase sport a range of wild and bright prints, from a retro Hawaiian shirt print, to wood grain, "dark side" and military green.
Other highlights to watch out for in 2018 include a collaboration between Sandbox and Sesitec and Mark Gonzales' new pro model from Pro-Tec.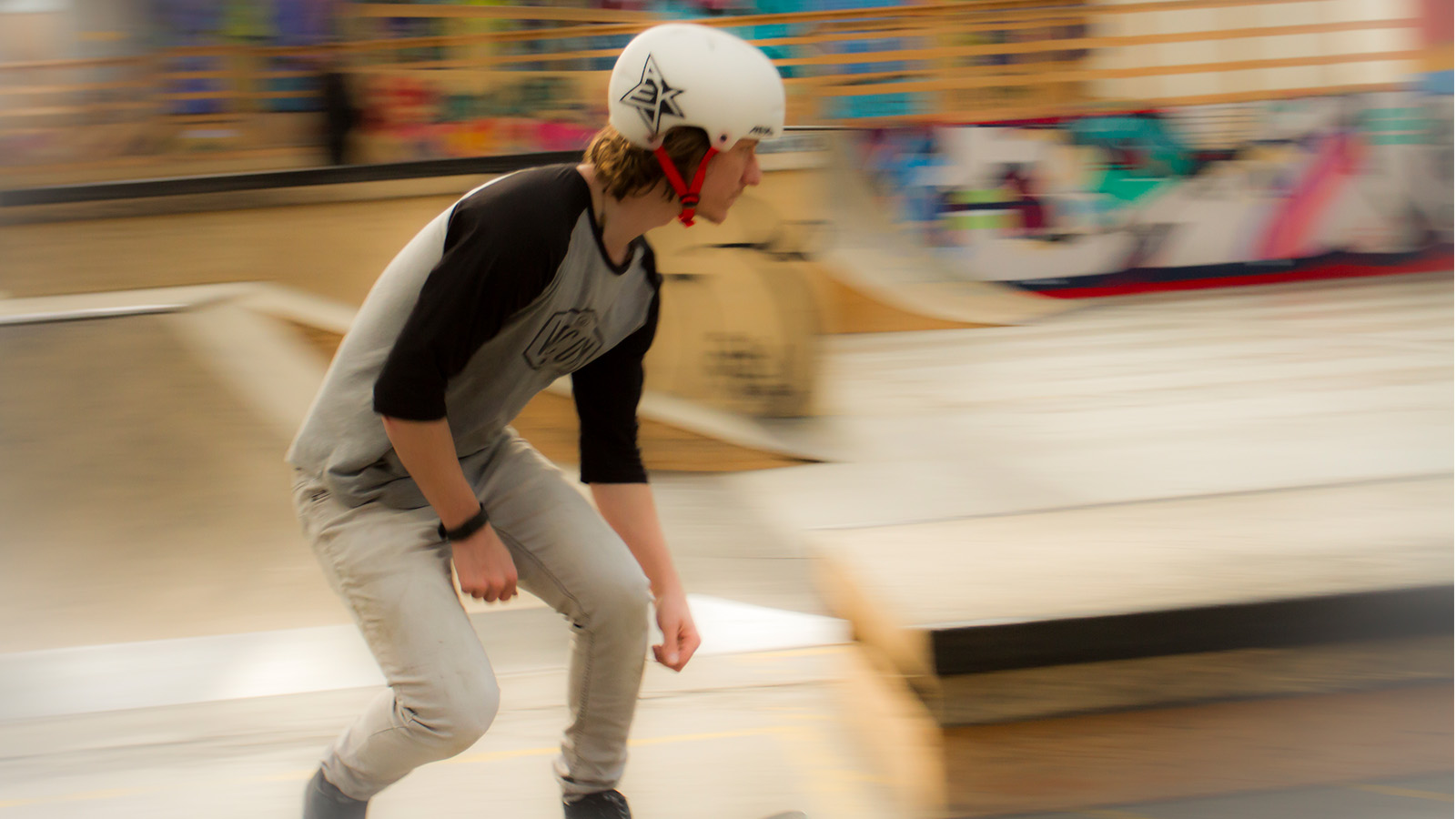 OUTLOOK
With most brands targeting a wide variety of rider types, trying to encourage as many new participants to enter our sports as possible while at the same time aiming to convince those still sceptical or 'too cool' for protective gear, growth seems almost inevitable in this segment. However Yana from Triple Eight points out, that "categories that were rapidly expanding in past years have all tended to level off or decline," which she says is why they focus on working closely with athletes and shops to fill their niche needs. Pro-Tec on the other hand are re-entering categories that they pulled back from, growing their sales by "capturing that audience that doesn't see a need for protection. And the first time participants." The biggest group of which are kids, who have the added benefit of a parent that is concerned with keeping their groms safe and are "willing to throw down money" as Jens from Amplifi puts it. Sandbox agree that the youth market of age 5 to 25 is a major part of their business: "The new generation is growing up with helmets on full time for all of their action sports," and also Bern state that the kids category is the fastest growing in both helmets and pads. A very promising fact, allowing us hope for a future besides smartphones and video games.