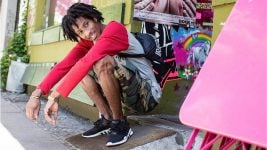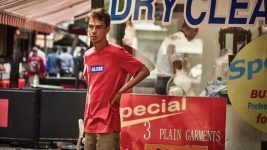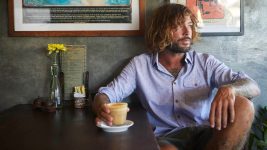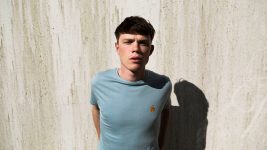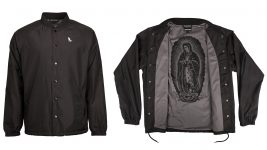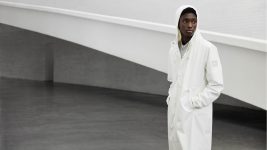 Courted by high fashion and pressured by copycats, endemic streetwear brands are reclaiming control of the narrative. The aesthetics for next season are loud, proud and 100% boardsport-inspired. Men's SS18 Streetwear Retail Buyer's Guide by Dirk Vogel.
The latest collaboration between skate-driven streetwear and the upper echelons of high fashion rocked runway shows at Paris Fashion Week. SUPREME and Louis Vuitton created a humble line of designer bags, apparel, and accessories super-charged with synergetic logo power and the halo of elusive luxury – customers and the hype machine went nuts.
"Skateboarding is getting very fashionable again," said Michael Spitzbarth, CEO of eco-brand bleed organic clothing, while adding that skate companies are taking the power back. "In the past few years, the boardsports industry had the problem of streetwear and fashion influences being much stronger than the influence of skateboarding on the fashion industry. But now you can see that this is turning again."
A new wave of small, independent brands are major drivers of this inward-looking aesthetic. "They are part of a counter culture and are real. They can represent the people on the streets and not the mother buying a complete for their son," said Sean Justus at Wemoto Clothing. "Boardriding is Globe's lifeblood. The strength and foundation. One constant that will never change," said Dan Preston, Apparel Design Manager for Globe. Tomas Koudela at Horsefeathers also heads into the season with a "focus on what we know and what our fans expect from us. We don't focus on fighting with the big streetwear brands."
THE MARKET: PLAY YOUR POSITION
Instead of serving fast-moving cycles, boardsports companies are choosing to make waves of their own, for instance with heritage-inspired lines like the Santa Cruz Skateboards apparel collection. Or in the case of Protest Sportswear, by "combining styles, patterns, and trends that highlight our passion of surf, sun, and fun, with a sprinkling of spiritualism," said Anjet Wesselink, Head of Marketing.
This sense of authenticity inspires everything in SS18 collections – from colours to graphics to fits to marketing campaigns – and brands are having fun with it. "We are getting more and more playful in terms of colours, details and humorous elements in the collections," said the team at RVLT, whose embroidered middle finger graphic perfectly sums up the vibe.
While Patrick Kressner, Men's Designer at Iriedaily, assured us that, "it's much stronger than the years before," there's also more competition. Pressure comes from the outside, as "streetwear brands gain more floor space in boardsports-influenced stores and customers mix their styles throughout the spectrum of fashion," said Jesse Hyväri at Makia Clothing. But pressure also comes from the inside, as new indie brands such as Dime, Illegal Civ, Quartersnacks, and Call Me 917 enable "woke" customers to fashion themselves as initiates of true boardsports culture.
SEASON TREND: CONSCIOUS CONSUMERS & PRODUCTS
Speaking of "woke" customers, their focus is shifting towards buying less but better and authentic clothing. It's a countermovement against fast-fashion cycles that litter the planet with textile waste: In a recent study, McKinsey and the Environmental Protection Agency (EPA) estimated that out of 100 billion items of clothing manufactured in 2013, only 15.2% were recycled and 15.1 million tons discarded in landfills. Jesse at Makia sees, "more awareness towards sustainable choices in fashion." Or as Michael at bleed sums up his company's manifesto: "We develop our products for a long life cycle and this should be the aim for every company – to avoid waste."
SEASON STYLE: THE GLORIOUS 1990s
Turn up the Biggie Smalls! "Globally in our market we are seeing the majority of streetwear brands push into '90s sport nostalgia. We have interpreted this theme into the wider Globe range with various design techniques, the most notable including roomier fits in shorts and tees, colour panelling and blocking, and bolder logo placements," said Dan at Globe. Prepare for a return of big logos, athletic-fabulous style like mesh shirts and track suits – foreshadowed by SS17's all-white adidas Originals x Hélas wind pant and jacket – together with athletic caps, and mid-1990s tennis-style sneakers. And since everything was a bit "phatter" in the Nineties, colours will get louder and garments a bit bigger. "Larger silhouettes or oversized products are the trend," said Mathieu Santoni, EU Head of Product at Volcom. Levi's is also taking "styling cues from '90s era skateboarding. Quirky prints, stone wash finishes and relaxed fits work together to round out the look," said Temar Biratu, Marketing Manager at Levi's.
COLOURS: PUMP UP THE VOLUME
Loud and proud! While the rest of the world still dresses in post-apocalyptic tone-on-tone Yeezy colours such as tan, black, and grey, boardsports apparel brands have some eye catchers in store for SS18. "Colours are back!" said Patrick at Iriedaily while pointing out, "pastels like mint or light yellow and tropic blues. Powerful red is also a key colour in SS18." Mathieu at Volcom confirmed: "Pastel colours are definitely the trend! From pink to yellow with salmon, all the bright colours will come in pastel." Jesse at Makia is on board with, "some light pastel pink colour, some faded agave greens together with different shades of blues in the collection." At Vans it's all about balance: "We made sure that we offer a good balance of commercial and wearable colours like copen blue and balsam green, which are our seasonal interpretations of the more accessible colours, and mixing these with some fresh seasonal options – like ambrosia which is a fresh pastel green pantone or apricot ice, our seasonal orange colourway. They give the collection a great spring / summer vibe," said Vans EMEA Merchandising Manager Men's APP/ACC Roland Slavik.
MATERIALS: TECH VS. VINTAGE
Materials gravitate towards two opposite ends of the spectrum in SS18: On one hand, the 1990s revival creates a strong value proposition around technology-infused fabrics. Stretch or ventilation features – championed by outerwear leaders like Horsefeathers, Protest, and Makia – or even recycled variations such as bleed's Econyl fabric. On the other hand, customers want something classic and lived-in. RVLT notes that the, "sun bleached second-hand vintage look is taking over from the clean look." Also look for unique logo or design applications: RVLT is playing with cork, metallic, 3D-hairy printing and cross-stitching, while bleed is going vintage with, "handmade prints from old techniques like woodcarving and natural structures from things like leaves and feathers."
MATERIAL SPOTLIGHT: DENIM
The dream of the 90s continues into denim. "Blue and black colour variations remain strong, but distressed treatments and '90s inspired washes – like trashed, double-stoned, or acid washes – on both black and blue denim seems to be on trend," said Justin Nicot, Retail Marketing Coordinator for KR3W Denim and SUPRA Footwear. Mathieu Santoni at Volcom – also home to a growing denim line – said: "In SS18, light washes are still trendy on indigo fabrics or even in black fabrics and light grey." For Scandinavian upstarts RVLT, denim is not only limited to bottoms: "We carry some interesting coloured denim options on jackets while the silhouette on the bottoms are getting wider – so denim is still strong and important for SS18."
Tech plays into denim materializations by ways of stretch fabric and durability enhancements in many collections. Temar Biratu at Levi's is stoked on "our Skateboarding 501 that has its roots in our '90s Shrink-to-fit block infused with Cordura and S1 Stretch. It's visually true to our roots in that the character of the fabric is maintained but modernized with our Skateboarding DNA." And those Dickies chinos you like are also coming back in jeans fabric: "We are seeing success in denim versions of our classic styles, so we will probably evolve in that direction," said Kevin Penney, Dickies' Life Marketing Manager at Williamson-Dickie Europe.
PATTERNS & PRINTS: LIVE AND IN COLOUR
Snow camo, woods camo, desert camo – the 1990s throwback includes the full spectrum of camouflage variations. All-over prints include monogram prints as well as full-fledged photo prints of classic skate and boardsports imagery. Anjet at Protest said: "Part of the Protest DNA is to incorporate nature with classic surf and extreme sports imagery. This includes place prints relating to the surf lifestyle such as surfboards, palm trees and so on." Over at Vans, Roland Slavik said: "This season we shall use some of our most iconic one, the checkerboard print, throughout our collection however we shall offer also some flower prints with some interesting creative spin on them." Andrew MacLean at Shiner/Santa Cruz Skateboards Apparel – who are bringing back OG skate graphics on coaches jackets, tees, and sweaters – also expects, "more all-over printing, badges, embroidered embellishments" for SS18. Tomas at Horsefeathers is stoked on the "Wish you were beer" T-shirt, as his brand "created a lot of beer-inspired products, because that's what summer is all about. Friends, trips, beers, chill." Also look for fine details like small, technical labels – for instance model numbers or unit codes – printed in sans-serif fonts.
CUTS & SILHOUETTES: ROOMIER AT THE TOP
"Tops are getting more relaxed and little bit bulky. Bottoms staying straight like the seasons before," said Patrick at Iriedaily. And now that every brand from H&M to Primark is slinging jogger pants by the barrel, the new boardsport-approved pants for SS18 are chinos with a slight "high water" crop. "Crisp, roomy chinos get preference in straight fits worn rolled up or chopped short," said Dan at Globe. Temar Biratu at Levi's said: "Currently we are seeing the fits get a bit wider and the washes get a bit cleaner. Our Denim Carpenter's pant is on point for this type of look." Mathieu at Volcom confirmed that, "bottoms are larger – especially chino pants – and short shorter and baggier. Tops are still the same – bigger fit in tees and wovens."
"The looser fits and the oversized trend that has been happening lately has shaped our line as well," said  Roland Slavik at Vans, adding: "In the past and the current season too, we have focused heavily on our chino pants making sure that we are leveraging all the knowledge and expertise from our Vans skate athletes which we then took and translated the design of our bottoms." Workwear stalwarts Dickies also noticed: "The more loose fit is becoming more and more popular every season. Our double knee pant has seen a significant rise in interest," said Kevin Penney. The rugged longevity of workwear also features in SS18 shorts collections, including the Globe Goodstock worker short, "sturdy worker-inspired shorts built to resist the daily grind." For added durability, Levi's is adding, "double lined back pockets and reinforced bar tacks at the inseam to reduce crotch blow out."
ACCESSORIES: SPLASHES OF LUXURY
While boardsports brands are charting their own stylistic course, taking notes from high fashion's playbook in the accessories department is perfectly acceptable in SS18: Collections are supplemented with "street luxe" accoutrements such as soft scarves, looong belts with industrial buckles and spec sheet-type lettering, as well as bags (sooo many bags!). Makia will be, "adding a new navy colour for our bag line that was introduced on our previous FW17 collection," while most brands are ramping up their inventory of tote bags, duffels, hip bags, and over-the shoulder side bags that hold smartphones, tools, and other elements of urban survival. Anyone looking for another perfect accessory to enhance SS18's "boardsports look" – aside from a dad cap and Thrasher tee – will find plenty of suitable pairings in the hardgoods aisle.