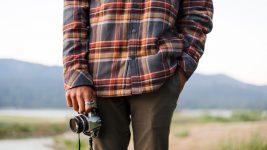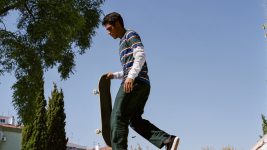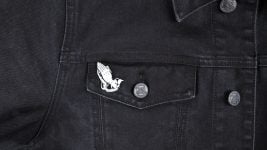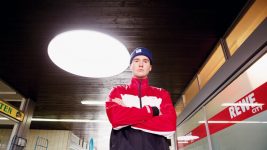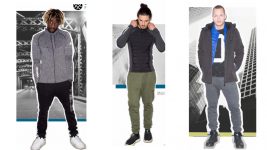 Everybody wants a slice of skateboard chic these days, but endemic companies are banking on authenticity to maintain their edge during the cold weather season. Fall/Winter 2018/19 Men's Streetwear Retail Buyer's Guide by Dirk Vogel.

As the old saying goes: What goes up, must come down. The current hype around skateboarding in high fashion and streetwear keeps reaching new heights, but how soon will everyone and their girlfriend have enough Thrasher tees in their closet? How many hip bags for slinging over the shoulder can we sell? And does the current SUPREME and Louis Vuitton collab signal the peak before an inevitable plunge?

Many in our industry are already raging against the (hype) machine, including masterminds of original 1980s streetwear brands that set the blueprint for today's status quo. "Streetwear is on everyone's minds right now, and many brands are suddenly claiming to be streetwear. Even those luxury sissies at Gucci or Louis Vuitton. Now the kids of rich bankers are running around with SUPREME, not to mention son of an Arabic sheik covering his Ferrari in SUPREME logos," said Jürgen Wolf, creator of the recently re-launched Homeboy label, adding an appeal to the industry: "We are ALL streetwear! And it includes a connection to action sports. So we shouldn't let anyone take it away from us and work together to push this trend forward for the next ten years!"

Other streetwear trailblazers are back to add their distinct voices to the current mix, including Damon Way, co-creator of Droors Clothing and DC Shoes, who captures a DIY and punk aesthetic with his FACT label. FOR FW 18/19, original 1990s skateboard shoe brand éS Footwear is making a strong push into apparel, also built on strong roots. "Our key USP is our brand heritage, authenticity and being privately owned by skateboarders. We've been 100 per cent pure to skateboarding for over 20 years, and the market is looking for authentic stories right now and into the future," said Don Brown, Chief Brand Strategist, Sole Technology.

THE MARKET: FOCUS ON VALUE

Any way you slice it, streetwear is big business these days. Following a deal with the Carlyle Group, the SUPREME brand is now valued at $1 billion – not bad for an operation started in a blunt-scented New York City skate shop. And at the time of writing, a bid for a 90 per cent stake in streetwear brand HUF, created in 2002 by San Francisco skateboard icon Keith Hufnagel, has been made by Tadashi Saito and Tsi Holdings, worth $63 million.

At the same time, customers are becoming increasingly sensitive to the negative effects of "big" businesses, most of all toxic mass-market wholesale brands. And it's hurting the bottom line: H&M's third-quarter net profits have taken a 20 per cent dip, and the fast-fashion retailer is already curtailing new store openings. Instead of catering to ultra-fast release cycles, many endemic streetwear brands are focusing on staying power. "Makia is offering minimalistic products that leave room for the person's own style. Our products are also easy to mix and match with a lot of different styles. We are not really going for the trendiest stuff," said Jesse Hyväri.

Looking at FW18/19 retail pricing reveals a drop in entry level price points and more added value in terms of quality and features across the spectrum. Quality t-shirts from boardsports brands start as low as €25, pants at €55, sweatshirts at €65, and jackets at €79. Dan Preston, Design Manager at Globe International noted a trend towards, "items with more bang for buck. Affordable items that have a few tricks in the way of performance." At the same time, demand for rarefied, elevated, and limited garments continues at price points well into the lower triple digits. However, it's an easier sale when higher prices are justified by performance: "Men are a strange target group. First of all a lot of them do not see aesthetics as a value. They value functions more, so we often try to make our range easily understandable," said Palle Bruun Rasmussen, Design Director/Partner at RVLT.

SEASON TREND: WORK WEAR

The 1990s style revival still looms large over men's footwear and streetwear, but takes a step back as the pendulum swings into cold season. As the leading FW18/19 aesthetic, HippyTree's Director of International Sales Josh Sweeney identifies, "a more mature work wear-meets-outdoors look that goes back to clean and simple lines and away from louder exterior logos." It's a logical choice, because work wear not only constitutes the bedrock of streetwear – next to military surplus garments – but also provides the kind of rugged, weather-proof protection needed during winter time. "We've been inspired by work wear, clothing with function at its heart – what better place to look for functional inspiration? The rugged fabrics, the buckles and belts all give ideas for improved functionality in design," said the team at Protest. In terms of materials, work wear mainstays Dickies – now part of the VF Group – play with, "cord and pinstripe are big features for next season," said Marketing Manager Kev Penney. At Santa Cruz Apparel, Senior Apparel Designer Nathaniel Jones implements, "heavy weight jersey, pique, loopback fleece. Some heavyweight brushed twill work shirts and brushed plaid with some stretch."

MATERIALS: RUGGED AND WEATHERIZED

Next season's protective shells borrow from outerwear innovations when it comes to insulation, water-proofing and breathability. Speaking on trending FW18/19 materials in pants and tops, Stacy Dye, Director of Merchandising and Design at HUF points out, "corduroy and polar fleece." Fleece will feature front and centre next season due to its versatility. Originally created by Helly Hansen in the 1960s and advanced by Polartec in the 1980s, fleece is implemented as an outer layer on zip-up sweaters, cardigans, and vests. Fleece also lines the insides of pieces for added warmth, including 280GSM lining on the éS Footwear "Main Block" hooded sweater. According to Patrick Kressner, Men's Designer at Iriedaily, "sweat and jersey fabrics are getting more heavy and colours more bright. The main trending fabric textures are crinkles or rip-stops." The Protest crew is huge on Sherpa fleece that has, "loads of the qualities of wool while being lighter and easier to care for." Nevertheless, wool still reigns supreme in layering pieces. "Wool is one of the few natural fibres known to man to function in the cold as well as in the warm weather," said Danny at Roark Revival while pointing out their Nordsman knit top.

FITS & SILHOUETTES: ROOM FOR MOVEMENT

Fits are a mixed bag in FW18/19: "We are seeing a mix of standard or closer to body fit, but simultaneously there are kids wearing oversized gear as well," said Stacy at HUF. Brands tend to stay in their own lane, with Jürgen Wolf at Homeboy convinced that, "joggers are over. These are styles for the older generation now. The young ones want it baggy." Next season's trending pant is a relaxed chino or twill pant featuring stretch in the right places and a cropped but not tight leg opening. As a sleeper trend, baggy 1990s style cargo pants are making a comeback among core skaters, after mainstream fashion houses have been serving up cargo pants in slim, contoured fits for decades. At the same time, "the tops are getting fluffy and thicker but the longer silhouettes is more or less replaced but the regular waist silhouette, that even counts the jackets," said Palle Bruun Rasmussen at RVLT. Speaking of jackets, the trending styles for transitioning into winter are coaches jackets – which Homeboy brought into streetwear in 1988 – and bombers including the Brixton Arlo jacket. For colder weather, parkas are the big ticket next season, with highlights such as the Goodstock Utility Jacket (Globe), Santos Jacket (HippyTree), Monte Jacket (Brixton), and Form Parka (Makia). Also keep an eye out for sleeveless puffer vests in a workwear style (see season trend).

COLOURS & STYLING: KEEPING IT HOT

As the days get shorter, colourways take a step into understated territory. But FW18/19 packs some surprises, as brands implement vivid contrasts next to proven fall/winter colour staples. As Dan Preston at Globe International explained: "Orange and fire red are dominant statement brights for A/W18. Playing on associations with high-visibility work wear and military staples this balances out our essential colours of navy, stone, and black, with deeper bottle greens elevating fatigue-inspired olives with a modern edge." Patrick at Iriedaily is on the same page, stating that, "FW 2018 collections will be much more colourful than in the past years," thanks to "colour blocking in a '90s retro look." Graphical styles for next season feed off a DIY, photo-copied aesthetic, and an influx of heritage skateboard graphics, for instance in the Santa Cruz OGSC collection on hooded coach jackets and rugby shirts. At ETHIK, graphics "maintain the grittiness of NEW YORK CITY," said Public Relations Manager, Matthew Garrett. Meanwhile, the new HUF collection, The Last Resort puts, "an emphasis on an adventure through Tokyo with neon signs, Japanese fashion, and Neo Tokyo."

Despite the overall resurgence of work wear, 1990s athletic style will also be a pacemaker for FW18/19 collections, kicked into high gear by éS Footwear with the gorgeous nylon taffeta "Laps" tracksuit ensemble and Iriedaily's "Get Down Jacket & Pant" and "Block Steady Trainer & Pant". Dan at Globe sees the aesthetic move beyond athletics: "The '90s attitude is subtly reinterpreted, through bold colour-blocking, stripes, silhouettes such as layered oversized tees, wider ribs, and roomy chinos." And while logos are on the decline next season, bold print statements – like Iriedaily's "STAY DIFFERENT" – in unexpected places keep things interesting. On that note, retailers need to stock up on accessories with maximum colour pop like orange or bright red beanies to help customers keep the fire burning in those long winter months ahead.