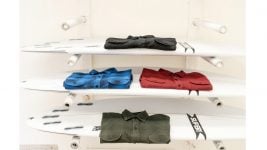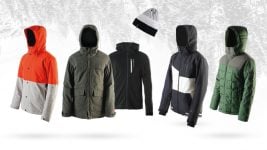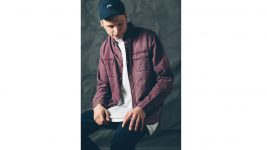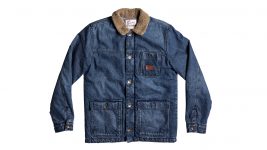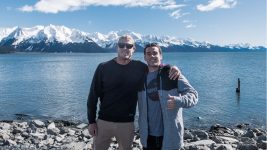 Men's Surf Apparel FW17/18
Road tripping through Iceland, exiled to Chile, wild camping in British Columbia… modern exploration is appealing to more and more people – in and out of the water – making your all-inclusive boat trip to the Maldives look more like a package holiday. These are new frontiers in which surfing, the art of living, exploration, engines, nature and camping all have one common thread: clothing. Recognised for providing stylised yet technical products, the European surf industry is pulling out all stops to equip all those in search of new adventures… and waves. A focus on the standout silhouettes of next autumn/winter. A study by Denis Houillé.
DIRECTIONS & TRENDS
"Modern adventure rather than oldschool 'outdoor' market, although retro keeps rearing its head," states Andrew Todd, Head Designer at Finisterre.
Live videos and photos at the ready; articles labelled #adventure are accumulating the most likes on social media. It's not surprising that magazines and Instagram accounts specialising in "explore" or "wild" are flourishing, collecting the editorials of the young and generous contributors who have gone camping into scarcely explored regions… All that remains is to kit these adventurers out for the worst conditions as they credit, tag and hashtag their beloved clothing providers along the way.
Keeping the environment close to heart, recycling and eco design have become top priorities when it comes to manufacturer and customer requirements. Innovations in clothing are pushed further each season and when we look into the description of a product: a recycled fibre for some, a renewable fabric from responsible plantations or the absence of chemical dyes for others; the scene is set for shops to tell the story.
Another growing trend that's being rightfully capitalised on by various brands is the fusion between streetwear and sportswear. In other words, technical clothing with a knowingly crafted look. Adventurous consumers want to be able to camp and scramble in comfort without looking like a high-mountain guide. We end up with highly stylised pieces with a hefty dose of technical properties: checked shirts with waterproof finishes and warm linings, plain jeans with a brushed "jogging bottom style" lining, beanies with waterproof treatments… Far from a beach bum's wardrobe, "surf is growing up and learning how to be relevant to the urban and inland markets," observes Jason West, Superbrand's Head of Product.
STYLISED & TECHNICAL
Straddling modernity and authenticity, manufacturers are taking it upon themselves each year to provide pieces that push innovation while retaining the creative touches that characterise them. Technical prêt-à-porter? Fashion sportswear? There's no need to coin a term for this trend because brands have been rightfully basking in its success for a good number of years now. From airport check-in to morning surf check, these get-ups guarantee comfort, function and quality.
Here and there designers are incorporating high-performance materials into their weaves, bringing new properties to basic fabrics. To face up to the highly variable weather conditions that hit the extremities of the old continent are pieces with classic appearances and additional technical capacities as well as "'cool' products for daily use with technical & functional aspects such as light weight / breathable cooling / moisture wicking for comfort traveling or during the 'search'", explains Henri Rodriguez, Head of Surfwear at Rip Curl.
Versatile products take pride of place: sweaters with sherpa-lined hoods, light parkas that are stuffed and laminated to ensure perfect insulation and beanies from the likes of Finisterre, which are becoming waterproof thanks to hydrophobic treatments. Billabong jeans, thanks to an internal brushed lining, take on the comfort and warmth of a jogger. As for Brunotti, they are drawing directly on their wetsuit and accessory range in fleshing out their clothing collection with flexible, insulating materials such as super lightweight neoprene and thermal liners.
Throughout their collection, Rhythm are calling upon a variety of materials such as cotton, twill, canvas, nylon and linen to cover all your needs on both hemispheres. The same goes for Rusty who are inciting a combination of 90s influences brought back to the tastes of the day with updated techniques for use on their textiles, finishes and in manufacturing quality. Traditional wool finds itself linking up with technological features, as is the case at Finisterre. Generally we can see a trend towards textured fabrics such as thick linen, velvet, nylon fabric and twills.
THEMES & INSPIRATION
Unsurprisingly, the coastal world is a theme found at the heart of many brands' ranges. Finisterre are inspired by a trip to the north in which the feel and colours are directly influenced by each stage of the journey: the greens of high-altitude moss, the pinks of granite, the light blues of the moonlight combined with charcoal and whisky tones, not to mention the deep blues of the ocean. Lightning Bolt's designs also evoke a pure connection with nature: minimalist, classic and timeless. Autumn 2017 will carry an evolutionary message through a "less-is-more" approach where durability and versatility team up with a progressive contemporary sports theme. Rusty are bringing nostalgia and memories back from the 90s, perfectly represented on the Instagram accounts of their models and ambassadors Noa Dean and Jimmy Pizza. Superbrand seem inspired by the light and dark contrast of dawn sessions in addition to the eroded, weathered textures that you find near the coast.
MOTIFS & COLOURS
Caught between trends for "casual function" and "stylised technical", all brands are still trying to set themselves apart.
On their line of shirts, Finisterre are developing unique tartan and Scottish motifs created in-house to ensure their originality. Lightning Bolt are offering a wide range of flannel shirts, office shirts and over shirts woven in Portugal into textured prints, mottled colours and bi-tonal combinations. For next season, Billabong are using three colour schemes. One being inspired by Nordic countries and structured by blueish tones underlined with bright reds and greens. The second offers a more subtle silhouette of black and grey in which green and yellow washes bring intensity and destructuration. The final one offers autumnal tones such as pumpkin, green gum, sun and natural washes inspired by the 70s. True to form, Rhythm are continuing to explore natural tones, this season focussing on the brighter ones. At Superbrand's design department, Jason West is also talking about "colours that reflect natural elements and their spectacular contrasts". And for upcoming seasons, the brand intends to pursue a "distortion of classic materials and motifs to give a unique touch," to its products. Brunotti have two distinct colour schemes: on one side there's the classic arrangement (blue, orange and navy) and on the other there's natural colours (green, black, white and grey).
Rip Curl are also calling on natural, gentle colours throughout their eco-friendly line.
A timeless palette with touches of off-whites and marbled greys. Notably, the black and white combo remains a favourite amongst many designers.
Lastly, at Rusty, vintage tones are approached using blue and black washes that continue to evolve and contrast with sun-faded pastels and poppier dyes typical of the late '80s/early '90s.
SILHOUETTE TYPES
From head to toe, the looks crafted by all the different manufacturers for next season are jam packed with versatility, functionality and originality.
The flagship silhouette from Finisterre consists of an "all-weather" vest, a sherpa-lined checked shirt, premium topstitched Japanese jeans, waterproof and insulating beanie and entirely waterproof baggage. Functional from the first surf check to a night out in the town centre, the Superbrand look includes tailored stretch chinos with flannel shirt and warm, thick jacket.
At Billabong's design department, one silhouette type is described as a "surf uniform" (from their Surfplus collection) structured by a trucker jacket (denim or canvas) and straight-cut jeans, all livened up with a trucker hat. The other silhouette they are pushing (from the Billabong Adventure Division) is dedicated to travel and the search for waves in winter conditions, including a convertible jacket called Tradewinds, which is packable and reversible and jeans with a unique lining that provides the comfort of a jogger. Anchored in minimalist retro, Lightning Bolt are going for a purified look with subtle details, geometric graphics and discreet logos and no pretention.
At Rip Curl the silhouette type is clearly based on the 'Search' experience of their team-riders with an Anti-series light jacket that's wind-, cold- and rainproof for protection against the elements, a Vapor tee and stretch pants for maximum comfort.
Finally, at Rusty, the components are a bit less tailored with a Tee-shirt tucked into wider, loose-cut trousers underneath, a really skateboardy velvet shirt and a cap to finish off their silhouette.