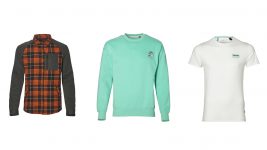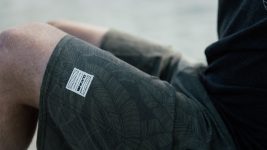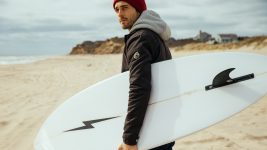 Men's Surf Apparel FW18/19
True to their roots, the winter surf apparel collections continue to be crowd pleasers, and full of surprises. Without being too introspective, they've picked diverse paths and kept people guessing with looks ranging from retro to contemporary, minimalist to colourful, and functional to elegant. This is an in-depth look at trends in surf apparel for Fall/Winter 18/19 by Denis Houillé.
EXPLORATION & TRAVELS
Performance and style seem to shape the surf look of the 21st century man, a citizen of the world whose wardrobe demands multi-functionality and innovation. From urban centres to the mountains, and by way of many surf spots, these winter collections are designed to accompany him in his day-to-day life and to wherever his travels may take him: Bundoran, Ireland; Montauk, New York; Tofino, Canada; Kamchatka, Russia; or Yakutat, Alaska. The cold climates of these northern latitudes with an endless supply of virgin spots may be deserted but are no longer a problem as far as temperature is concerned. "With today's globalisation, distance and time no longer hold us back from doing what we love", says Hanna Verweij, Marketing & PR Manager at Brunotti Europe. Borders and weather conditions are no longer a hindrance and the possibilities are endless. No matter the time, the context or the weather report, these looks have to stand up every test and go unnoticed. The practical side of workwear is also in favour this season and Product Designer at Salty Crew, Andrew Hartshorne specifies, "men are looking for something with a utilitarian function."
At Lightning Bolt it's got to the point that they're creating "clothes inspired by cities of the world". The brand's offering has "a sophisticated look, with a touch of eccentricity and coastal disconnect". It's all about how to get lost in the crowd, while still holding onto your authenticity. At Finisterre the entire artistic direction uses elements from very cold climates and the idea of exploration. At Billabong, the waterproof and breathable materials are the cornerstones of the Adventure Division line. Travel is also a major theme at Dakine whose line is designed for covering thousands of kilometres with ease thanks to zipped pockets, as well as light and comfortable materials. A backpack and camera are integral parts of the silhouette of a modern day surf explorer. O'Neill is making sure they're ready for the transition to winter by focusing on / taking aim at the early autumn climate with an ideal "hybrid" line, the Men's Category Manager, Jan Lindeboom assures us.
90s DOMINATION
The 90s theme seems to have undeniably cemented its influence, as much in prints as in typography and logos. Just like that, it has brought back embroideries, central logo positioning, and out-of-date neon colours.
Rip Curl has announced two strong trends. The first is the universe of sports-influenced 90s products (revisited with their surf style and experience), and the second is that of their historical logos inspired by Australia, California and Hawaii in the 70s. In the O'Neill design department Jan Lindeboom can't stop talking about the 90s, "when snowboarding come onto the scene and boardsports made a name for themselves in fashion". As for Quiksilver, they're changing up their logo iconography with typical Japanese-style illustrations using images of the Kamakura Banzai Bar, local pin-ups, dragons and sake. Elegant and functional, the Lightning Bolt silhouette is continually reinterpreting and playing with retro influences in which "surf styles from the archives and iconic branding have been dusted off and given a new look, with a kind of cultural nostalgia that fluctuates between old and new, real and imaginary", specifies designer Maria Joao. The designers at Brunotti went looking for inspiration in outer space, mutants and space suits with high-collared down coats, detachable patches, electric graphic designs, which all help us relive this important era of space exploration.
REVIVALS & RE-EDITIONS
The surf world seems to always keep an eye on the past to better anticipate the future, and these upcoming collections are no exception to that rule. With a history that left its mark on the 80s and 90s as much through styles as outlines designers of surf clothing would be wrong to do any differently. The "re-issues" series from Billabong update the brand's most iconic products, which will awaken an uncontrollable feeling of nostalgia in true surfers. At Quiksilver, the legend of the mountain and wave is once again being illustrated in a very artistic fashion, with several astonishing colour assortments. To celebrate its 15th anniversary next year, Finisterre is planning a special anniversary limited-edition series, which will highlight the classic colours of the brand with a subtle nod to retro outdoor style.
Also, outside of the four regular delivery seasons, it's not uncommon to see a new products pop up in the form of limited-edition lines, which are always a hit with the core surf clientele, and due to their small quantities create a rarity that guarantees their popularity. There are plenty of examples, including artist series, and brand or celebrity collaborations (often from very diverse backgrounds). That was definitely the case this season with the JM BASQUIAT and WARHOL artist series that were standouts in the Billabong product offering, and give a sneaking suspicion that there is more and better to come next year. Still speaking outside of traditional delivery seasons, Lightning Bolt is getting ready for a mid-winter release of a series conceived in conjunction with Portuguese urbanwear brand Daily Day well known for lending its manufacturing knowledge to multidisciplinary cultural projects.
NOBLE & HIGH-PERFORMANCE MATERIALS
This season materials are becoming more beautiful with brushed jerseys, different textures, waffle fabrics and definitely lots of high-tech treatments (notably water-repellent and breathable). Plenty of brands are going back to their roots too, with thick corduroys, heavy twills and robust flannels. There are lots of assorted pieces on offer as well, because as Jan from O'Neill reminds us, "winter is all about layers".
O'Neill is releasing an especially insolating, 3D kinetic stitching technique that will be found on its mid-layers. Not only are they elastic and prevent unpleasant odours, these thermoregulatory materials help retain up to 25% extra body heat.
Also on the insulation front, Brunotti is rereleasing models with Clo Insulation, one of the most breathable, lightest linings in the world. In addition, it's water resistant and heat retentive due to the special fibre shape, used in commercial freezer manufacturing, which should reassure you for your winter surf trips.
Still on the topic of manufacturing methods, the eco-design variant is making more and more sense in terms of offer and of demand. "Clients are more knowledgeable than ever about environmental pollution", observes Hennie from Finisterre, which confirms their engagement: "So it's our duty to adopt environmentally friendly practices". Transparency of manufacturing methods and material traceability are being highlighted in order to better inform customers about the environmental impact of different products.
Last but not least, be it in summer or in winter, there is one product that appears in every lookbook, the t-shirt. Not just any old t-shirt, though! Quiksilver goes so far as to differentiate between four different types of t-shirt: the anti-UV, anti-humidity technical t-shirt; the anti-allergy, 100% organic t-shirt; the artistic t-shirt with graphic designs from the past, present and future; and the deluxe t-shirt with high-end materials and designer cuts. Now, there's no more getting mixed up…
SEASONAL TONES
On the programme for 2018/19 at Finisterre, the colour palette is more subdued, raw and natural influenced by artic landscapes, rock surfaces, autumn leaves and tree bark. Punctuated by touches of vintage colours, these organic tones are easy to mix, match and wear.
At Billabong, Baja California and Mexican themes dominate the collection. Over at Lightning Bolt, it's all about celebrating vintage Americana, from the eternally laid-back Southern California attitude to urban New York surf style.
STRONG SILHOUETTES
From head to toe, some very indulging designers accepted our invitation to talk us through the strongest silhouettes for next season.
BILLABONG: Daddy cap / washed corduroy jacket / long sleeve t-shirt with jacquard sides / cut-off jeans.
QUIKSILVER: Rolled-up chinos, vintage t-shirt, stretch flannel shirt / 5K parka / camera and bag
O'NEILL: Light rain jacket / intermediary hooded sweatshirt / t-shirt / jogger pant
FINISTERRE: Merino wool-mix technical under layer / technical overshirt / down-style featherless jacket / waterproof DWR jog pant / waterproof boots.
BRAKEBURN: brushed flannel overshirt / printed t-shirt / insulated hooded jacket / chinos with pockets / leather boots.
SALTY CREW: 5-panel cap with vintage tuna drawing / logo t-shirt logo nautical flags / technical polar fleece with camouflage print and Sherpa lining / straight-cut pant with special tool pocket.