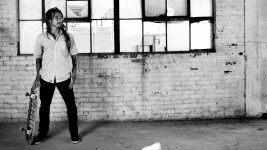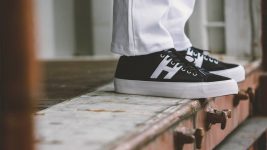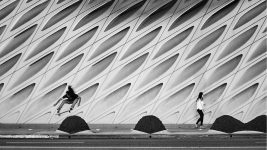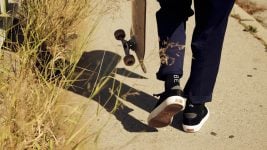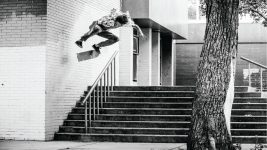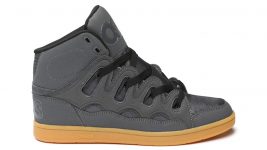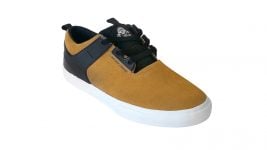 The current 1990s revival looms large over skateboard footwear next season – both from an aesthetic as well as a market perspective. See the trends, designs, and brands to watch in our Retail Buyer's Guide for Spring/Summer 2018 by SOURCE Skateboard Editor Dirk Vogel.
The pendulum of pop culture nostalgia swings in 20-year cycles. Right now we're witnessing a massive throwback to the glory days of big logos, athletic style, and blunted-out hip-hop, as inspirations from the mid-1990s infuse everything from fashion, to music, to television, all the way to skateboard sneakers. Classic styles like the beloved éS Footwear SLB Mid are back on the streets, while Canadian brand Rone is selling hand-stitched renditions of 1990s skate shoes in premium materializations for $400 a pair. And remember Californian-based footwear brand Simple? They're back in the mix as well.
"The Nineties represent the period of birth of many skate brands, so many customers remember the iconic 1990s shoe models as truly representative. I truly believe that people love the Nineties," said Fabrizio Messineo, C1RCA Footwear EMEA Sales Director. This sentiment is echoed by footwear designer Morgan King at Australian brand Globe: "We are a product of the Nineties, so we always keep this look in check with our heritage series of shoes."
With that said, most companies featured in this article proudly trace their roots to a mid-1990s wave of skater-owned start-ups, including DC Shoes, Osiris, C1RCA, Globe, DVS, and éS Footwear to name but a few. And speaking of start-ups, the 1990s loom large over Spring/Summer 2018 skate footwear offerings not only aesthetically, but also from a market perspective.
MARKET: FACING REALITY
A new generation of rider-operated brands is coming to core shops, including Proper (started by Nike alumni Shawn Baravetto), State (Dekline's Kevin Furtado), Straye (Jamie Thomas and SUPRA's Angel Cabada), Rone (pro skater Tony Ferguson), and Kingston Union (Vox's Ed Dominick and Matt Hensley). But although history appears to be repeating itself, there's a huge difference: The 1990s allowed rider-owner brands to launch into a hungry market, filling a vacuum left by the demise of behemoths such as Airwalk and Vision Street Wear. No such blue-sky moments for today's new entries – it's sink-or-swim from day one in a compacted marketplace.
"The skate footwear business is continuing to consolidate around a handful of big players. To be fair, these major brands are giving a lot to skateboarding but also receiving a lot as they have opened all tiers of the action sports and sports distribution. This dynamic has left little room for the small and independent shoe brands to exist and grow," said Julian Vergnes, Global PLM Footwear at Element. "The overall European skate shoe market remains very challenging. The best-selling models continue to be the models at the lower end of the price scale," said Osiris International Sales Manager, Tony Chen.
On one hand, there's still reason for optimism, as etnies UK marketing coordinator Clare Boland-Dean said: "We're hearing a gradual trend to improved hardware market for skateboarding." And these riders appreciate realness: "The brands that remain authentic to the space seem to resonate well with skateboarders globally, not just in Europe, and those are the brands that are healthy in the skate shoe market," said Nick Pappas, Product Manager at New Balance Numeric. But on the other hand, endemic brands are also facing sobering business realities. "You can do great in skate but still have a hard time with your overall numbers. Being the best in 'core skate' is only getting you so far," said Philipp Schmidt at Mosaic Sales (HUF & Lakai), adding: "There are still skateboarders out there buying shoes, but the decreased sales in the 'not-so-core' section are what everyone is missing these days."
SEASON TREND: VISIBLE TECH
Last season saw designers concealing technical features underneath classic-looking exteriors, but the 1990s throwback is flipping the script. Boosted by the general public's value perception for technology, visible tech will hit shoe walls in SS18. Get ready for air pockets, PU cages, abrasion-resistant toe boxes, heel bumpers, eyelet protectors, rubber-moulded midsoles, and next-gen fit-enhancing technologies. Asked about the purpose of current technical features, Aleksander Rist, Brand Coms Manager at adidas, offered: "Enhancing fit and comfort in the correct areas to get that snug feel, and enhance the sense of security and stability, together with strategically placed cushioning to soak up impact and soften landings."
Next to these factors, brands are re-tooling their outsoles for the ultimate board grip – also slapping on branded sole graphics while they're at it – with developments such as Fusion Grip (C1RCA), Shogun rubber (Globe), Impact I Inflexion outsole (DC Shoes), Stick Grip (DVS), Infinity Rubber (HUF), Statepoly Urethane (State), and 400 NBS and Michelin rubber (etnies). But make no mistake: The return of 1990s-style visible technology is not to be confused with a return to "puffy" shoes. That's because our footwear designers now have the know-how to add tech without adding bulk. Clare at etnies said that "the '90s are still going strong – with 'mid puff' styles and pastels leading the charge."
Every endemic brand features slim-but-powerful core skate shoes for SS18 that pile on the tech without packing on extra weight. One prominent approach consists of replacing air pockets with a drop-in midsole and insole technology, for instance in the Osiris Techniq VLC model. "This allows the shoe to be slimmer, lighter and more flexible adding to its overall performance and durability," said Rob Dotson at Osiris.
SILHOUETTES & CONSTRUCTIONS: SMART AND REFINED
Speaking of "slimmer," next season's silhouettes continue the trend towards form-fitting, lightweight shoes, but with an extra element of functional tech, especially in the toe area. "The return of toe caps and rubber bumpers and ollie guards may last longer, as it can be improved with new technologies and nice colour combos," said Justin Nicot, Retail Marketing Coordinator at SUPRA. Meanwhile, choosing the right silhouettes for SS18 is all about striking a balance instead of going all-in on just one style: "There is indeed a regained interest for '90s overbuilt models but the best selling ones remain the low vulcanized soles," said Antoine Soulé, EMEA Footwear Product Line Manager at DC Shoes.
Bucking the trend, State Footwear is going all the way back to 1950s styles with the Harlem model, featuring a "small toe with ollie patch, suede toe box, minimal collar and tongue foam pack," said Kevin Furtado. Also choosing the classic route, tennis-style "court" models have been building momentum, and will also feature prominently in SS18 for brands including adidas. "With a long tradition of creating shoes we make sure we use the best from our heritage, with a modern take," said Aleksander Rist at adidas, while pointing out the Matchcourt RX, Adi Ease Kung-Fu, Lucas and Busenitz models. Osiris is moving forward by combining the NYC 83 with the 1990s blockbusting D3 silhouette to create the D3H model. "It's a blend of two of the most successful styles Osiris has ever produced and hopefully it will be a repeat performance," said Rob Dotson, Product Development Manager.
COLOURS & STYLING: LIGHTEN UP
Black on black on black. Skateboarders tend to be conservative about their colour preferences, but summer time brings some changes: "Now you walk into a store and 90% of the shoe wall is black suede with white foxing tape, but our retailers are seeing more success when we do favourite models in other colours," said Nick Pappas at New Balance Numeric, pointing out burgundy, navy, earth tones and trend-relevant colours such as salmon. According to Brent Phelps, Product Director at DVS, colours like "tan, naturals, and olives have blown up!" The streetwear trend (see Buyer's Guide in this issue) towards pastels informs footwear colorways this season, and State Footwear is playing with taffy colour and mint suede next to that major trending summer hue: White! Either paired with natural gum soles or in white-on-white constructions with suede and premium leather uppers – choose a court-style shoe for the win – discerning skateboarders are keeping it clean with white kicks in SS18. Also prepare for a hot streetwear trend: brand logos and messages printed on laces.
MATERIALS: LIGHTWEIGHT & TECH
Today's skaters also tend to be conservative about their preferred shoe materials, but Antoine at DC Shoes sees some changes: "The material of choice remains suede, but we are also using new technologies such as engineered Jacquard Mesh for breathability." At Globe, footwear designer Morgan King is on the same page: "Materials for spring are usually keeping in tune with the season. Breathable and lightweight canvas and twills combined with suede for skateability." With that said, retailers should keep an eye on twill as a possible breakout trend for SS18. Next to technically enhanced mesh, double foxing tape, rubber-reinforced ollie sections, and next-level foams, next season's uppers also feature PU "cages" for extra support like in the DVS Chinch model. Longevity remains a focus, achieved by HUF's 3D Fox Tape in the Hupper 2 model. The partnership between Michelin tires and etnies, continues, and the results are "three times more durable than our previous outsole compound. These outsoles are built to provide support and durability no matter how many miles you put on them."
At the same time, cruelty-free footwear – another trend started back in the 1990s by brands like Zero-Two – remains a strong focus for next season. "We are pushing for a more intensive use of synthetic 'cruelty free' materials, and we also released a vegan shoe," said Fabrizio Messineo, C1RCA. With that said, the 1990s may be back in style, but the journey continues – and it's great to see original brands still leading the way.