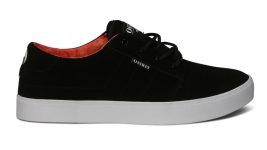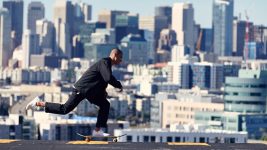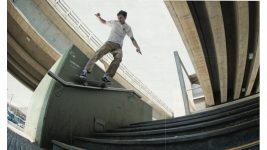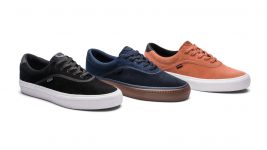 Big on margins and high on style, skate-specific shoes are the lifeblood of every skate shop – even during cold season. Our trend report shows how endemic footwear brands are keeping European skateboarders laced for the Fall/Winter 17/18 season. By SOURCE Skateboard Editor Dirk Vogel.
Since the early beginnings of skateboard culture, riders in Europe have always needed some extra strength and perseverance to make it through the cold winter months. Although Europe has evolved into a vibrant skate scene – and sizeable market – over the years, skate-specific footwear design has largely ignored the rough realities of frozen streets and icy parking garages over here. But that's changing. The last few years saw the rise of winterized constructions and SKUs specifically tailored towards European demands. "We definitely see a seasonal shift as the lighter materials and canvases don't hold up as well in the weather. We design with that in mind. It's easy to forget that the rest of the world isn't always 72 degrees and sunny like here in Southern California," said Doug Weston, VP of Sales and Operations at Osiris.
Over at Australian brand Globe, footwear designer Morgan King is on the same page: "We definitely see a shift in the product mix during the cold season in Europe. Based on this, we tailor our colour mix to darker palettes and material mix to more suedes and leathers and water resistant materials, rather than textiles and canvas." Explaining the issue from a product angle, King continued: "We also have specific 'Winter' SKUs which have some sort of cold weather lining such as faux fur or heavier warmer linings, weather resistant tongue gussets to help keep out water, snow, and cold wind, and gripper lugged outsoles."
While "winterization" of existing footwear styles has already been trending for several seasons, these shoes were not necessarily designed to ever see griptape and support heavy skate sessions. The biggest trend for FW17/18 revolves around footwear that can do more than muck around the snow in skate-style: "There is an increasing demand for skateable winterized products," said Julian Vergnes, Global PLM Footwear at Element, adding: "We are, for the first time, introducing the Wolfboro concept in our FW17 footwear range. It will be all about high traction outsoles, warm liners, and water resistant uppers." The main driver behind these concepts is the recent advancement of technical performance features among endemic footwear brands, which is influencing all levels of the market this coming season.
THE MARKET: NEW BLOOD
After years of brutal market consolidation – indicated by the shrinking numbers of independent footwear brands in our trend reports – the market is finally ready for fresh blood. One new upstart is West Coast company State Footwear, short for "The Free and Independent State," with a tight team and core-oriented product offering. Asked about the brand's motivation, Kevin Furtado, formerly brand director of Dekline, told SOURCE: "I believe that it is similar in Europe and most other parts of the world. The top three brands are still heavily weighted in volume, however I feel people are looking for alternatives and new things are being received with more of an open mind than in the more recent past." Small brands can also achieve big changes these days, including the supply chain, said Tomasz Naryniecki, owner of European indie shoe brand Lando: "We are the only company which is producing part of our skateboard shoes collection in Europe. Our Premium line is made specially for skateboard action and I've never seen such durable shoes on the market."
SEASON TREND: QUIET TECHNOLOGY
Better-educated than ever, customers are putting a premium on performance without sacrificing stylistics. "Technology is becoming more important as general consumer awareness and performance expectations increase," said Brent Phelps, Product Director at DVS. In 2017 collections, the focus is shifting away from using technology for technology's sake. "It's not like early 2000's skate shoes where you just add panels and over-embellish soles to give the perception of technology – today's consumer is too smart for that. They want to feel the tech and know it's there, but don't necessarily care to see it," said Nick Pappas, Product Manager at New Balance Numeric. To hear Morgan King at Globe tell it: "I think five years ago there was a big push for tech and tech-looking treatments. Nowadays the tech has to be wearable and functional. Quiet tech is our mantra."
Examples of this "quiet tech" include the Osiris FLX.VLK outsole construction, blending the classic look of a vulcanized shoe with the flex and protection of a cup sole. Vans has mastered the art of "hiding" technology in their vulc shoes, culminating in next season's UltraRange Pro model: "The sole combines the Original Vans Waffle outsole with a custom-tuned Ultracush Lite formula co-moulded midsole. And a sockfit liner provides amazing fit and feel on the upper," said Juss Apivala, Global Category Manager at Vans Pro Skate. On that note, sock liner entries are trending heavily in FW17/18 collections, including DVS' Vaporcell Elite concept. Element is pushing the limits with "computer-knitting technology, one-piece uppers on Phylon midsoles with TPU welded reinforcements and reflective branding," in the Travel Well Topaz Trek model. All across the board, we are seeing shock absorption blended into midsoles via new foam materials and liners.
COLOURS & STYLING: SLIP INTO DARKNESS
As the days get colder, colour palettes get darker and black remains the year-round favourite. "We are in the black shoe business so black is the main colour that we design around. We've found a great synthetic leather that wears incredibly and we've been able to apply across the line," said Osiris footwear designer, Brian Reid. Addressing the rest of the spectrum, Brent at DVS said: "Base colours shift into darker charcoals and navy is big, especially with black combinations. Whites become more taupe and earth tones." New Balance Numeric is enriching the line-up with, "burgundy colours as well as off-white or antique white." In terms of stylistics, the "white rubber toe cap" trend came and went, but still inspires variations such as Lando's beautiful natural rubber toe caps. Designers are playing with the foxing tape connecting upper and sole, including diamond-shaped rivets from Globe and tiny imperfections on the Osiris FLX.VLK sole to mimic that natural vulcanized look.
MATERIALS: BUILT TO LAST
The trend towards quiet technology also unlocks novel materials to maximize longevity and performance. Suede remains the material of choice in FW17/18, but reinforced canvas and treated textiles – including waterproofing – are gaining ground. At Scandinavian upstarts Servant, Co-founder and head designer Rasmus Åhrberg is proud to announce: "No suede or leather at all! The NOCOW collection is made from 100% man-made materials. Apart from the obvious benefits to animals and the environment, our 4SKIN microfibre is as tough as suede but totally uniform. This makes it possible for us to produce every pair with the same high quality, every time." For added longevity, several brands are adding a special protective coating to the wear-intensive toe area – replacing double or triple layers of fabric with thin, perforated rubber layers – while New Balance Numeric devised a new "hidden internal lacing feature" for the new 533v2, an update to PJ Ladd's signature shoe. Meanwhile, the trend towards winter versions of classics remains a fan favourite, said Pascal Kamp, EMEA Marketing Manager at Supra: "We do well with winterizing our existing models. Adding slight twists to previous successes are great for the retailer and consumer. Look forward to Vaider CW dropping Holiday 2016, it's a winter lug outsole but constructed in a vulcanized way."
SILHOUETTES & CONSTRUCTIONS: NO STITCHES
Next season's silhouettes continue the trend towards stripped down, form-fitting cuts and stitch-less toe boxes. Behind the scenes, this shift is powered by advanced manufacturing techniques to build uppers like the DVS Drop model: "It features a one-piece suede vamp with a modern, dimensional Isoweld quarter. Mesh cut outs were added for breathability." Vans has also broken new ground over the past five years with the hybrid "Wafflecup" sole and, "the first ever stitchless vulcanized shoe with the Rowley Pro Lite and now the same technology is available on the AV RapidWeld Pro Lite," said Juss Apivala.
While cold season always marks an increase in mid- and high-top SKUs, the true breakouts for FW17/18 are après-skate boots built on advanced technologies. "Our cold season specific footwear is highlighted by the Apres Snow boot that we designed and developed in collaboration with Yes Snowboards, which features Vibram's Arctic Grip outsole, a waterproof YKK Aquaguard zip for easy entry and a Cordura material quarter," said Globe's Morgan King. Supra's winterized Vaider CW in a tan colourway looks like the amazing love child between a Skytop and a CATerpillar boot, while DVS is pushing the Vanguard boot with Vaporcell liner, Dri-Lex tongue lining and Isoweld toe. But as a word of warning, DVS International Sales Director Joe Marckx said: "Boots from action sports brands do not seem to be working at retail as well as in the past. Retailers and consumers have shifted to outdoor or athletic brands for this category."
OUTLOOK
After years of massive disruption, the skate footwear market is finally seeing the advent of new independent shoe brands. In the long run, current technical advancements in shoe construction and performance-enhancing materials will allow endemic footwear brands to deliver the quality that an increasingly critical and quality-conscious consumer base demands. "Everyone is asked to step up the game on a seasonal basis. This means that brands, including the big ones, are being pushed to put out better product than ever before and from a consumer point of view, I think that's only great news," said Juss Apivala at Vans.