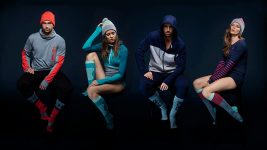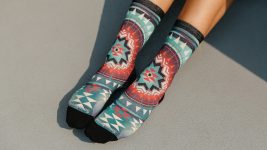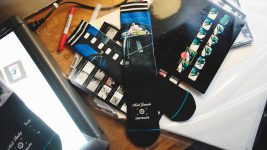 Popular accessories with attractive margins, boardsports-inspired socks can really pull an outfit together. 2018 Buyer's Guide by Boardsport SOURCE Skateboarding Editor Dirk Vogel.
Leave it to skateboarders to turn drab wardrobe staples into hot fashion trends: In the late 1970s, knee-high tube socks with horizontal stripes were all the rage at skate parks across the world. When punk rock rolled around in the early eighties, argyle-pattern socks became emblems of youthful rebellion. Athletic brand socks featured prominently throughout the 1990s, before California brand Stance jump-started "boardsports socks" as a lucrative category in 2009, and HUF's weed-patterned socks raked in some major green.
Fast-forward to 2018 and socks have become fixtures at board shops around the world, backed by a number of pure-play socks and underwear brands. Stance has already sold over 36 million pairs of socks and raised over $115 million from investors (SneakerShouts) to keep pushing forward. "Socks are the foundation of the Stance brand and was our only product category until we launched men's underwear two years ago," said Nathan Hill, Head of Sales EMEA, adding: "We have a SHRED lab (Sock, Hosiery, Research, Engineering & Development) incorporated within our HQ where the team are continually testing and developing product."
Team-tested product gives boardsports brands the extra edge in the socks game. For premium brand Smartwool, the motto for serving athletes with advanced fits, cushioning, and high-grade materials is Comfort is Confidence, explains Simon Mur, EMEA Marketing: "Comfort gives you the confidence to go further and do more. Your feet are critical in having the confidence to do what you love. If your feet don't feel good, your day is done."
PRICING & MARKET
How much are customers willing to pay for comfy feet? Lifestyle-oriented socks start around €12.00 per pair, followed by longer-cut snowboard socks between €15.00 and €20.00, and premium material socks up to €25.00. "Despite a higher price point, consumers are still willing to make the investment in a sock that is special or unique and demands the higher price," said Chris McGuire, UK Sales Rep for HUF. And speaking of "special", Smartwool is limiting sales of their Smartwool PhD Slopestyle socks to select core retailers.
SEASON TREND: SHOW SOME ANKLE
The continuing demand for specialty socks is buoyed by a larger menswear trend for showing some ankle. Trend-savvy boarders wear hemmed or rolled-up pant/trouser legs, while some tuck their athletic pants into their socks, thereby transforming socks from underwear to streetwear. Get ready for bold designs, vibrant colours, generously applied branding, and elaborate materialization in lifestyle and performance-oriented 2018 sock collections. "Our boldest and most eye-catching designs have been among the most popular," said Chris at HUF.
LIFESTYLE SOCKS
Next season's lifestyle-oriented socks come super-charged with boardsports style and storytelling. HUF's Electric Dreams line splashes into the summer with "melange fabrics, tie-dyes and digital prints. Our colour story ties into our seasonal theme with a bright and bold palette." European brand Stinky Socks offers a nice riff on 1970s tube socks with their "Wings" skate socks, and will drop collabs with Ashbury Eyewear, Lucas Magoon and YoBeat next season. Stance partnered with iconic skateboard photographer Skin Phillips and Hawaiian-born artist Mark Oblow, while bringing serious punk rock heat with album art prints by Bad Brains, the Descendants, and the Dead Kennedys.
PERFORMANCE SOCKS
What constitutes a "performance" sock in 2018? Basically, a combination of elevated materials and athletic construction. "We've spent a lot of time getting a well-constructed fit for our socks. The toe box is seamlessly linked, there are strategically positioned cushion areas and mesh panels for breathability and the elastic component is engineered to give really good hold," said Richard Birkby, Head of Brand and Marketing at premium brand Mons Royale, whose offering is focused on next season's trending material, merino wool. "All of our socks are made with merino wool, mother nature's original performance fibre," said Simon Mur at Smartwool, while pointing out advanced tech such as the 4-Degree Elite Fit System.
At Stinky Socks, owner Risto introduced, "a special treatment where the cotton can absorb moisture three times more than its own weight before you actually would start and feel it on your feet. Then we have a special silver treatment that keeps your feet fresh for a longer time." HUF's "weed" pattern goes premium in their Melange Plantlife Socks. Stance is toughing up the fabric in their Skate Fusion line with Deathless Thread and – retailers will love this – doubling their SKU-count per POS-display with the new Cling On's fixture. On that note: Order up and get with the boardsports sock trend, because even if the socks are stinky, the money ain't!