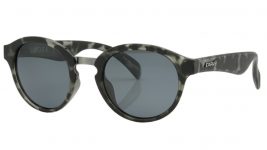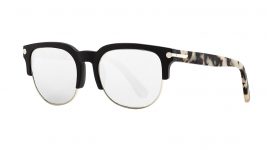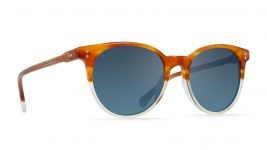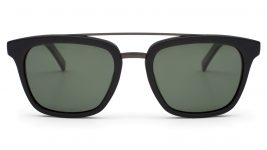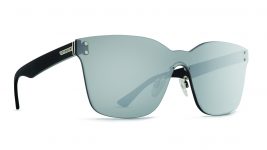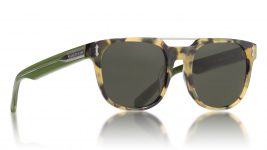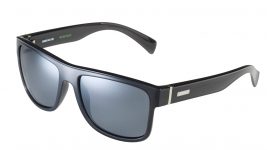 Whether or not the sun is shining, sunglasses are a great category for any retailer. Customers use them for various purposes besides their dedicated boardsports; be that fishing, biking, hiking or just looking fashionable. And with the new trends for next year, there's something in store to fit any style and type out there – from understated classics to bold and out there. Anna Langer takes a deeper look.
TRENDS
"The market is evolving and prepared to take risks in terms of frames, where the combos and new features will make their way, but also in terms of lenses, with new technologies and colours" says Pedro Fernandes, European Brand Director of VonZipper, which means we can see a big variety of shapes, models and approaches on the shelves next year. This includes smaller and rounder options, new takes on Wayfarers and Aviators, Visors and Shields, as well as semi- and frameless models, and combinations of "rounder and softer lens shapes with contrasting sharper edged frames" as Dragon describe their "unique dynamic look".
Acetate stays strong as a material, especially hand made, but is more often mixed with metals and other materials, adding "fun elements to give the frames a unique look" as Tanner Dame, CEO of Proof Eyewear states. The overall growing awareness for ecological issues also fosters more sustainable, petroleum free approaches from plant-based materials as Raen, Ovan and Zeal highlight.
Colour trends include more subtle shades, gradients and transparents all the way to clear, and classic tints for lenses, balancing a new revival of mirror coatings in all shades of the rainbow.
And while sunglasses from boardsports brands have always fused performance qualities with lifestyle aesthetics, Oakley see a "new trend in the way people use products. With more efficiency and flexibility in school and the workplace, people spend more time on health, wellness, and being active" and hence seek even more efficiency and flexibility from their eyewear, which they answer with their new CrossrangeTM Collection.
At CHPO, "we are using bigger frames and rounder shapes (as on the Vanessa sunglasses) with both black and mirror lenses. Another trend is that the lense is placed on top/outside the frame instead of inside it (McFly). The overall look is clear cut Scandinavian with discrete details (Copenhagen) combined with our roots in skateboarding, music and art," says the brand's , Marketing Coordinator & E-commerce Manager, Johanna
Electric CEO, Eric Krane is noticing "the migration of the sport consumer to more sophisticated styling overall. To service this, we are launching several new lifestyle pieces that are flatter, rounder and have more vintage heritage that a basic wayfairer style."
LENS TECH
This is of course reflected in lens technology as well. Polarization has become a standard that all brands offer (at least) in their premium segments. "Polarized is becoming more and more important" says Melon Optics International Sales and Brand Manager Neil Slinger, suggesting they will only sell polarized lenses in future. Quiksilver specialize on "green polarized as it is the best colour option to use on water (fishing, sailing etc…)," says JP Bonnemason, Global Eyewear Product Manager. Ovan implement a 100% Japanese fused polarization-coat in their signature OV6 lenses, including an "anti-reflective layer and Oleo-phobic coatings, that fights finger prints and makes lenses easier to clean", says CEO Mikko Huttunen while Dragon use a sandwiching layer to protect their polarization from being scratched off.
Otis Eyewear launch a new L.I.T Lens in Spring, "which is one of the world's first to combine the durability and scratch-resistance of naturally sourced mineral glass, precise and vivid light improvement technology, AR coating" as well as polarization, says Global Brand Manager Scott Lewis.
Colour and contrast enhancement are important features as well, achieved through the Oakley PrizmTM technology, Spy's Happy Lens™ technology, Dragon's Lumalens technology, VonZipper's Wild Life Lenses and the Amplify Lens Technology from Melon. POC Eyewear continue to "focus on providing crisp vision and high contrast optimized for different settings" explains Mikael Odén, Product Manager.
Proof Eyewear introduce a "new lens program to better fit our eco mindset, shifting to a cellulose based material for the lenses" that is biodegradable. Sinner developed two sunglasses made from bio plastic, featuring SINTEC® polarized lenses. And Zeal continue their polarized Ellume lens, that is "as sustainable as it is technical."
On the more fashionable side, Quiksilver and Roxy offer flat lenses from Zeiss with a great antireflective treatment that is the "best option to be trendy and comfortable," according to JP.
LENS TINTS
"Mirrored lenses are hot again, while the last couple of seasons we saw a boost in the demand for subtle smoke and amber tinted lenses, mirror is gaining ground again. Silver and Gold bridge the gap between style and standing out," says Neil from Melon. Oakley add "rich hues of Iridium® such as Tungsten, Ruby, Sapphire, and Jade", Horsefeathers feature a new Mirror White, Sinner go for gold, silver, pink and blue revo, and Carve offer "colours that support and enhance the new finishes along with subtle coordinate Iridium lenses."
Still colourful but less flashy are green and rose tints from Proof and colour gradients from VonZipper, "that are clearly a market trend" states Pedro. Otis have "brown, grey and blue with both L.I.T technology", polarized and classic, Spektrum focus on "personal favourites brown, green and smoke" and Brunotti concentrate on "brown and grey lenses for the optimal view."
FRAME COLOURS
"Unlike previous years where coloured frames have dominated, this year we have moved to a more subtle colour approach," says Dirty Dog Operations Manager Tom Lazarus. Carve opt for "rich and earthy with a touch of the industrial" from Gold to Gunmetal, Zeal use triple injection "to allow for more subtle colour details" and Raen highlight "tasteful and unique acetate colour combinations".
The trend for matte finish from previous years continues, with Matte Rose from Raen, combinations of Reds and Burgundy and Sea-Glass from Otis and a fade colour story from Spy, with "a soft matte black finish that fades into a pop of colour on the temple tips," explains Keith Asher, Senior Product Designer. Melon feature solid and frosted matte next to transparent gloss.
Translucent frames are emerging as a new trend of their own, combined with matte from Zeal, "beautiful and bold" as Garnet, Seaweed, and Slate from Spy, "see-through temples to show off custom core wires" from Dragon or "partly see through patterns" in Jade and Rose from Raen. Brunotti feature a full glass frame and Raen combine tortoise with new crystal colours. "Blacks and Torts still rule the preferences of the consumers," says Pedro from VonZipper, hence we can still see a lot of variations of this pattern.
For a bolder look, Dragon's surfboard resin inspired collection or their collaboration with the Asymbol gallery look really impressive. Horsefeathers feature "exclusive prints such as Havana, Cheetah, Strawberry, or Zebra", Quiksilver implement patterns from the boardshorts and tees, while Roxy tie with the Pop Surf collection.
SHAPES
"Anything goes regarding shape – we see large square, small round and anything in between" says Christian Grund from Raen. Dirty Dog find that "square-consumers are now developing towards round and oval," and Dragon also see a "tendency toward rounder, more unisex shapes." This includes "Lennon" style Round sunglasses with modern materials from Horsefeathers, vintage rounds with key hole from Quiksilver and combos with "double bars and metal accents" from Proof.
"Shields are a growing trend" for Oakley, that offer "better comfort and protection" according to Quiksilver and POC agree that "larger lenses and frames, which offer an exceptional field of view, are clearly a focus." Melon feature "customisable semi-wraps" and Spy redesigned their iconic Tron 2, for "unprecedented vision with a huge shield." Yet "Wayfarer shapes are timeless" too, argues Oakley with their Frogskins® Lite line, as are Aviators, which Quiksilver make their version "more square".
Carve reinvent the classical with "new shapes drawn from retro influences", Otis bring new energy in stem and bridge designs of 50's-inspired frames and Ovan also believe that "traditional frame styles will continue being popular, but metal / acetate combo frames and more aggressive wire frames keep getting more popular." Spy also find that "classic silhouettes are really inspiring all aspects of eyewear. You are seeing softer shapes of frames and lenses, along with thinner temples for a more sophisticated look."
PRESCRIPTION
Sophisticated is one of the key words for prescription glasses, that need to be "light weight with comfortable fits so they can be worn easily all day," as Epokhe explains. "Optical frames are trending thinner, and we've seen our aluminium collection do really well" adds Proof, who also introduce a new, sleek Wood Rx frame.
Quiksilver and Roxy focus on vintage metal frames and a mix with acetate, Raen feature metal in their prescription range for the first time and Otis launch their first optical collection in 2018, with "hand-made Japanese frames in classic acetate styles, mixed materials and titanium wires. In prescription collections, we see amazing combinations and evolutions of classic design with innovative details, stems and colours."
At the same time, people are "becoming more comfortable with wearing an optical frame that is a little more 'out there'" says Epokhe, and Spy agree that "larger plastic frames are everywhere," arguing that "eyewear is meant to be shown off", offering bold styles with a lightweight frame. VonZipper also feature "strong bulky models, to mixed combos of classic acetate and metal frames," as well as a classic reinvented cat eye model frame for women.
Oakley's main focus is "to solve the problem of frames not fitting all face shapes; the result was the development of TruBridge™ Technology" and Raen also state a focus on fit and sizes.