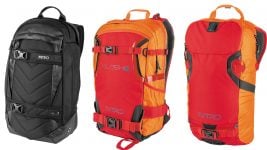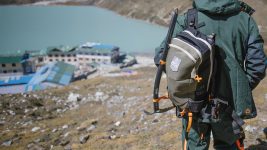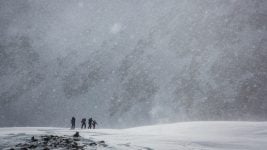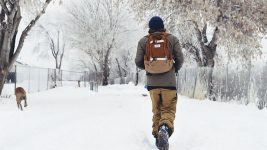 Next year's performance backpacks combine advanced technology with urban styling, supported by rider-approved performance. It's all in our 18/19 Technical Snow Backpacks Retail Buyer's Guide by Dirk Vogel.
Trusted companions on backcountry and park missions, technical snow backpacks have grown by leaps and bounds over the past 20 years. Looking back, the Dakine Heli series created the blueprint for things to come. "It made snowboarding history by opening the minimal technical backpack category with the creation of the Heli Pack in 1996. The Heli family has grown a lot since then," said PJ Rueda, Sports Marketing and Communication at Dakine.
Today, the level of tech and performance offered by core backpack brands is at an all-time high while the category continues to expand its appeal. "Technical backpacks have always been for the hardcore backcountry riders, but we're finding that weekenders and less hardcore segments are moving away from repurposing their 'every day' or hiking packs for snow, and finding the advantages that a dedicated snow pack can give you," said Tom Howells, Head of Design at Amplifi. "Customers demand comfort and lightness without compromise on safety access," said Julien Durant, Co-founder at Picture Organic Clothing.
With that said, customer expectations regarding price points can be unrealistic at times. "Where it's absolutely no problem to pay €600 or €700 for a technical jacket, a backpack for more than €300 is very difficult to sell although the production effort and costs are almost the same," said Holger Feist, CEO at EVOC. In order to justify higher price points, retailers need to communicate the benefits of performance-built, certified backpacks. Brands featured in this Buyer's Guide are ready to help with POS materials as well as online media.
PRICE POINTS & MARKET
The action in technical snow backpacks currently revolves around a pricing sweet spot between €140 and €180. Most brands have segmented their lines by applications – mainly freeride, touring, light packs and avalanche – as well as technical features. As a result, one single brand may offer packs from €60 to €300, with tech such as avalanche and back protection slanted towards the middle of the pricing spectrum. But going into 2018, more and more brands otherwise known for high-to-mid priced products will launch budget-friendly options, including Amplifi: "We will offer a new entry level model not sacrificing the material selection and hardware."
SEASON TREND: POD-SHAPED PACKS
Next season's packs are abandoning exterior pockets and straps for a streamlined aesthetic also seen in lifestyle packs. "Top riders demand a cutting edge feature set in a clean, modern package. Our new DSCNT series packs represent that trend. We've matched all the important features of a backcountry snow pack with the look of a lifestyle pack," said Seth Lightcap, Global Marketing Director at Jones. Holger at EVOC calls it "Urban Outdoor" while pointing out, "the packs need to speak a certain design language that ideally strengthens the self-perception of the customer – even if they don't actually use the pack in the mountains." Look for the pod-shaped, clamshell look in 2018 packs of all sizes, from light day packs to 55L avalanche packs.
TECH & FEATURES
Next season's packs boast technology such as lightweight back protection (for instance EVOC Liteshield, Nitro KOROYD® EOP1.0 or Sas-Tec protectors in Amplifi's collection), hydration channels in shoulder straps, board and ski carry, dry gear pockets, air flow systems, and weight-distribution. Andi Aurhammer, International Marketing at NITRO is also proud of their, "size-adjustable back panel system to custom fit the bag for everybody from 1.6m-2.1m tall." Brands such as Dakine offer specific women's versions of their packs, while the majority of manufacturers is backing their products with CE and TÜV/GS certification. Airbags are also becoming a standard feature, with a notable trend towards detachable airbag systems, including Dakine's top-access Airbag 3.0 and EVOC's collaboration with ABS.
COLOURS & MATERIALS
The urban aesthetic sees colorways trending towards more neutral hues such as black, olive, grey, and navy. As PJ Rueda at Dakine said: "Snowboarders do not want to look like mountain climbers! Colours are simple and bold, and match outerwear." Materials include heavy-duty rip stop, HD foams, PVC-free materials, and strategically placed reinforcements. Amplifi is stoked on a "new technical fabric that has a more urban denim-y look," which echoes next season's trends towards tech materials with bleached and natural finishes. Picture Organic is using "an ergonomic thermo foam back zone which adapt its shape to your back" and "recycled Polyester 600D which has a high resistance against abrasion and which is very sustainable."
HOT TREND: LIGHT PACKS
All 2018 collections include versatile day packs, light in terms of weight but big on technical performance. Standouts include Dakine's 14L "Poacher" (18L with RAS), Patagonia's 18L "Linked", Nitro's 14L "Rover", and EVOC's body-hugging 18L "Line" series. Seth at Jones is stoked on the DSCNT 19L, "a side-country and quick tour pack that's the perfect size for the bare essentials – avalanche tools, water, snacks and a layer."