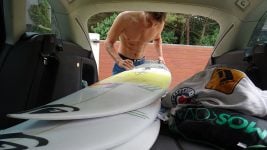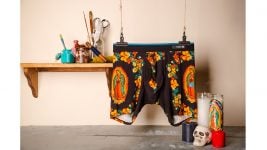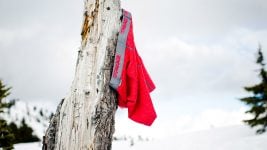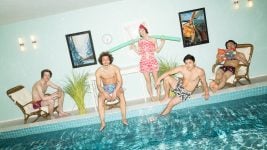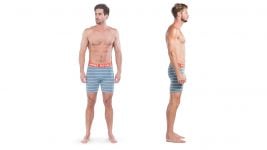 Boxers or briefs? Cotton or wool? Nut-hugging or free-balling? Men have lots of choices in boardsports-specific underwear – and the party's just getting started. Our first-ever trend report in this emerging category presents key products and commentary from leading brands. Report by Boardsport SOURCE skateboarding editor Dirk Vogel.
Anyone who's ever done the splits on a handrail knows that boardsports can deal some painful hits below the belt. Especially for men. But although it makes sense to shield the family jewels in some kind of functional men's underwear – or at least address unpleasantness such as chaffing or moisture – the category has not exactly been a hotbed of innovation. At least until now.
While socks have already proven strong performers, a new wave of boardsports-specific undergarments may be the next big thing in soft goods. "There's a trend for niche category, mono-product brands in action sports, and underwear and socks has become one of them. Moskova saw that niche seven years ago and many brands have followed, some of them very successfully," said Juan Gonzalez-Vega, CEO and Co-Founder of Moskova Underwear.
"In boardsports, individuality is a key driving force of the cultural development. Underwear or technical layering should reflect this in a similar way as outerwear. At Pally'Hi, the mix of functional fabrics and streetwear-inspired aesthetics makes for a very individual style with superior comfort," said Johannes Ritter at merino wool specialists Pally'Hi.
Blending rider-approved stylistics with advanced materials and next-level tech – all the way to built-in harnesses – this new generation of underpants is built for action. And that includes sales action, if retailers play their cards right. "Retailers have to understand that they can make easy money with underwear. It's a small product, easy to sell because the customer knows his size. Everybody wears underwear, so you can touch everybody!" said Emmanuel Loheac, who founded category starters Pull-in underwear 17 years ago.
PRICING & MARKET
How much are customers willing to shell out for a pair of underwear at board stores these days? The main price window for fun-oriented boxer shorts with cool graphics is €14.99 to €29.99. Bawbags carved out a niche by offering fun graphics and performance materials at £10 and £15. Shorts with advanced materials such as polyamide, fabric blends, and compression sell between €29.99 to €39.99. Premium materials such as merino wool – offering natural antibacterial and moisture-wicking properties – elevate prices up to €59.99.
"There remains a significant price difference between premium merino underwear and lower wool quantity 'merino' developed to hit a price. That also reflects in the quality of manufacturing and design," said Richard Birkby, Head of Brand and Marketing at Mons Royale. Then again, how quality-conscious are boardsports customers – especially when a pair of boxers costs more than a set of trucks? "Men are starting to notice that high quality underwear is a game changer and are willing to spend more for a pair that makes them look and feel confident," said Adam Chuntz, Director of Integrated Marketing at MyPakage Apparel.
CUTS & CONSTRUCTIONS
Never will a style-conscious boarder be caught wearing generic, close-cropped briefs, also known as "tighty whities" (unless Supreme starts making them). The most popular cuts fall into three categories: boxer shorts, boxer briefs, and – especially for snowboarders – leggings. Boxers are the go-to staple for guys, and comfort is key. "Our Lousy Livin Boxershort is a classic boxer short fit with a design front label and a hidden button. Beside this fit, we have a boxer short trunk with an elastic design waistband," said Pitt Feil, Co-founder at Lousy Livin, the graphics-driven underwear company established in 2012 out of Cleptomanicx clothing in Hamburg.
Boxers offer great flexibility but lack support around the "package" (more on that later). Enter boxer briefs, which strike a compromise between close fit, anatomical support and range of motion. "Our Master Fit is our best seller. It's a fitted boxer brief in lycra fabric, with a Pull-in branded waistband, printed in France and carefully assembled in Portugal," said Emmanuel at Pull-in. "We have our cuts pretty well-honed with our boxer-brief style and we will be introducing one new style this year with a slightly longer cut in the leg," said Robbie Kerr-Dineen, Designer at UK-based Bawbags, who put their money behind a good cause by supporting male cancer charities such as Orchid.
Longer cuts are trending in snow or surf – some conditions call for full leg coverage – which is where leggings come in. As Richard at Mons Royale explains: "Our SS17 range of leggings for guys include a regular full length long john and a three-quarter leg version that's popular with people who don't like their legging inside their boot or rolled up above it." SAXX offers the full spectrum from boxer briefs to longer styles built for performance. "Taking our best selling fit and added length for comfort and coverage, the Vibe and Fuse Long Leg [leggings] are slim-fitting for smooth layering," said Julia Reis, Marketing Manager at SAXX.
Several brands, including Pally'Hi, Bawbags, Mons Royale, and MyPakage also offer undershirts with functional aspects to bring comfort and performance full-circle. Richard at Mons Royale pointed out cross-selling opportunities: "We also see great success in pairing performance underwear with high end technical outerwear. After all, there's little point in a 'breathable' jacket that isn't able to function because the underwear beneath isn't functional!"
MATERIALS & STYLE
When it comes to materials, purists keep it classic. "Our main material is 100% cotton to provide a perfect fit and feeling. It's also a perfect surface for our design prints," said Stefan Marx, Co-Founder and Designer at Lousy Livin. At Pull-in, Emmanuel Loheac mainly relies on a blend of polyester and elastane lycra, while all their cotton is organic. The team at Supernatural addresses the needs of winter sports with "a unique fibre mixture which combines benefits of merino wool and polyester." SAXX is big on material innovations, including 90% nylon / 10% Spandex in the Kinetic and 77% Nylon / 14% Spandex / 9% Polyester in the Quest 2.0 range. Materials at Stance include Poly Blend, Combed Cotton and premium Butter Blend material, which "nourishes the skin, is odour resistant and luxuriously soft," said Nathan Hill at Stance. Nathan continued: "Our key features include a core flex waistband and a feather-seam panel construction that eliminates stitch irritation, both of which are incorporated across the whole line. We also offer models with a wholester (our internal support pouch)," more about this later. And Bawbags keeps 'em dry by implementing Thermal Wicking Active Technology (TWAT) fabric.
Adam at MyPakage implements tech such as MyDry and MyModal for moisture-wicking and breathability, and also likes the properties of the season's hottest material trend: Merino! "It is naturally temperature regulating, odour resistant, naturally anti-microbial and moisture-wicking." Pally Hi uses, "super fine 16.5 micron Merino wool is the back bone of the range. Bamboo is the second major ingredient. The low impact on the environment growing bamboo and the silky touch of fabrics containing bamboo made us choose this material." Mons Royale innovates with Merino Air-Con. "We've focused on the climate control capability that merino offers the wearer in all conditions. It's not about being warm or cool, but about being able to maintain a comfortable temperature to allow you to perform."
In stylistic terms, performance brands pursue an understated style, blending visible logo placement on the waistband – a look pioneered by Calvin Klein and Mark Wahlberg – with muted colours such as black, navy, and darker greys plus the occasional splash of neon for colour pop. Design-driven brands such as Lousy Livin turn up the volume with bold flamingo prints and street-inspired graphics, while MyPakage features abstract patterns, camo and plaids. Moskova's SS17 collection includes a cool woods camo and vector graphics, Bawbags has cool rooster and cactus prints, while SAXX draws on surf inspirations with ocean waves and pineapple patterns. Pally'Hi sees great success with melange fabrics and natural colours, while "being able to realize digital prints on merino wool fabrics made Pally'Hi offer photorealistic graphics."
PERFORMANCE & INNOVATION
Next-level underwear tech addresses issues such as ventilation, moisture, and anatomical support. "Our performance products are designed for high-output activities that feature anti-microbial, moisture wicking technology. From merino wool tights when you're riding the mountain, to ultra-breathable micro-mesh boxer briefs when you're ripping waves, we've got you covered," said Julia at SAXX.
Most brands featured in this report sponsor athlete teams in boardsports and Juan Gonzalez-Vega at Moskova explains one team-inspired innovation: "Moskova believes that a multi-panel construction offers better support and using different technical fabrics within those panels gives flexibility where it's needed. Our polyamide horizontal back panel gives that extra stretch that keeps your underwear up, never showing your 'crack' when leaning down." Meanwhile, Richard at Mons Royale points out: "Our boxer short is longer to give good coverage under winter outerwear. It also has a reinforced gusset for support – useful on big landings!"
Speaking of big landings, this is where boxers, in all their free-balling glory, offer zero support. Brands such as SAXX, Stance, Bawbags, MyPakage, and others solve the problem with sewn-in pouch compartments, cradling a man's best friend ever so snugly. "Our Keyhole Comfort Technology keeps your 'Pakage' supported and contained so that you can pursue all of your athletic endeavours comfortably and confidently," said Adam at MyPakage. Stance offers the Wholester internal support pouch, while Bawbags implements the Bamboo Baw Pouch and SAXX relies on BallPark Pouch construction, "a 3D hammock-shaped pouch [that] keeps everything in place." Performance brands also offer concealed stitching or seamless construction to avoid chafing, which as we all know, is just a pain in the rear.