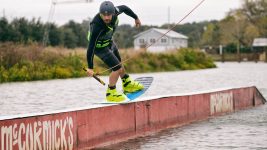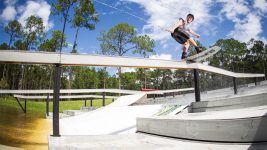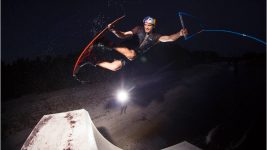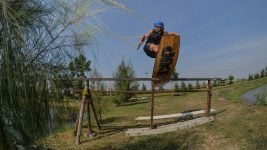 The wake market can be split into a few different categories, each with their own product requirements and demands and brands are seeing similar growth trends: wake park products are on the up, boat and cross over declining, wakesurfing is becoming very important and wakeskate is pretty stagnant. A report by Tim Woodhead.
The increase in the wake park market is predominantly down to the huge growth in new wake parks opening and traditional cable ski tows being transformed into wake parks. Ten years ago the wake park category was almost non-existent in terms of specific product designed for riding at wake parks. Mystic are a brand heavily involved in the sport and note: "The growth in wake park riding continues to amaze us. We're expecting a bright future for this discipline in wakeboarding with so many levels of growth."
Wakesurfing growth is down to the fact it's mega fun, user friendly and doesn't require perfect weather conditions. This market is awesome for the older demographic who can afford to buy a boat and hence have no issues spending top dollar on wakesurf equipment, to the point where many users now have a quiver of wakesurfs.
There is a shift away from the crossover board, as Ronix mentions: "We have to look at boat riding and cable riding as two entirely separate worlds. There is no such thing as a boat board that will suit the needs of a cable rider, so for 2018 we have a clear distinction between both."
There is one noticeable trend in 2017, which is definitely going to carry into 2018 and onwards. People are starting to ride considerably bigger boards and all the bestselling products in 2017 have been the XL sizes. Slingshot first entered this large board category a few years ago with their Nomad board and they reckon, "the longboard category has grown exponentially in the past few seasons amongst all silos of the sport. Cable, boat, and crossover. We are seeing riders of all ages and sizes re-think the length of their board and size up at least one level if not more." One of Liquid Force's most popular boards has been the Daniel Grant Eclipse, which starts at size 151cm, much bigger than the average of 145cm for the 2016 season.
Wakeboarding often takes its lead from other boardsports and over the last couple of years riders' stance width has become narrower. This is especially true with the younger generation of park riders.
BOARDS
Wakeboards are currently seeing notable changes in size and shape rather than material and construction. Most brands have now adapted to the damage equipment sees at wake parks. Pretty much everybody is using sidewall protection to help with dings and damage boards see to their edges as well as some kind of additional base protection. Hyperlite notice, "construction materials are always being updated to provide the most durable park boards. From sintered bases to urethane or ABS sidewalls we ensure Hyperlite boards will last and withstand the beating they endure at a park."
The key advantage of the ABS sidewalls is explained by Jobe: "With all the abuse that the consumers gear is taking, it's always tough to find a board that can withstand it all. To combat this, we use an ABS sidewall, which can take a serious beating on obstacles. This is key for a board so it doesn't just split open and delaminate."
O'Brien use an impact resistant urethane for their sidewalls and a high density polyethylene to create what they call a High Impact Base. Slingshot also make use of the urethane sidewalls: "11 of the 12 models in our line-up feature the Ballistic base built specifically for park riding, all models feature Slingshot Fusion Sidewalls made from high durametre urethane to protect the core."
Ronix have used their edge protection to also increase the speed of the board: "In 2017 Speedwalls were well received, focusing on giving the rider more top water speed by a vertical sidewall. We continued adding this to new shapes for 2018 and will stay a viable technology piece, also adding to durability for the sidewall, giving the board a durable bumper along the whole edge of the board."
With plenty of snowboard technology already in wakeboarding, some companies make good use of this, like Goodboards: "We use the same sintered base as we do on our snowboards. This gives our customers the ability to correct any damage themselves with a repair stick." 
The flex in a wakepark board is certainly an interesting point, most brands are well aware that you can no longer just add some flex to a board and call it a wake park model. Riders are after certain types of flex, for example how much it snaps back, where the board flexes etc. DUP Wakeboards say: "Boards will continue to get longer, stance options narrower. Varying flex patterns are trending. No longer do people just want more flex, consumers are now demanding a variety of different flex options."
Ronix have developed their FlexBox tech, allowing them to control where in the board the flex is and how responsive the flex is, especially in terms of how much the flex snaps back, which helps make the board more responsive for pop off the water, off rails and to hold a press.
Both O'Brien and Humanoid are using Paulownia Wood cores, which they say significantly increases flex and durability. Humanoid state: "We reduced the amount of glue lines and wood plies built into each wood core and the result is pretty drastic in terms of performance compared to a traditional foam core wakeboard."
Whilst the majority of wakepark boards aim for flex variations it is the opposite in the boat market and CWB have some interesting tech to maintain rigidity in their Mike Dowdy pro model: "We use Carbon Torsion Tech, which is a carbon tow in the shape of an "X" under each boot. This helps the board maintain rigidity while edging up a wake."
So wakeboards are seeing longermodels, narrower stances, tweaks on construction to improve durability and a lot of work going into flex patterns to make sure all rider styles have a product to match. When making your pre-order it's so important to make sure you cover all flex patterns to ensure you meet the demands of all rider types and style.
BOOTS
All brands have pretty unique features and selling points for their boots and there's a big choice of quality product for buyers to look at. Key buying decisions have to start with how many of your customers want removable liners or boot / binding combos, get this wrong and you could be left with a ton of product.
Hyperlite have been super strong in the boot / binding combo and have a new development to improve their boots for 2018: "We call it the Fusion Plate System and it's featured on our new RIOT Boot and the updated Team X Boot. Essentially we have figured out how to take true footwear with an insole, midsole and outsole and pair with a traditional plate."
The likes of Slingshot, Liquid Force and DUP use a removable liner, rather than the full boot being removed. DUP state: "For 2017 the Heritage boot was our number one seller. The heritage boot was adopted by most of the team this year, and when we see that happen, we know it's going to flow through the retailers and consumers too. Removable boot liners, lace up shell and a classic look." The Slingshot Shredtown and Liquid Force Trek 3D both utilise removable liners. This means riders can wear their liner to walk around the wake park and slide into the boot outer when on the start dock.
Slingshot made some pretty major changes to their boots and boot attachments for 2017 and will continue to develop this in 2018. The gummy strap was well received in many shops and a great progression from Velcro straps. Their new K9 mounting system helped eliminate heel lift and maintain the true flex of the board. One of the key reasons Slingshot changed their mounting system was in regards to aiding the flex and feel of the wakeboard. In the past a wakeboard had a certain level of flex, but once the boots are attached to the board the flex stats can change completely.
Ronix have long used intuition liners to give heat mouldable custom fit boots and in 2018 they will continue to improve the custom fit their boots give: "We wanted to change the status-quo by creating our heel and toe panels in 3D. We are able to injection mould the toe box and heel counter to the exact shape of the rider's foot, creating an absolute perfect fit with minimal room for error."
HELMETS
At pretty much every wake park it's a rule that all users have to wear helmets and this has helped to create a whole new market for the wakeboard industry. Buying a helmet is relatively inexpensive and is often one of the first purchases that new people to the sport make. We are seeing wakeboard companies like Mystic and Liquid Force create their own headwear ranges and well established protection brands like Triple Eight, Sandbox and Bern are entering into the market.
Bern say: "It's mandatory to wear lids at most parks now, and more relevant within wake than many other watersports is the importance of self-image. Regardless of whether your starting out or stomping huge airs, participants quickly realise that if they don't look the part, they're not in the gang. Rightly or wrongly, this is how it is."
Helmet sales are becoming a key retail sector for the wake industry and people are not afraid to spend money on a decent lid. Bern acknowledges that wake represents a huge opportunity and focus their design on providing solutions for the sport. This includes combining the foam to make sure any water drains away in an instant. Bern utilise a three shell size system, which gives people more options and the ability to all have a low profile fitting helmet.
Sandbox have also come heavily into the wake market and done well, especially with their unique colours and prints, which are totally bespoke to Sandbox and impress on the shop floor. Apart from increasing the prints on the helmets, they are producing stronger Velcro and more durable fit pads, which will improve how their helmets work in the water environment.
Triple Eight are selling their own range of wake helmets and also producing all of the Liquid Force helmets and their key design feature for the wake industry is the use of their Sweatsaver Halo Water Liner. They have managed to incorporate the comfort of their sweatsaver liner into a CE Certified water helmet. Triple Eight have two models for wake and Liquid Force are using this technology in their Hero, Recon, Flash, Fooshee and Nico models. The result is a very comfy and lightweight design.
The helmet market, especially in terms of aesthetics can be fickle and a colourway or pattern can quickly fall out of favour and sit in your stock room. Triple Eight combat this by "keeping our line simple and clean for retailers with a couple of key colours and great finishes in each style, rather than heavy graphics that can quickly fall out of favour."
All wake parks have to invest in a range of hire helmets and Sandbox have invested some R&D into this, with their Park Property Rental helmet: "No other brand is making a cool looking park specific rental helmet. We've been able to lower the cost on this unit while taking nothing away from the quality, look and performance of the helmet'."
DESIGNS & PRO MODELS
Wakeboard brands give a varying amount of freedom to their pro riders when it comes to board design and aesthetics. Key importance to DUP is that they maintain a common aesthetic on all boards to make sure there is some consistency in the branding. Their brand new ATLAS by Lior Sofer is a whole new shape, flex and rocker for DUP. They are very excited about its flex and edge hold, Lior is a rider that does everything at a wake park and that is the market this is aimed at (rails, kickers, air tricks!).
Slingshot continue to gain lots of input from their team: 'Team rider Wes Jacobsen has designed several models again this season: The Coalition, The Shredtown, The Super Grom, and the Windsor." The Terrain has been a great seller for Slingshot in recent years and for 2018 they added carbon through its belly and is endorsed by Arron Gunn who dominated every wake park contest he entered in 2017.
Hyperlite are seeing less and less impact from names on products and their best sellers usually come from the team inspired boards. Apart from the HashTag which is the Nick Davies pro model and has a brand new shape and construction for 2018, with graphics that suit Nick's fun and crazy style.
Ronix are continuing to push the techniques used for graphic application, they love nothing more than unique textured materials, scented scratch and sniff inks, glow in the dark inks and many more. Liquid Force believe their Peak will continue to be very popular in the wake park market and they give total freedom to Nico Von Lerchenfled for the graphics on his pro board.
CONCLUSION
The key trends in terms of category growth are a decline in the crossover board market, brands are concentrating less and less on making equipment that can work at a wake park as well as behind a boat and instead are powering all their resources into making top equipment for each specific target group. All equipment for the wake park is on the rise, wakesurfing is growing at a decent rate, wakeboards for boats are stagnant or in decline and wakeskating is remaining small and with practically zero growth.
Helmets are becoming a great sector for shops and brands are investing in R&D for wakeboard headwear protection. A big mover in the boots and bindings design is the way in which they mount to boards with brands really trying to remove any heel lift and maintain the true flex of the board.