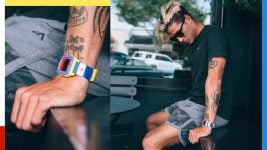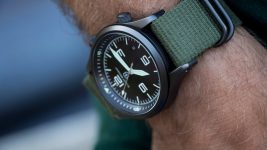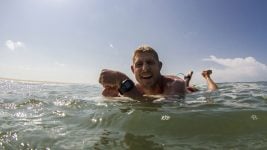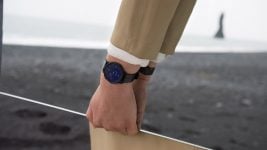 Have you been keeping up with the latest boardsports-specific timepieces? The category is moving forward like clockwork with technical innovations and fashionable styling. Time for our Watches 2018 Retail Buyer's Guide by Dirk Vogel.
Looking back in time, watches have not always been a logical choice in boardsports. Flip through magazines from the 1970s and early 1980s, and you'll be hard-pressed to find riders wearing watches. First of all, that's because watches back then could not deliver the type of waterproofing and impact protection our athletes require. And second, watches were not really a great fit for the boardsports vibe. Actually, not wearing was considered cool as it signalled, "I'm on my own time, bro."
Fast-forward to today and watches have not only become indestructible multitasking devices that predict the tides and track your ride via GPS while connecting to your smartphone. They have also become cool accessories. "Now watches are more like fashion pieces than functional devices. It's not just about telling time anymore, it's about capturing an aesthetic and bringing customers innovative design features," said Anton Janssens, Managing Director & Co-Founder of Komono. What's working in favour of endemic brands is that boardsports culture has proven its staying power. "Nixon's roots are action sports. We purpose-build product designed and engineered for the boardsports community and that point of view has continued to stay relevant in conjunction with faster fashion trends," said Angélique Couéraud, Nixon's EMEA Senior Manager, Communication & Advertising.
Our brands are also actively reaching out to wider audiences these days. G-SHOCK's current "No Comply" campaign in the run-up to the brand's 35th brand anniversary connects the worlds of hip-hop and skateboarding in videos featuring grime artist, novelist and London-based skateboard icons Lucien Clarke and Benny Fairfax. "Our G-SHOCK product DNA is pretty unique. We are proud to offer our customers an unbreakable watch!" said Christian Dittrich, Junior Key Account Manager for G-SHOCK watches at Casio. The latter point is what it all boils down to next season, as customers value durability above technical functionality. "Personally I don't know a surfer who really cares how many waves they caught, how fast they went or what distance they paddled. We ride because it gets us stoked and we make watches that will tell the time and take a beating no matter how harsh the conditions," said Ian Elliot, co-founder of UK-based brand Elliot Brown Watches.
PRICE POINTS & MARKET
Consumers can find boardsports-themed watches starting at €25 these days, but the main price windows break down as follows: Around €49 for fun, lifestyle-driven watches; between €55–100 for entry level performance; then a hot window around €149 for substantial performance and elevated style; all the way to a premium segment above €200 that goes as far as €550 for select models. Please keep in mind that these prices are for men. Xavier Faucher, Global Product Manager of Roxy Watches, breaks down the women's: "For girl watches, the sweet spot is below €100 and even below €80 for a basic time function. It's hard to go above €100 without details or any technology. Over €100, we propose full stainless steel products with multifunction or chrono movement, or Italian leather bands, and strass accents."
From a market perspective, here are three interesting initiatives: First of all, Freestyle, makers of the original surf watch since 1981, "will be introducing new product and marketing stories every month. We are moving away from the traditional seasonal newness introductions in favour for new product excitement all year long," said Marty Pomphrey, Freestyle's Global Sales And Marketing Director. G-SHOCK is supporting brick-and-mortar retailers, explained Christian Dittrich: "We are segmenting our watches in the categories Basic, Style and Limited. So if customers want to sell watches out of the Style segment, we enter a selective distribution agreement with rights and duties for both parties. This SDA policy helps to support stationary retailers. Customers who have only an online shop and no retail store get only access to our Basic assortment." And third, Nixon is keeping it core by selling Nixon tide watches at specialty surf shops and limited edition 1980s and 1990s-themed artwork pieces exclusively at skate shops.
SEASON TREND: BIG WATCHES
Next season's trending watch is not only big on style, but also big in format. At a time when massive logos are re-trending in fashion, watches are switching gear from subtle to loud with a number of generous statement pieces in 2018 watches collections. Quiksilver has created the Timebox model that sums up the formula for large watches with generous accents: "Featuring a 48mm wide stainless steel case, a hardened scratch resistant mineral crystal with anti-reflective coating and a screw down case back for a 100m water resistance. The case is fitted with either a stainless steel bracelet with a locking deployment buckle or with either an Italian leather band," Xavier Faucher, Global Product Manager of Quiksilver Watches. Komono also does it big with the Magnus II watch as part of the newly launched Metropolis collection, while Nixon introduces the Regulus, and G-SHOCK pairs digital tech and watch dials with the GA 700 model.
3 TYPES OF WATCHES FOR 2018
Fun and fashion-driven. Often available at entry-level price points, these watches march to their own stylistic drummer – even bucking the main season trend. Among fashion-driven watches, "the major trend to stand out is about slim and minimalist watches," said Rip Curl's Dylan Andre while pointing out the Cambridge for men and the Super Slim for girls while explaining: "The main difficulty making a slim watch is the waterproofness." Colour pops are also a major criterion in this category, together with fun patterns and styles like the Rasta-themed edition of Freestyle's Shark model. "We are seeing significant growth in the modern interpretation of 80s colour palettes and patterns," said Marty at Freestyle, whose Shark collection is segmented by strap into Classic (silicone), Leash (Velcro closure), and Clip (nylon with locking clip attachment). At Quiksilver, the Diamond logo on the strap is more than just a gimmick: "The Diamond deluxe pattern inside our silicone straps lets the air go in between the strap and your skin. It improves comfort and helps avoid sweating and prevents bad odours."
Technical performance. Watches in this category have to keep up with whatever punishment the next session may bring, whether it's surf, skate, snow and anything else. This performance aspect led G-SHOCK to formulate the Triple 10 approach almost 35 years ago: Watches had to endure drops from 10 meters, resist 10 bars of water pressure and offer 10 years of battery life. Nixon caters specifically to surfers with the Base Tide Pro, offering "durability, water resistance and long battery life at an affordable price. All of which endorsed by a world class team of artists and athletes." Ultra-technical performance models for 2018 include Rip Curl's SearchGPS or the Nixon Mission model with tide and GPS functionality plus support via custom apps. Most interestingly, next season sees an influx of performance watches that are analogue – not digital – but still offer functions like Komono's Walther Retrograde Monday-Sunday index system. But tech or no tech – rugged performance is still key. "Triple seals, shock protected Swiss movements, marine grade stainless, solid strap bars, toughened sapphire or mineral crystal. It's why we've been approached by British special forces to develop their issue watches," said Ian at Elliot Brown Watches. For CHPO, their key tech piece is "the Nuno; our most technically advanced watch so far. 316L Brushed stainless steel. Japanese movement, hardened mineral glass and10 ATM means this is ideal for surfing with, while the icing on the cake is that the crown on the left side instead of the right, so when you push up on your surfboard or beach towel the crown doesn't stab into your hand."
Elevated timepieces. These top-shelf watches look great with an evening suit, but can also hold their own when worn with a wet suit. Next season's standout premium models include the Nixon Porter Leather, G-SHOCK's golden GA 710GB, Quiksilver's Timebox, Rip Curl's Drake, Elliot Brown's Bloxworth 929-012-R01 for £525(!), the Komono Magnus II and Harlow in pink slate, as well as the Roxy Avenue model for women. "It features a stainless steel case with hardened scratch-resistant mineral crystal and comes in two different options. A stainless steel band with a locking deployment buckle or an Italian leather band." Speaking of bands, Komono has expanded their cognac leather and gold effect mesh strap ranges and "introduced a line of leather straps: now any KOMONO watch is customizable for under €40." Christian at G-SHOCK puts a finger on a season trend: "Big cases and decent or really creative designs are still in demand. Also watches with a cordura and Nato wristband are popular." Colours in this segment remain in dark, understated territory – either brushed metal or black coating – plus a notable trend towards navy blue and dark brown watch faces paired with white, nautical style lettering and symbols.
HOT TREND: NEON RUBBER
Time for one more thing? Watch out for an influx of neon rubber models in 2018 watches collections. "Neon rubber has been huge for us – accessorizing with existing lines and adding a fun factor for wearers," said Ian Elliot, Co-Founder of UK-based brand Elliot Brown Watches, who have also just launched their first women's line, called Kimmeridge. Colourful rubber also creates an interesting aesthetic when paired with metal accents, for instance in the Rip Curl Aurora model or Freestyle's Shark Classic line that signal a building trend. But then again, who cares about what's trendy, said Komono's Anton Janssens: "Trends are followed or chased. I want our design team to look past things like that, and make stylish, adaptable objects. Things that you can wear to work, to the skate park, to a festival. Style isn't a trend, you have it or you don't!"