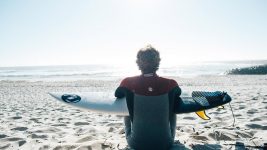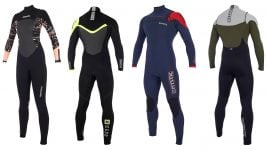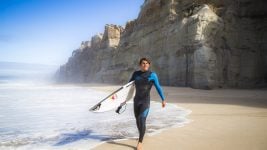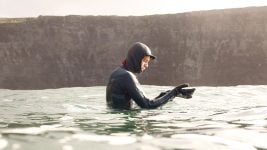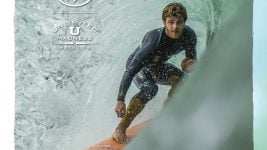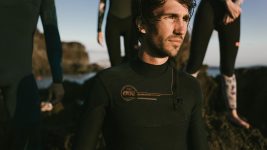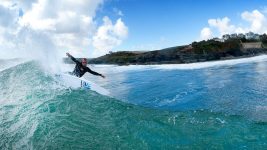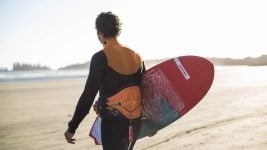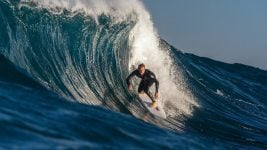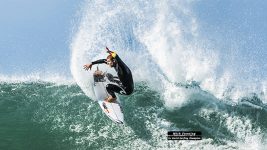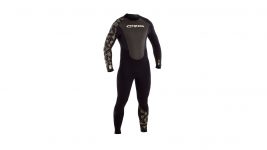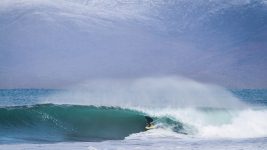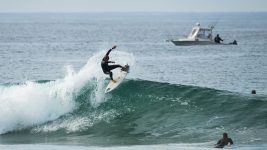 When it comes time to take on the coldest of winter weather, no one is ready to make compromises on the product they buy. In the water, only the highest end neoprene is acceptable to surfers who dare take on the frigid temperatures of the coldest season of the year with blind faith in their choice of gear. Thermal linings, extra stretch, comfort, quick drying… When it's cold, entry-level wetsuits are of no interest to anyone. Besides, who wouldn't exchange a few extra euros for a few extra degrees of warmth? This is an update on all things neoprene in the European market place for 2019 by Denis Houillé.
A MARKETPLACE WITHOUT REPROACH
Cold, even glacial water temperatures don't scare anyone in Europe anymore. The number of surfers in the water, even in the hardest to reach areas is constantly increasing. On weekdays, outside of school holidays, morning, noon and night, surfing is adapting to all schedules just as neoprene is to all climates… as long as the waves are good. The desire to explore new surf frontiers is getting to the point that even products that are meant for winter use only are being used in the middle of summer to access cold water destinations. Julien Durant at Picture agrees: "Cold water surfing is pure outdoor / exploring surf, and we really feel that this trend is the future of surfing, even in summer."
The precious knowledge shared by the specialised brands, their agents and shop owners has rapidly spread to consumers who are now extremely well informed as to which models and accessories they need depending on water temperatures. Not only does word of mouth work, it's a determining factor in different areas and spots where surfers swear by one brand or another.
In the shops, the general feeling is that surfers buy a new winter wetsuit once every two years on average, and market growth doesn't seem to be slowing down, quite the contrary. "There are more surfers in the water than ever before and at the same time, there is more competition in the market than ever before", admits C-Skins founder Mark Brown. All the manufacturers try very hard to deliver customers the highest quality and performance possible in terms of warmth, comfort and durability. Nonetheless, for the last few years, prices have remained stable, which is a sign of wellbeing in a market that has made the promise never to sacrifice quality for profit margin. At Typhoon wetsuits, Samantha Leonard has observed a polarisation of the market divided along quality standards, with premium products whose prices remain the same, entry-level products with ever more aggressive pricepoints, and small price fluctuations on mid-level products. The most strategic pricepoint is on average between 250 and 300 euros, where consumers are willing to spend somewhat more depending on the features offered, especially environmentally friendly construction. Rip Curl has been pursuing its own segmentation for several seasons, and has found that its high-end models are among the most sought-after in shops. In order to remain competitive, Madness Wetsuits offers very durable and comfortable wetsuits with very aggressive prices. With the desire to "not trick consumers", Tiki Wetsuits also maintains very affordable pricepoints for unequalled solidity as proven recently by Andrew "Cotty" Cotton in hellish conditions at Nazaré.
Next winter, as far as product aesthetics are concerned it's all about understated efficiency. It looks like the brands removed all needless features in order to concentrate on the essentials and perfecting the finished products with timeless designs featuring only a simple, and in some cases, revisited logo as a final touch. Jan Michaelis, O'Neill Wetsuits European Marketing Manager couldn't be clearer about the fact that every winter studies show that: "Customers are only looking for technical features and reliable engineering for their wetsuit, the colours and prints can wait until summer." Nonetheless, the designers have still used the modern digital and sublimation printing techniques at their disposal to produce distinctive looking products that are easily recognizable in the water.
WETSUIT MATERIALS 2.0
In 2018, we will see more advances in rubber technology with lamination techniques that produce more stretch and absorb less water. There will also be revolutionary foams in terms of shape-memory, which now offers incredible levels of stretch and comfort in the water. At O'Neill, to obtain a feather-light inner foam core, each layer of neoprene is deconstructed then put back together again, which is producing unprecedented levels of technology. You'd be right to ask if this race for the lightest wetsuit isn't at the expense of the durability of the products. But, based on past experience, manufacturers have worked to reinforce their neoprene by developing outer coatings that endure the effects of stretching, high winds and UV rays much better than in the past. As a result, they have also succeeded in lengthening the overall lifespan of their products. Jorge Imbert, the Global Wetsuit Manager at Quiksilver explains that in order to guarantee a quick-drying, optimum-performance wetsuit they have been working on the hydrophobic properties of their foams.
On the assembly front, each manufacturer has been fine-tuning their patterns by adjusting the size and placement of the neoprene panels to be assembled to make each wetsuit. This precision pattern making allows for the least amount of off-cuts and waste of a material that is difficult to recycle. Using innovative computer programmes, the brands design models directly in 3D and then flatten the forms into 2D patterns.
After intense work on prototypes, O'Neill perfected a minimalist design with large neoprene panels and a minimal amount of stitching to guarantee an optimal amount of flexibility, comfort and durability. In a similar fashion, Patagonia has reworked its cut patterns and softened the density of the rubber to improve the ergonomics of its products.
Continually striving to find the perfect fit, Volte Wetsuits has concentrated on shoulder and chest panels to make it as easy as possible to put on and take off their wetsuits. Also in the name of comfort and freedom of movement, at Mystic Wetsuits they "think that zip closures systems will disappear in the future". Paulo Green reminds us from the shores of Portugal that Onda Wetsuits are offering the dynamic fit concept as the solution to a problem that all surfers have experienced in the past: "Wetsuits that are too stiff, and slow down certain movements that are essential to surfing". Last but not least, Yann Dalibot the president and CEO of French brand Soöruz confides that in the R&D department they are using panels of curved neoprene as much as possible for added elasticity and comfort.
At the junction points, strips of neoprene tape are used to reinforce the traditional glued and blindstitched (GBS) seams. Manera has paid particular attention to the taping process, now using a welding process with a hot air machine to make the seams even more durable and waterproof while maintaining very good flexibility. As for Mystic, they're studying water flushing, which is a recurring problem seen especially in low quality wetsuits. It would seem to be relatively easy to solve, but according to them they "still see way too many people who surf with a wetsuit filled with water". Blended nylons are another interesting trend that is opening new horizons in terms of colours and textures, especially in linings, as John Westlake from Alder wetsuits explained to us.
THOSE BELOVED INTERNAL LININGS
Their role is so crucial to cold-water surfing they are the true feature you can't live without for the current generation of wetsuit users. Their fleece-like or honeycomb texture helps retain a maximum amount of air against your skin, which creates a true thermal barrier. Each of the microcells evacuates water, captures air and generates even more heat than your body movement.
Rip Curl, a pioneer of internal thermal linings, has developed a revolutionary lining that generates heat when stretched. "The more you move in the water, the more the Thermoflex lining reacts and heats your wetsuit", explains Jonathan Cetran Rip Curl Technical Division Manager. All of you tea bags floating out the back… get moving!
The design department at Billabong has been hard at work on a must-have internal lining in terms of warmth; the Furnace Carbon lining performs remarkably, with superior heat conduction and retention as well drying in the blink of an eye. It also has anti-freezing, anti-bacterial and hydrophobic properties that protect your vital organs, but in no way alter the stretchiness of the wetsuit.
It's undeniable. When displayed inside out with the lining showing, these products catch the attention of the clientele in store immediately. The interesting colours and soft, fuzzy look make clients want to try them on, event if they might not necessarily need one. The brand manager at Manera has a laugh at the sake of his team riders who say putting on one of these wetsuits feels like "sliding into a warm bed in the dead of winter". While the French crew at Sen No Sen think "it's like your favourite pair of jeans. Once you've found it, you never want to wear another!"
It's now common practice for every brand to divide their wetsuit lines into segments, then into different ranges of linings (between 3 and 4 on average). The features vary from entry-level to high end. Basic wetsuits start simply with thermal fibres that conduct and reflect body heat. Mid-range products trap more air, offer added stretchiness, and use more quick dry materials. High-end products offer full body coverage and an incredible level of warmth and comfort. But in the end, as the good people at Manera remind us, "no matter how good the marketing program, the reason you wear a wetsuit is to stay warm". As far as the production of these internal, comfy jerseys is concerned most of them are made from recycled polyester, to the great credit of the numerous manufacturers who have committed to using this type of material. However, in order to be reused the recycling process means the material must be broken down, treated, and reconditioned, which consumes lots of energy and resources. Concerning this step in wetsuit construction, Patagonia has succeeded in simplifying the process and economising 100 litres of water and 96% of CO2 per wetsuit.
ECO-FRIENDLY IS HERE TO STAY
Neither a constraint, nor a trend, not even a marketing strategy, environmentally friendly manufacturing is in the midst of becoming a true challenge for our industry. Things have evolved to the point that "green" is no longer just something offered up by brands in a line from time to time. Of course, eco-friendly products come at a price, but that doesn't seem to be scaring anyone away, neither in production as John Westlake from Alder wetsuits admits, "eco-neoprene is expensive but you would expect this for emerging technology"; nor at points of sale, even for Patagonia whose entire wetsuit line is eco-manufactured and whose sell-through numbers are continually on the rise in spite of the high pricepoints that are never discounted.
Elsewhere, under the radar and for quite a few years now, all of the major wetsuit manufacturers have been studying non-neoprene construction solutions. It has taken time for everyone to develop adequate alternatives, but most anticipate releasing products into the marketplace before 2020. At the same time, progress has been made in the reduction of the quantity of solvents and increasing the use of water based adhesives, as well as that of recycled hangers and packaging. Manufacturing techniques have also been optimised to minimize waste. Logistics have improved also, with many brands managing to group shipments together and simplify the whole process. Quite a few manufacturers such as Billabong mention the use of recycled tyres in the lamination of neoprene, which is very intriguing given the tonnes of them that are lying around waiting to be used… All of these many efforts laid out from end to end contribute to lowering the carbon imprint of the surf industry in Europe, at the heart of which the wetsuit plays a major part. As Gabe Davies from Patagonia confirms: "The wetsuit is the most pivotal piece of European surf gear, so it must stand up for exactly what we need, but also stand up for what we believe in." Surfing is nearing its objective of 100% environmentally friendly manufacturing, which we all hope will serve as inspiration for other sports.