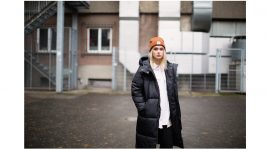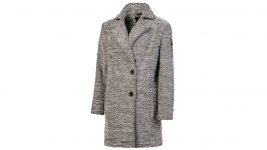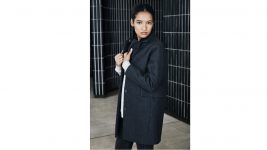 Women's Streetwear FW17/18
Of course there have been tougher times, but it's not easy being a woman these days, especially when it comes to clothes. Female fashion has reached a point where not only all lines between sexes are blurred, but also between eras, segments, styles, and garments themselves. We sent our woman on the ground Anna Langer to make some sense out of it all – read on to find out whether she succeeds. Trend Report by Anna Langer.
"You now find streetwear is a part of womenswear, whether it's for sneakers or apparel pieces," says Vans Merchandising Manager Women, Kids Apparel & Accessories, Amelie Robert, which is showcasing the importance of this sector in the fashion world in general, yet also makes it harder to differentiate between different segments of womenswear. In itself, this is the most prevalent trend that has spanned the last couple of season as well as collections from all brands and continues strong in FW17/18, as Protest confirm: "We've noticed that more people are attracted towards the unusual along with the practical, and have therefore included more mixes in our fabrics for our sweaters and coats," says Anjet Wesselink, Head of Marketing at Protest Sportswear.
TRENDS
The tomboy look is still prevalent as well, inspired by the "massive influence from skateboarding in the eyes of female consumers," as Amelie from Vans describes it. She continues, "it is not only a trend picked by fashion, but also girl skaters who specifically have an overall influence on streetwear." Oversized shapes, visible logos, and long sleeves make for a classic 90s vibe that Nikita continue with mock-turtlenecks dresses. Makia go for "everything with polo/turtle neck," and Element show a lot of patches and labels, yet argues that since "streetwear is focused on minimal graphics, a huge trend that retailers can not afford to miss is graphic sleeve hits. Whether it is symbols, logos or text, this trend is usually seen in a one colour hit with a heavy ink hand. Used across all categories: Dresses, Knits, Fleece, Sweaters and coats."
To brave the colder temperatures of the Fall/Winter season, "chunky knits" are super popular for Makia, who "love the way knits can be very feminine even when oversized" as Women's Designer Elena states. Iriedaily like it oversized as well, especially with their parkas and Nikita opt for material mixing.
THEMES
Following the gender-neutral trend, Element's main theme for FW17/18 is "Borrowed from the Boys", which Cararayne Slay, Global Designer of Element Women's Line is proud: "I tapped into our men's line for silhouette, print, colour, graphic and fabric inspiration. Applying those initial design concepts into the women's range allows for an effortless, borrowed from the boys vibe." Vans follow a similar direction with "skate at the forefront of our minds," that is "in our DNA" yet updated with "feminine detailing and fashion influence," as Amelie states, next to military and workwear that are interpreted "true to Vans by showcasing icons, big logos and checkers." Protest continue to focus on the sport as well, next to "Carnival Royale, a theme that embodies a classic, luxurious, elegance, along with radicalism, innovation, and of course, fun" explains Anjet. "A force of positivity, a beam of light, representing positivity, celebration, and joy. Think steampunk, think carnival, think retro-future."
True to their Scandi-style, Makia on the other hand keep it "simple and quite minimalistic" with a focus on the "contrast between feminine and masculine silhouettes." Nikita focus on their love for outdoors, "fresh clean air and clarity, the symbiosis and coexistence of nature and city," to be able to produce "streetwear that both is fashion-forward but also conducive to being out there," as Brand Director Stephanie ter Hürne outlines. Berlin-based Iriedaily also remain true to their roots with their main theme of "Reclaim the Streets" with oversized parkas and a "new interpretation of a sweat pant."
COLOURS & PATTERNS
Vans find that "pastels and military are the perfect combo," but add that "pastel pinks and nudes" are still super strong too. Nikita picture "frost-kissed landscapes," with peach and aqua that are "as bright, light and crisp as freshly fallen snow." Vans also feature a pale lichen shade and notice an "evolution to purples," that are found in Protest's line too, next to "dark blues combined with different shades of blue." Nikita use "solid, grounding colours like a rich rust and mossy green," that "bring warmth that the body craves in winter," and Makia feature a "strong green with grey hues." Iriedaily go for black, navy and olive as preferred shades, that are spiced up with "caramel and bright red as a highlight for this season." Element name "black, optic white and military green," as staples and Protest focus on black and white as well, "combined with orange tones and berry reds."
For their Carnival Royale, Protest also weave in copper and metallic to "incorporate the visual aspects of our theme," and Element names "Inca Gold" as "a huge colour to be seen for FW17/18 Season."
Vans "balance the tomboy inspiration with sophisticated florals and fresh colour blocks" in black and white, "tying back to our iconic checker" says Amelie. Iriedaily sport an "expressive wool check" for their jackets, while Protest feature "more chevron and stripe patterns." Element keep it geometric with a "tonal camo print" and Makia use melange fabrics that adds "a very nice subtle detail to simple designs."
SILHOUETTES
One of the must-haves for fashion-forward customers in FW17/18 is the bomber jacket, that Vans name as a staple: "It is present on the market from street style looks to the Vans girl on the street, and we strongly believe it is going to last for a while, it's again a reminder of the 90's most iconic outerwear pieces." Protest join the party with a "packable 3M insulated bomber jacket which features a cool graphic mountain print," and also Element feature Bomber and Varsity Jackets. Yet Women's Line Designer Cararayne mentions coach jackets as one of their "biggest pushes for this season". Vans is also still carrying "iconic raglan & coach jackets" and Iriedaily feature "a modern crossover of lumber jacket and coach jacket."
Iriedaily like "sporty and modern oversized silhouettes," besides their classic carry over fits, says Bella Kruschinski, Women's Designer. "Hoodies are the fleece silhouette of the moment, a perfect streetwear twist to any silhouette," Amelie from Vans continues, with cuts ranging "from cropped to loose and/or long, some with drawcords at the hem or waist." Nikita adopted the cropped top trend as well, while the Protest "shirts remain the same Protest fit you've come to expect."
Pants stay sporty too, with a "modern interpretation of a classic jogging pant in wool optic," in a casual 7/8 length from Iriedaily and made with "luscious tencel twill that works for a sporty jogger look or an urban night out," from Nikita.
Next to this sporty, short and boxy trend, slimmer and longer silhouettes stay on trend as well. Protest emphasise "a streamlined and slimming look," in their jackets, Vans have "extended the staple bomber and made it more fashion and feminine with long bomber coat options," and also have an elongated weather-resistant coach jacket.
Nikita hold "true to some of our classic long and lean silhouettes," and showcase a super feminine high waisted pencil skirt, next to "some more body-con silhouettes," in their dresses, "as well as pinafores for layering." Vans on the other hand approach their dresses with a more sporty vibe again, showing "oversized fleeces," that "almost have similarities to dresses," with elevated fabrications.
MATERIALS
Fabrics are not just elevated but also mixed a lot, which Nikita identify as one of the main trends for FW17/18. Especially velvet is bringing a new retro-vibe, reminiscing of the 90s while at the same time adding a modern touch. "Velvet is historically a feminine fabric but we incorporate it more as an homage to 90s goth grunge," Stephanie says about the Nikita collection and also Amelie from Vans believes "velvets will match nicely with streetwear staples including bombers or court caps." Iriedaily use velvet and waffle pique for their sweatshirts and Protest use lurex for a "luxurious, retro, and fancy look." Vans also expand the satin material they use for their bomber jackets to "a full bunch of footwear and accessories."
To ensure the ladies stay warm in the cold days of winter, Protest blend "acrylic and wool" and Makia is "still very in love with merino wool," and continue "exploring with textures and finishing." Element added two new finishes to fleece, which is one of their "biggest categories" that gets an update with "snow wash and sanded finish." Vans continues to "put a big focus on our MTE line which features a wide offering of jackets coated with durable water repellent and insulated linings." Nikita implement "waxed cotton for moisture wicking, rain jackets, and Thermore® Insulation for extra warmth without the bulk," and Iriedaily feature "water-resistant high performance peach cotton for jackets," says Bella.
For the perfect finish, Vans add "Sherpas and sophisticated faux-fur"; Protest feature a "hip faux fur jacket" and Iriedaily a "warm teddy collar."