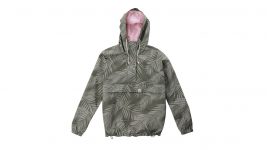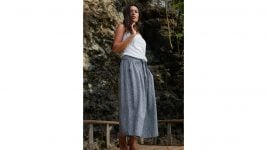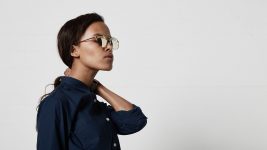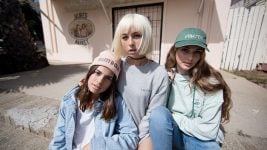 "I think I have enough clothes, I don't need anything new," said no girl or woman ever – no matter how stuffed her closet is – and Summer 2018 will be no different. Whether they like it feminine or rock the tomboy-style, here's our overview of what will be in stores for Women's Streetwear next year. By Anna Langer.
TRENDS
After the rather distinct segmentation between very feminine, chic styles and more casual, sporty tomboy-silhouettes, which have been prevalent for the last couple of seasons, the division is not so clear any more in Spring/Summer 2018. While there is still a big offering for both ends of the spectrum, you can find more intersecting and crossover-pieces next year as well.
Iriedaily's collection is "inspired by the roots of classic sports-and streetwear," and combines boyfriend silhouettes "with feminine, sexy 7/8 bottoms," says Brand Marketing Manager, Denise Graff. Roxy use "sport codes" in very feminine products, Protest pair elastic tapes with ruffles and Makia play with an "edgy contrast in silhouettes, colours and graphics," as Designer, Elina Lappalainen states. Bleed go for "easy and sportive cuts" while Santa Cruz stay true to their "Skate Casual" tomboy aesthetic. Horsefeathers concentrate on "technical, high-end products for any activity girls want to do with Horsefeathers style," says Marketing Manager, Tomas Koudela.
Nikita name "90s nostalgia" as a big trend that is also catered for with patches from Bleed, big logos from Iriedaily and Santa Cruz and coach jackets from Element. Denim is playing an important role for the latter as well, who show it "destructed and worn in throughout all categories: jackets, skirts, shorts, and overalls," explains Cararayne Slay, Global Women's Designer. Roxy also have "denim at the heart of a collection that visits every shade of blue and with this season's must have bandana, the possibilities are endless."
THEMES
Capitalizing on the denim blues, Roxy embark on a cruise to the Caribbean in their "Coastal Escape" story, with "vibrant handcrafted details, embroideries and bold prints," reminding customers of "tropical days in the Bahamas," with "sailor inspired details and nautical elements." Makia stay true to their roots with a "Nordic Contemporary" theme that is "reflected in the subtle details and colours," as Elina tells us.
Bleed celebrate the gypsy lifestyle, "restless but connected to nature – wild and free," and play "far away from trends and regulations," as Lena Grimm, Womenswear Designer and Product Manager explains. Nikita follow a similar vibe, with a collection based on the adventures a group of friends can get into on a summer evening: "Like pool-hopping from yard to yard, impromptu dance parties and other BFF bonding moments. They're testing their wild side and savouring the fun memories as they make them," says Brand Director, Stephanie ter Hürne.
Horsefeathers narrow their focus on groups of just girls, or "Girl Squad" as they call it: "Girls are different from boys, they do a lot of activities, and they shop differently." Staying more on the tomboy side, Element concentrate on skateboarding and the girls actively pursuing this sport with a "playful graphic story inspired by fruit stickers." Iriedaily "stay different" and "support women from different sport genres like fixed gear, skateboarding, snowboarding and surfing."
COLOURS
Colour pallets vary according to themes, with most brands complementing strong, bright tones with more neutral ones.
Dark reds, core browns, stone greys and greens are at the heart of the Bleed collection and are "great to combine" says Lena. Cararayne from Element agrees that neutrals are "easy to wear and layer" and hence play an important role in their whole collection. Nikita complement black and white neutrals with a soft blush pink, Roxy use warm and earthed colours that "evocate Caribbean spices" and Makia pair "calm deep navy and sage with a bit of muted pink."
Horsefeathers concentrate on darker tones like olive for the "core girls" and spice it up with some "brighter and more summery colours and prints like Orchid or Tropical." Element name Red Dahlia as a highlight colour for 2018, Protest work with orange and deep purple, the latter of which is also key for Iriedaily.
Nikita are telling two different colour stories next summer, with the "After Hours" palette that resembles twilight, where colours pop before they sink into negative space," and a softer, washed out "Bleached" palette inspired by 90s geometries, complemented with Sunflower yellow. Iriedaily even go back to the 70s with their "fresh pastels, light rose, light olive and mint," combined with "more intense summer colours like beryl and yellow," and Santa Cruz also stick to pastels such as Jade, Coral, and Lilac.
PATTERNS & PRINTS
Prints are playing a key role in 2018 for Roxy and Nikita alike, who feature graphics as a big part of their lines. "This season our artwork was inspired by Nikita mantras that celebrate and encourage the rebellious spirit of the brand," says Nikita Designer, Kristin Normansen. "Freak Out," "Stop Making Sense" and the notion of finding "Beauty in Chaos," are some of the topics that are implemented in a throw-back, rock 'n' roll style, featuring hand-drawn banners, tigers, skulls and roses.
Roxy feature "spectacular handmade florals," and sailor inspired graphics that are worked "in a more feminine way," for a "more mature and urban look," yet still ties very well to the summery vibes of the travel and beach lifestyle marketing stories. Horsefeathers go tropical too, Protest celebrate "surf lifestyle, summer fun," and pineapples while Iriedaily are proud of their bestselling La Palma pattern and add a new playful cactus number.
Batik and tie-dye are strong in 2018 as well, with tops as "fashionable highlights," from Iriedaily, a "night time batik print," from Nikita and an appearance in the Santa Cruz line, next to "metallic gold logo detailing." Yet camo is coming in for girls as well, with a "textured camo print that speaks to the vintage past of camouflage," from Element and Olive Camo from Horsefeathers, that is inspired by their outerwear.
Makia focus on a subtle melange of colours instead of prints "to highlight form," and next to collabs with NGOs like the Surfrider Foundation and PETA, Bleed take their inspiration from nature and "use this in textile structures, handmade prints or patterns."
SILHOUETTES
As previously mentioned, there is a lot to pick from for every girl and woman out there in 2018, spanning all tastes and styles.
As usual, the major part of streetwear is casual cut, easy and sportive – "more oversized than skinny. Comfortable but fashionable," as Bleed sum it up. In line with the current trend of "boyfriend style" that is prevalent in all the high street stores, Iriedaily took some inspiration from their men's collection, for pieces like hoodies or boyfriend "fit tops" that are then combined with light summer shorts or mom jeans. Nikita expand their hoody line with a variety of graphics and patches and play with varsity-style jackets while Horsefeathers highlight their classic street parka.
Bridging from tomboy to feminine we see a lot of "easy-to-wear dresses and tops," like Nikita's Cat's Eye Dress, that is "a classic sleeveless shirt dress that is good for any occasion." Element pair denim dresses with dad caps, Roxy feature maxi printed dresses and Iriedaily feature dresses in different length from maxi to mini with fresh patterns.
For those females who like it really fashionable, Roxy highlight a combo of "high waisted sailor inspired short and printed crop tops" and a long kimono, Protest feature pants with wider legs in a "palazzo style" next to long skirts and high necklines and Makia sport "longer jackets with fitted shoulder line, light relaxed tops and longer A-line styles." Bleed also have a jump suit in store and Nikita showcase "more tailored wovens for feminine appeal."
With such a variety of styles and looks to choose from, every girl out there should be able to find their perfect wardrobe for summer and maybe experiment a little bit too.